I don't usually buy wine for the label, but I'd buy this: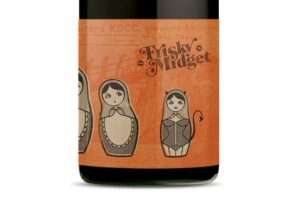 It's not easy to find much info on this wine . . . or winery.  Word on the Interweb is that the labels were designed for Killinchy Wines, a winery in Blackwood Valley, Western Australia.  Owners Andrew and Silke Highet took over running the family winery, and wanted to rebrand.  The Frisky Midget label is their maiden wine.  It looks like there's a Shiraz and a Merlot in the Frisky Midget line so far.
From the label designer / brander:
"The Frisky Midget range is the first in a series of wines to be released under the new Killinchy Wines brand. The large wrap around label is a throwback to Communist Russia, revealing a series of Babushka / Matryoshka dolls with the final doll exposed as the 'Frisky Midget'.  This cheeky character is a celebration of individuality and the freedom of self-expression."
I already love the label . . . love it even more described as cheeky.  I'm buying it.
Salud!