I've visited a ton of Virginia wineries over the years.  I'm gradually revisiting favorites, not so favorites, and new wineries so I can share the experience.   According to Virginiawine.org, there are over 300 wineries in Virginia.  Visiting all of them is starting to sound like Mission Impossible.  But I'll do my best. 
My latest Adventure in Virginia Wineries brought me to Potomac Point Winery in Stafford, Virginia. I first visited Potomac Point seven years ago, right after it opened.  A lot can change in 7 years, so when Chelsea Sparaco, Potomac Point's Sales & Marketing Manager, invited me to come out for a tasting, I was excited to revisit.
My girlfriend and I are getting pretty savvy at Virginia Wine tasting.  Virginia wineries are changing and evolving, so we have to change and evolve with them.  Gone (well, mostly gone) are the days of bringing a picnic to a winery.  You can still picnic outside (most of the time), but bringing food inside a winery has gone the way of the corded phone.  A lot of Virginia wineries now have an on-site restaurant (or they sell their own gnoshes), which means no outside food allowed.  To avoid surprises, call ahead.  Tasting wine on an empty stomach is a bad idea for me, so I always try to eat something beforehand.  Potomac Point has its own restaurant — Le Grand Cru Bistro — which is handy because there aren't many food options close to Potomac Point (save for a guy selling crabs out of the back of his truck on the corner — and we weren't really in the mood for truck crabs), so Bistro it was!
Le Bistro gets a lot of lunch traffic, especially from the nearby Quantico Marine Corps Base, and it really started to fill up while we were there — I'm glad we came when they opened at 11:30!  Our waiter, Jonathan, was a real charmer — we got to watch him gracefully and adeptly handle a large group of not so graceful "ladies who lunch".
My girlfriend and I both opted for these tasty salads, but we took a pass on the suggested wine parings since we were getting ready to do a separate wine tasting.
Potomac Point is owned by Skip & Cindi Causey, who started the winery as a semi-retirement venture.  They planted vines in 2005, and opened in 2007.  They have a total of 13 acres, 7 of which are under vine.  Potomac Point Winery sits on the Widewater Peninsula, a coastal floodplain in eastern Virginia.  In prehistoric times, the area was completely submerged by seawater.  The soil today is mostly sandy loam (sort of a crumbly mix of sand, clay and silt). Loam alone isn't that great for vines, but when mixed with sand, it becomes "bad enough" to stress the vines.  And stressed vines make happy wines.
During the early 17th century, the Widewater Peninsula was home to the Patawomeck (Potomac) Indians, lead by Chief Powhatan. Sometime around 1607, Chief Powhatan captured and imprisoned the English explorer, John Smith.  According to an account written by Smith, Chief Powhatan was all set to execute Smith when Powhatan's daughter, Pocahontas, intervened.  Pocahontas saved Smith's life by throwing herself between Smith and her dad. A gusty move, considering Smith and Pocahontas were just friends.  Seriously.  Just friends.  (Disney makes fairy tales, not documentaries).  Today, historians disagree about the validity of Smith's account.  Some historians say Smith was about to be executed; others say the whole thing was an elaborate, ritualized adoption ceremony (a really scary one, with spiked clubs).  And, since the only account of the story is Smith's, we may never know the truth.
The first time I visited Potomac Point, they made a wine called Pocahontas Reserve Norton, bottled in a great stoneware bottle.  It was made to commemorate the 400th anniversary of the founding of Jamestown.  I bought a couple of bottles specifically for the bottles — and I still have them.  Chelsea told me they no longer make the wine, which kinda bums me out.  I love it when history and wine get all tangled up together, so I'd love to see Potomac Point resurrect the stoneware bottle — as a nod to their connection to the land and history of the Patawomeck Indians.
After we finished our lunch at the Bistro, Jonathan gave us our tasting tickets, and my girlfriend and I immediately thought:  Willy Wonka!
We headed to the tasting bar and met our tasting room hostess, Valorie.  I love Valorie.  All tasting rooms should have a Valorie.  Approachable, knowledgeable, and down to earth.  From the moment she introduced herself, I felt like we were friends.
If there was an award for Best Tasting Notes, Potomac Point might just win.  I cannot express how much I appreciate detailed, technical tasting notes.  I'd rather have too much information than not enough.  I can really think about a wine when I don't have to spend my time furiously scribbling down technical notes.
We tasted a total of fourteen (!!) wines.  I made good use of the dump bucket — not because I didn't enjoy the wines, but because we tasted fourteen of them.  And we needed to drive home and do mom stuff later that afternoon.
Here's what we tasted . . .
Chardonnay 2013 ⭐⭐⭐/85
100% Chardonnay.  Aged in stainless steel.  Flint nose.  Super tart and acidic, with flavors of green apple and pear.  The tasting sheet says "toasty notes", but I don't get that at all, especially since this is aged in stainless.  Still, crisp and clean.  13.5% ABV. 
Viognier 2013 ⭐⭐⭐/86
80% Viognier, 20% Rkatsiteli.  Aged in stainless steel.  A Viognier blended with Rkatsiteli??  That's interesting.  And atypical for a Virginia Viognier.  Very tropical.  Viognier definitely dominates, but you can't ignore the Rkat presence.  It's Viognier sandwiched between two wafers of Rkat.  13.5% ABV.  
La Belle Vie White 2013 ⭐⭐⭐/85
65% Vidal Blanc, 10% Chardonnay, 10% Rkatsiteli, 10% Viognier, and 5% Petit Manseng.  Aged in stainless steel.  This is Potomac Point's most popular white wine.  I don't usually like a winery's most popular white — because it's usually sweet patio plonk.  But I liked this one — 1.5% residual sugar, so it's not a full-blown Capri Sun wobble-pop.  I was expecting cloying, but the balance surprised me.  13% ABV.  
Custom Label White 2013 ⭐⭐⭐/84
55% Chardonnay, 30% Viognier, 15% Vidal Blanc.  Aged in stainless steel.  Tropical apple flavors.  The Vigonier is assertive, I kept searching for the Chardonnay, but it didn't want to come out and play.  Decent finish.  This bottle, and the Custom Label Red are printed without a front label, so you can design your own.  13% ABV. 
Abbinato 2013 ⭐⭐⭐/84
45% Sangiovese, 45% Chambourcin, 10% Merlot.  Aged in neutral and French oak.  The nose on this wine was almost sweet — kind of reminded me of WD-40.  This is a Chianti style wine, and it doesn't taste at all like it smells.  Light-bodied.  Black pepper dominates. Hello, Chambourcin?  13.7% ABV.  
Coyote Cave Red 2013  ⭐⭐⭐/86
54% Sangiovese, 26% Merlot, 14% Cabernet Sauvignon, 6% Syrah.  Aged in French oak.  Valorie called this the "red wine with training wheels".  Makes sense to me.  Lots of structure without tannin overload.  Smells like pepper and campfire.  Smooth and very drinkable.  Flavors lean toward the green — herbs and green pepper notes.  A bottle of this came home with me, too. 12.7% ABV.  
Merlot 2012 ⭐⭐/83
85% Merlot, 15% Tannat.  I like the addition of the Tannat here — it makes it more Virginia. Aged in French oak.  Balanced, but a slight nod to tannins.  Maybe a little aggressive for a Merlot.  13.7% ABV.  
Custom Label Red 2013 ⭐⭐/83
54% Sangiovese, 26% Merlot, 14% Cabernet Sauvignon, 6% Syrah.  Aged in French oak. Medium bodied.  Slightly medicinal nose — smells like a box of Band-Aids, which I don't find unpleasant.  Still, the balance seems slightly off.  This bottle, and the Custom Label White are printed without a front label, so you can design your own.  13% ABV.  
Cabernet Franc 2013 ⭐⭐⭐/86
100% Cabernet Franc.  Aged in French oak.  White pepper nose, with flavors of herbs, green pepper and tobacco.  Tannins seem a little unruly right now, but I'll bet they calm down with age.  14.7% ABV.  
Richland Reserve Heritage 2010 ⭐⭐⭐/88
32% Merlot, 25% Cabernet Franc, 25% Cabernet Sauvignon, 13% Tannat, 5% Petit Verdot.  Aged in French oak.  Bordeaux style.  Smoke, tobacco, leather.  Coffee, toffee chocolate finish.  Finesse and power.  Well done!  14.6% ABV. 
Norton 2012 ⭐⭐/82
Hello, Newman Norton.  My complicated history with Norton continues.  I get prunes on the nose — a bit of a departure from the grape jelly I usually get.  This wine kind of clobbers you over the head.  I said the wine was a little bratty, and Valorie countered with "bossy".  Bossy is my new favorite wine descriptor.  13.5% ABV. 
Dolce Rubus 2013 ⭐⭐/82
100% Merlot + a "natural raspberry additive".  Aged in French oak.  Holy Raspberry!  Smells like IHOP pancake syrup.  Surprising balance.  Reminds me of a liquor filled chocolate.  Not my cup of tea, but I can see how others would love it.  13.7% ABV. 
Vin de Paille 2010 ⭐⭐/82
65% late harvest Vidal Blanc, 30% late harvest Petit Manseng, 5% Muscat Raisin.  The nose is like tearing open a Clementine orange.  Very sweet, and a little cloying for me.  Valorie said she uses it to make her own cranberry sauce — set another place at the Thanksgiving table for me, Valorie.  16.8% ABV. 
Moscato Dolce 2012 ⭐⭐⭐/87
From Asti in Piedmont, Italy.  100% Moscato.  Aged in stainless steel.  Not usually available for tasting, but Valorie had a bottle open, so we got to sample it.  I really enjoyed this.  I think I must have been lamenting the end of summer — bought bought a bottle to take home.  I'll break it out in February when I need some sunshine.  5.5% ABV. 
After our tasting, Chelsea took us on a tour of the winery.  Here's something you don't see very often — a dedicated kids zone inside the tasting room, called the 'Lil Buds Room.  (Tasting Room and 'Lil Buds Room photos courtesy of Potomac Point Winery, all others are my own). While we were in the tank room, we bumped into Potomac Point's new winemaker, David Pagán Castaño, who hails from Yecla, Spain.  Before landing at Potomac Point (he's only been there 6 months), David was the winemaker at Breaux Vineyards in Purcellville, Virginia.  David was very gracious and seemed genuinely interested in talking with us.  I'll be anxious to see how the wines change and grow under his direction.
My favorite use for a broken pot.
The Coyote Wine Cave is named after one of the very first visitors to the winery — a mother coyote and her cub who took an unguided tour of the winery's production floor, leaving their footprints behind in the wet cement.  The winery has a stuffed coyote that gets moved around (sometimes to surprising places) all over the winery.
On our way out of the winery, Chelsea gave me a bottle of their new fusion wine, Camino, a blend of Cabernet Franc and Monastrell.  Winemaker David Pagán Castaño calls the wine fusion because it blends different cultures and regions of the world — Cabernet Franc from Virginia, and Monastrell from Bodegas Castaño, the Castaño family winery in Spain. Camino means path in Spanish . . . and Potomac Point is definitely on the right camino!
Salud!
Taste Wine Like A True Armchair Sommelier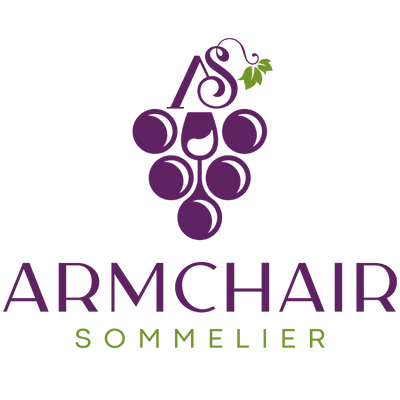 Spice up your next party with our FREE wine tasting guide! Learn what to look, smell, and taste for while appreciating your favorite bottle. We've also included a printable tasting notes template and a tasting wheel.