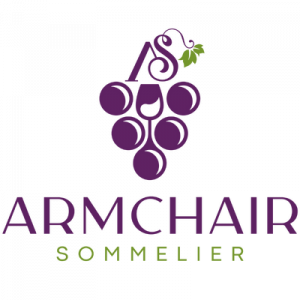 Napa Valley Trip Planner
We've planned trips to wine regions all over the world and through our experience we've discovered that planning a trip to Napa Valley has been the most overwhelming for people.
When we realized this we started the Napa Travel Planning Facebook Group. It has been incredibly helpful for everyone that's trying to plan their first, second and even third trip to wine country.
We've compiled an FAQ from questions we've been asked over the years. These are also the most frequently asked questions in our Napa Travel Planning Facebook Group.
Napa Valley Trip Planning FAQ
How long does it take to get from SFO to Napa?
It depends on the time of day and day of the week of course but travel from SFO to Napa is takes about 1-1/2 hr with light traffic. Uber ranges between $120-180.
Should I rent a car or hire a driver?
Yes. We always recommend renting a car first and foremost. You'll want transportation to run here or there. But if you have a big day of tasting planned (3-4 wineries) we recommend hiring a driver for the day. Most drivers are around $50/hour.
Is Uber/Lyft reliable to get from winery to winery?
Uber/Lyft are hit or miss. If you are relying on Uber for your transportation you should schedule a ride in advance. We don't recommend that you wait until your tasting is done to book a ride. You will be late to your next tasting guaranteed.
Is Uber/Lyft reliable to get from SFO to Napa and vice versa?
Yes. They are reliable to get you to/from the airport if you schedule in advance. Getting an Uber from the airport is no problem but getting from Napa to the airport needs to be scheduled.
Do Napa wineries have food available or are picnics allowed?
Most wineries have tapas plates available and several offer pairing options. Wineries that allow picnics are V. Sattui, Tres Sabores, Rutherford Hill, Amici, Rombauer, Pestoni Family Winery, Frank Family Vineyards, Domaine Chandon Winery, Charles Krug Winery, Tamber Bey. 
Where should we stay if traveling with a group?
If you're traveling with a group, renting a house is most preferable. You will find great options in Sonoma, St. Helena and Calistoga.
Where should we stay in Yountville?
The top recommended hotels in Yountville are Bardessono, Hotel Yountville, Vintage House, Villagio.
Where should we stay in St. Helena?
Top recommended places to stay in St. Helena are Harvest Inn, Ink House Inn.
What are the best things to do in Napa Valley?
You can pretty much find an activity for everyone in your group. Wine aside, the best feedback we've received from our trips were from… taking food tour, barrel blending at Conn Winery, cooking class at Cakebread, wine making at Raymond Vineyards, hot air balloon ride, spa, paddle the Napa river, Napa Valley Bike Tours. Oh yeah and some really enjoy golfing.
How many days should I plan for my Napa Valley vacation?
You should plan a minimum of 3 days. Call it a long weekend. If you plan your vacation for 7 days you should break it up and spend a day at Bodega Bay and do some wine tasting in Sonoma. You can also plan activities that are not wine focused (gasp!).
How do I get reservations for French Laundry?
There are a two ways you can get a reservation. The first way is to plan your Napa trip around your reservation. As soon as reservations open, book your table. If you can't work out your trip around that day you can always sell your reservations in our Napa Travel Planning group or in the French Laundry Reservations Facebook Group. And that's the second way you can come by reservations.
What are the best restaurants in downtown Napa?
Most recommended restaurants in downtown Napa are Cole's Chop House, Morimotos, Torc, Angele, Celadon, Eiko's Sushi, Scala, Angéle, ZuZu, C. Casa, Hog Island.
What are the best restaurants in St. Helena?
The top recommended places to eat in St. Helena are Cook, Charter Oak, Long Meadow Farmstead, Mustards Grill, Press, Goose & Gander.
What are the best restaurants in Yountville?
Bouchon Bistro, Ad Hoc, Bottega and R+D. Of course French Laundry if you can get a table.
What restaurants in napa valley have vegan options?
These restaurants in Napa Valley have Vegan options:
Napa: The Dutch Door, C-Casa, Gotts, Bistro Don Giovanni, Azurro, Small World, Southside Cafe, Yak and Yeti, Morimoto, Morimoto Asia, La Cheve
Yountville: La Calenda, R&D
St. Helena: Goose & Gander, Gotts, Himalaya Sherpa Kitchen
Calistoga: Lovina (one vegan entree)
Should I eat a big breakfast and skip lunch?
Every body and all dietary needs differ. That said, we recommend you eat a decent breakfast, take snacks and stay hydrated. We also recommend a food pairing at one or more wineries. The goal is to not get wasted. This is Napa not Las Vegas.
How many wineries should I book in one day?
You can book three wine tastings in a day if they're all in the same town. There's no prize for the number of wineries you can hit in one day. Keep in mind you need to be coherent for dinner. And then wake up the next morning.
Should we go to Sonoma?
Yes, yes a thousand times yes, you should go to Sonoma! Sonoma is incredibly charming, has a great cheese factory, history, great food and the most amazing Pinot Noir (if that's your thing).
What is the best month to visit Napa Valley?
The best time to visit Napa is August through October (Harvest Season) or March through May. Winter is absolutely beautiful also. The holiday markets and festivals are so charming. Napa's peak tourist season is harvest season . During this time you can expect crowds and high prices for just about everything.
What is the cheapest time of year to visit Napa Valley?
The cheapest times to visit Napa are Winter and Spring. From November to May you'll find hotel deals. A hotel you couldn't touch during Summer in popular Yountville becomes almost affordable, and downtown Napa gets downright cheap.
Can you wear jeans to a winery?
Absolutely! Jeans are acceptable year-round. It's called wine country casual. Downtown Napa is super casual. We've wandered into tasting rooms in gym shorts and ball caps. They just think you have tech money. Be sure to dress in layers. Some winery experiences are outdoors and tours often take guests through wine caves and chilled cellar areas.
How do I plan a wine tasting trip in Napa?
Plan Ahead. Reservations are recommended but if you want to be spontaneous you can call ahead that day or walk-in to a boutique winery. Take Your Time. Limit your day to 2-3 wineries, and plan to stay 2 hours at each location. Travel Safe. Have a designated driver and always pack plenty of food and water.
Where do you fly into to go to Napa?
Napa County Airport is the closest airport to Napa Valley. The closest international airports to Napa Valley are Oakland International Airport, 50 miles south, and San Francisco International Airport, 55 miles south.
How far apart are Sonoma and Napa?
It's about 15 miles from Napa to Sonoma and should have a drive time of 25 mins.
How long do you stay at a winery in Napa?
We recommend 2 or 3 winery visits, but not more than that as most experiences take a minimum of 90 minutes and there is travel time in between. You can hire a driver or tour company to drive you to the wineries.
Save Hours On Napa Valley Trip Planning
Now that you've spent 20 minutes reading through this FAQ and spent a few more hours browsing articles on our website (and please do! They're really good if I do say so myself!) maybe you want to save some time?
There are over 400 wineries in the Napa Valley and more than 150 restaurants.
What about food, experiences, tours, non-wine activities? (is that even a thing? Yes!) The Napa Valley Trip Planner is your source for advice, inspiration and tips on what's worth the hype and what you can skip. 🍇
Planning your trip to Napa Valley can feel like a full time job. We know because our team has planned loads of trips-as their full time job!
We've got your back! Let us help you take the guesswork out of planning your trip (large or small) with our Napa Valley Trip Planner!
Now You Can Have Your Napa Valley Trip "Done For You"!
What's Included in your Napa trip planner
3 Day Pre-Planned Itinerary
This is an awesome trip we've taken ourselves and have planned for couples, groups and corporate events!
It's a perfect mix of beautiful tasting experiences, excitement, and wonderful meals in all of Napa Valley, including Napa, St Helena, Calistoga and Yountville.
If you want to keep it simple, skip the concierge, get our itinerary and start making reservations.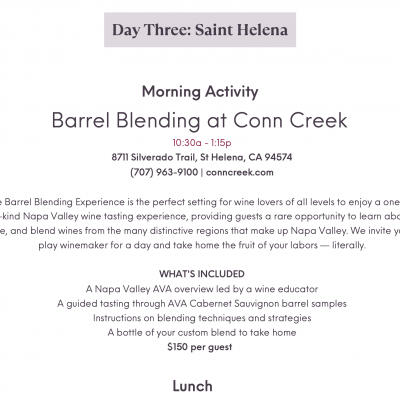 Napa Valley Activity database
Want to customize your trip? We've got you covered!
Get access to our own database of wineries, restaurants, and activities centered around Napa Valley. Remember the fact above about how many wineries and restaurants there are in Napa?
Do you have a favorite wine? You can sort by Cabernet, Chardonnay, Sauvignon Blanc, etc.
Do you want to picnic at a winery? You can sort by 'Picnic Grounds'.
Do you want to schedule a winery visit around lunch time and need to make sure food will be available? You can sort by 'Food Offered'.
In the database you'll find wineries by location, accommodation by location, experiences (including drivers), spas, restaurants and even private chefs.
It's time to clean out all of those open tabs on your computer, we've got all the options collected in one place! This is a LIVE document, meaning we update it regularly with new experiences, and remove those that we've discovered are no longer available. (don't worry, you can't make edits to the LIVE sheet)
This isn't just some big brand website with random reviews that are ALL subjective. This is a well organized travel planner that we've used for years. You'll get lifetime access!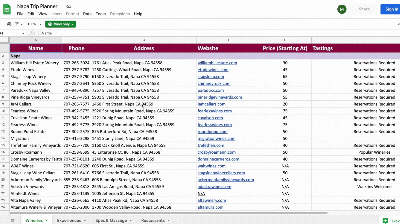 Napa Printable Brochure
We've planned trips for groups large and small and one thing stays the same. Napa Valley visitors like to have a brochure that showcases their trip.
Some have it framed.
Some have it professionally printed for everyone in their group.
Some print and save in the memory box.
Simplify Your Napa Trip Planning
Of course you and your group can plan your own Napa trip… If you have hours of spare time and plenty of patience to do the research needed for a perfect trip.
If you don't want to deal with all of that, let us help you! You should be getting excited about your trip, not freaking out because you're worried someone won't like one of the wineries you picked.
Meet Your Napa Trip Planner
Anne Morin is the Co-Founder of ArmchairSommelier.com and has planned hundreds of trips over the last 10 years for corporations, clients, friends and family. Couples, bachelorette parties, stag parties, girls trips, and team building trips. Anne's traveled all over the world and knows how to have a good time. When asked how and why she chooses her destinations she says "I follow the food. I wanted to learn how to make the best pasta so I booked a trip to Tuscany. When I wanted the best báhn mì sandwich in the world, I went to Vietnam. Pad Thai? Well, Thailand obviously. I love the idea of experiencing culture through food."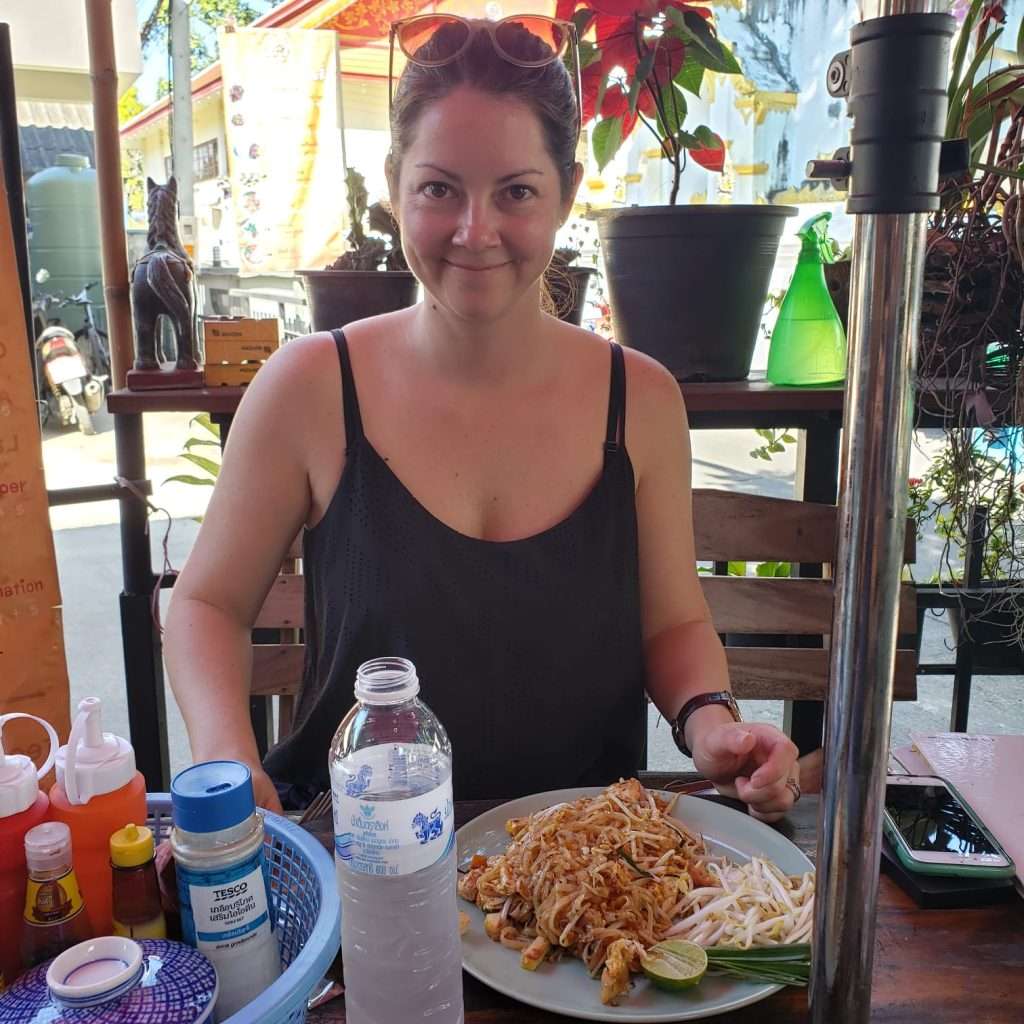 Get Your Napa Travel Package!
Napa Trip Planner Frequently Asked Questions
How do I know I will like what is included in the 3 Day Pre-Planned Itinerary?
We get that question all the time. While you want to feel liberated by not spending 20 hours planning this trip you just don't know. We get it. Our answer is, we've booked this same trip and we always get great feedback. 
Can I customize my Napa trip?
Of course! We've included our full database of activities in Napa Valley. Want to paddle the Napa River? Check out the list and book your trip!
Will you book my Napa trip for me?
Our Napa Valley Trip Planner does not include booking. If you'd like a more custom travel planning experience email anne@armchairsommelier.com and tell her about your trip. 
Do you offer different 3 day itineraries?
This Napa Valley Trip Planner offers one sample 3 day itinerary. If you'd like to discuss a custom travel experience email anne@armchairsommelier.com and tell her about your trip.
Will you help me plan my destination wedding?
Wedding planning is incredibly nuanced. Therefore, we recommend someone who is specialized in wedding planning to plan your very special event.
Membership for life?
Yes! You will have lifetime access to our travel planner database. That means, any updates we make, you will see in real time.