French Wine Regions
France is (obviously) renowned for its wine for a great reason. It's home to some of the world's most famous wine regions with centuries (even millennia) of tradition in winemaking.
Each region stands out from the others thanks to its unique terroir, variety of grapes grown, and winemaking traditions that contribute to its wines' distinct flavors and aromas.
Exploring the wine regions of France is a journey through history, culture, and tradition. There's a lot to understand about French wine and the places that make it, so let's dive in!
Popular Wine Grapes In France
There are a lot of wine grapes grown in France. There are over 200 varietals grown commercially, but 95% of the grapes come from 40 varietals. Of those there are some main grape varieties that deserve to be explored.
Chardonnay: This green-skinned grape is grown in many regions of France, including Burgundy, Champagne, and the Loire Valley. The Chardonnay grape produces full-bodied, rich white wines with apple, pear, and vanilla flavors.
Merlot: The most common grape in France is prominent in Bordeaux and is gaining ground in the south of France. Merlot is often blended to produce soft, fruity reds with flavors of plum, black cherry, and chocolate.
Grenache: Grown in the Rhône Valley and throughout southern France, Grenache is known for producing fruity, spicy wines with flavors of raspberry, strawberry, and cinnamon.
Gamay: Grown in Beaujolais and the Loire Valley, Gamay makes light, fruity wines with flavors of strawberry, raspberry, and banana.
Cabernet Sauvignon: Bordeaux is the primary region producing Cabernet Sauvignon grapes. The Loire Valley and other areas also grow some Cabernet Sauvignon. This grape is known for producing full-bodied, tannic wines with blackcurrant, blackberry, and tobacco flavors.
Syrah: This red grape is grown mainly in the Rhône Valley. It is known for producing full-bodied, spicy red wines with flavors of black pepper, blackberry, and licorice.
Pinot Noir: This red beauty is the star in Burgundy but is also grown in the neighboring Jura, Champagne, and Alsace regions. It makes light-bodied, elegant red wines with flavors of cherry, raspberry, and earth.
Summary Of Major French Wine Regions
Bordeaux
The Bordeaux wine region is perhaps France's most well-known wine region, producing nearly all of its wine with Cabernet Sauvignon and Merlot grapes.
Located in southwestern France, Bordeaux is divided into two main areas, the Left Bank and the Right Bank, by the Gironde Estuary. The region's maritime climate offers mild winters and warm summers, making it the perfect home for its most popular grapes. The Left Bank is well suited for Cabernet Sauvignon, while the Right Bank produces mostly Merlot.
Bordeaux is home to over 6,000 wineries, producing a wide range of wines, from dry whites to sweet dessert wines.
Some of the most famous Bordeaux wines include Chateau Margaux, Chateau Lafite Rothschild, and Chateau Petrus. These wines can be pretty expensive, but there are also many affordable options available from smaller producers.
Burgundy
Burgundy is a small-ish wine region in eastern France primarily producing Pinot Noir and Chardonnay.
The continental climate in Burgundy, paired with its complex soil, a mix of limestone, clay, marl, sand, and gravel, gives the winemaker all the tools needed to produce some of the most sought-after and expensive wines in the world.
Burgundy is known for its Grand Cru vineyards, considered the best in the region. These vineyards produce wines with exceptional quality and complexity. The big names in the Grand Cru game are Romanee-Conti, La Tache, and Montrachet. Of course, plenty of smaller producers make more affordable and approachable wine.
Champagne
No introduction needed here. Champagne is the most famous of all wine regions in the world. Located in the northeast of France, Champagne produces sparkling wines known for their quality, unique taste, and ability to make an awkward wedding toast a little more bearable.
The region is home to over 15,000 vineyards and produces around 300 million bottles of champagne every year. In addition to its namesake Champagne grapes, the area grows a fair amount of Pinot Noir.
Loire Valley
Centrally located along the Loire Valley, this region is known for white wines from the Chenin Blanc grape. There are also quite a few winemakers producing.
This long thin region is divided into sub-regions called the Upper Loire, Central Loire, Middle Loire, and Lower Loire. The Loire Valley has a huge range of climates and geography, ranging from cool and damp maritime in the Lower Loire to high-altitude vineyards with warm summers and cold winters in the Upper Loire. This variety produces a vast range of wines, all worth exploring.
Rhône Valley
The Rhône Valley is located in southeastern France and is divided into two distinct regions: Northern Rhône and Southern Rhône.
In the north, the Syrah grape reigns supreme making intense red wines. In the south, red and white wines are produced using blends of Grenache, Syrah, and Mourvedre grapes.
The one defining feature of the Rhône Valley is the Mistral wind blowing through the region, keeping vineyards dry and reducing vine diseases.
Alsace
Tucked away in the northeastern corner of France against the border of Germany, Alsace produces primarily white wines, with Riesling, Gewürztraminer, and Pinot Gris being the most popular.
The high altitude, hot summers, and cold winters combine to make wines known for their crisp acidity, minerality, and fruitiness.
Languedoc-Roussillon
This massive wine region (the largest in the world by area) is situated along the Mediterranean coast of France. The region is home to a wide variety of grapes, including Grenache, Syrah, Mourvèdre, Carignan, and Cinsault, with Grenache being the primary variety.
Within Languedoc-Roussillon, huge variations in soil type lead to a wide range of wines being produced. The one unifying feature of the wines from this region is their full body and rich and complex flavors. Much of this is driven by the warm and sunny climate of the area.
Provence
Provence is in the southeast of France and well known for its rosé wines. Like Languedoc-Roussillon, Provence is greatly affected by the hot and sunny climate of Mediterranean France.
As you would expect, the warm weather of Provence has led to wines that make for great summer drinking. Serve chilled and soak up the sun!
Beaujolais
Moving back north a bit, we find the Beaujolais region in eastern France, just south of Burgundy.
Often served as young wines released just a few weeks after harvest, wines from Beaujolais are mostly light-bodied, fruity red wines made from the Gamay grape.
Jura
Along the French border with Switzerland, you'll find the small region of Jura. The Chardonnay grape is the primary grape grown in the area, with a smattering of Pinot Noir and other varieties also making an appearance.
This region has a unique tradition of winemaking not found in the rest of France. This oxidative style involves exposing the wine to air during the aging process, resulting in a distinct nutty and savory flavor in the wines it produces.
Savoy
Located in the foothills of the Alps in the east of France, the Savoy region produces red, white, and rosé wines. The region's soil is rich in limestone, giving Savoy wines a distinctive Mineral flavor.
Want to bring your french wine home with you?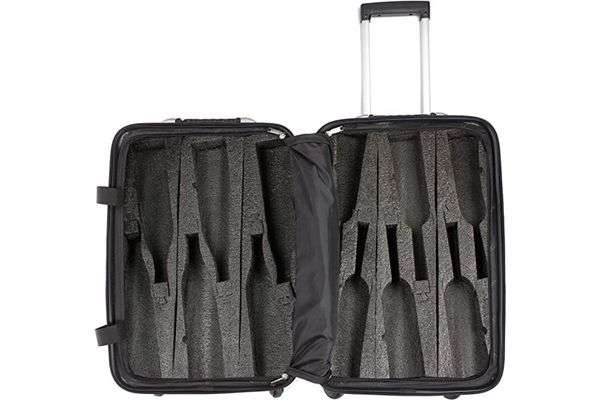 We recommend the VinGardeValise 12 bottle wine suitcase. There are a couple ways you can use this suitcase. One is, when you come home you only pack half the suitcase with wine and the other side clothes; or, what we do is bring a duffle bag to carry our clothes home. You can still check a duffle bag home btw, you don't have to schlep it around for all four connections.
Pro tip: you can also use the duffle bag to drop off your clothes to be laundered if you're doing an extended trip. Multiple uses for one duffle bag.