A California Girl's Wine Tasting In Tuscany-A Love Story
Time to read: 6 minutes
Italians definitely do it better.
Off the bat, you should know, wine tasting in Tuscany is not like wine tasting in the US. We're going to get into that.
The typical joke starts, "a guy walks into a bar…" but this time we'll change it up with "a California girl walks into an Italian winery," and she has this air of arrogance about her because she's been to Napa Valley numerous times and tasted the finest wines, explored the state's wine regions from top to bottom and now she's going to Italy, a land known for their dark fruity, lighter bodied wines, but do they even know about California wine? And how good is this wine anyway?
That was me, before visiting Tuscany and thinking that the only place you could find great wine was in California.
Sure, I've tasted wine all over the globe — German wine, South African wine, French wine, and even Chinese wine (let's not go into me getting drunk at the Guangzhou airport during a 7-hour layover), but nothing beats a glass of California Cab or Zinfandel.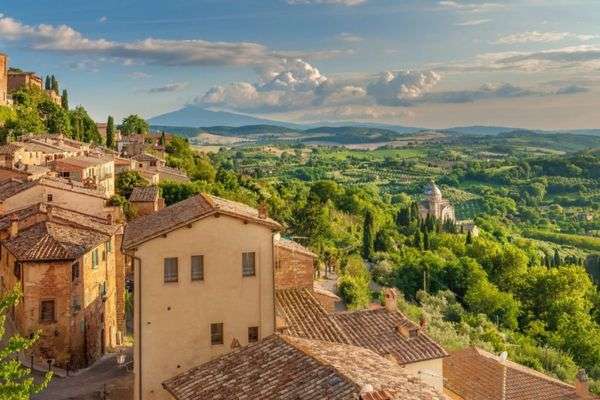 My knowledge of Italian wine pre-Tuscany vacation during Thanksgiving with my BFF – because my family lives at the corner house on Dysfunction Junction and I just wanted to celebrate the pilgrims colonizing Native American land by forgetting about my American roots and heading to Italy to drown in carbs and limoncello – was basically me wandering the aisles of Total Wine.
More like skipping over Italian wine because that weird looking wine bottle sitting in a straw basket seemed too Olive Garden for my tastes.
But "When in Tuscany…" you must Tuscan with the best of them, so this is my wine journey through one of the greatest wine regions in the world (yep, you heard me California!).
Side note, I got a lot of commentary from friends and family about going to Italy around Thanksgiving. Trust me, not all vacations need to happen in the summer. There are some seriously great reasons to visit Florence in the winter. Tuscany in general is absolutely amazing in the off-season. Less crowded, plenty of open tables, no lines at museums, the list goes on!
How To Wine Taste In Tuscany
My advice is not rocket science, because no matter which wine region around the world you go to, you can find many different ways to taste the local wine.
With Tuscany, I planned ahead booking tours, scouting out locations, even made reservations ahead of time at some of the more popular restaurants. I wasn't about to leave one wine bottle uncorked.
However, nothing beats unexpected spontaneity. Like John Lennon once said, "Life is what happens when you're busy making other plans."
I will recommend this…..rent a car and learn how to drive a stick! And, make sure you get a compact car.
Book A Cultural Wine Tour In Tuscany
I didn't know much about wine regions in Italy, but had definitely heard of Chianti.
The small village of Greve in the Chianti region offered a guided tour where you could walk through the cobblestoned streets and visit many of the local shops — butcher, olive oil purveyor, grocer, and wine shop.
Each place would have a small taste of something for you and on this rainy day in November, everyone was happy to see a traveler.
At the wine shop, the wine dispenses straight from a stainless steel vat and how eco-friendly and economical that you can just come and refill your wine bottle for less than a Starbucks latte (with the vegan milk upcharge).
We spent the longest time here and at the end I had to give the shop owner a hug because I learned so much about the history and people who lived in Greve and how important wine and community is to them.
There was so much more in this wine glass than just a delicious wine, there was an entire history and culture of the Italian people. I was so grateful for this experience.
Wine Tasting In Tuscany Is Not Like Potato Chips. Just Have One.
What makes Tuscany different from Napa Valley (or most wine regions in California) is that you can drive miles and miles…..and more miles and not find another winery.
Most of the wineries are on large areas of land and sit on picturesque hilltops, very spread apart.
So the idea of planning your day to visit 3+ wineries like you would in Napa is not exactly realistic.
You might be able to visit one or two, spending much of your time driving your rented Fiat (get a Fiat, it makes parking in small spaces so much easier) through winding roads and up steep hills (yay, stick shifts!) and hauling your case of wine you bought back to the hotel to have your own special boozy turndown service.
Notable Tuscan Wineries I Visited
Opt for a winery tour if offered, it's a great way to understand how wine is produced in Italy and to spot the fakes out there. For instance a certified Chianti Classico bottle from the region of Chianti will have the rooster logo on it.
Vignamaggio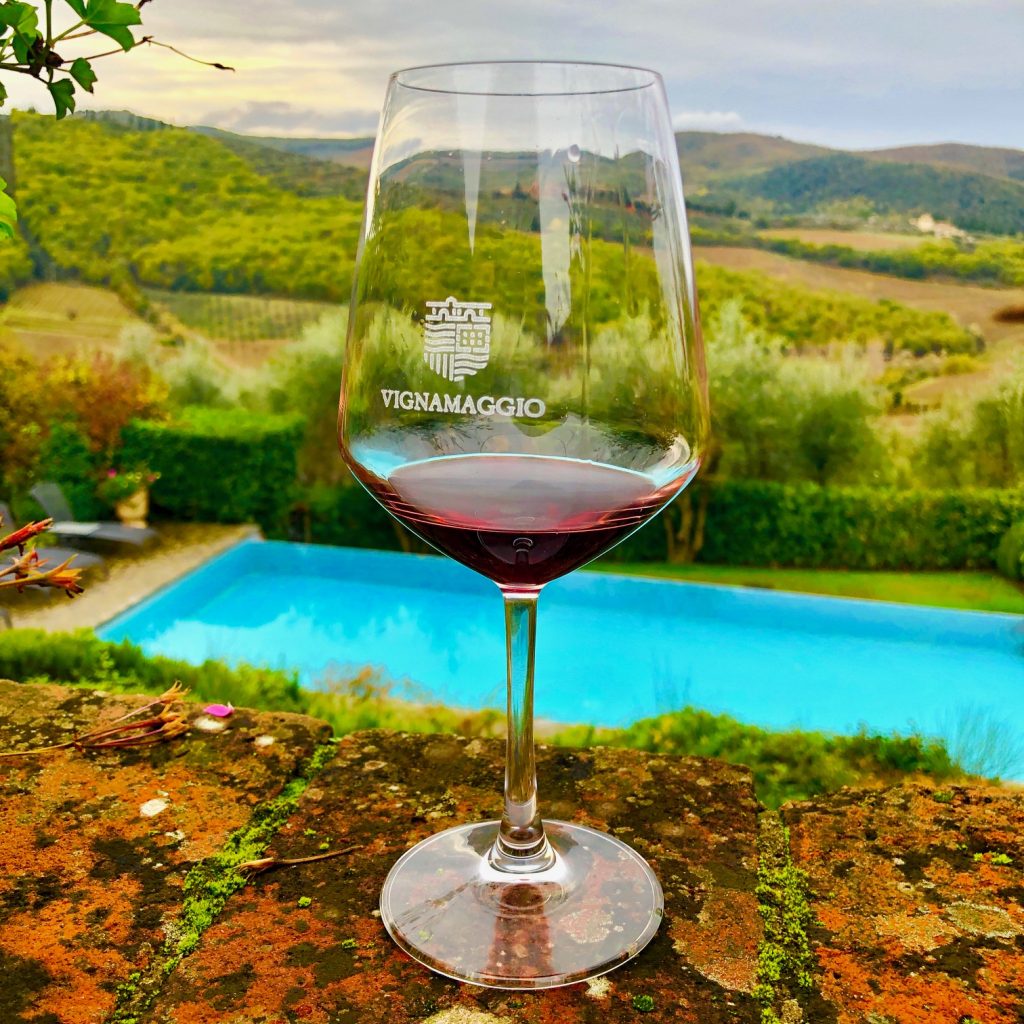 Vignamaggio is in the heart of the Chianti Classico region, 20 miles from Florence and 22 miles from Siena.
The villa and the surrounding farmhouses are located in Petriolo, just over a mile from the center of Greve in Chianti and 2-1/2 miles from Panzano.
The estate spans more than 400 hectares between the Greve and Panzano municipal areas in Chianti.
Enjoy views across vineyards and of ancient hamlets scattered around the hills on your drive in.
Castello Di Verrazzano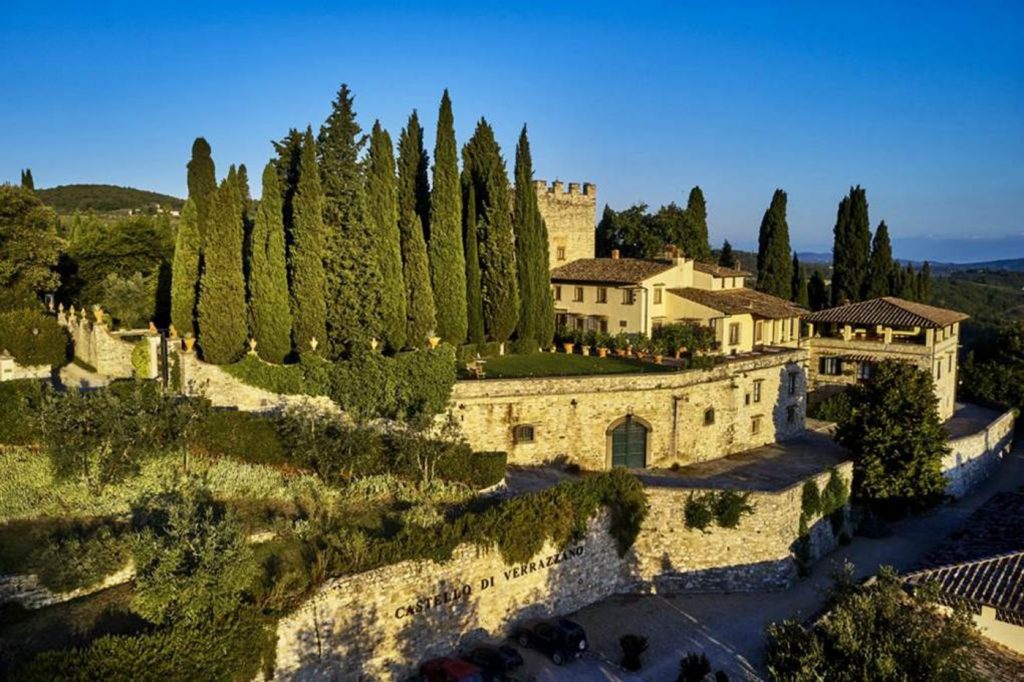 Via Castello di Verrazzano, 1, 50022 Greve in Chianti FI, Italy
Castello Di Verrazzano offers several Tuscany wine tours and wine tasting experiences beginning at €28 per person.
The Castle of Verrazzano is located in Greve in Chianti, in the heart of the Chianti Classico area, between Florence and Siena.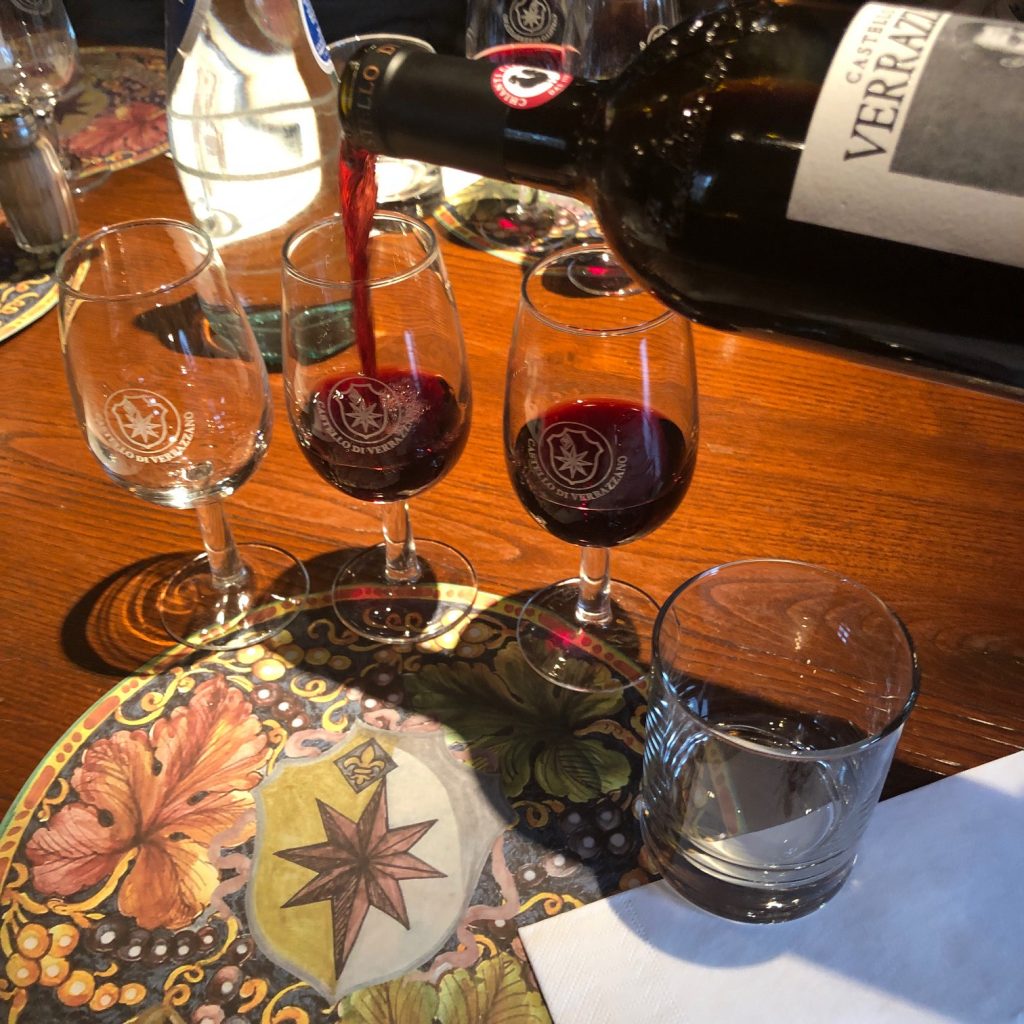 Initially the Castle was an Etruscan then a Roman settlement and it has remained within its boundaries for over 1000 years: it has represented a firm and safe post in an area interested for many centuries by political and dynastic conflicts.
There is a great tradition of winemaking here: the "vineyards situated in Verrazzano" are mentioned in a manuscript which dates back to 1150 and is preserved at the abbey of Passignano (wrongly reported as "1170").
Buonamico
Via Provinciale di Montecarlo 43, 55015 Montecarlo (LU) Italy
Tenuta del Buonamico wine company was founded in 1964, and from that time on it has been considered one of the Montecarlo's leading companies for its wine production, in respect of the territory and the tradition.
The Estate has several big areas for the wine tasting.
Every tour includes an introduction with the history of the company, the visit of the cellar where the phases of the wine making process are explained from the harvest to the bottling, tour of the barriques room and a tour of the Historical Cellar.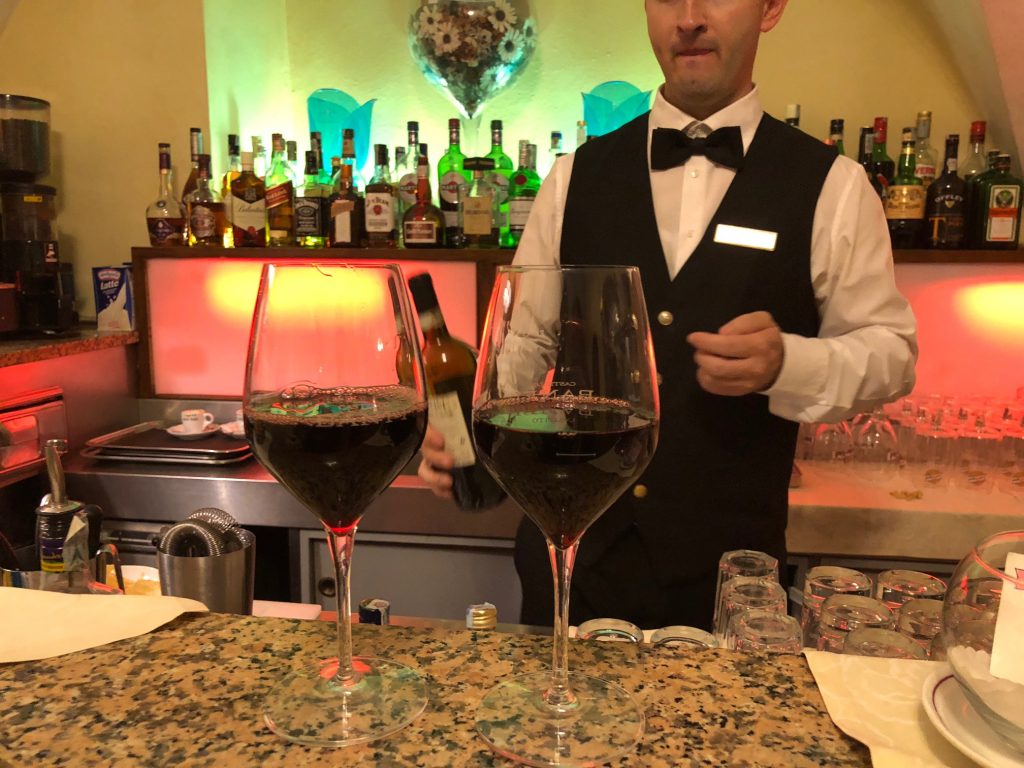 Your Tuscany wine tour ends up in the tasting areas, where people can try the company's wines and extra-virgin olive oils, with the description of the various organoleptic characteristics.
The tour is about 20 minutes long, while the time for the wine tasting can vary according to the chosen "formula" (or "wine tasting" for the Americans in the back) and the group's needs.
Prices begin at € 25 per person. I call that a steal of a deal!
Hit Up A Tuscan Wine Bar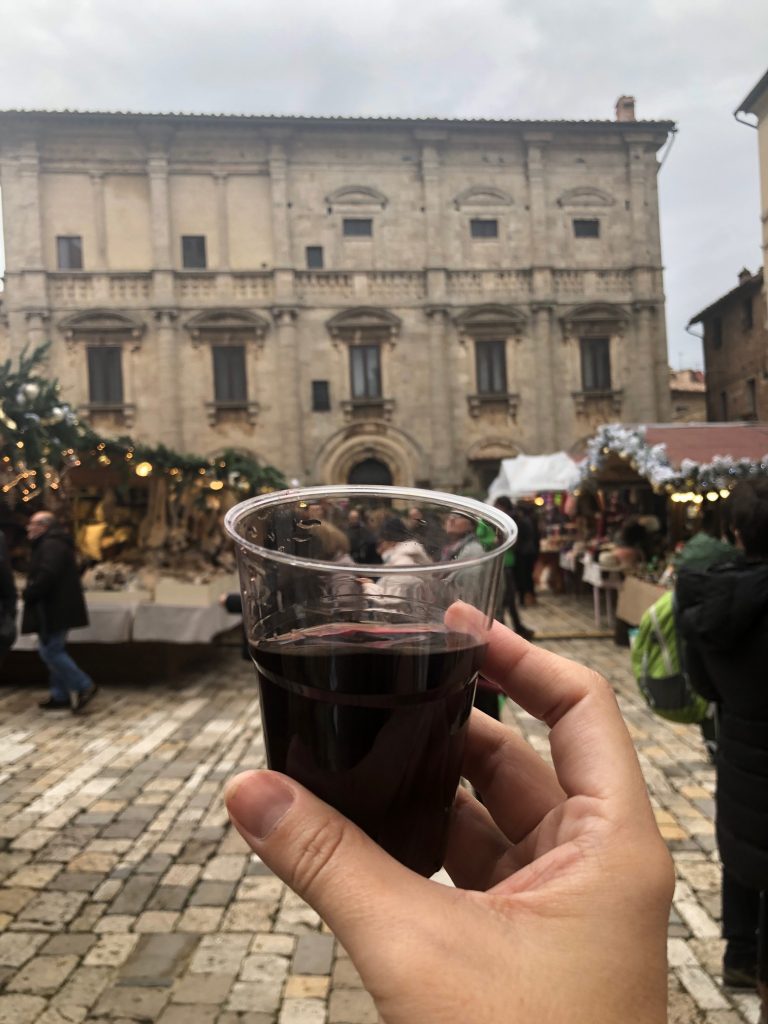 There's no shortage of wine and Prosecco bars in Italy. It's a great way to be introduced to many Italian wines from the many different regions.
I loved wine tasting in Lucca and wine tasting in Florence where you can sit facing the busy city streets and people watch.
You might even find yourself in the middle of three guys singing and playing the accordion on the street (true story, bro).
Wine Tasting With Every Meal? Don't Mind If I Do
Italy is a country for the senses. In Italy you are either sightseeing or eating. I often filled myself up on wine and apertivos to the point I wasn't even hungry for a meal.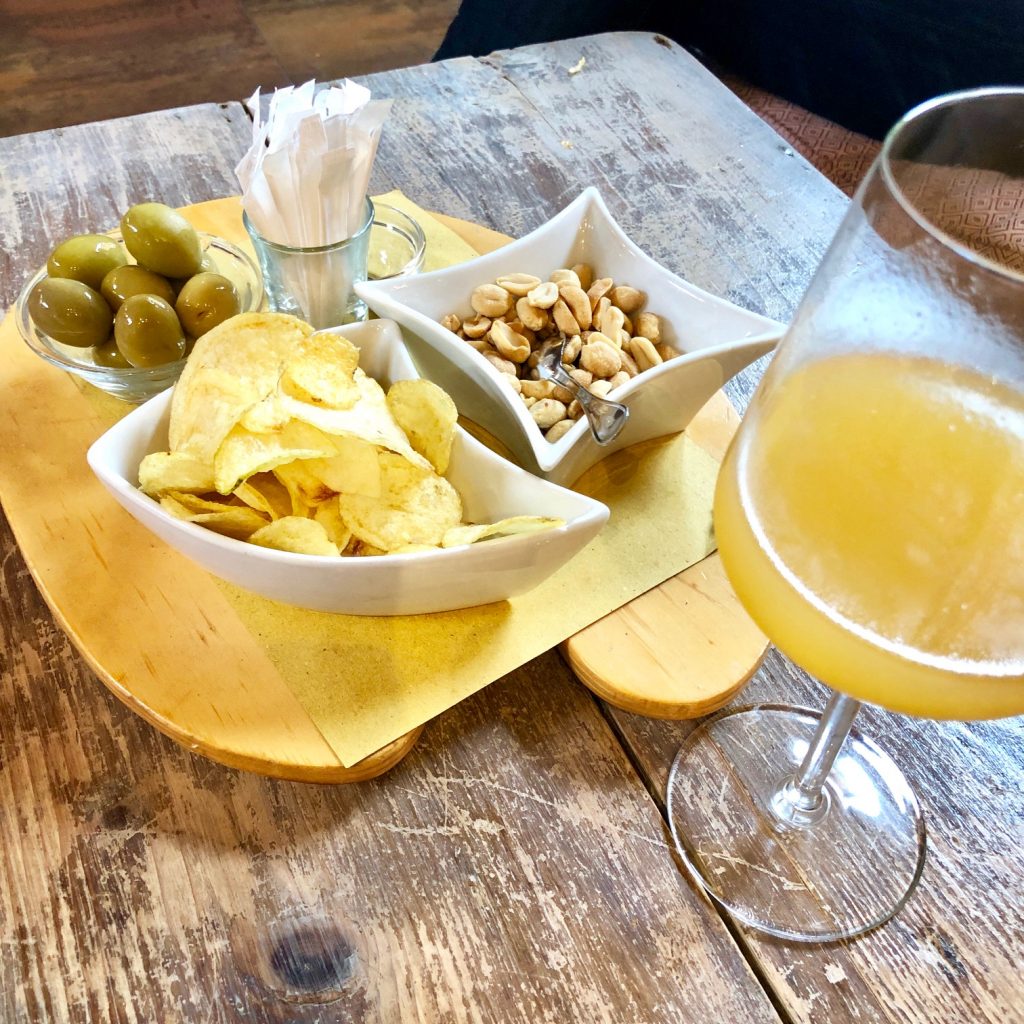 In America we usually get just a basket of bread and butter before a big meal, but in Italy they serve you chips, and nuts, and bread and fruit with your wine before your meal and some of them even refill it for you.
I caught on real quick, "Oh so I can just have a glass of wine and unlimited potato chips? works for me."
P.S. I had to bring a little of my bougie basic brunch girl self and order a mimosa (prosecco with OJ) at one of the wine bars and let me tell you — mimosas and potato chips are my new happy snack.
Find A Local Wine Tasting Event In Montepulciano
Wait, I can drink wine in the streets? Leave it to Tuscany to host events in their villages and have yet another reason to serve wine.
During the latter part of November through early January, you can find a number of Christmas Markets happening in the region.
They serve wine at many of the stands and you can drink outdoors on the street with views of festive trees and the smell of freshly baked holiday sweets.
Wine tasting in the medieval town of Montepulciano is a breathtaking place to sip a cup of wine while walking through the streets hearing "Ciao bella" from the salami vendor. Who, me?
Take A Cooking Class in Florence
I never leave a country without booking a cooking class. It is the sure way to get to know what Italian life is like for an everyday local.
I've done many cooking classes throughout Italy, but the one in Florence was so much fun — a gelato and pizza making class.
The thrill of making your own dough, topping your own pizza, churning your own gelato and then finally finishing it off with a nice glass of Chianti was a chef's kiss.
We were greeted with wine and bruschetta upon entering the modern Tuscan farmhouse with all glass windows that look over Florence.
Learning the secrets of how to make pizza like the Italians do and crafting your own personal flavor of gelato was the perfect sweet and savory accessory to enjoying Italian wine.
Hotel House Wine Is Where It's At
I know Air BnB is a real thing now, but honestly staying at a hotel in Tuscany where you can mix with locals and tourists, getting that free breakfast and coffee every morning and sitting in the hotel's lounge area drinking cheap (literally every hour is happy hour), but delicious wine is the foundation of a great wine trip.
No matter what the day holds for you, the night holds with it endless pours of wine, laughing and sharing stories with other travelers and thinking to yourself, "I could live here."
If you have a friendly bartender like I did, chances are you'll get heavy pours, a free glass and some of the "special" wine from the back.
The Final Sip-My Wine Tasting In Tuscany Comes To An End
Wine tasting in Tuscany is much like wine tasting in other parts of the world, but overall the wine is very drinkable.
There's not a huge diversity between the different varietals like there are in California wines.
The wines are lighter-bodied than those from Napa. Most people will be like "I like that, not that. I prefer a bold Zinfandel, not a Pinot Noir."
However, in Italy I found that I enjoyed the Sangiovese, the Montepulciano, Barbara,
Primitivo (the Italian's Zinfandel), and Nero d'Avola pretty equally. Not one did I spit out
or not finish a glass.
Of course it could've been the fact that I was in Italy, eating an entire pizza by myself, but trust me when I say that wine tasting in Tuscany is religious experience between you and the wine gods. Amen.
Wine Tasting In Tuscany FAQ
Do you need reservations for wineries in
Appointments are requested and required at some wineries.
Wineries in Tuscany sometimes aren't open to the public. There are exceptions, especially some tasting rooms in towns like Montepulciano, where you can walk in and do a tasting. A reservation is required for vineyard tours and most are included with the tasting.
How do you get around Tuscany wineries?
This is not like the US where you can visit 3+ wineries in a day. Travelling by car or getting on one of the organized wine tours would be the two best options to taste wines in Tuscany.
What do you wear to a wine tasting in Tuscany?
You'll be walking more than you think, so put those stylish Italian loafers back in your suitcase. Be sure to wear comfortable shoes. You'll also probably be climbing stairs. A visit to a church is likely so you might be asked to cover up bare shoulders.
Do you tip for wine tasting in Italy?
Rick Steves says no. But, yes they do tip.It's not true that Italians never tip. They tip less often, it isn't automatic, but they do tip.
How many days in Tuscany is enough?
We recommend at least one week for visiting Tuscany, but you can see the main cities in 3-4 days. One week will allow you to see not just all the highlights of the best towns of Tuscany, but also to get a glimpse of the beautiful Tuscan countryside.
Is a car necessary in Tuscany?
Our advice is yes. If you're in the Tuscan countryside you'll need to rent a compact vehicle (as compact as possible based on your group size).

Author: Tiffany Carter
Tiffany is a contributing writer to Armchair Sommelier. When she isn't writing about wine, the California native is touring local wineries (Hello Napa and Paso!) and filling her glass across the globe (Ciao, Tuscany!). She loves a full-bodied cab, but she plays favorites when it comes to a spicy Zinfandel or juicy Malbec. Her fridge is stocked with a bottle of sparkling rosé for emergencies. Hint: there's always an emergency. You can follow Tiffany @winetastetravel.