Virginia Wineries 101
I've been tasting wine in Virginia for over 20 years. The growth and change in the Virginia wine industry has been spectacular, and I've had a front row seat. These are my field trips to, and reviews of Virginia wineries.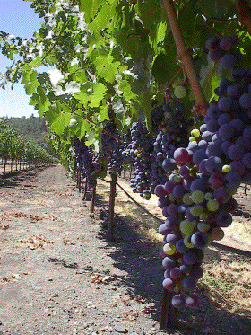 I'm often asked by friends (and friends of friends) to recommend a "good" Virginia winery. I always hesitate to answer because "good" means different things to different people. I tend to mentally rate wineries based first on the quality of the wines, then on other aesthetics like setting and service. My own preference is for winemaking as craft, not an entertainment venue.
I have over 20 years of armchair wine tasting experience, but I do not work for (nor am I affiliated with) any Virginia Winery. My palate and my opinions are mine. All mine.
My four favorite wineries (and this changes from time to time, along with my mood) are:
If you can't get enough of the beautiful wineries, award-winning cuisines, craft beverages and luxury experiences available in Virginia, be sure to check out the Wine & Country Gold Book.
Here's the growing list of Virginia wineries I've reviewed on this blog:
Barboursville Vineyards
17655 Winery Rd
Barboursville, VA 22923
Casanel Vineyards
17956 Canby Rd
Leesburg, VA 20175
Chrysalis Vineyards
The Ag District Center &
Chrysalis Vineyards Tasting Room
39025 John Mosby Highway
Middleburg, VA 20117
Early Mountain Vineyards
6109 Wolftown-Hood Rd
Madison, VA 22727
Granite Heights Winery
8141 Opal Rd
Warrenton, VA 20186
Greenhill Winery & Vineyards
23595 Winery Lane
Middleburg, VA 20117
Horton Vineyards
6399 Spotswood Trail
Gordonsville, VA 22942
King Family Vineyards
6550 Roseland Farm
Crozet, VA 22932
Molon Lave Vineyards
10075 Lees Mill Rd
Warrenton, VA 20186
Naked Mountain Winery
2747 Leeds Manor Rd
Markham, VA 22643
Narmada Winery
43 Narmada Ln
Amissville, VA 20106
Old House Vineyards
18351 Corkys Ln
Culpeper, VA 22701
Paradise Springs Winery
13219 Yates Ford Rd
Clifton, VA 20124
Potomac Point Winery
275 Decatur Rd
Stafford, VA 22554
Prince Michel Vineyards & Winery
154 Winery Ln
Leon, VA 22725
RdV Vineyards
2550 Delaplane Grade Rd
Delaplane, VA 20144
Stigma, Bias & Choice:  Tasting Blind at RdV Vineyards
2550 Delaplane Grade Rd
Delaplane, VA 20144
Stinson Vineyards
4744 Sugar Hollow Rd
Crozet, VA 22932
Stone Tower Winery
19925 Hogback Mountain Rd
Leesburg, VA 20175
The Barns At Hamilton Station
16804 Hamilton Station Rd 
Hamilton, VA 20158
The Winery at Bull Run
15950 Lee Hwy
Centreville, VA 20120
Williamsburg Winery5800 Wessex Hundred
Williamsburg, VA 23185
Virginia Wineries Final Thoughts
With over 300 wineries and a reputation for high-quality production, Virginia is really turning into a surprising and exciting wine-producing state. Some vineyards are even rivaling the West Coast wine country.
With a varied terrain, a wide range of terroirs, and a grape growing and winemaking culture as passionate as any, Virginia has raised itself to the upper echelons of American wine.
From familiar varieties like Chardonnay, Cabernet Sauvignon, Cabernet Franc, and Merlot, to less widely known ones like Viognier, Norton, and more, Virginia, as the state's tourism tagline goes, isn't just for lovers; it's for wine lovers, too.
Virginia Wineries FAQ
Does Virginia have good wineries?
Virginia is quickly becoming one of the top wine tasting destinations on the east coast, comparable with the Finger Lakes Wine Region in Upstate New York.
Where is wine country in Virginia?
Three distinct Virginia wine regions are found on the coast—Chesapeake Bay, Eastern Shore and Hampton Roads—and provide unique experiences filled with water views, activities and fresh seafood pairings and more.
What wine is Virginia known for?
In Virginia, popular red varietal wines include Merlot, Bordeaux and Cabernet Sauvignon.
How many wineries are in Virginia?
Virginia has over 300 wineries.Wine trails and wine tours across the state make planning your visit easy. You'll find beautiful winery locations and stunning tasting rooms that rival Napa. There's plenty of unique winery experiences in Virginia wine country.
What is the oldest winery in Virginia?
Chateau Morrisette is Virginia's oldest winery, opened in 1978. It's located on the Blue Ridge Parkway, 3,500 feet above sea level, an hour from Roanoke and two hours from Greensboro, North Carolina.
What is the number one grape planted in Virginia?
The most planted grape variety is Chardonnay, though Cabernet Franc and Viognier are also well illustrated throughout the region. Petit Manseng and Petit Verdot are used to create wines that really highlight Virginia's terroir.