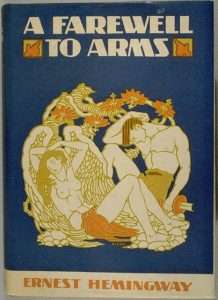 Monday was Ernest Hemingway's 115th birthday.
I'll bet you can't guess what you're getting for Wine, Words & Wednesday today.
These words are from A Farewell to Arms . . . a book that could provide fodder for this series for an entire year.
If it's been a while since you dusted off your copy,
A Farewell to Arms takes place in Italy and Switzerland during World War I.  The main character, Frederic Henry, is an American ambulance driver in the Italian army.  It's essentially a love story between Frederic and his nurse, Catherine Barkley, but it's also Hemingway's treatise on the pointlessness of war.  The book is based on Hemingway's own experiences as an ambulance driver in Italy during World War I.  And Catherine is a little more than loosely based on Hemingway's own nurse and unrequited love, Agnes von Kurowsky.  Hemingway had wanted to marry Agnes, but once he returned home to America after the war, she sent him a Dear Ernie letter.  And so Hemingway did what any scorned writer does (spoiler alert) . . . he kills Catherine at the end of his book.
These particular words occur after the Austro-Hungarian and German rout of the Italian army at the Battle of Caporetto.  Frederic, an officer, is captured by the Italian battle police.
The Italian battle police are interrogating officers for treachery (guess who got the blame for that Italian defeat?), and Frederic notices that after interrogation, all the officers are being executed.  Frederic escapes by jumping into a river.  He decides to desert the army — his farewell to arms — and hops a train to Milan to reunite with Catherine.
Once in Milan, Frederic encounters a sympathetic proprietor at a wine shop.  The proprietor seems to be somewhat of an oracle and senses Frederic is in some flavor of trouble.  He offers to keep Frederic there at the wine shop, but Frederic insists he's not in any trouble and moves on.  But not before they share a glass of grappa together.  Because that's what you do when you're on the run from the Italian army.

Now there's a collection of things I never really thought of as having a smell . . . until now.  It's collectively brilliant.  If Hemingway ever moonlighted as a professional wine writer, I imagine his wine reviews reading a lot like that.  I'd buy a bottle of wine based on that description. Maybe two.
Salud!