The 6 Best Shrimp Scampi Wine Pairings To Buy Now
(the Albariño pairing is my favorite)
Time to read: 3-4 minutes
Pairing wine with shrimp scampi is easier than people think. It's an incredibly versatile dish. In its traditional Italian form, scampi or langoustines, are cooked in a sauce of olive oil, butter, white wine, and garlic. It's eaten as is, ideally with crusty Italian bread to soak up all those rich flavors (swoon).
America has taken this concept, swapped langoustines for shrimp, and served it alongside noodles, gnocchi, rice, or atop toasted garlic bread. You name it, you can have it, as is the American way.
While the scampi sauce has kept to its traditional roots, the accompaniments can vary as much as you'd like. Therefore, it seems only fitting that we offer plenty of wine pairing options for your drinking pleasure.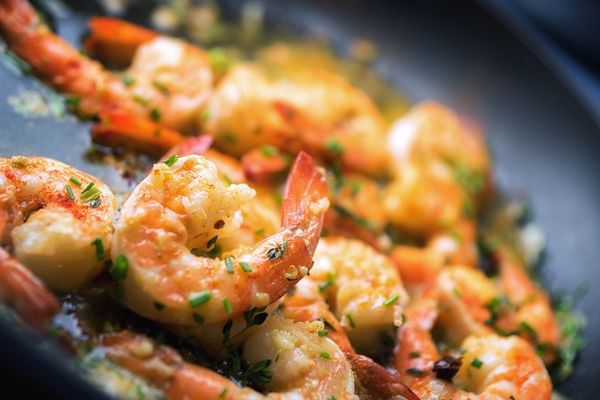 Tips For Selecting Cooking Wines For Your Shrimp Scampi
Scampi sauce calls for a dry white wine, so here are a couple of essential tips for selecting the ideal cooking wine:
Don't use a wine you wouldn't drink – In fact, I'd go a step further and suggest that you don't use a wine you wouldn't pair with this dish. It doesn't have to be the wine you planned on serving that evening, but it should be equally as compatible.
Avoid the cooking wines in the vinegar aisle of the grocery store – Vinegar is exactly what they are, and it will only serve to accentuate potential bitterness in your dish.
Match the intensity of the shrimp scampi dish with the wine – A hearty beef stew needs a robust red wine such as Cabernet, just as an herbaceous seafood dish needs a light and bright white wine such as Sauvignon blanc.
If you don't feel like sharing, buy a bottle of vermouth – Vermouth is every bit as food friendly as it is for making the perfect cocktail. Depending on the type, vermouth can be dry and tart, or sweet and lingering.
Keep in mind vermouth is stronger than wine, so it should be used in smaller amounts and stored in the fridge. When it comes to shrimp scampi, a dry vermouth is best.
Best Wines For Shrimp Scampi
Shrimp scampi can be enjoyed in many different versions, but the scampi sauce is nearly always made with garlic, butter, and white wine. Each of these white and rosé wines will make an excellent shrimp scampi wine pairing.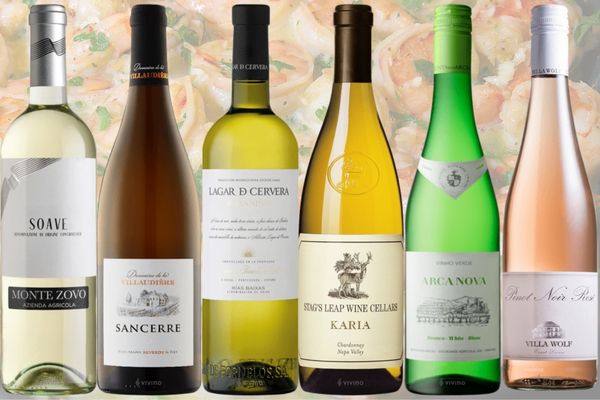 Gargenega (Italy), Wine: Monte Zovo, Soave 2020
Scampi is an Italian dish, so why not begin with a wine pairing of the light and bright Garganega to serve alongside a very classic take on scampi?
Garganega is a dry, high-acid white wine that is drunk young so as to accentuate its bright green fruit and citrus flavors. Considering traditional scampi is served al la carte with a day's worth of fresh olive oil and garlic, it makes sense that a young wine would work wonders with an herbaceous dish such as scampi.
Shrimp Scampi Wine Pairing: Gargenega and classic Shrimp scampi al la carte
Sancerre (France), Wine: Domaine de la Villaudière, Sancerre
Sancerre offers a striking acidity that will aid in lightening up a dish that is rich in butter and olive oil. Expect notes of green apple, pear, grapefruit, and an underlying minerality that will tie in beautifully with the shrimp.
Bonus points if you garnish the risotto with fresh herbs such as thyme or oregano, as this will accentuate the grassy flavor of the Sancerre.
Shrimp Scampi Wine Pairing: Sancerre and shrimp scampi with risotto
Albariño (Spain), Wine: Lagar de Cervera, Albariño
Albariño is an awesome choice when you want a high-acid wine that's complemented by plush stonefruit and sweet grapefruit notes. Not only does it stand up to the acidic ingredients in your shrimp scampi like tomatoes, but it also evens out the intensity of herbs and spices.
If you like your bruschetta on the spicy side, Albariño will soften the addition of red pepper flakes, while also revealing the sweetness of the tomato.
Shrimp Scampi Wine Pairing: Albariño and shrimp scampi bruschetta
Chardonnay (USA), Wine: Stag's Leap Wine Cellars, KARIA Chardonnay 2019
Sometimes you just want to match butter with butter, in which case Chardonnay is the clear pairing. This oaky Chardonnay is laced with flavors of vanilla, toast, pear, and just enough minerality to tie in with our star ingredient, the seafood.
This is also a great choice if there are other dishes on the evening's menu that will need a full-bodied wine to pair. If you want the minerality and fruit notes without the toast, opt for a Chablis instead.
Shrimp Scampi Wine Pairing: Chardonnay and shrimp scampi with buttered angel hair pasta. Chef's kiss!
Vinho Verde (Portugal), Wine: Arca Nova, Vinho Verde Branco 2020
Vinho verde literally translates into "green wine," which makes it a clear winner when paired with a traditional version of scampi. I especially love how the vermouth butter provides a unique tartness and complex layer of flavor that isn't quite comparable to a normal white wine.
Shrimp Scampi Wine Pairing: Vinho Verde and shrimp scampi with garlic vermouth butter
Rosé (Germany), Wine: Villa Wolf, Pinot Noir Rosé 2020
I see no reason why white wines should have all the fun. After all, a good Rosé can play on both teams. This light and bright Rosé has flavors of ripe red fruit, a touch of citrus, and a slight umami-esque minerality.
As for cooking with Rosé wine, it's best to treat it like dry white wine and use it in dishes such as your shrimp scampi. If you're unsure, use half white wine and half Rosé.
Shrimp Scampi Wine Pairing: Rosé and lemon dijon shrimp scampi
Final Thoughts For Our Shrimp Scampi Wine Pairing
Shrimp scampi is an American take on an Italian classic, so why limit ourselves to wines from one region or the other?
In the event you find yourself stranded with a big bowl of shrimp scampi and nowhere to go, pop into your local wine shop for a chilled bottle of a young, not too expensive, white wine.
Chardonnay if you want to pair butter with butter, or a sauvignon blanc if you want to highlight fresh herbs.
As always, never forget that the most important thing is that you like what's in your glass!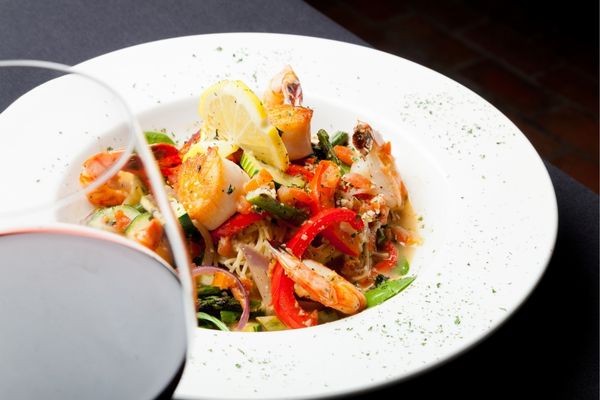 Shrimp Scampi Wine Pairing FAQ
What kind of wine goes with shrimp scampi?
Shrimp scampi can be enjoyed in many different versions, but the scampi sauce is nearly always made with garlic, butter, and white wine. Each of these white and rosé wines will make an excellent shrimp scampi wine pairing.
Can you drink red wine with shrimp scampi?
A Shrimp scampi wine pairing can be a red or white pairing. Shrimp scampi tastes its best when paired with wines like Sauvignon Blanc, Pinot Gris, Chardonnay, Vinho Verde, Rosé and even Rioja. 
Rioja is a red wine (and white wine believe it or not) with a moderately sweet taste and high tannin levels. It is oaked and aged which results in the wine developing an intense fruity flavor and an excellent finish, providing you with a pleasurable dining experience. It has high levels of acidity and a medium wine body, making it an irresistible combination with shrimp scampi.
What kind of wine goes with shrimp and pasta?
We love this Shrimp Scampi Wine Pairing: Chardonnay and shrimp scampi with buttered angel hair pasta. Chef's kiss!
Is red or white wine better with shrimp?
Despite common knowledge, red wine can be paired with seafood. I recommend pairing lighter-bodied, fruit-forward red wines with seafood when there are secondary characteristics in the dish that you want to emphasize. Mushrooms, meat, or flavorful sauces can be elevated when paired with reds.

Author: Olivia Abramson
Olivia has been immersed in all things food and libations for nearly a decade. When she's not cooking or sipping on a glass of vino, she's running a small tasting room for a boutique winery located on the beautiful Hood Canal in Washington State. She spends her free time bikepacking around the Pacific Northwest with her fiance and checking out all the local breweries. She also enjoys writing for her own personal food and wine blog, Liv Eats Local. Follow her IG: @olivia_abramson for pictures of her cute dog, Tater, and their van-lifing adventures – and check out her blog liveatslocal.com for recipes and stories of tipsy travels.