Thanksgiving, the glorious American holiday of thanks and food, is tomorrow.  It's snowing at my house today, which is perfect weather for cooking — I want to get as much done today as I possibly can (more time for drinking wine tomorrow).  As soon as I wrap this up, I will put on my cooking Crocs and get things rolling.
But first . . . the words.
These words pop up pretty frequently in the social media wine world, but I copied them out of George Taber's book, The Judgement of Paris:  California vs. France and the Historic 1976 Tasting That Revolutionized Wine.
The words are from American editor and author, Clifton Fadiman.  Yeah, I didn't know who he was, either.  Google to the rescue!  Fadiman was editor and judge of the Book of the Month Club for over 50 years.  He also wrote for Encyclopedia Britannica and hosted the radio show, Information Please!  Faidman co-authored the book, The Joys of Wine, with Sam Aaron.  I don't have that one — putting it on my used bookstore hunting list right now.  Fadiman once listed his avocations as wine and "the avoidance of exercise."  Huh.  I have very similar avocations (I prioritized blogging and coffee over going to the gym this morning).
These words ring so true — wine lovers are notorious sharers.  And Thanksgiving is a notorious sharing day.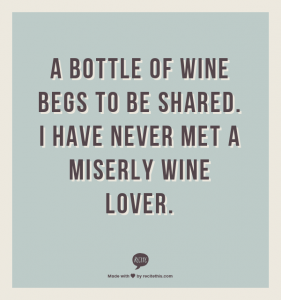 I'm thankful for wine, and family and friends to share it with.  Thanksgiving is always a Pinot Day at Haus Armchair Sommelier.  I think Kosta Browne may get the nod.  What wine(s) will you share tomorrow?
Happy Thanksgiving . . . and Cheers from my house to yours!