I don't usually find myself mawkish over celebrity passings.  But, I was genuinely sad to hear of Alan Rickman's passing last week.   Not Severus Snape.  Not Hans Gruber.  Not Steven Spurrier. Mr. Rickman had such presence.  And such a voice — every syllable dripping with gravitas.
Sniff.
If you're a wine lover, you've probably seen the movie, Bottle Shock.  Mr. Rickman plays English wine merchant/snob Steven Spurrier.  And his glorious voice opens the movie . . . Wine is Sunlight, held together by water.  Play. Listen. Repeat.  And once you've got Mr. Rickman's voice in your head, read today's wine words — they're so much better that way, trust me.
Mr. Rickman was a wine drinker, and, in the swirl of tributes flying across the Internet last week, I came across an article in LA Magazine with these beautiful wine words: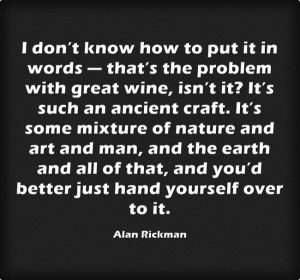 Always.
Fair winds and following seas, Mr. Rickman.
Salud!