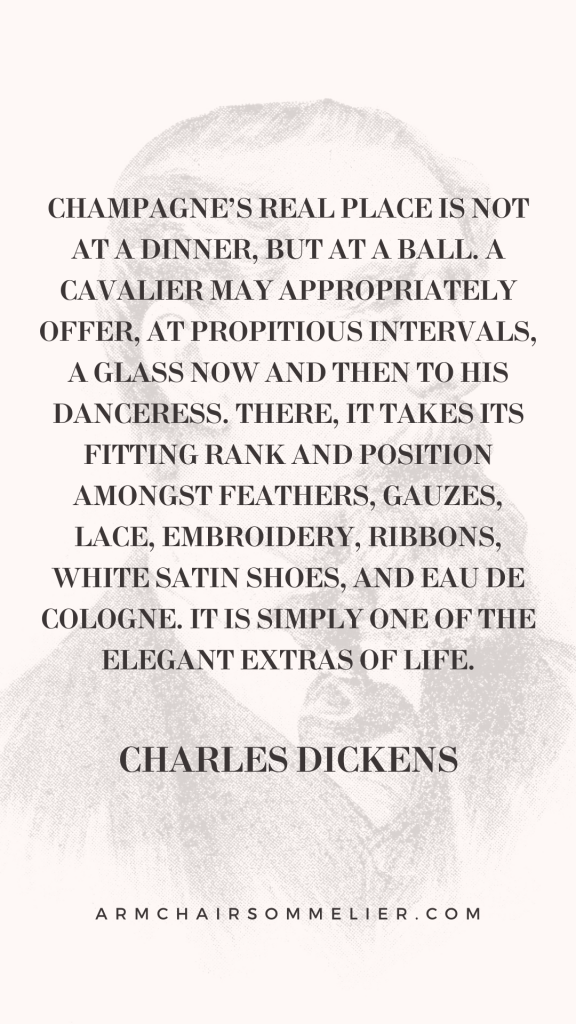 Today's words come to us from English writer and social critic, Charles Dickens.  Widely considered one of the best writers of the Victorian Era (the period during Queen Victoria's reign, from 1837 to 1901), Dickens' novella, A Christmas Carol, remains one of the most popular Christmas stories of all time.  (Fun Fact:  Since its first publication in 1843, A Christmas Carol has never been out of print.)
That said, today's words don't appear in A Christmas Carol, but in Household Words (Volume 11), a weekly literary magazine Dickens wrote and edited from 1850-59.
Dickens was a moderate, but enthusiastic, drinker.  He was a champion of cocktails and adored fortified punch recipes.  An avid host, Dickens was adamant Champagne should be served before dinner (so it had its own time to shine), or even better, at a ball:Here's the full quote:
Here's to feathers, gauzes and elegant extras!
Salud!
_______________________
1Dickens, Charles. Household Words. Vol. 11. Leipzig: 1, 1855. Web.