Fast Guide To Wine label crafts
126 labels of wine on the wall. You've spent years collecting wine labels, now what? We'll show you one of the most fun ways to showcase your beautiful bottles with wine label crafts.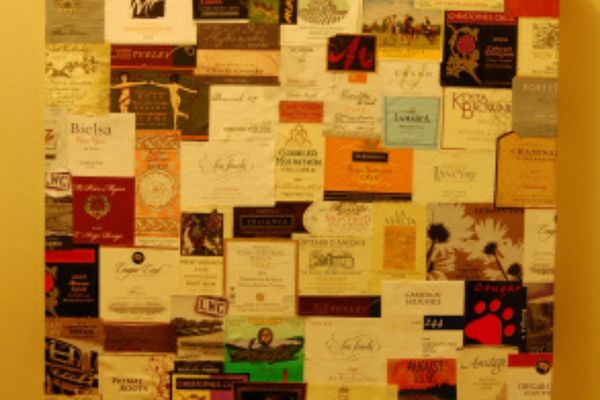 I'm not usually a crafter, but sometimes I pretend. This was one of those times. It's easy, really . . . but kinda messy and time consuming (did you know Mod Podge is water soluble?).
What I love about this project is that there are only 3 steps (and none of them involve a hot glue gun).
Step 1: Drink wine.
Step 2: Remove labels.
Step 3: Mod Podge labels to canvas. Voilà!
Materials Needed For Your Wine Label Craft
An artist's canvas . . . picked this one up with my 40% off coupon at Michaels. They come in an array of sizes, I just really liked the gigantic square.
Wine labels . . . a TON of wine labels. Or choose a much smaller canvas.
A way to remove the wine labels. I've tried every method under and over the sun to remove wine labels. And the best method I've found is the oven method. It works like a charm for 90% of wine labels. The other 10% are just never going to come off. Acknowledge. Move on. Preheat the oven at 350 degrees Fahrenheit for about 5 minutes.
Place the wine bottle on a baking dish to prevent it from rolling around or falling inside the oven.
Let it sit in the oven for about 10 minutes, which will melt the adhesive on the back of the label.
Mod Podge. An entire bottle of Mod Podge. And one (or four) of those little spongy brushes.
Patience . . . because when you remove the wine labels, they're unruly. They like to curl. And when you try to Mod them to the canvas, they don't cooperate and you end up with shellac fingers.
TIP: Once you remove the wine labels, stick them to some parchment paper and put them between pages of a big, heavy book. Kind of like pressing leaves. Then, when you go to Mod Podge the wine labels to your canvas, they will behave. Maybe.
I love wine labels. They're eye-catching and some are downright artistic. Put them together in a project like this and they end up telling a story.
Wine Label Crafts FAQ
What crafts can I do with wine bottles?
Wine Bottle Crafts: 8 Ways to Upcycle Empty Bottles
1. Wine Bottle Tiki Torch. 
2. Champagne Caps Collection.
3. DIY Self-Watering Wine Bottle For A Garden.
4. DIY Etched Wine Bottle Votive Holder. 
5. DIY Wine Bottle Floating Candle Holder. 
6. Wine Bottle Hurricane Lamps. 
7. Wine Bottle Bird Feeders. 
8. Wine Bottle Succulent Planters. 
How can I make money with empty wine bottles?
Ebay is a great place to sell your wine bottles and corks. Split the corks and empty bottles into two separate auctions so you can make the most possible money. I've noticed wine bottles usually sell in lots of 10 or 12. Auctions for wine corks sell in lots as small as 20 and as large as 500.
How do you paint wine bottles?
Instructions
1. In a well-ventilated area (outdoors is best) spray paint the wine bottles white. 
2. Then repeat 2-3 times, changing your angle frequently, until the bottles are completely covered. 
3. Paint each bottle with your desired paint color.
4. Then paint the base of the bottle. 
5. Let dry completely. Et Voilà!