le creuset waiter's friend: A Review
We decided to review two waiter's friend corkscrews from our wine accessories collection. One from Avina Wine Tools, and the other, a Le Creuset waiter's friend corkscrew.
For as much as I love wine, I don't spend a lot of time thinking about corkscrews. Yet, over the years, I've accumulated an entire kitchen drawer full of them — some better than others.
But I don't think about them. I just take it for granted that one of them will get the job done.
However, until recently.
I decided to review two waiter's friend corkscrews. One from Avina Wine Tools, a company located in Valenciana, Spain, on the Mediterranean coast (near Alicante, Yecla and Jumilla, for wine reference) — And the other, a Le Creuset waiter's friend corkscrew.
First of all, Le Creuset needs no introduction. If you've ever had the pleasure of owning anything by the esteemed French company, you know it is top quality.
And so I started thinking about corkscrews.
The History Of The Corkscrew
The first corkscrew was likely modeled after a piece of military hardware called a gun worm, a tool used to clean the bore on musket rifles (which tend to be a real mess after you fire black powder rounds through them).
The gun worm held a wad of fabric in its "twist", and attached to a long rod, was inserted into the rifle bore to clean and remove any black powder and/or bullet residue left inside.
There's not much consensus on who invented the first wine corkscrew. It was probably someone in England, and probably sometime in the 17th century (the first official patent for a corkscrew belongs to Reverend Samuel Henshall, of Oxford, England, in 1795).
Wine has been around a lot longer than corkscrews, but when you stop storing wine in clay amphorae and wooden barrels, and start storing it in airtight glass bottles, you need a way to close them (all hail the cork tree). And, more importantly, a way to re-open them.
File that away for safe keeping. You could win Jeopardy with that knowledge nugget.
Waiter's Friend Corkscrew
My go-to wine opener is Oneida's waiter's friend. I've had it forEVER, and I use it almost every day.
For speed and ease of use it's unbeatable. I also have a tabletop opener by Pottery Barn but it does take up counter space.
The drawback to the tabletop opener is that not all wine bottles fit inside the opener, like the ones smothered in a layer of thick, totally unnecessary wax.
Ditto the bottles with equally unnecessary ultra-wide glass at the top of the bottle neck (I'm looking at you, Turley).
Without fail, every bottle can be opened by my faithful waiter's friend corkscrews.
A German inventor, Carl FA Wienke, filed a patent on his Waiter's Friend corkscrew (aka, Butler's Friend, Wine Key, and Sommelier's Knife) in 1882.
If you're a wine lover, you can't have too many of these things. In addition to the drawer full in my kitchen, I keep one in the glove box of my car, one in my purse, and one in my cosmetic/travel bag, too (but not in my carry-on bag — I lost a couple of corkscrews to TSA before I finally learned that lesson).
Why so many? I'm always ready for an impromptu picnic, aren't I?
One word of advice — if you've never used a waiter's corkscrew before, there is a smidge of skill involved.
Practice a few times before you go public, so you don't look like a rube in front of your friends.
Failing those two methods of cork extraction, I can always fall back on the always entertaining, but not especially practical, blowtorch method (no, I am not making this up, and yes, it really does work).
Avina Waiter's Friend Corkscrew
Avina has four models (which are really just shape variations) in its bartender line — the Barracuda, the Falcon, the Jaguar, and the Rhino. Bonus points for clever naming. I was sent the Falcon model.
The Avina Falcon opener is crafted from stainless steel and ebony. It's sleek, visually attractive, and has some weight to it, which is nice. It feels solid, and it works like a charm. The cork came out of my bottle with ease. My only complaint was the packaging. It was nearly impossible to get the lid off the box.
I briefly considered the blowtorch method of box opening.
Le Creuset Waiter's Friend Corkscrew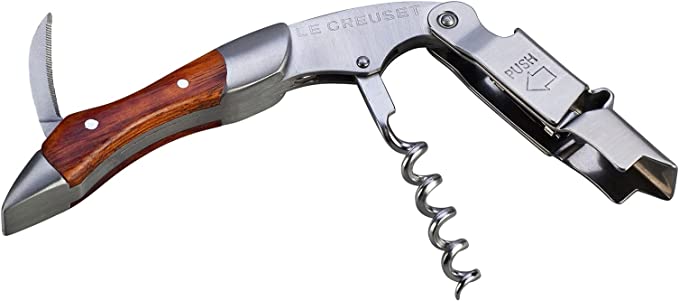 Le Creuset has an extensive wine tools collection from wooden waiter's friend corkscrews to wine pumps and glasses. Their name is synonymous with quality.
The highly rated wooden Le Creuset Waiter's Friend has a two-step ratchet for when you don't get the worm into the cork far enough.
The lever corkscrew with nonstick worm easily removes corks from wine bottles. This tool doesn't take much practice.
It has a built in serrated foil cutter (do not attempt to take this through security at the airport).
The soft-touch handle is nice because the tool doesn't create a groove in my hand when I use it.
It says hand wash only but you only need to rinse when it gets messy.
This baby is covered by 10-year warranty.
We love this tool so much that it reappears in our giveaways time and time again.
The Le Creuset Waiter's Friend Corkscrew would also make a great gift.
Le Creuset Waiter's Friend FAQ
What is the purpose of a waiter's friend?
Use the Waiter's Friend to effortlessly remove cork from wine bottles without breakage. This popular wine bottle opener is a must have for all bars, caterers, and restaurants and the novice alike. It's a multi-purpose tool that includes two-step ratchet, a corkscrew, and a serrated knife.
What corkscrew do sommeliers use?
The professional double-hinged (or two-step ratchet) Waiter's Corkscrew is classic and functional. Our testers agree that it is easy to use and feels very comfortable in your hand. This style is most often recommended and used by sommeliers and received the highest rating from our expert testers.