Chilean Cabernet Sauvignon: tasting notes, pairing and buyers guide
What does Chilean Cabernet Sauvignon taste like and what should you pair it with? We've got you covered with tasting notes, pairing and buyers guide.
Here we are, past the Ides of March, and it snows in Virginia. Again. About 12 flakes. Enough to shutter the schools. I'd better cook something.
And I can think of nothing more comforting on a day of unscheduled togetherness than a hearty Chilean Pastel de Choclo to pair with my Chilean Cabernet Sauvignon.
Pastel de Choclo translates literally to Corn Pie, which is a little misleading, since there's more than corn to this pie.
It's the Chilean version of Sheperd's Pie. A melange of ground beef, chicken, olives, raisins, hard boiled eggs, cumin, paprika and basil. All topped with a sweet corn puree.
One of my very best friends is Chilean. Her mom gave me a cooking lesson on how to prepare Pastel de Choclo. Lucky me, right?
I'll admit I was skeptical when I saw what was going into the pie — raisins, olives and hard boiled eggs?? Um? But don't let the ingredient list scare you off. The flavors are delightful. And just the right amount of spice.
Naturally, my friend's mom doesn't make Pastel de Choclo from a recipe, so I've had to search the Interweb for a version that's close to hers. Because I'm a recipe girl.
I've used this recipe from Sunset Magazine several times. Even the picky people at my house think it's yummy.  When I make this, there are NEVER leftovers.  If I were smart(er), I'd remember to double the dang recipe!
Comment Below With Your Favorite Wine Pairing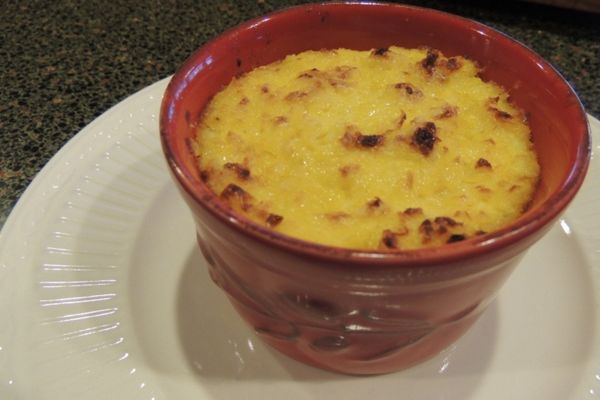 Chilean Cabernet Sauvignon Food Pairing
I make a couple of changes to the recipe. I use golden raisins — because they camouflage better in the meat mixture than regular raisins.
(If you have picky people at your house, you know the importance of camouflage). And I omit the olives.
I'm camouflaging raisins . . . olives are never gonna get past the kid sensors.
Just before broiling, I sprinkle the tops of the mini-casseroles with granulated sugar. It makes for a nice, caramelized crust.
My friend's mom puts fresh minced basil in the pureed corn mixture. I was fresh out of fresh basil, but I did have some basil salt in my spice drawer, so I used a pinch of that.
And of course you can't have Chilean Pastel de Choclo without a Chilean Cabernet Sauvignon.
Well, you could, but it voids the authenticity of your dinner. So I went downstairs to my wine cellar (read: basement closet), and made the horrifying discovery that I'm down to my last bottle of Chilean Cabernet Sauvignon. I've already sent the distress signal . . . reinforcements are inbound.
My last bottle? A Domus Aurea Chilean Cabernet Sauvignon Maipo Valley 2006. It's wrapped in tissue paper. Expectations are high.
Domus Aurea Chilean Cabernet Sauvignon Maipo Valley 2006 Tasting Notes
This Chilean Cabernet Sauvignon is a blend of 86% Cabernet Sauvignon, 7% Merlot, and 7% Cabernet Franc.
Aged in French oak for 18 months, then another 18 months in bottle. The nose is weird. It smells like cranberries in a rusty bowl. Funky. Maybe it'll blow off with some time in the glass.
Flavors are cinnamon, eucalyptus and currant. Beautiful tannic structure.
Finishes with notes of leather and tobacco. Minus the weird nose, I'm really digging this. I wish I had more.
Domus Aurea Chilean Cabernet Sauvignon Maipo Valley Pairing Notes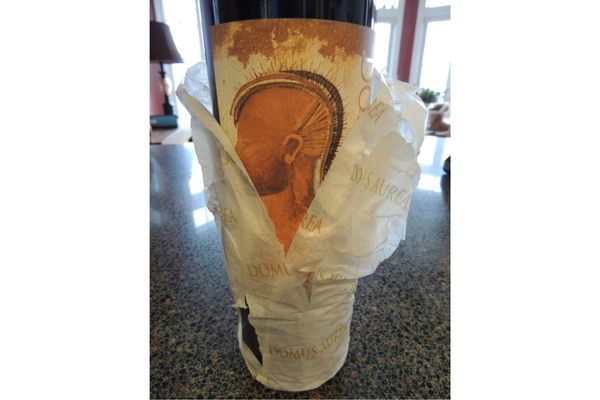 It's true what the wine pros say: If you're eating ethnic food, drink ethnic wine.
Why? Because it works.
This is a fantastic match! No leftover Pastel de Choclo and no leftover wine . . . does it get better?
A toast . . . Adiós, snow — here's to Spring!
Top Rated Chilean Cabernet Sauvignon Buyers Guide
Chilean Cabernet Sauvignon FAQ
Is Cabernet Sauvignon from Chile good?
The Chilean Cabernet Sauvignon is intense with beautiful tannic structure, herbal overtones and loads of dark-fruit aromas and flavors. These wines are plusher than those from cooler climate Bordeaux, but more spice-based than the fruit-forward Cabernet from Napa.
Why is Chilean wine so good?
Even though much of Chile has a dry, Mediterranean climate, the influence of the coast and the soils produce wines that are more rich than Bordeaux and spicier than the Napa Cabernet you might be used to.
What is Chile's national red wine?
Carménère from Chile is a full-bodied, dry red wine. Carménère is considered the national wine grape of Chile. (also a great pizza pairing)