8 Mouth-Watering Pizza & Wine Pairings
Time to read: 4-6 minutes
My favorite is the mushroom pizza pairing
There are a lot of similarities between pizza and wine. They're both great for any occasion and you could spend your whole life trying every flavor out there… though it wouldn't be that good for your waistline. It's no wonder wine with pizza works perfectly together!
There are endless wines with pizza combinations to be made, between the perfect bottle of vino and the perfect slice of pie – so I'm going to give you the tools you need to make your own pairing.
The good news is that at the end of the day, regardless of your choice, you're still getting to drink good wine with pizza. What's the worst that could happen?
Sidenote: If you happen to find yourself in Italy, the land of 1000 pizzas be sure to try these 10 best styles of pizza in Italy. They'll set you up with some amazing wine pairings!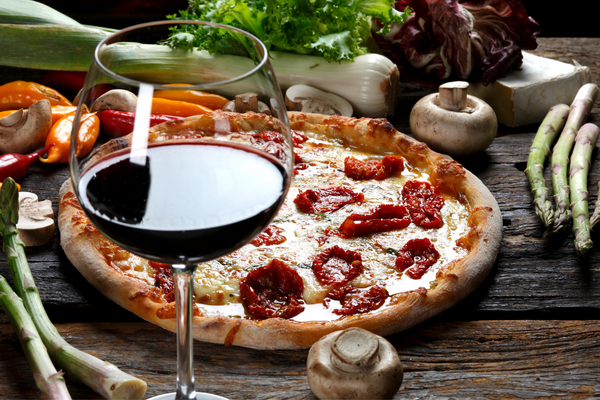 Wine & Pizza Flavor Combinations
With the wealth of creativity out there in the world of pizza (and wine!) it would be impossible to solve every pairing problem. Here are a couple good rules of thumb: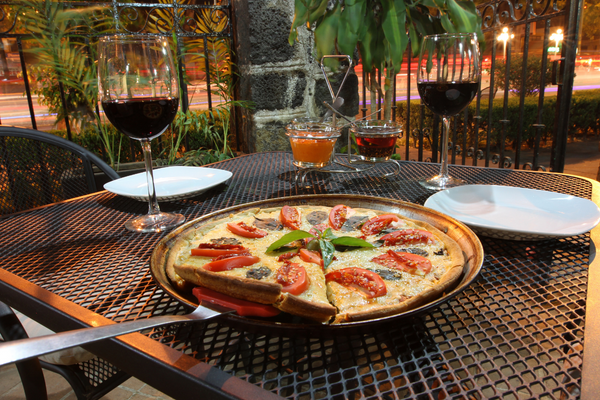 When food is salty, wine seems more fruity and less bitter- Savory pizzas with pepperoni, sausage, olives, etc., need a red wine with high tannins. Think Cabernet Sauvignon, Nero d'Avola or Nebbiolo.
When food is highly flavored, wine can easily be overpowered- Pizzas with a lot going on, like Hawaiian or BBQ chicken, will be overpowered by delicate aromatic wines. Match flavor for flavor, go with Cabernet Sauvignon or Zinfandel.
When food is fatty/oily, wine seems less acidic- Pizzas with white sauce, oil, and/or pesto will need a high acid wine to cut through all that. Think sparkling wine, Rosé, dry Riesling, or Pinot Gris.
When food is acidic, wine seems more fruity and sweet- Tomato sauce is high acid, if that's the star ingredient then the red wine with red sauce pairing should be a high acid wine like Pinot Noir, Pinot Gris, or Sauvignon Blanc (yes, white wine with pizza is OK!).
Now, if you're like me then you're probably thinking "What if my pizza is salty, highly flavored, fatty and acidic?!"
Don't fret, just try to think of the most rich ingredient on the pie and trust your instincts. We're talking about wine with pizza after all!
Best White Wines and Rosé Wines With Pizza
White wines with pizza are great with fatty/oily pizzas, spicy pizzas, or pizzas without intense peppery flavors. High acid whites will cut through oily pizzas, while wines with subtle sweetness will align nicely with spicy pizza.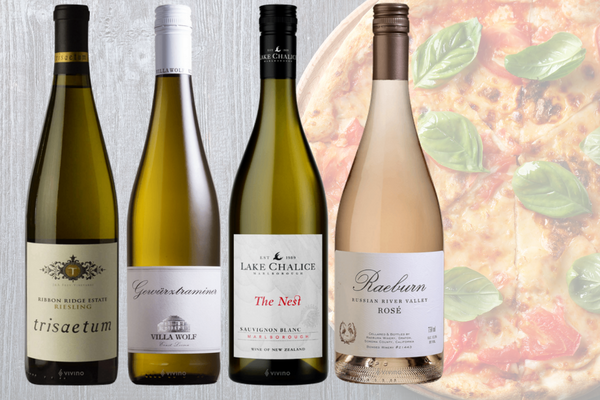 Dry Riesling (Oregon), Wine: Trisaetum, Ribbon Ridge Estate Riesling 2018
If you've always thought of Riesling as being syrupy and sweet, get ready to have your mind blown. Riesling is one of the most diverse white grapes around, with every level of sweetness you could possibly imagine!
I'm going 100% dry today, so as to provide a nice bright acidity with delicate tree fruit and citrus notes.
Pizza Pairing: Pizza Bianca (pizza with white sauce)
Gewürztraminer (Germany), Wine: Villa Wolf, Gewürztraminer 2020
Gewürztraminer is about as fun to drink as it is fun to say! I love this wine, with it's vibrant lychee and tropical notes. Subtle sweetness makes this the perfect compliment to a savory pizza.
It would taste even better if you add red pepper flakes to your next slice!
Pizza Pairing: Pizza Carbonara (Pancetta, mushrooms & egg)
Sauvignon Blanc (New Zealand), Wine: Lake Chalice, The Nest Sauvignon Blanc 2021
Sauvignon Blanc is a great wine with pizza pairing and also with any high acid food. No matter where you get it from, you're pretty much guaranteed to get a wine with bright citrus and vegetal notes. This white wine would pair great with a fatty/oily pizza- especially one with some green on it.
Pizza Pairing: Pizza Pesto Genovese (Pizza with pesto and fresh mozzarella)
Rosé (California), Wine: Raeburn, Rosé 2019
There's always a place for rosé on the dinner table. It's kind of the best of both worlds – with vibrant acidity, fruitiness, and a little tannin backbone. Rosé honestly might be the safest choice with any high acid pizza.
Pizza Pairing: Margherita Pizza or Sausage Pizza
Best Red Wines To Pair With Pizza
Red wine is usually a safe bet with pizza sauce, especially if there's meat involved. Lighter bodied reds should be paired with high acid pizzas or pizzas without overwhelming flavors. Bold reds can be paired with just about anything!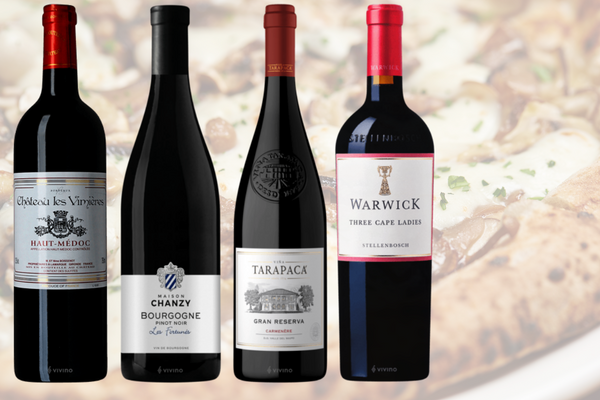 Cabernet Sauvignon (France), Wine: Château Les Vimieres, Haut-Médoc 2017
Cabernet, my old friend, is a safe bet with pretty much any type of pizza. It's tannic, fruity, and can stand up to any slice you match it with. It especially goes well with rich, meat-focused pizzas or pizzas with a lot of red sauce.
Pizza Pairing: Meat Lovers or Deep Dish Pizza
Pinot Noir (France), Wine: Domaine Chanzy, Bourgogne Pinot Noir "Les Fortunés" 2020
Pinot Noir is fantastic with food. It's high acid, subtle, fruity, and still has the benefit of being a red! This is a great bottle to select when you have a couple die-hard red wine drinkers over for your next pizza night, even if you'd otherwise go with a white wine.
In my opinion, this is the best red wine to pair with pizza Margherita.
Pizza Pairing: Veggie Pizza or Mediterranean Pizza
Carmenère (Chile), Wine: Tarapacá, Gran Reserva Carmenère 2019
A little out of the ordinary on this one, but I couldn't resist! Carmenère is a deep, dark, peppery beast of a wine that works about as well with bold cheeses as any wine I've ever come across.
It also works wonderfully with peppery meats or arugula.
Pizza Pairing: Pizza with Caramelized Pear and Blue Cheese
Cape Blend (South Africa), Wine: Warwick, Three Cape Ladies Cape Blend
A Cape Blend is a blend specific to South Africa that typically features the local grape Pinotage (a relative of Pinot Noir,) Cabernet Sauvignon and Merlot and is a great wine that goes with pizza.
This blend happens to be made with Cabernet Franc instead of Merlot, but it is nonetheless a great alternative to a traditional Cab or Merlot. It can stand up to nearly anything, while offering a bright fruity finish.
Pizza Pairing: Mushroom Pizza
Final Thoughts
I hope I've given you enough tools and suggestions to make your pizza and wine night successful! Just remember that big flavors need big wine, salty food needs fruity wines, fat needs acid, and spicy needs sweet… and you can never go wrong with a bottle of sparkling (Prosecco, Lambrusco, sparkling rosé)!
The only rule is that you enjoy the wine you're drinking, it's that simple.
Wine With Pizza Pairing FAQ's
What wine goes well with pizza?
Most Italian-style wines like Sangiovese, Nebbiolo, Barbera, Nero d'Avola, Fiano and Vermentino pair well with pizza.
Do you drink red or white wine with pizza?
The best wines to pair with pizza tend to be fruity, lighter-bodied red wines and fuller-bodied whites with bold character. Some Italian wines work well across the board, including Lambrusco, Barbera d'Asti and lighter styles of Sangioves. French wines like Gamay and Beaujolais are really great too.
Can I drink red wine with pizza?
Acidic red wines work well with cheesy pizza because the acid offsets the buttery cheese. Try a grenache-syrah-mourvedre blend with your cheese-stuffed, deep-dish. Grenache is a high-acid wine that counters the sweetness of tomatoes and spicy syrah contributes extra complexity  with plain cheese.
What wine goes with Italian pizza?
Chianti is a crowd pleaser. Also, Barbera d'Asti, Montepulciano d'Abruzzo (my personal fave Italian wine), Rosso di Toscana, and Valpolicella Ripasso.