The Best Wines To Pair With Shrimp & Grits
Shrimp and grits is a dish true to any low country Southerner's heart. If you're looking for the best wines to pair with shrimp and grits you're in the right place!
Shrimp and grits has a long history that blends together the ancient Native American and West African food traditions.
We can thank the cultural mixing of these two traditions that happened early in the history of European settlement of the American Southeast, mainly in South Carolina and Georgia, for this amazing dish.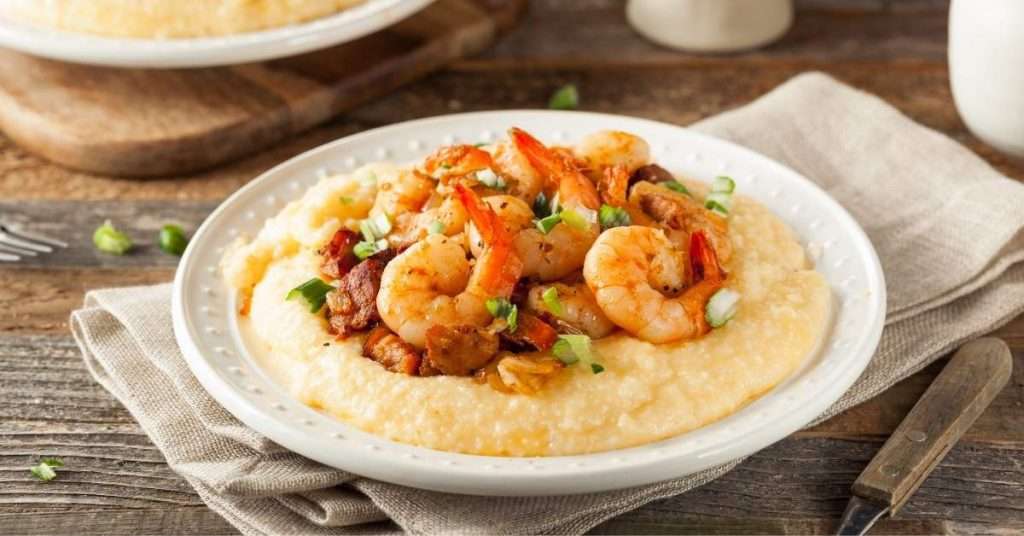 Quick History Of Shrimp & Grits
The Shrimp and grits of today are served in some of the fanciest restaurants in America as well as many greasy spoon diners and dives throughout the south. It's often dressed up with expensive ingredients and rich sauces but has humble beginnings with the cultures native to the region and the enslaved West Africans brought to America.
The corn native to the U.S. was not the juicy sweet corn on the cob style corn we see today. It needed to be ground and soaked for long periods to extract the vital nutrients. The Native American populations in the region had a long history of grinding this corn and boiling it into a porridge.
In the late 1600s, the enslaved West Africans brought their own flavors to the dish and added in the shrimp caught on the coastal plantations.
This mixing pot resulted in the beginnings of what we know today as shrimp and grits. A dish that was filling, nutritious and prepared quickly with ingredients that were commonly available.
Types of Shrimp And Grits
The long evolution of shrimp and grits has led to three distinct styles of the dish that are commonly prepared today. Each of these styles has a unique flavor profile and is best paired with a different style of wine.
No Sauce
Traditional shrimp and grits were simply grits, shrimp some bacon and its drippings, and maybe some garlic and sliced onions. There was no sauce, just clean great tasting food.
If you're going old school with your shrimp and grits consider pairing it with a full-bodied white while. Most New World chardonnay will fit the bill here.
We like chardonnay here because this style of shrimp and grits are not at all spicy but quite rich with butter and bacon fat giving them a very creamy profile.
Tomato-Based Sauce
Tomato based sauces added to shrimp and grits have become quite popular these days. Of course, the addition of the acidity from the tomatoes changes the wine pairing drastically.
When shrimp and grits are cooked with a tomato-based sauce, it's best to reach for red wine. Something with high acidity and tannins will pair well and help to cut through the richness of the dish. A Zinfandel or Grenache would be great options, or even a Valpolicella Ripasso.
With Smoked Sausage
Lately, many chefs have been adding smoked sausage in shrimp and grits recipes. The most common additions are andouille or kielbasa. These dishes often include a very light gravy that carries the smoky flavor of the sausage.
When it comes to pairing wine with smoky and fatty flavors, there are a few things to keep in mind. Generally, you want to go with a bolder wine that will stand up to the smoky flavor. Reds are a good option for this, especially Cabernet Sauvignon or Zinfandel. They have a strong flavor that will complement the smokiness of the dish. As for fatty flavors, you want a wine that will be able to cut through the richness of the dish. A Pinot Grigio or Sauvignon Blanc would be a good choice for this, as they have a light and refreshing flavor that won't be overpowered by the fat.


[elementor-template id="4163″]
Our Pick For Best Wine To Pair With Shrimp And Grits

Alexana Pinot Gris, from Dundee Hills, in the Willamette Valley of Oregon. 13.7% ABV. Available for around $25. We are suckers for a good Willamette Pinot Gris but this one stands out from the field. With flavors of peach and apricot, with nice mineral acidity. This Pinot Gris will pair well with the most common type of shrimp and grits without a tomato-based sauce. Shop Alexana Pinot Gris on Vivino.
How To Make Shrimp And Grits
As mentioned at the top there are a few distinct styles of shrimp and grits. We're including our recipe for a more traditional style. We hope you enjoy!
Ingredients:
– 1 cup shrimp, peeled and deveined
– 1/2 teaspoon Cajun seasoning
– 1/4 teaspoon garlic powder
– 1/4 teaspoon salt
– 1/4 teaspoon black pepper
– 1 tablespoon olive oil
– 1 cup grits
– 2 cups chicken broth
– 1/4 cup heavy cream
– 1/4 cup Parmesan cheese, shredded
– 2 green onions, thinly sliced
Directions:
In a small bowl, combine shrimp, Cajun seasoning, garlic powder, salt and black pepper. Toss to coat. Heat olive oil in a large skillet over medium-high heat. Add shrimp to the skillet and cook until shrimp are pink and cooked through, about 2-3 minutes per side. Remove shrimp from the skillet and set aside.
In a medium saucepan over high heat, bring chicken broth to a boil. Slowly whisk in grits and season with salt if needed. Reduce heat to low, cover the saucepan and cook for 5-6 minutes or until grits are thickened, stirring often. Remove from heat and stir in heavy cream.
Spoon shrimp over cooked grits. Top shrimp with Parmesan cheese and green onions.
Serve shrimp with grits immediately with a wonderful glass of wine!
Wine Pairing Shrimp And Grits FAQ
What wine goes good with shrimp and grits?
Our pick for the best wine to pair with traditional shrimp and grits is Alexana Pinot Gris from Dundee Hills in Willamette Valley, Ore.
What alcohol goes with shrimp and grits?
White wine pairs the best with spicy or creamy shrimp and grits. If you're not a wine drinker (that's insane) you can drink a nice refreshing gin and tonic.
What type of wine goes with shrimp and grits?
If you are charring up some shrimp for your shrimp grits recipe you can also serve Rosé or Sparkling Wine. Rosés sweetness compliments grilled shrimp. 
Can you drink red wine with shrimp?
When shrimp and grits are cooked with a tomato-based sauce, it's best to reach for red wine. Something with high acidity and tannins will pair well and help to cut through the richness of the dish. A Zinfandel or Grenache would be great options, or even a Valpolicella Ripasso.
What is usually served with shrimp and grits?
White wine. Oh, you mean as a side? More white wine. JK. The best sides for shrimp and grits are biscuits, collard greens, fried okra, succotash, and hush puppies.  For healthier options you could serve zoodles (zucchini noodles) or coleslaw.