Willamette Valley Pinot Noir: Top 7 Producers In 2022
It's hard to believe that just 30 minutes south of a boisterous Portland comes rolling hilltops with rich farmland and vineyards as far as the eye can see. I'm talking about the subtle giant that is becoming a world renown wine region, the Willamette Valley. 
The Willamette Valley first became a predominant wine region in the 60s, when a couple UC Davis graduates decided (against all advice) that Oregon would be the perfect place to grow Pinot Noir. 
Today, Pinot Noir is still the dominant varietal, with Pinot Gris, Chardonnay, and Riesling trailing behind.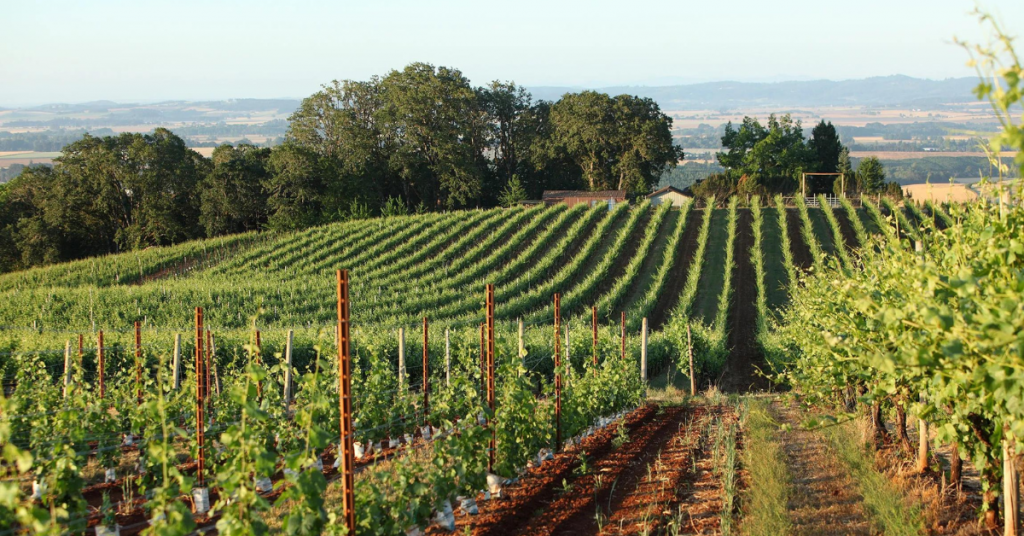 Why Does Willamette Produce Great Pinot?
Pinot is especially successful in the Willamette Valley vineyards because of it's generally cooler and wetter climate. This is partly due to a chain of mountains that protect the valley from cold spikes and an excess of rain. This "line of defense" is known as the Coast Range.
While the Willamette gets its fair share of rain, most of it occurs during the winter months when the vines are dormant. By the time spring rolls around, it's sunny but still relatively cool. This makes for the perfect environment for a temperamental beauty such as Pinot. 
Wine Regions Of Willamette
There are 11 total designated wine growing regions within the Willamette Valley. These are referred to as "AVAs" or "American Viticultural Areas." 
This essentially means that vineyards within each AVA can claim that region on their label. Each region is associated with its own climate and growing conditions, making them unique. 
The Willamette Valley AVA is, of course, the largest one. There are 10 subregions within the Valley. Some of the most notable regions include the Chehalem Mountains, Dundee Hills, Eola-Amity Hills, Yamhill-Carlton, and the Van Duzer Corridor.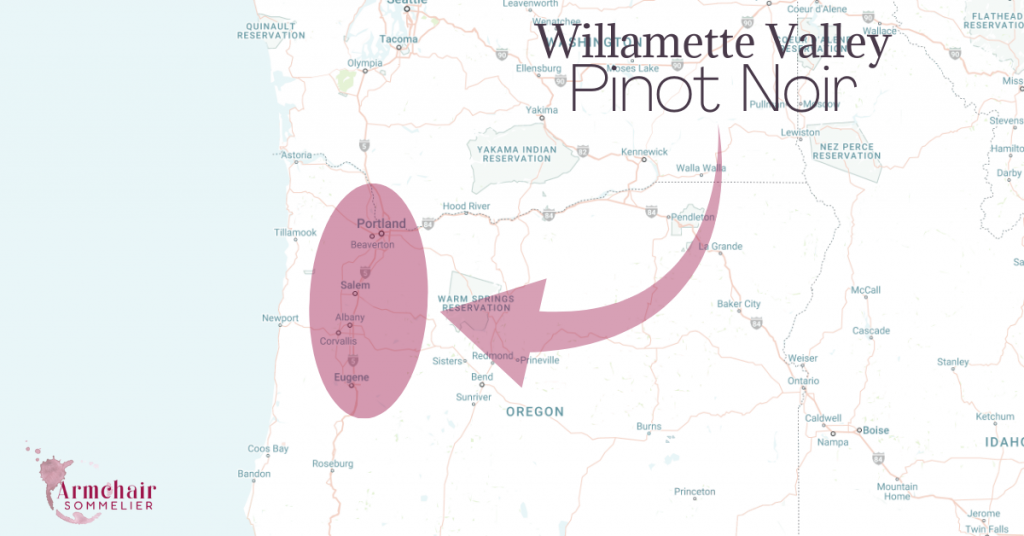 Best Willamette Valley Pinot Noir Wineries
With over 700 wineries located in the Valley, you could spend your whole life working your way through them all! Here are just a couple of the best Willamette Valley pinot noir producers:
Ken Wright Cellars was founded by Ken Wright himself in 1994, and specializes in single-vineyard Pinot. This means that each wine that is made comes from just one vineyard, spanning many wine regions across the Willamette. 
Ken Wright's single-vineyard Pinots have won numerous awards over the years, including a #1 ranking for "Best Pinots in the World" in Wine Enthusiast Magazine in 2012. Ken Wright was also accredited as being the "Master of Pinot Noir in Oregon" by Wine Spectator in 2014.
I know Alexana quite well, having had the privilege of working a wine harvest under the talented winemaker, Bryan Weill. This winery is one of three owned by Dr. Madaiah Revana. The other two wineries are located in Argentina and Napa Valley. 
This winery was founded in 2005 in the Dundee Hills AVA. Since its inception, Alexana has gone on to receive numerous awards including most recently the #14 position on Wine Spectators Top 100- making it the #1 Pinot in the world in 2021. 
This winery was founded in 1990 and specializes in – you guessed it – Pinot! That being said, this winery is far from typical. Having become Oregon's most awarded winery in 2017 with nearly two hundred 90+ wines, this is a Willamette Valley treasure. 
In addition to numerous high ratings, Domaine Serene has had their wine served at the White House several times. Currently, this winery has tastings rooms in Portland, Lake Oswego, Bend, and, of course, at the winery in Dayton. 
Eyrie Vineyards was founded in 1965, and is where the very first Pinot Noir grapes were planted by David Lett. Today his son, Jason Lett, does the winemaking. This winery owns 5 vineyards within the Dundee Hills. 
This winery has one copious awards and has received 90+ scores for decades from the Wine Advocate and Wine Enthusiast. 
Founded in 1998, Penner-Ash began in the Yamhill-Carlton AVA and offers numerous single-vineyard bottlings from vineyards located all over the Willamette. 
Lynn Penner-Ash is the owner and winemaker, making her the first female winemaker in Oregon and the first female self-named winery. Since its inception, Oregon now hosts the most female winemakers in the country – ahead of California! 
This winery has always received high ratings, and was acquired by the large California wine company, Jackson Family Wines, in 2016.
Founded in 1984, Evening Land Vineyards sources all of its grapes from Seven Springs Estate, located in the Eola-Amity Hills. This winery is LIVE certified, meaning "Low Impact Viticulture and Enology." This certification is unique to Oregon. 
This winery also boasts some of the highest scores given to Oregon Pinot, including reaching #3 in Wine Spectators Top 100 in 2015.
The Four Graces was founded in 2003 and owns 2 vineyards, one in the Dundee Hills AVA and one in Yamhill-Carlton. The original vineyard is farmed half biodynamically and have under LIVE certification, making it a unique experimental landscape.
This winery has reached the Wine Spectator Top 100 list on more than one occasion. Most recently in 2018, when they had, not one, but two wines make the list.
Surely if I haven't convinced you to check out the Willamette Valley, then nothing will! Seriously, this place is special. I'm not just saying that because I put my heart and soul into the Valley last year, it really is where some of the best Pinot in the world is coming from. 
If I can offer just one piece of advice – don't just drink the popular stuff. Chardonnay, Riesling, Gewurztraminer, and even Syrah are the unsung heroes of this region.
Best Willamette Valley Pinot Noir FAQ
Taste Wine Like A True Armchair Sommelier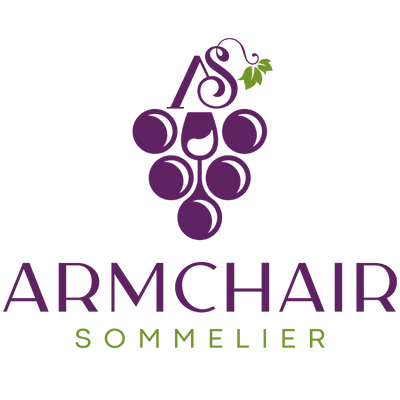 Spice up your next party with our FREE wine tasting guide! Learn what to look, smell, and taste for while appreciating your favorite bottle. We've also included a printable tasting notes template and a tasting wheel.