Artesa Vineyards & Winery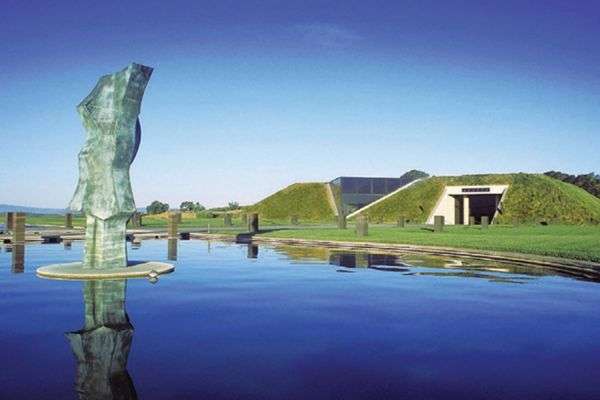 Visit Website

(707) 224-1668

1345 Henry Rd, Napa, CA 94559

Hours
Monday: 10-5
Tuesday: 10-5
Wednesday: 10-5
Thursday: 10-5
Friday: 10-5
Saturday: 10-5
Sunday: 10-5
Artesa Vineyard Information
Old world meets new world at Artesa Vineyards and Winery.
One of the oldest winemaking families in Spain decided to set out for the new world, opening this stunning property on a humble hillside in Napa Valley in 1991. Raventós Codorníu chose wisely when he found this beautiful spot in the hills of Napa.
A visit to Artesa's stunning estate on the foothills of Mt. Veeder is an experience not to be missed.
---
Planning a trip to Napa but don't know where to start, or worse yet, you're 10 hours deep and frustrated? You won't want to miss our Napa Trip Planner!
---
Where To Stay Near Artesa Vineyards
Artesa Vineyards And Winery Tasting Information
Artesa offers three unique tasting experiences at their one-of-a-kind visitors center. The venue itself along with truly outstanding views at Artesa make their tastings quite a hot ticket. Reservations are not required for all tastings but are highly recommended.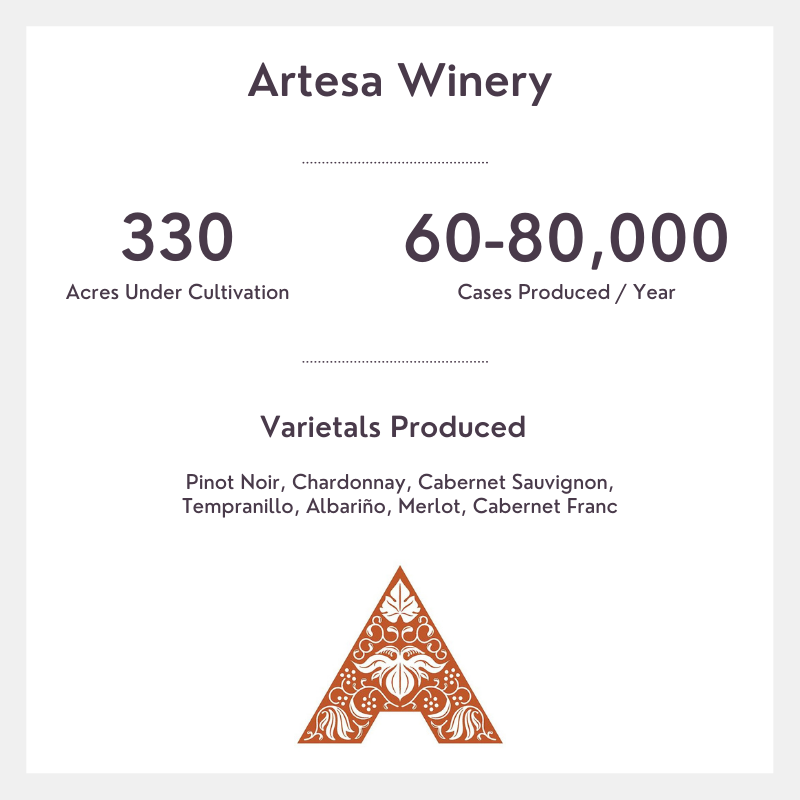 Reservations can be booked online or by calling 707-254-2126.
Artesa Vineyards Seated Tastings
Artesa Vineyards Terrace Tasting
The name says it all. This tasting takes place on Artesa's lovely terrace with views of the Carneros Hills. Your winery host will guide you through a seasonal tasting of single vineyard and reserve wines.
The Terrace Tasting lasts an hour and fifteen minutes and is available on Friday, Saturday, ad Sunday between 10:00 AM and 4:00 PM.
This private tasting experience is limited to six guests per party and costs $60 per guest. One tasting fee is waived for each purchase of three or more bottles.
Artesa Vineyards Artisanal Tasting
You'll be greeted with a taste of sparkling wine as you settle in for a guided tour through this carefully curated tasting. This experience features 6 hand selected wines from the Artesa portfolio alongside a walk through the history of Artesa.
The Artisanal Tasting takes 60 minutes and is available daily from 10:00 AM to 4:00 PM. Please be sure to reserve a spot at least three hours in advance to save your spot.
This tasting is limited to six participants and costs $45 per person. One tasting fee is waived for each purchase of three or more bottles.
Artesa Vineyards Tapas & Wine
If you're looking for a nibble to go along with your tasting you'll enjoy Artesa's Tapas & Wine experience. You will enjoy a semi-private experience that includes a guided tour through their production facility where you'll learn about the estate, the history of Artesa, and their winemaking process. After the tour, you'll be taken to one of the private salons to taste five of their most iconic wines, each paired with a small plate chosen to pair perfectly with the wine.
The Tapas & Wine experience is limited to four participants (21 and over only) and takes about an hour and a half. You can book this event on Friday, Saturday, or Sunday at either 11:00 AM, 11:30 AM, 12:00 PM, 2:30 PM, 3:00 PM, or 3:30 PM. The cost is $85 per person. This experience requires you to make a reservation more than 24 hours in advance.
want to bring a bit of artesa vineyards home with you?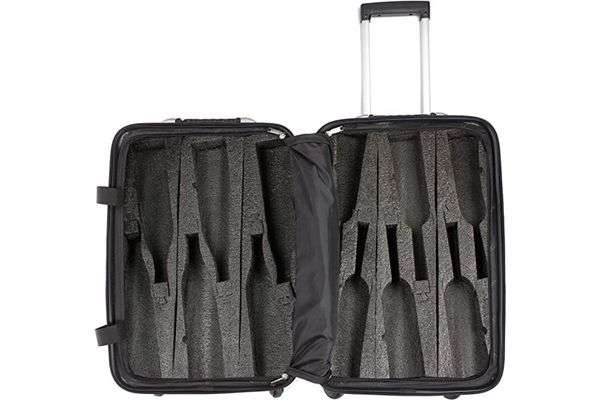 We recommend the VinGardeValise 12 bottle wine suitcase. There are a couple ways you can use this suitcase. One is, when you come home you only pack half the suitcase with wine and the other side clothes; or, what we do is bring a duffle bag to carry our clothes home. You can still check a duffle bag home btw, you don't have to schlep it around for all four connections.
Pro tip: you can also use the duffle bag to drop off your clothes to be laundered if you're doing an extended trip. Multiple uses for one duffle bag.
Artesa Vineyards FAQ's
Is picnicking allowed at Artesa?
Unfortunately local regulations do not allow picnicking on the property. If you'd like to enjoy food with your tasting, cheese and charcuterie plates are available for purchase with all tastings, or you can reserve the Tapas & Wine experience.
Are children allowed at Artesa?
Artesa restricts visitors to those over 21 with one exception. Designated drivers over the age 18 are allowed.
Does Artesa offer wine by the glass?
Yes! You can buy wine by the glass and purchase wine by the bottle. All bottles purchased must be consumed off the property.
Can you visit Artesa just to look around?
This property is stunning and the question is understandable. Due to this popularity, all guests are expected to take part in a tasting.
Can Artesa accommodate large groups?
Artesa is is able to host large groups. Contact tours@artesawinery.com for all group inquiries.