7 Easy Tips To Host a Wine Tasting At Home
(plus 5 tried and true themes that are always a hit!)
Time to read: 8-10 minutes
Do you want to host a wine tasting party at home that your friends will be talking about all year but you don't have the time?
Do you want to plan an Instagram-worthy party but don't want the hassle, or cost, or the feeling of intimidation that comes with it?
I get it! When I first started planning parties and events it was overwhelming!
What kind of glasses do I need? Is there a special wine opener I should be using? How many people should I invite? Can I host a wine tasting for my next girls night in? Should we have a theme? What food should I buy? How do I choose the right wine?
Okay, off the bat you're overthinking it. Hosting a wine tasting party at home can be as simple or elaborate as you want. There's no wrong answer.
But yeah, we get it. You want it to be fun. You want your party to look good on instagram. After all, if it's not on instagram, did it really happen?
I spent the last 13 years planning events, booking trips and organizing parties. I started with corporate events and now my friends all ask me to plan their trips and parties. (self-guided food+wine tours are my favorite)
Pro tip: include one big magical moment in each event and you'll create a bond that will last a lifetime
During my 13 years of planning events and dinners and hosting wine clubs, I wrote a step-by-step guide. This guide.
Here are the steps I follow to planning the most amazing wine tasting at home.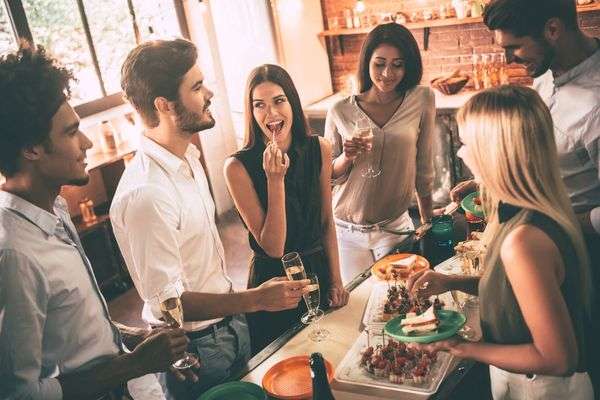 Choose The Gear For Your Wine Tasting At Home
Think of it this way, you'll want to plan to have the basics. Call it your wine tasting at home kit.
For a professional tasting, good wine glasses are important.
If you're hosting at your home for friends, good glasses are a nice-to-have but it's honestly more about the experience of enjoying new wines and each other's company (and the food).
It's not completely out of the question to use one glass for all wines.
If you're planning to upgrade your glassware collection check out these glasses from JoyJolt.
Grab a good wine tool and remember to practice before your guests arrive if you're not familiar. I personally prefer a waiter's tool but many people opt for a wing corkscrew.
Then there's the question of which wines to aerate or decant. Depending on the wines you select, you may need a decanter. Nearly all wines benefit from being aerated. The amount of time is relative and is by no means a science.
Choose Which Type Of At Home Wine Tasting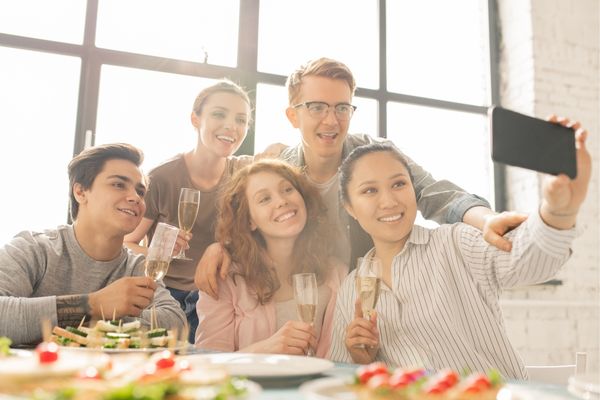 This is the most important part of planning your at home wine tasting. This is where you decide how important the wine is for you party. Seems like a no brainer (VERY!).
You'll want to decide if the wine is the star (and if so there are tasting and pairing rules) or if the wine is meant to enhance the party?
Will your group be large or small? Will your at home wine tasting party be blind or will you be hosting a non-blind wine tasting?
Blind tastings are so fun. At home blind tastings always get loud. It's really fun to incorporate games like "guess the price from lowest to highest". There's always a surprise. If you play this game, be sure to include some tasting menus to describe the wine.
Will you be running the show entirely and purchasing all the wine for your wine tasting party or will you be inviting your guests to bring a bottle (if the latter be sure to divvy out which varietal each person is to bring. You don't want 8 Chardonnays showing up. Unless of course your theme is one varietal).
Ready To Plan Your Wine Tasting?
Download your 30 page step-by-step guide to creating an unforgettable experience for any special occasion
How To Guide Your Wine Tasting At Home
Your party is already shaping up to be a blast! But let's be real, everyone will be worried about their tasting technique.
Remember, we're judging wines and not each other. However, here's the scoop on how you should approach each pour, this is commonly referred to as "the five S's."
See
Start by holding the glass (preferably over a white table cloth) tilted away from you to check out the color. What sort of hue does it have?
Swirl
Then swirl your glass gently for a good 5- 10 seconds. This will help awaken and release the aromas of the wine.
Sniff
Put your nose to the glass and inhale deeply to see what the smells remind you of? Can you identify any fruits, flowers?
Keep it light hearted. If no one grew up smelling petroleum, they likely won't pick up this note and it doesn't mean their sniffer is broken.
Sip
Time for the best part—sipping. (To be honest, my favorite part is actually the sniffing. I love the smell of dirt and brine and that's nearly what I smell most of the time). Take a sip but don't swallow the wine. Instead let it swirl around gently in your mouth, gently. It's not mouthwash. Think about things like whether it's dry or sweet? Light or heavy? Thick or thin? Creamy or crisp?
Savor
When you've got a good taste, savor the wine. You can either swallow or spit. Swallow the wine and think about what sort of after-taste (or 'finish') it has.
Wine Tasting At Home- Party Themes
I promised you 5 themes. Let the salivating begin.
Blind Tasting
During a blind tasting the wine labels are hidden and your guests will try to identify the grape, and perhaps the price point from the appearance, aroma, and taste of the wine. Guessing the price point can be fun or can be intimidating. I say, go for it!
Note: keep in mind if your guests aren't already familiar with different wines, a blind tasting can be a bit intimidating. So, it's a good idea to print off some very short descriptions explaining the qualities and maybe the flavors associated with the different wines.
Non-Blind Tasting
Non-blind wine tastings work well for more relaxed, informal tastings where the objective is just to taste and enjoy the wines, or for when combining with dinner.
The advantage of a non-blind tasting is that you know more about the wine, such as the country, flavor profile, and a little history about the winery. That can really move the needle on the fun-o-meter and add to your guests' enjoyment of the wine.
Brunch Tasting
Hosting a brunch wine tasting is easy and who doesn't love a boozy brunch with girlfriends? It's easy because there are small bites to share alongside your favorite sips.
Think fruit kebabs with sweet wine and mini chicken-and-waffles paired with a light Pinot Noir.
Potato Chips & Sparkling Wine Tasting
Hosting a potato chips and wine tasting might seem a bit dull, but it's always a hit. Not only is it easy to find a variety of flavors, but it's budget friendly.
If you want to add some flair, pair potato chips with crème fraîche, caviar and bubbles.
Holiday Tasting Party
Holiday season gives us the perfect opportunity to gather friends and family— and sip wine together.
Choose a Christmas cookie swap theme, White Elephant/Yankee Swap gift party, or a more elegant appetizers and wine night.
Going for laughs? An "ugly sweater" party is one of the most-requested themes during the season. The photos are priceless.
Don't forget a door prize for the ugliest sweater!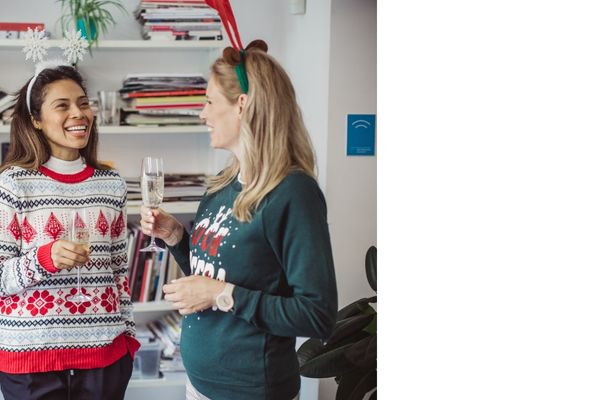 How To Buy Wine For Your At Home Tasting
First, decide what theme you're going to go with for your wine tasting at home. For example, are you going Aussie or going for a mix of different countries?
I would then recommend you get your wines from your local wine shop (as opposed to a supermarket chain), for a number of reasons:
Most grocery store brands are mass- produced, commercial wines which are usually chosen because they are 'safe' enough to appeal to the mass market (notice the abundance of Chardonnay and Merlot?). While they will taste fine, they're usually not special.
If you're having a wine tasting you really want some interesting wines, not a run-of-the-mill wine that you could have any night of the week. If your guests are all local and you select everyday wines from the supermarket, there's a chance you might choose wines that they are already familiar with. Which takes some of the fun and mystery out of a wine tasting.
Wine shop owners love to talk price. They want to help you find the right bottle at the right price point SO YOU KEEP COMING BACK. What a brilliant idea.
How To Choose Food For Your Wine Tasting At Home
It's worth doing some research to see what dishes will work best with your chosen wines. If you're planning a seated dinner to go with these wine tasting themes you can follow this guide.
Pair By Intensity Of The Flavor
Pair Creamy With Creamy
Pair Creamy Or Fried With Acid
Pair Acid and Salt With Acid
Pair Spicy With Sweet
Pair Spicy With Sweet
Ready To Plan Your Wine Tasting?
Download your 30 page step-by-step guide to creating an unforgettable experience for any special occasion
Games For Your Wine Tasting At Home
Draw the Wine Label
You can see who's the most artistic in the group by playing an easy drawing game at your party—no skills necessary. Hide the labels. After each tasting, have everyone draw what they think would be an appropriate label. The wilder, the better!
The Price Is Right!
Remember your Price Is Right theme? Use this theme and play this game. Have them guess the price of each bottle, and see who comes the closest.
How Many Corks?
Have you ever had to guess how many jelly beans are in a jar? You can do the same thing with wine corks! Save up corks for a month or so before the party, then put them all in a jar and have your guests guess how many there are.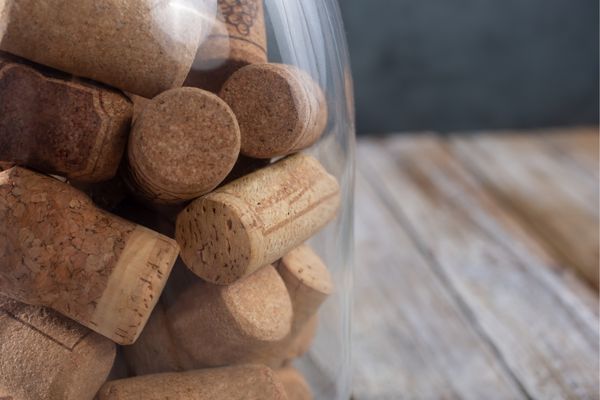 Wine Tasting At Home- Final Thoughts
You don't need to be a wine connoisseur to host a wine tasting party. Whether you're hosting a wine-tasting party for a special occasion or just for fun, you'll find that it's a great way to learn more about wine and to enjoy spending time with your friends.
Cheers!
How To Host A Wine Tasting At Home FAQ
How do you set up a wine tasting at home?
Planning is key for an Instagram-worthy wine tasting at home. Without a step-by-step guide it can feel overwhelming.
– Choose your gear and equipment (glassware, opener, etc)
– Decide on your format and how big/small your group will be 
– Choose a theme (themes are super fun but not mandatory)
– Create a checklist
– Choose and buy your wine
– Store your wine properly before the event
– Choose food pairings
– Come up with a few games (up the fun!)
How do you throw a wine tasting party at home?
You need to start with a checklist. Once you know your theme, which wine to buy, food to serve, etc you'll need to know how to run the show.
– Always go lightest to most full- bodied, lower alcohol to higher alcohol, younger to older, white to red, driest to sweetest. If your theme is a blind tasting be sure to number each bottle so guests know to taste them in chronological order.
– Remind your guests to hold their glass by the stem as cupping the bowl in their hands will change the temperature. 
– Remind your guests to drink water and taste some bread or plain crackers in between each wine to cleanse the palate.
– If the wine is the main focus of your wine tasting at home, avoid cheese. I know. Eating cheese coats the taste buds in a layer of fat. If you're like, forget that! just have a slice of apple and your taste buds will open up again.
How much wine is needed for a tasting party?
Choose 4 – 8 different wines to taste.
The recommended amount of each wine for a tasting is 2 ounces per person. So, 1 bottle of each wine will serve up to 12 people. I think 6 wines is best (perhaps 3 white and 3 red) as that's about enough to keep everyone's attention—anymore and it can become hard to distinguish them all from one another.
How do you host a wine tasting?
Wow guests and get those sweet, sweet shares, reposts, thank you's, and even gifts that you deserve!
Start with a checklist:
– Choose your gear and equipment (glassware, opener, etc)
– Decide on your format (big/small; blind/non-blind) 
– Choose a theme (themes are super fun but not mandatory)
– Come up with a price point for wine and budget for your tasting at home
– Choose and buy your wine (go to a local wine shop for heaven's sake)
– Store your wine properly before the event
– Choose food pairings (if food will be served)
– Come up with a few games (up the fun!)
Save On Your Next Wine Tasting
Save money with our fancy-pants party planning secrets, tips, and discount offers (in time for your next wine tasting at home)