Darioush Winery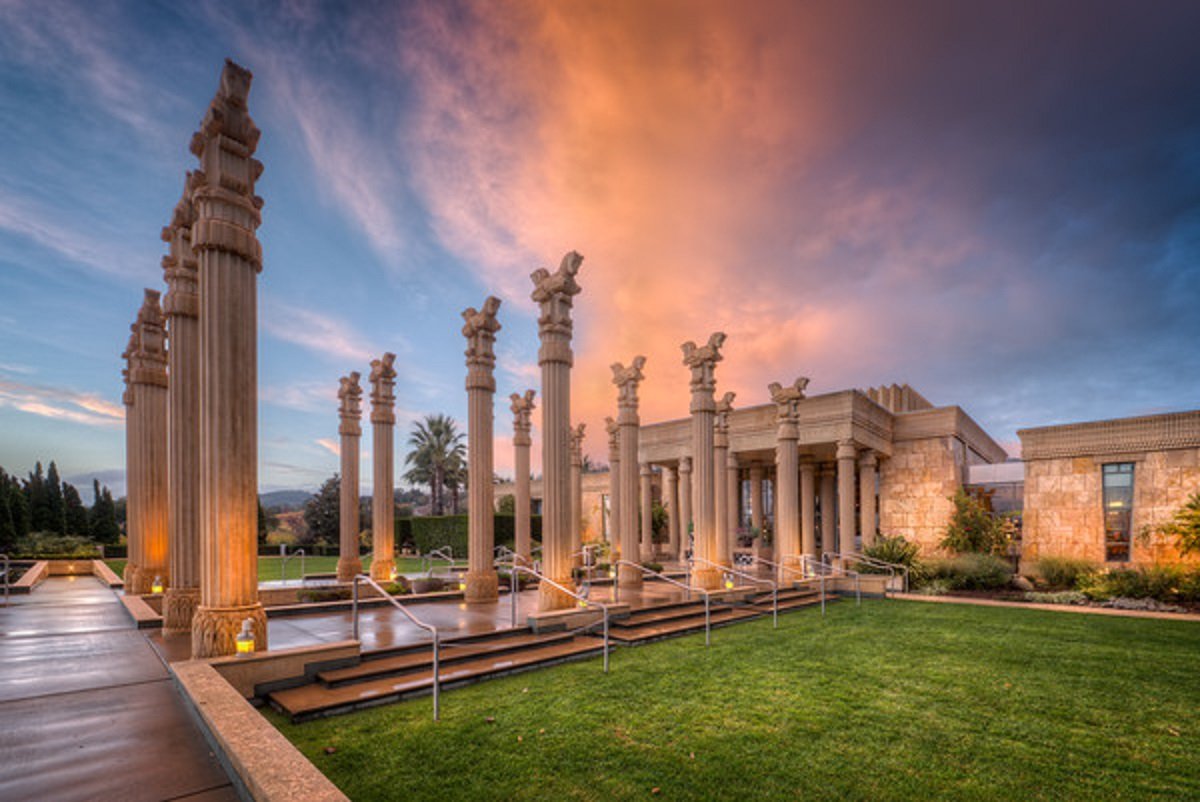 Visit Website

(707) 257-2345

4240 Silverado Trail, Napa, CA 94558

Hours
Monday: 10:30-5
Tuesday: 10:30-5
Wednesday: 10:30-5
Thursday: 10:30-5
Friday: 10:30-5
Saturday: 10:30-5
Sunday: 10:30-5
Darioush Winery Information
Napa is filled with must visit wineries, that said Darioush is worthy of a special mention. This is one of the most impressive estates on the Silverado Trail, not only for its brag-worthy wine but for its awe-inspiring Persian architecture and decor. World-class hospitality is a given.
Darioush and Shahpar Khaledi founded the estate in 1997. The Iranian couple fell in love with wine and decided to grow grapes and make their own wine in the Valley after establishing a successful retail business.
Darioush Winery comprises 120 acres of vines in the coldest areas in Oak Knoll and Mount Veeder, where Cabernet feels right at home. With the help of an experienced team, the power couple produces Bordeaux-style blends worthy of any wine list and cellar.
---
Planning a trip to Napa but don't know where to start, or worse yet, you're 10 hours deep and frustrated? You won't want to miss our Napa Trip Planner!
---
Where To Stay In Napa
Darioush Winery Tasting Information
Must try wines at Darioush include the Darioush Cabernet, Darioush Viognier, Darioush Merlot and Darioush Shiraz.
Darioush Winery Signature Mezze
Staying true to the estate's middle-eastern personality, perhaps the most exciting experience in Darioush Winery is the Signature Mezze.
This is a hosted wine tasting experience in the estate's beautiful halls or gardens, where guests enjoy small mezze plates and signature wines while learning about Persian history and tradition. 
A wine flight comprising Darioush Signature wines changes regularly and so does the food. This experience is available daily and lasts 60 minutes, often starting between 10:30 am and 3:15 pm.
The Signature Mezze costs $85 per person. 
Darioush Winery By Invitation Only
A food and wine pairing experience with the estate's finest wines. A well-rounded communal tasting and an introduction to the region, the estate and its wines.
Expect to try the estate's flagship wine, Darius II Cabernet Sauvignon and the limited release Signature Pinot Noir. The winery's culinary team also puts together something special for the occasion.
Offered from Wednesday to Sunday, between 10:30-3:30.
The experience lasts 2 hours and costs $150 per person. 
Darioush Winery Culture of Wine Experience
Explore the connection between wine and history in a culturally rich experience that will take you back 5,000 years to Persia. The experience offers winery-exclusive labels. The Culture of Wine Experience is available upon request and goes on from Thursday to Sunday, every day at noon and lasts 2 hours. The cost per person is $200.
Darioush Winery 's Sensory Sessions: An Olive Oil Experience.
A unique sensory and learning experience tasting Darioush Winery Estate Olive Oil. The experience includes a winery tour, a wine tasting and small bites with a strong focus on food pairings and the sensory analysis of olive oil. 
This experience is available upon request and accommodates groups of up to 8 people, with a cost per person of $125.
Darioush Winery Virtual Wine Experience 
Enjoy Darioush wines from home in a virtual tasting guided by the estate's sommelier and brand ambassador. This experience is available upon request and can take place at 1:30 pm, 3:00 pm or 5:00 pm — it lasts 45 minutes. The price is based on the wine selection.
Special Events At Darioush Winery
Darioush Winery organizes private dining experiences by request and schedules estate dinners regularly, often every other Friday. Enjoy food, wine and fine art in a multi-course dinner from 6:30 to 10:00 pm.
Available for 1-6 guests for $375 per person.