Flora Springs Winery: Crafting Iconic Wines and Building a Legacy in Napa Valley
Flora Springs Winery in St. Helena, Napa Valley, has been home to grapevines since the 1800s, and is one of Napa Valley's famous ghost wineries. Yes, we're going to explore Flora Springs Trilogy wine 2017 and the story behind Soliloquy. Cheers to the extraordinary.
Jump To Flora Springs Trilogy 2017 Review -But come back for the good stuff.
Flora Springs Winery History
The Flora Springs Winery was purchased in 1978 by Jerry and Flora Komes. Flora Springs was purchased from the Louis M. Martini estate. The winery is named after family the Komes family matriarch, Flora, and the natural springs that run through the property.
Flora Springs has been home to grapevines since the 1800s, and is one of Napa Valley's famous ghost wineries.
These are wineries that were built between 1860 and 1900, but were mostly abandoned by the early 20th century because of the perfect storm of phylloxera, the Great Depression, and Prohibition.
Before Prohibition, there were 713 wineries operating in California. After its repeal in 1933, only 40 remained operational. Many of the rest became ghost wineries.
---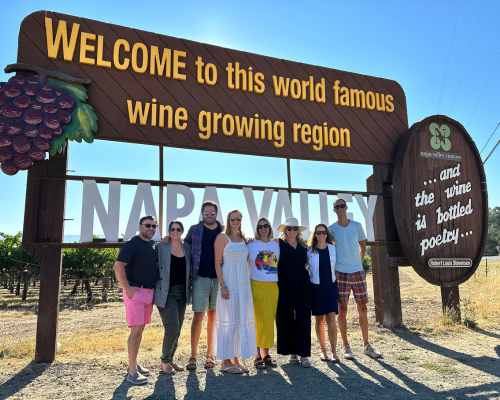 Planning a trip to Napa but don't know where to start, or worse yet, you're 10 hours deep and frustrated? You won't want to miss our Napa Trip Planner!
---
When Jerry and Flora purchased the Flora Springs Winery property, it included not one, but two, ghost winery structures.
The first was built in 1900 by Scottish immigrants, James and William Rennie. The winery suffered a devastating fire soon after its completion, which just happened to coincide with the beginning of phylloxera's pillage through Napa Valley vineyards.
They would never rebuild. The second structure on the property was built in 1885 by Charles Brockoff. Rumor has it that building was used to make bootleg wine during Prohibition.
Louis M. Martini bought both wineries in the 1930s (though both were used for storage and not winemaking), and lived on the property until his death in 1974.
As you might imagine, the Flora Springs Winery buildings weren't looking their best when Jerry and Flora purchased them in 1978.
Over the next decade John Komes, Jerry and Flora's son, completely renovated both winery structures.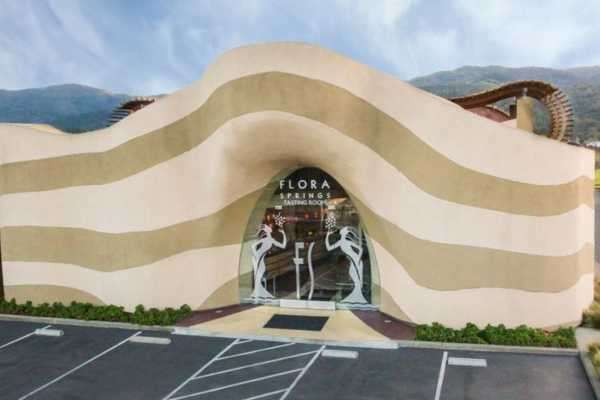 Where To Stay Near Flora Springs Winery
The Story of Flora Springs Soliloquy
When Flora Springs purchased their vineyard in Oakville, they discovered a three acre block of aging Sauvignon Blanc vines.
At the time, most wineries were ripping out anything that wasn't Cabernet Sauvignon, but Flora Springs kept those vines.
And the wine that was made from those Sauvignon Blanc vines was a little different — it was slightly less "green" than Sauvignon Blanc would normally be.
First produced in 1989, the unique Sauvignon Blanc was named Soliloquy.
In the 1990s, viruses threatened to destroy the Soliloquy vines. The Komes Family took a sample to UC Davis, where biologists found five different diseases in the vines.
Through a process called microshoot culture extraction, scientists were able to regenerate a non-diseased leaf and create a Soliloquy clone.
From there, the propagated vines were taken to a specialized nursery where they would produce enough vines to replace the entire vineyard.
But, in 2003, the nursery went bankrupt, and it was abandoned with Soliloquy inside.
Nat Komes and his winery team hopped a fence and broke into the abandoned greenhouse (I'm envisioning an Ocean's Eleven sequence).
They embarked on an hours long search for Soliloquy . . . and found it! Nat Komes then took on the task of blending and re-creating the Soliloquy from memory.
Today, Flora Springs Winery is the only winery in the world making wine from that particular clone.
Originally, Soliloquy was a single varietal wine, but in 2017 Flora Springs began making it as a blend. It is one of Flora Springs' two flagship wines.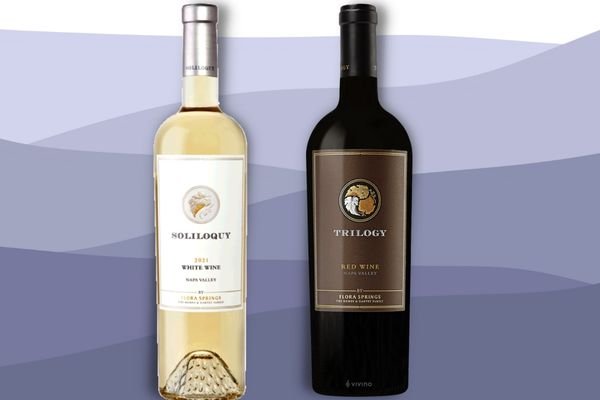 Flora Springs Soliloquy 2018 / 93 points
A blend of Sauvignon Blanc, Chardonnay, Malvasia and Pinot Gris.
Aged for 7 months in a combination of concrete egg vessels, French oak barrels, stainless steel barrels and oak puncheons.
The texture on this wine is sublime. Green apple and stone fruits. Pineapple. Exceptional acidity and balance.
I might actually be able to tolerate a Shakespeare soliloquy if I had a glass of this wine in hand. An extraordinary wine. 620 cases produced.
Flora Springs Trilogy 2017 / 93 points
Flora Springs Trilogy wine was first made in 1984 and was one of Napa Valley's first proprietary Bordeaux-style blends. Flora Springs Trilogy is a red wine. Originally, it was three varieties (Cabernet Sauvignon, Cabernet Franc, and Merlot), but today it can be up to five.
Flora Springs Trilogy 2017 is 80% Cabernet Sauvignon, 17% Petit Verdot, 3% Malbec. Aged for 22 months, 92% French oak, 8% American oak.
So much going on here. Black currant, black plum, cedar, tobacco, mocha. Deftly balanced — approachable yet firm tannins. Love the peek of American oak on the finish — toasted vanilla beans. A joy to drink. 5,500 cases produced.
Cheers to the extraordinary.