Pinot Gris or pinot grigio? A guide
What's the difference between Pinot Gris and Pinot Grigio? Is it as simple as one is French and one is Italian? Find out in our down and dirty guide.
If I had a bunch of fancy consonants (like PhD or PsyD) following my name, I'd diagnose Pinot Gris with Bipolar Disorder.
I've never tasted a grape variety with such wild mood swings — one bottle is lean, mean and a little bit green . . . the next bottle is lush, plush and mellow.
What's going on with this grape?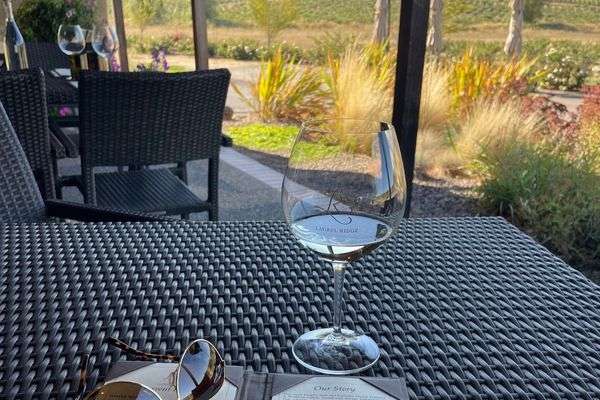 What Is Pinot Gris?
Pinot Gris is a mutant clone of Pinot Noir.
It's the Magneto of the wine world. And it has more aliases than James Bond.
In France, they call it Pinot Gris, which translates to gray pinecone. In Oregon, where the variety is thriving, they use the French moniker.
In Italy, they call it Pinot Grigio. In Hungary, Szürkebarát (Gesundheit). In Germany, Ruländer. In Switzerland, Malvoise.
This grape has a lot of passports. But whatever you call it, Pinot Gris and its aliases are the same grape.
Where Does Pinot Gris Originate From?
Grey pinecones? I guess I see it. Kinda.
Much of the world's Pinot Gris comes from Italy, France and Oregon.
In Italy, the bulk of Pinot Grigio is made in the Northeastern Tre Venezie (Triveneto) region, near the Alps.
It's cooler there, so the grapes aren't as ripe when they're picked. Consequently, Italian Pinot Grigio tends to be ultra-light bodied, crisp, lean and dry, with green apple and citrus flavors. It's almost never aged in oak.
Alsace Pinot Gris
Pinot Gris from the Alsace region of France is a medium to full-bodied wine, and can approach off-dry.  
Alsace Pinot Gris has a warmer climate, so the grapes get riper before they're picked, and the wine has a smidge more alcohol.
Alsace Pinot Gris is creamier and softer, with notes of peach, wet stone, spice and honey. It is almost always oak aged.
Oregon Pinot Gris
The Oregonian style Pinot Gris takes the middle ground, producing wines that are light to medium bodied, with dry, citrus and tropical notes. For me, this is the Pinot Gris sweet spot!
Last summer, we spent a week in the Willamette Valley of Oregon — tasting wine and basking in the weirdness of Portland.
While we were there, I tasted some Pinot Gris that rocked my world, and I've been on a Pinot Gris pilgrimage ever since.
It's true. Portland is weird . . . and wonderful!
I found two Oregon Pinot Gris standouts on my recent pilgrimage: Alexana Pinot Gris and Brandbourg Pinot Gris. Both are absolute WOW wines. And both are SOLD OUT at the wineries.
Apparently, I'm not the only one who loves them. If you missed it earlier, here's my review of the Alexana Pinot Gris.
But before I stock my wine fridge with nothing but Oregon Pinot Gris, I wanted to learn some more about Pinot Gris from other parts of the globe.
I decided to do a little head-to-head tasting of four Pinot Gris/Grigio wines.
It's A Pinot Gris Taste Off
Tesoro Della Regina Pinot Grigio Valdadige 2012
Hindsight being 20/20, when the guy at Total Wine told me this was their #1 selling Pinot Grigio, I should have run away. That's how I ended up with a bottle of Martha's Chard as well.
That's wine-sales-speak for we have a mega-ton of this stuff sitting around, so we need to sell the hell out of it.
I should have bought that lonely bottle of Pinot Grigio on the bottom shelf, covered in dust. But I digress.
Tesoro Della Regina translates to The Queen's Treasure. If I was the Queen, and this wine was my treasure, I'd have my treasure-hunters beheaded.
It's not that the wine is undrinkable, it's just Y-A-W-N boring. Watery yellow in color, almost no nose, weak, tart flavors of key lime and a pear finish. Think fortified CapriSun.
Coelho Winery Renovação Pinot Gris Willamette Valley 2011
Coelho is Portuguese for rabbit, which explains the cute rabbit drawing on the label. Slightly effervescent.
Wine Spectator described this wine as jazzy. Maybe that's the effervescence? All I can think of is Joey Tribbiani and his jazz hands, so this is forever going to be the Jazz Hands Wine.
Big whiff of almonds. Love that. Almond on the finish. Love that, too. Had some stellar Clothbound Cheddar cheese from Cabot Creamery with this wine and . . . wow! Unexpected pairing delight!
Erath Pinot Gris Dundee Hills 2011
Meh.  (I quite prefer Laurel Ridge Pinot Gris. You can check out our reel on IG.)
Nothing really wrong with this wine, it's just boring. Flavors are sort of stewed.
Reminds me of one of those unending cocktail parties where you get trapped talking to someone who is perfectly nice, but staggeringly boring. Narcoleptic seizure boring. But perfectly nice . . .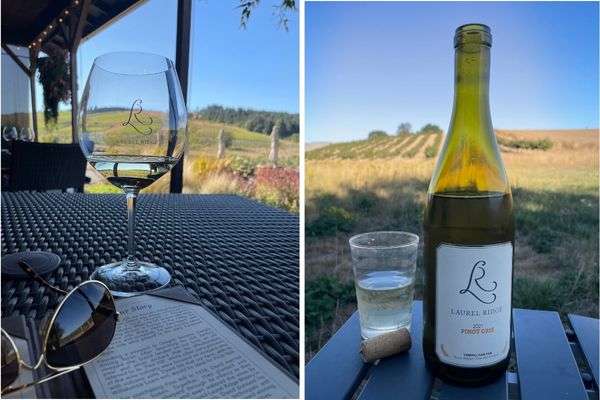 Rene Sparr Pinot Gris Alsace 2011
This is a slow-to-warm-up wine. Pale green hue. Almost no nose at first, but with a little time in the glass, aromas of apricot and mineral start to develop.
Slightly off-dry compared to the other three. Tart and crisp, with flavors of peach and citrus.
Softer and more elegant than the Italian and Oregon examples. I would love to try this with something hearty, like a risotto.
It's super fun to try new wines but it can be soul crushing when you don't like the bottle you brought home that you were so excited to try.
Pinot Gris / Pinot Grigio Final Tasting Notes
My favorite of the group was probably the Coelho, but followed closely by the Alsacian Rene Sparr. I'd buy both again.
But I'll take a pass on the Tesoro and the Erath.
My experiment was a little disappointing after tasting knockouts like Alexana and Brandbourg.
There are so many more rock star Pinot Gris out there! We put so much research into trying Pinot Gris and Pinot Grigio from around the world and we compiled our tasting notes in this buyer's guide.
In our buyer's guide you'll get tasting notes, food pairing suggestions, and a a description of the region and how the grapes are grown (and why they taste the way they do) so you can buy with confidence and don't end up with sad slack face.
We'll cover all the heavy hitters and some boutique wines that you didn't even know exist.
To name just a few…
The Ned Pinot Gris
J Vineyards Pinot Gris
Oyster Bay Pinot Gris
Tim Adams Pinot Gris
Trimbach Pinot Gris
Kim Crawford Pinot Gris
Pinot Gris FAQ
What type of wine is a Pinot Gris?
Pinot gris is a white wine grape variety from France and the varietal wine that shares its name. It's mutation of pinot noir that originated in Burgundy in the Middle Ages and was rediscovered in Germany in 1711, where it's known as Ruländer.
Is Pinot Gris considered a dry wine?
Pinot Gris from the Alsace region of France is a medium to full-bodied wine, and can approach off-dry. Alsace Pinot Gris has a warmer climate, so the grapes get riper before they're picked, and the wine has a smidge more alcohol. It's creamier and softer, with notes of peach, wet stone, spice and honey.  It is almost always oak aged.
Is Pinot Gris or Pinot Grigio sweeter?
Which is sweeter? It depends on which region has adopted either Pinot Gris or Pinot Grigio. Pinot Grigio often tastes less sweet than other white wine because of the high acidity. It comes down to how the winemaker has produced the wine, but sometimes Pinot Gris is a little more generously flavored and complex and some styles have a touch of sweetness. Check out our style guide.
Should Pinot Gris be chilled?
If it is too cold, the flavor could be muted. As with sparkling wines, the optimal temperature is 45-55 degrees. This temperature serves to ensure the wine remains refreshing and sharp. My personal preference is around 60 degrees Fahrenheit.