carpe vinum! 30 ideas for your next wine club Party
Do you want to start a wine club dinner party with your friends but don't know where to begin? We have 30 tested and approved wine club themes waiting for you. Carpe Vinum!
There are wine club memberships and social wine clubs. And, every winery on the planet offers some kind of wine club membership — with special discounts and access to special wines.  
We have a pretty serious wine club addiction. So do our friends. Which is how we got into starting a social wine club.
Wine club memberships run by companies offer exposure to a huge variety of wines, tailored to your wine preferences.
We're part of a fantastic little social wine club called Carpe Vinum — Seize the Wine (I'm not the only one to splice those two words together, but I like to think my two years of high school Latin are paying off in spades).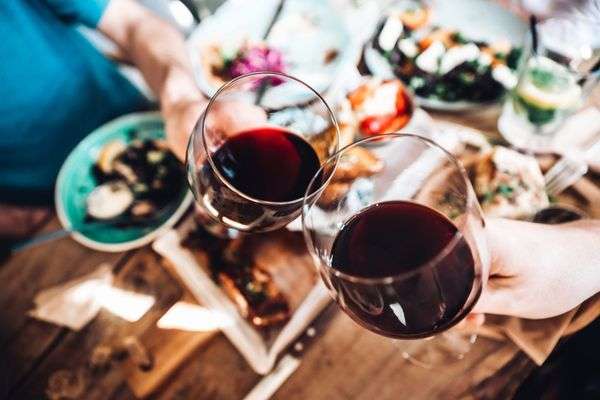 Carpe Vinum Wine Club: How It Works
Carpe Vinum is on a self-guided wine education tour. We meet once a month to learn about wine and how to pair it with food.
This isn't just an excuse to drink wine in the middle of the day.
We have fun (a lot of it) but, there is an academic focus. We choose a different theme each month — it could be wine focused, or it could be food focused.
But it comes with an expectation that we'll do some research about the wine we bring and the food we pair it with.
And as proof that we actually do research, this is my Wine Bible — all the research and notes I've accumulated over the past 5 years (the recipes are in a separate but equally stuffed binder).
And yes, I'm a touch OCD.
Carpe Vinum: 30 Wine Club Dinner Party Themes
One of the things I love most about Carpe Vinum is the infinite number of themes and ideas available to explore. We've traveled the world through wine, studying the major wine regions and grape varieties. That said, I've excluded those themes on this list. Why? Because I figure they fall under the Captain Obvious heading — you don't need me to suggest Bordeaux or Chardonnay as a wine tasting theme. We have those already listed. We've had have some pretty great theme ideas so why shouldn't we share them all? Maybe you'll pick up an idea or two for your own wine club.
Veggie Tales
Pairing wine with vegetables. No carnivores.
Must-try recipe: Glazed Beet and Burrata Toasts.
The Governor's Six-Pack
A look at six of the winners of the 2014 Virginia Governor's Cup.
Must-try recipe: Gnocchi with Wild Mushrooms.
Passport to Catalonia
A study of Catalonian wine and food.
Must-try recipe: Potato Chip Omelette.
Carpe Vinum Takes A Roman Holiday
A study of the wine regions and foods in and around Rome.
Must-try recipe: Parmesan Crusted Pesto Grilled Cheese Sandwich.
Lesser Known Wine Regions
A study of some of the world's lesser known wine regions. Based on an article in The Week Magazine by Alexis Korman.
Must-try recipe: Chicken and Wild Rice Soup.
Holiday Traditions
Pair your family's favorite holiday food with wine.
Must-try recipe: Maple Glazed Bacon with Candied Pecans.
Cru Beaujolais
It only sounds like a French Gang. A study of the 10 Crus of Beaujolais.
Must-try recipe: Guinness Beef Stew.
Rhône Valley Wine Region
We're celebrating the Rhône wine region this week and you do not want to miss which wines we chose to pair with our French feast.
Must-try recipe: Chicken with Morels and Wild Rice Pecan Pilaf
Soup's On! 
Pairing soups and wine.
Must-try recipe: Lobster Bisque.
Carpe Vinum Goes to Portugal
A study of Portuguese wines and food.
Must-try recipe: Fennel, Orange and Apple Salad with Mint.
The War of the Rosés
Yes, this is technically a repeat of our Pink! theme, but can you ever have enough Rosé? I didn't think so. It's great fun to compare Rosés from different regions around the world.
Must-try recipe: Grilled Avocado with Melted Cheese and Hot Sauce.
Carpe Vinum Tackles The Iron Chef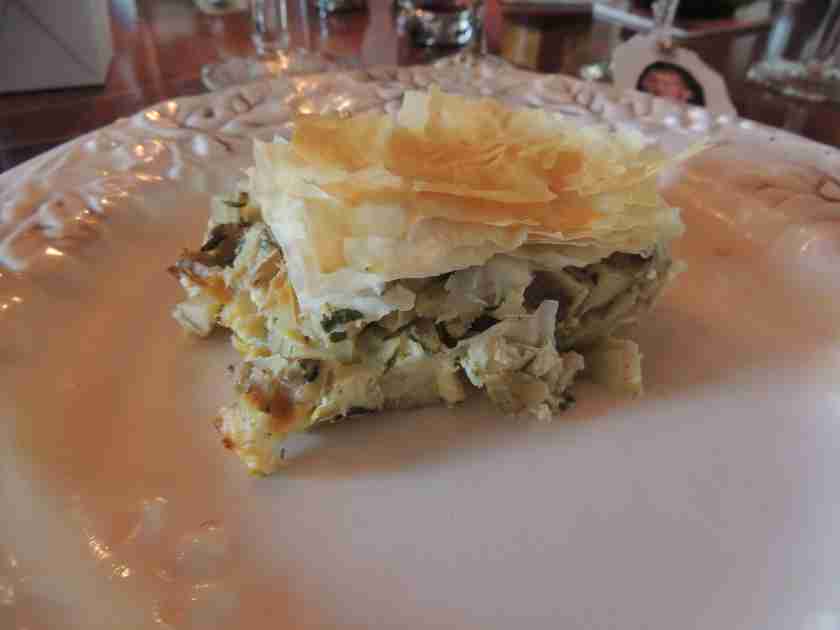 Our spin on The Iron Chef. Our secret ingredient was artichokes. This was a lot of fun, especially since artichokes have a reputation as a wine killer.
Must-try recipe:  Agginaropita (Greek Artichoke Pie).
Old World vs. New World — The Whites
Old World vs. New World Chardonnay, Riesling & Sauvignon Blanc.
Must-try recipe: Thai Ground Pork Salad.
Old World vs. New World — The Reds 
Old World vs. New World Cabernet Sauvignon, Pinot Noir & Merlot.
Must-try recipe: Turkey Sandwich with Red Pepper Pine Nut Pesto and Caramelized Onions.
Horizontal Syrah 
A Horizontal tasting of 4 different Syrahs, all from 2018.
Must-try recipe: Brie Cakes with Sundried Tomatoes.
Family Heritage Recipes 
Food that represents your family's cultural heritage, and wines to go with it. I made a Swedish almond cheesecake called Ostakaka . . . talk about a wine pairing flummox.
Food with Booze 
Bring a dish with booze as an ingredient, and a wine to go with it. This was one of our favorites!
Must-try recipe: Chopped Salad with Blue Cheese Dressing.
Light Whites
A study of lighter white wines. Surprise of the day? Hondarrabi Zuri (Txakolina).
Must-try recipe: Avocado & Grilled Corn Salad with Cilantro Vinaigrette. (I make it with basil vinaigrette).
Tempranillo & Tapas
Spanish Tempranillos and Tapas.
Must-try recipe: Croquetas de Jamón.
New To You
Bring a wine that's "new to you". Our newcomers: Zweigelt, Vouvray, Semillion, Lagrein, Picpoul, Grenache Blanc and Cahors.
Must-try recipe: Tequila Flamed Shrimp Tostadas.
Cheese Pairings
Pairing wine with cheese. Not as easy as you think!
Must-try recipe: Kentucky Beer Cheese on Toast.
Merlot (Sideways)
We watched Sideways and, in direct defiance of Miles Raymond, spent the afternoon pairing foods with Merlot.
Must-try recipe: Mushroom, Butternut Squash & Gruyère Tart.
Carpe Vinum Takes On The Winter Foods
Foods you love to eat while hibernating, and wines to match.
Must-try recipe: Grilled Manchengo Cheese & Serrano Ham Sandwiches.
The Price Is Right
A splurge bottle vs. an economy bottle of the same grape variety.  Is the expensive bottle always better?  
Menu item: Ruffles potato chips to go with my Champagne. This is probably the most popular theme of all time.
Blind Tasting (White Wine)
Brown bag, blind tasting of Riesling, Gruner Veltliner, Chenin Blanc, Pinot Gris, Viognier & Sauvignon Blanc.  We got most of them, but didn't bore down on the location, producer or vintage like those über-intense guys in Somm (the movie).
Must-try recipe: Sweet & Spicy Mac and Cheese from Deschutes Brewery.
Think Pink! 
Pairing food with Rosés.  
Must-try recipe: Triple-Decker Baked Italian Cheese Sandwiches.
Aphrodisiacs 
Pairing foods that are known aphrodisiacs (asparagus, avocadoes, cucumbers, pumpkin, oysters, and almonds) with wine.
Must-try recipe: Chilled Mango & Cucumber Soup.
Wine Cocktails
Cocktail party foods and wine cocktails to go with them.  
Must-try recipe: Roasted Rosemary Cashews.
Thanksgiving 
We made a full Thanksgiving dinner and tried to figure out the best wines for Tom Turkey & his side dish friends.  
Must-try recipe: Roasted Sweet Potato Rounds with Garlic Oil and Fried Sage.
Bubbles
A study of Bubbles from around the world. This is a theme that never gets old!
Must-try recipe:  Olive Cheese Balls.
related articles