Hawk And Horse Vineyards: A Review, Tasting Notes and pairing
There's a lot of history at Hawk and Horse Vineyards in Lake County, CA. We'll talk AVA, tasting notes and pairings.
I recently had the opportunity to taste a couple of wines from the Red Hills AVA of Lake County — Hawk and Horse Vineyards.
Hawk and Horse Vineyard is a small, family-owned and operated ranch and vineyard estate, specializing in Cabernet Sauvignon and a port-style wine called Latigo (I wish my auto-correct would stop trying to change that to Latino).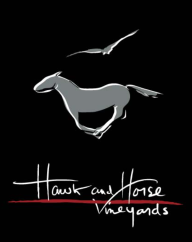 Lake County, California is bordered by some pretty fancy neighbors to the south — Napa and Sonoma Counties.
But Route 29 doesn't dead-end in Napa County. If you continue north (until you run into a really big lake — it'll be on your right, you can't miss it), you'll have the opportunity to taste some unique wines.
Lake County vintners often use the catchphrase, higher, dryer, shorter and colder, to describe their terroir:
Higher altitude (more elevation = more sunlight)
Drier conditions (thanks to extra sunlight)
Shorter growing season (reduces the threat of late-season pests like mealybugs and mites)
Colder nights (thanks to Clear Lake & large diurnal temperature swings)
Here's a great map of Lake County (the Red Hills AVA, where Hawk & Horse is located, is the area shown in, well, red) from the Lake County Winery Association: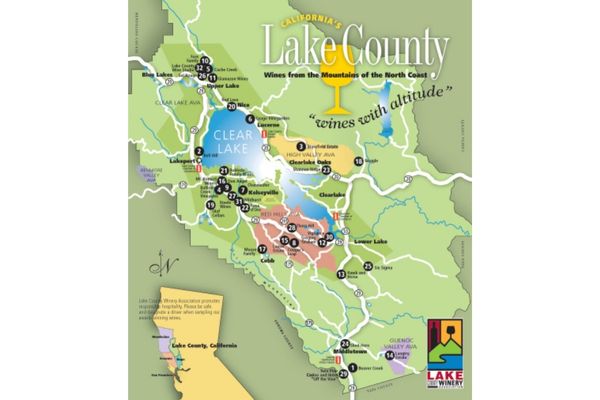 Hawk And Horse Vineyards In Lake County-Red Hills AVA
Hawk and Horse Vineyards is in Lake County. The county takes its name from Clear Lake, the largest body of fresh water in the state of California (and probably one of the oldest lakes in the United States — most estimates put the lake's age at over 480,000 years).
The presence of Clear Lake allows for large diurnal temperature swings (the difference between the day's highest temperature and the night's lowest temperature), something grapes really dig.
These temperature swings are important because the high temperatures allow grapes to ripen fully, while the low temperatures preserve a grape's acidity.
Lake County is known for having some of the purest air in the country (I know this because this was an actual study question for my CSW exam).
This high-quality air acts like a giant version of one of those tanning reflectors — concentrating the sunlight exposure.
All that sun gives the grapes thicker, darker skins (kind of like a tan, or in my case, a wicked sunburn).
And those thicker, darker skins translate into a wine with more phenolics (a group of chemical compounds that affect the taste, color and mouthfeel of wine).
And more phenolics = more color and more tannins.
Before Prohibition, Lake County actually produced more wine grapes than Napa.
But then Prohibition happened, and almost all of the grapes were ripped out and replanted with walnuts and pears.
Hawk And Horse Vineyard And Ranch
The Hawk & Horse ranch is 1,300 acres, and was once a horse breeding facility.
It was also home to the historic El Roble Grande (or, the large oak), which was once the largest valley oak tree in California.
El Roble Grande fell in 1952, after a series of torrential rains weakened its root system. It was more than 200 feet in height and 12 feet in diameter.
Age estimates place El Roble Grande somewhere between 500 and 800 years old (which means El Roble Grande was there before Christopher Columbus "discovered" America).
The Hawk & Horse vineyard ranges in elevation from 1,800 to 2,200 feet, with slopes of 15 to 85%. The vineyards were first planted in 2001 with the first vintage produced in 2004.
The soil is red volcanic, and studded with "Lake County Diamonds, which are aren't really diamonds, but a type of quartz.
Lake County Diamonds were formed when the local volcano, Mount Konocti, blew her top and left behind trails of weathered lavas, which eventually formed the Lake County Diamonds.
Incidentally, the last time Mount Konocti erupted was 11,000 years ago. Today, the US Geological Survey classifies the Clear Lake Volcanic Field (of which Mount Konocti is part) as "High to Very High Threat Potential". Uh-Oh.
The ranch is also home to a large number of red-tail hawks hence the hawk part of Hawk & Horse.
Hawk And Horse Vineyards Is CCOF Organic And Demeter Biodynamic Certified
Hawk and Horse Vineyards is CCOF Organic and Demeter Biodynamic certified. There's still a part of me (OK, a big part) that cannot wrap my brain around this biodynamic stuff.
But I also know of some pretty kick-ass wines that are made entirely by, or converting to biodynamic methods (Domaine Zind-Humbrecht, Cristal Champagne, Domaine Romanée-Conti, Beaux Frères in Oregon, Joseph Phelps, and Grgich Hills, just to name a few).
Hawk and Horse Vineyards pursues a true "closed system", which means that biodynamic preparations are sourced mainly from the property.
A few years ago, I wrote a blog about my first experience with biodynamic wines.  I didn't get biodynamics then, and I get it only slightly more now.  But I've made my peace with it.  At the end of the day if it's your cup of tea and it works for your wines applause, applause, applause.
Hawk And Horse Vineyards Tasting Notes
Hawk And Horse Vineyards 2011 Cabernet Sauvignon /90
98% Cabernet Sauvignon and 2% Petit Verdot. Grown at elevations up to 2,200 feet in red, volcanic soil.
Aged for 20 months in 80% new and 20% 2-year old French oak. Clear, brilliant ruby color in the glass. Lots of stuff going on on the nose — black fruits are definitely driving this bus.
Blackberry, blueberry, figs. Very elegant mouthfeel, flavors are tied together by some fresh tobacco, cocoa and cedar notes. There's a minerality to the wine that's really intriguing. Maybe it's those Lake County Diamonds?? 14.5% ABV.
Hawk And Horse Vineyards 2011 Cabernet Sauvignon Pairing
I paired this nifty Cab with Brazilian Skirt Steaks with Golden Garlic Butter, served alongside my Farmer's Market bounty of roasted new potatoes, asparagus, and golden beets.
The steak is deliriously tender and yummy. It all starts with a gigantic pile of garlic (and anything that starts with a pile of garlic has to be good, right?).
The Hawk and Horse Cabernet held up beautifully to both the skirt steak, the garlic butter sauce, and my ride-along veggies.

Buy Hawk And Horse Vineyards Now

Hawk And Horse Vineyards 2011 Latigo /93 points
This is a fortified, port-style wine made from 100% Cabernet Sauvignon.
It's fortified with Alembic brandy and aged for 29 months in new French oak.
You could plan a dessert pairing for this wine, but you don't need to. This wine is dessert.
In case you're wondering (like I was), what a latigo is, it's a reddish cinch-strap that hangs of the left (port) side of a Western Saddle. Damn. I learn something new every day.
I have ridden a horse exactly seven times (none of them well), so I can tell you a latigo looks like something very important to horse riding.
Apparently, the term was popularized in Garth Brooks' 1991 song, Rodeo. A song that falls into the never-heard-of-it category for me, because the last time I listened to country music with any kind of regularity, Dolly Parton was singing these words:
Tumble outta bed and I stumble to the kitchen
Pour myself a cup of ambition
Yawn and stretch and try to come to life
Yep, still plays.
Latigo is the Goldilocks of port-style wines — not too hot, not too sweet, just right. It's a brooding garnet color in the glass.
Intensely layered flavors of candied plums, chocolate covered cherries, caramelized brown sugar, and sweet pipe tobacco.
Very nicely balanced, with beautiful rays of acidity to round out the sweetness. Nothing pulled my focus — everything in harmony. 18% ABV with 13% residual sugar. An irresistible wine.