Organic, Biodynamic, Sustainable, Dry Farm Wine- What's the difference?
Have you ever been to a wine tasting where you're served a dry farm wine and have to pretend it tastes different than any other wine you've ever tasted?
And now you're wondering, "is this the same as a biodynamic wine? Does biodynamic mean organic? And, what is sustainable winemaking after all?"
It seems like these methods of winemaking exist to intentionally confuse us.
We get this question all the time. These methods of farming are so different yet sort of overlap.
You could travel down a rabbit hole of information and come out on the other side having paralysis by analysis.
Here's the down and dirty explanation.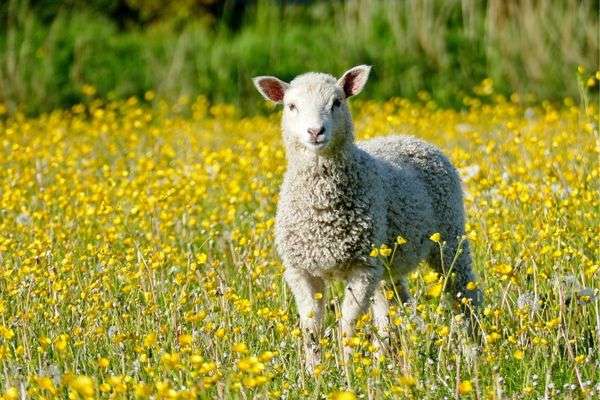 There's a lot of chatter in the wine world today about viticultural practices — specifically organic, biodynamic, dry farm wine and sustainable practices.
Many vineyards are moving away from conventional practices (which have few limitations on pesticides and chemical fertilizers) and toward one or more of these guys.
The three pillars are organic, biodynamic and sustainable. All three share similar, broad goals — advocating environmentally responsible practices like soil conservation, habitat protection & restoration, and water & energy conservation.
Organic Viticulture
Viticulture is the science of the cultivation, growing, and harvesting of grapes.
In organic viticulture, grapes are grown without any pesticides, herbicides, insecticides, fungicides, or chemical fertilizers.
Organic growers use natural botanicals, cover crops to control weeds, and compost to build organic matter in the soil.
Organic viticulture is rigid in its limitations, and requires certification by a government regulating body (here in the US, it's the USDA).
If organics are important to you, I should point out that a wine can be made from organically grown grapes, but still not be an organic wine.
All wines contain sulfites (because they occur naturally in grapes), but if a wine is made organically, additional sulfites cannot be added during the winemaking process.
Look for the acronym "NSA" (no sulfites added) on the label.
Biodynamic Viticulture
Biodynamic Viticulture takes organic farming a step (or a celestial light year) further.
Hang on for this ride.
Biodynamic viticulture is a hot-button topic in the wine world.
It's based on the ideas of Austrian esoteric Rudolf Steiner. It was the first of the organic farming movement dating back to the 1920s. It treats soil fertility, plant growth, and livestock care as ecologically interrelated tasks, emphasizing spiritual and mystical perspectives.
I know, it sounds very woo-woo and hippy dippy because Steiner also had some bonkers ideas so some are like, "keep your magic cow horn crystals, I'm all set."
Biodynamic farming methods use an astrological sowing and planting calendar not unlike the ancient Mayans.
In fact, the Mayans were the first to use a lunar calendar to farm. Steiner added some stuff and changed the name to biodynamics.
Biodynamics emphasizes the use of manures and composts instead of the use of synthetic fertilizers, pesticides and herbicides on soil and plants (organic farming, hello).
Each biodynamic calendar day coincides with one of the four classical elements of Earth, Fire, Air and Water.
Fruit /Fire Days: Harvest
Root /Earth Days: Prune
Leaf /Water Days: Water plants
Flower /Air Days: Plant development
Some farmers practice burying ground quartz stuffed into the horn of a cow, which are said to harvest "cosmic forces in the soil".
No difference in beneficial outcomes has been scientifically established between certified biodynamic agricultural techniques and similar organic and integrated farming practices.
As of 2020, biodynamic techniques were used on 251,842 hectares in 55 countries, led by Germany, Australia and France.
There are certification agencies for biodynamic products, most of which are members of the international biodynamics standards group Demeter International.
Wine writers and sommeliers gush about biodynamic wines, and there's no denying that there are some kick-ass wines made using biodynamic techniques (Benziger, truly amazing wines).
I respect the sincerity of folks who are committed to biodynamics.
Biodynamic Sea Smoke Cellars
Sea Smoke Cellars is a rock star (yep, I said it), and I admit to being a little star struck as we walked through the vineyards.
The vineyard manager had a bottle of Sea Smoke Chardonnay tucked under his arm that was pulling my focus.
That's not just a prop — that's for opening and sharing, right??
As Carl walked us through the vineyards, he told us all about the grapes and the terroir.
If you've ever had a bottle of wine from Sea Smoke Cellars, you know they have some good terroir.
The tour went something like this . . .
One of the most important things we do here at Sea Smoke to nurture our terroir is fertilize. We collect the dung of female cows . . . female cow dung offers a more favorable energy to the vines and encourages their growth and sustainability.
The female dung is segregated into piles for composting. Once the compost process is complete, we dilute it with water and spray the vineyards with it, thereby harnessing the full power of nature.
And then he turned his attention to the Dark Lord of the vineyard: Gophers.
Gophers cause extensive damage in a vineyard. So we trap the gophers in our vineyard. The gophers are killed, planked and burned. These are now enhanced gophers. We spread the enhanced gopher ashes over the vineyard during the winter solstice, and this scares off other gophers.
I'm pretty sure I saw Professor Snape enhance some gophers in Defense Against the Dark Arts class at Hogwarts.
And then we got to taste that bottle of Chardonnay he had tucked under his arm. It tasted like sunshine . . . with a hint of toasted gopher on the back end.
Sustainable Winegrowing
Sustainability is a practice that is sensitive to both the environment and the community, and it's balanced, too.
Sustainable practices allow for minimal interventions when necessary (and you don't have to consult astrological charts).
At its core, sustainability means being a good steward of the land and a good neighbor.
Sustainable vineyard and winery practices conserve water and energy, maintain healthy soil, protect air and water quality, enhance relations with employees and communities, preserve local ecosystems and wildlife habitat and improve the economic vitality of vineyards and wineries.
Peju Winery is one of many wineries committed to sustainability.
More than 65% of Napa Valley Vintners' members participate in the Napa Green Certified Land and/or Napa Green Certified Winery programs.
More than 40 wineries have comprehensive Soil-to-Bottle certification in both.
Dry Farm Wine Practice
The dry farm winemaking method means (very simply) that the vines get only the water Mother Nature chooses to give them.
Dry farming is completely sustainable, and was actually the norm in Napa Valley until the late 1970s, when drip irrigation was introduced to the region.
Before then, farmers and vines alike adapted to whatever Mother Nature gave them. They did more, with less.
Did you know: The California wines (Chateau Montelena and Stag's Leap Cellars) that won the Judgement of Paris wine competition in 1976? Dry farmed.
As California begins to emerge from an epic multi-year drought, good steward farmers continue to look for ways to conserve and protect water resources.
Founder of Smith-Madrone Winery, Stu Smith points out, "wine grapes use the least amount of water than any other agricultural product." (Almonds and rice are notorious California water hogs.)
Dry farming can save as much as 16,000 gallons of water per acre annually.
Is there a downside?
Dry farming does lower overall crop yields, but it also increases grape quality. Dry farmed grapes produce smaller berries, with a higher skin to juice ratio, which means you have a more intensely flavored grape.
Quality over quantity.
Dry farming is more than just praying for rain, though. You need the right kind of soil (the kind that absorbs and retains moisture), the right kind of vines (drought-resistant deep rooting vines), and the vines must be properly spaced so there's not too much competition for scarce water.
There's also technique to making dry farmed wine — the first few inches of soil are broken-up in the springtime, when there's moisture in the soil, leftover from winter rains.
The soil is compacted, forming a dry crust (sometimes called dust mulch) that seals in the moisture.
Deprived of consistent surface moisture (irrigation), the vine roots quickly adapt, and grow deep into the soil (sometimes 20 or more feet) to find and absorb moisture.
I found this fantastic graphic from Emeritus Vineyards and Forbes Magazine that visually explains how vine roots adapt to dry farming: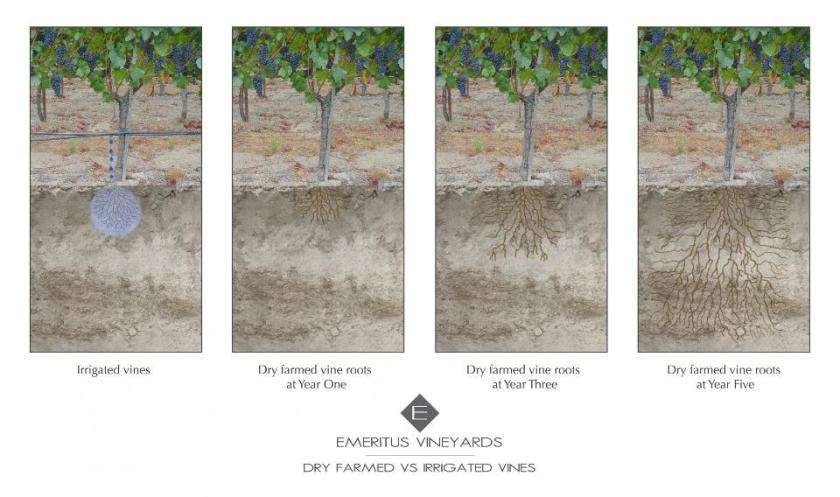 How Do Dry Farmed Wines Taste?
Brothers Stu and Charlie Smith founded Smith-Madrone Winery (in the Spring Mountain District of Napa Valley) in 1971.
The Spring Mountain District is a cool climate, mountain appellation — the vineyards there are planted on the eastern slopes of the Mayacamas Mountains (the range separating Napa Valley from Sonoma Valley).
Elevations in the Spring Mountain District range anywhere from 400 to 2,600 feet. And the Spring Mountain District is small — there are only about 30 wineries (there are 400+ wineries in all of Napa Valley).
Napa Valley produces about 4% of all California wine, but the Spring Mountain District makes up only 2% of that figure.
The vines at Smith-Madrone are dry farmed.
We've reviewed Smith-Madrone in a separate article but we're so proud and happy with their dry farm wines that we wanted to drink more of it. Can you blame us?
2014 Riesling /91 points
Made from 42 year old vines. Fermented entirely in stainless steel.
Beautifully dry and just plain clean, this might just be my favorite Napa Valley Riesling. Bright, sassy acidity. Loaded with minerals, wet rocks, green apple, lemon rind, and pears.
A long, rewarding finish ends with a hint of honey. This Riesling has aging potential in spades. 12.8% ABV.
2014 Chardonnay /91 points
Made from 42 year old vines. 100% barrel fermented for nine months in new French oak.
This wine underwent bâttonage (lees stirring), which, in addition to being really fun to say, gives a wine irresistible flavors of biscuit and dough.
Beautiful nose of green apple, lemon and buttered brioche. Dry and highly textured, with flavors of yellow apple, pear, butterscotch, vanilla and biscuits.
The oak is present to support, but not overpower, the fruit. The finish lingers with a passing almond. 14.2% ABV.
2013 Cabernet Sauvignon /91 points
Made from 41 year old vines. A blend of 82% Cabernet Sauvignon, 12% Cabernet Franc and 6% Merlot.
Aged in both new and one-year-old French oak. The nose is a glorious menagerie of bramble, cigar, lavender and cloves.
Dry, elegant, and restrained, with flavors of blackberry, black currant, white pepper, graphite, nutmeg.
The tannins are young, but well integrated. 14.2% ABV.
Smith-Madrone wines are made from well-tended, well-loved, dry-farmed vines:
These vines are our friends. We walk these rows year-round and know all their personalities. ~Stu Smith
The resulting wines are a lean, elegant, and focused expression of cool climate, mountain terroir. They reflect a consistency and keen sense of place and good stewardship.
Dry Farmed Wines To Buy Now
Dry Farm Wine FAQ
What is dry farming wine?
The dry farm winemaking method means (very simply) that the vines get only the water Mother Nature chooses to give them.  Dry farming is completely sustainable, and was actually the norm in Napa Valley until the late 1970s, when drip irrigation was introduced to the region.
How much alcohol is in Dry Farm Wines?
Dry farmed wine doesn't have any less alcohol than wines made using irrigation. Smith Madrone wines range from 12.8% ABV-14.2% ABV.
Is dry farm wine better for you?
Dry farm wines are made using sustainable methods which is better for the land and the environment and maybe knowing you're contributing to sustainable growing practices makes you enjoy them a bit more. Dry farmed wine grapes produce smaller berries, with a higher skin to juice ratio, which means you have a more intensely flavored grape.
Is dry farming still used?
Yes dry farming is still used by many winemakers. At least 40 in Napa Valley. The famous California wines that won the 1976 Judgement of Paris were all dry farmed. That's mainly because irrigation wasn't used in California until the late 1970s.
What are the disadvantages of dry farming?
Dry farm winemakers save as much as 16,000 gallons of water per acre annually. The downside? Crop yields from dry farm winemaking are lower than with irrigation practices. Dry farmed grapes produce smaller berries, with a higher skin to juice ratio, which means you have a more intensely flavored grape.