old house vineyards: A Review and tasting notes
My latest Adventure in Virginia Wine brought me to Old House Vineyards in Culpeper, Virginia.
My girlfriend and I decided to have an early lunch at Foti's Restaurant in Culpeper (the fried egg and country ham sandwich is killer, btw) and then head to Old House Vineyards for a tasting.
I've visited a ton of Virginia wineries over the years. I'm gradually revisiting favorites, not so favorites, and new wineries so I can share the experience.
According to Virginiawine.org, there are over 300 wineries in Virginia. Visiting all of them is starting to sound like Mission Impossible. But I'll do my best.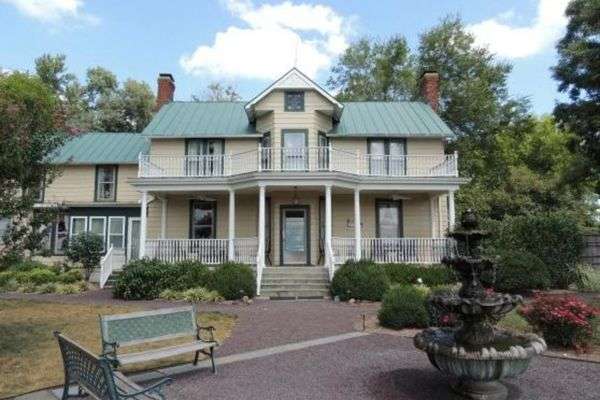 The Old House tasting room is in . . . an old house (I'd be disappointed if it wasn't) — a really lovely old farm-house, filled with ghosts (you know there are ghosts) and history.
Old House Vineyard opened a World War II themed distillery in 2014.
They make whiskey, rye, grappa and brandy — I'm pretty excited about that.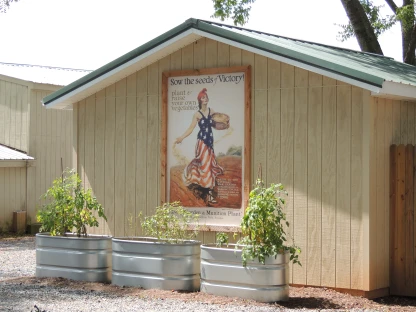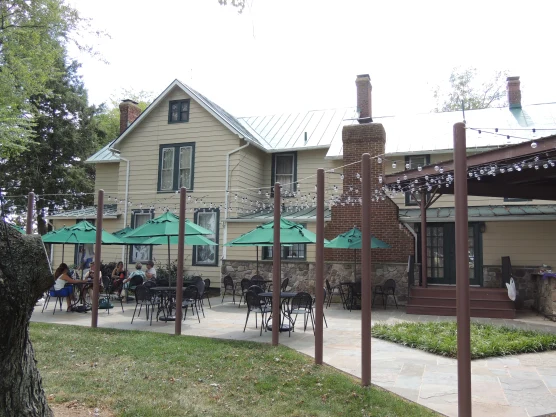 The grounds of Old House Vineyards are truly stunning. The back of the Old House reminds me very much of a German biergarten.
Lots of space, and a relaxed, communal atmosphere.
Old House Vineyard is also a popular venue for weddings . . . you can see why.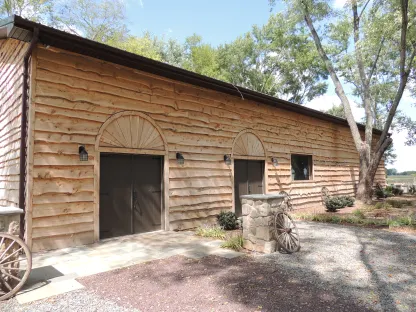 Old House Vineyards hired a new winemaker in 2014 — Andy Reagan. Prior to Old House Vineyards, Reagan served as the winemaker at Chrysalis, Williamsburg Winery, and Jefferson Vineyards.
I'll be anxious to see the influence of Reagan's hand in the Old House vintages to come.
I'm not going to rate any of the Old House wines. Because every single tasting note would say, "nose is gardenias and jasmine". But I will try to give you some general impressions.
I was disappointed with the tasting sheets — there's not much information to work with. No vintage years and no technical data.
I realize not everyone is looking for technical data, but I always think it's always better to give people too much information than not enough.
Old House Vineyards Tasting Notes
Old House Vineyards Clover Hill Vidal Blanc
Had my palate been functioning, I think I would like this wine. 100% Vidal Blanc. Fermented in stainless steel.
Mostly dry, with flavors of peach and grapefruit. The label is a nod to the Clover Hill house, which sits only yards away from the Old House property.
Clover Hill was built in 1775, and was once home to James Barbour, Virginia's 18th Governor. General George Custer was wounded in the Battle of Culpeper Court house in 1863 — and recovered at Clover Hill.
Custer and his bride, Elizabeth Bacon, honeymooned at the house in 1864. And later, Custer used the house as his headquarters. Mysteries and Conundrums wrote a great blog piece about Old House, along with some fantastic, but heartbreaking, pictures of the decline of the house over the years.
Old House Vineyards Chardonnay
100% Chardonnay. Aged in French oak. Our hostess suggested the wine was similar to a Chablis in style. But since Chablis is mostly free of oak influence, I'm not sure I really get Chablis here. The oak is light, but present. Pear finish.
Old House Vineyards Vidal Blanc
A semi-sweet wine (less than 2% residual sugar) with tropical flavors. Kind of Riesling-esque, but I found myself craving more acidity.
Old House Vineyards Rosie's Red 2013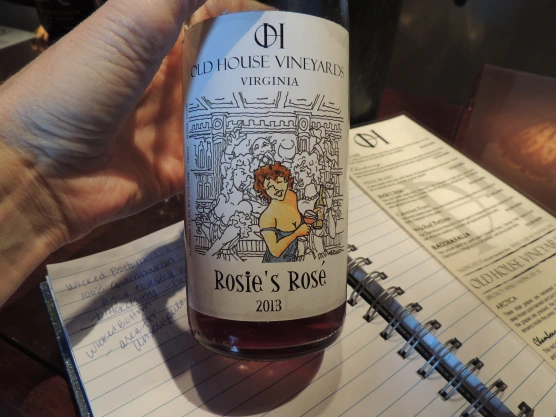 100% Cabernet Franc. Aged in stainless steel. Gorgeous color. On the mostly dry side, with flavors of tart raspberry.
Old House Vineyards Cabernet Franc
Tastes like a Cab Franc — tell-tall green pepper and herbal notes.
Old House Vineyards Wicked Bottom 2013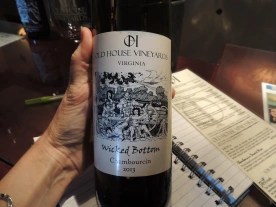 This wine comes with a great legend. Way back before the railroad came through Culpeper, trading routes converged on the village of Stephensburg. And not everyone who passed through the village could afford lodging, especially not when they were traveling with livestock.
So, those travelers camped in a field at the bottom of a hill — an area that grew a reputation for debauchery. It's nickname? Wicked Bottom.
100% Chambourcin, which is a French-American hybrid grape, parentage unknown. You see a lot of Chambourcin planted in the mid-Atlantic states. Aged in toasted oak. Almost a fuchsia color in the glass. Sour cherry notes, complimented by a strong herbal backbone. I thought Cab Franc was the champion of herbs in Virginia, but after this, I'm not so sure.
Old House Vineyards Bacchanalia 2011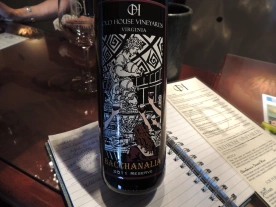 A blend of Cabernet Franc, Chambourcin, Petite Verdot. Our tasting hostess called this "very Bordeaux like". I don't get Bordeaux from this wine. Maybe the herbal palate of the Chambourcin is throwing me off? Perfume nose, or maybe it's lingering Estee Lauder.
Old House Vineyards Arctica
This is Old House's ice-wine style dessert wine. 100% Vidal Blanc. Aged in French Acacia cedar. Cedar? That's interesting. The side-boards on the new distillery are made out of cedar. Coincidence? Dense and gooey, loaded with flavors of peaches and apricot. A little shy on the acidity.
Old House Vineyards Chambourcin Dessert Wine
This is Old House's port-style dessert wine. Aged in Kentucky bourbon barrels and fortified with brandy. The flavor profile bends a little more toward raisins for me, but I enjoyed the bourbon undercurrent.
Old House Vineyards Pétillante
A sparkling wine made using the methode Champenoise. I was intrigued, but Pétillant isn't available for tastings (it's only for sale by the bottle), so I didn't get to try it. Bummer.
Old House Vineyards Area History
Civil War Footnote: On our drive home, my girlfriend and I noticed what looked like a little park, just a stone's throw from the winery.
Sometimes I forget I live in the south. And from time to time, you see the Confederate flag in Virginia — sometimes at a private residence, sometimes on the back of a pick-up truck, and occasionally in the form of a hair scrunchie at Walmart (true story). But I do live in the South — I'm keenly aware that the Confederate flag is a symbol of heritage and tradition to a great many Southerners.
For me personally, it's a symbol forever tainted by its association with slavery and oppression. And that's all I'm gonna say about that.
As a student of history, I couldn't leave this stone unturned . . . if history (or tangents) bore you, you can stop reading now.  
Over 160 battles were fought in Culpeper County during the Civil War. The Battle of Brandy Station in June of 1863 was the largest cavalry battle of the war, and marked the beginning of the Gettysburg Campaign.
Beyond that, unless you're a Civil War junkie, the details are pretty dry. But here's my 5 sentence summary: Confederate General J.E.B. Stuart launched a surprise cavalry attack that was supposed to be a diversion (to screen Lee's movement north toward Gettysburg).
But Union forces suspected something was amiss, and surprised the surprisers. Historians call the battle a tactical draw, though it ended up being a much needed confidence boost for the Union cavalry.
And Stuart got his butt chewed for being unprepared and almost losing on home turf. Regardless, Lee's movements north remained concealed, and he continued his march toward Gettysburg.
What we stumbled upon on our way out of Old House Vineyards is a Civil War battleground and memorial to Captain W.D. Farley, J.E.B. Stuart's aide and scout.
Farley and a very small group of Confederate soldiers managed to delay Union cavalry here at Mountain Run with a handful of troops and a single canon, insuring reinforcements would not arrive in time to help the Union cavalry over at Brandy Station.
Without that delay, Confederate forces would almost assuredly have been defeated — imagine the historical dominoes. Farley was killed by a ricochet from a single Union cannon shot, and he is memorialized here.
Old House Bottomline: A gorgeous venue, oozing with charm and history. I really wish the Old House could talk — I'd love to sit down with a glass of wine and listen to her stories.
If you're a history buff, a field trip to Old House Vineyard is worth your time. You'll find history in and around the Old House, in the wines . . . and even around the corner.
If you're not a history buff, you can hang out in the biergarten, drink some wine, and play giant chess.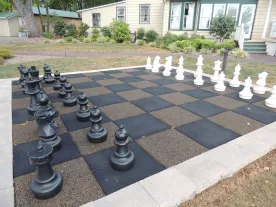 Want To Tour The Wide World Of Wine?
Ready to take your relationship with wine to the next level? Book a wine tasting trip! Viator (a Tripadvisor company) is the world's largest online marketplace for tours, activities, and attractions.
Viator has been a partner of Armchair Sommelier since our inception. We love partnering with them because our readers and Viator's trip operators have told us Viator is a great booking company to work with.
Still not convinced, let the reviews speak for themselves. We know you're a review junkie. So are we! We don't want to recommend a product that is going to offer you a bad experience. That said, there are no 100% guarantees in life.
Let me talk to you about my own experience with Viator. I have traveled all around the world. I've booked trips for myself, for my family, friends and even corporate travel (I will never do that one again so please don't ask me). I have used Viator every.single.time. And that's why I'm so excited to be a partner of theirs.