an evening with rombauer- Wine tasting notes, pairing, and nostalgia
Join us as we host a Rombauer wine tasting at home. The pairing? Something straight out of "The Joy Of Cooking".
In 1980, Koerner and Joan Rombauer established their eponymous Rombauer Vineyards.
Forty+ years later, the winery is still owned and operated by the Rombauer Family. And since 1980, Rombauer has had only three head winemakers (not a small accomplishment, since it can feel like other wineries change winemakers with the seasons), allowing them to achieve and maintain a unique consistency of style.
Rombauer's current winemaker, Richie Allen, has been at the wine-helm since 2008.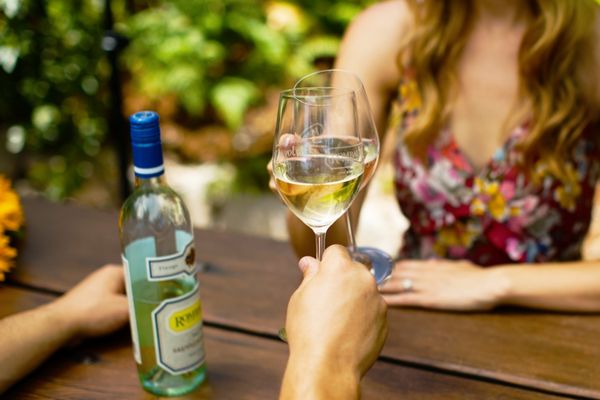 Rombauer History
The Rombauer Family is originally from the Rheingau region of Germany.
Koerner Rombauer''s great-aunt, Irma Rombauer, was the original author of the cookbook, The Joy of Cooking. It's been in continuous print since 1936.
The original cover featured St. Martha of Bethany, the patron saint of cooking, slaying the dragon of kitchen drudgery. (I could really use a dragon-slaying saint in my kitchen). My mother received a copy of The Joy of Cooking as a wedding gift, and some of my go-to recipes came from that book.
I love it because it has so many German recipes. I found a first-edition of The Joy of Cooking available at a rare books dealer in New York for $40,000 — which is about $39,927 outside of my cookbook budget, so I will keep looking.
Not, Rombauer History
I have a penchant for historical tangent (which I prefer to think of as an endearing quirk).
So, while the Rombauer's were busy planting and tending vines in Napa Valley, here's what else was going on in 1980:
Ronald Reagan was elected President of the United States (I still can't buy Jelly Bellies without thinking about him).
Mount St. Helens blew her top. Interesting geeky note: I've read a couple of reports that credit volcanic explosions in the Cascade Mountains with the success of Washington viticulture. Something about ash combining with sandy soils to form loess, which is something the vines love.
Miracle on Ice happened. Do you believe in miracles???
Pac-Man was released.
America finally learned Who Shot JR? (if you've forgotten this extremely important detail in the history of our nation — it was Kristin Shepard, JR's sister-in-law/mistress).
Rombauer Wine Pairing
Although Rombauer Chardonnay is famous, the very first wine they produced (back in 1980) was a Rombauer Cabernet Sauvignon.
Rombauer sent me four sample bottles of Cabernet Sauvignon, and it seemed a little selfish not to share them, so I had some friends over for a Samples Dinner.
My girlfriend made one of the recipes from The Joy of Cooking — Megan's Roasted Glazed Beets. Btw, if you aren't already on Team Beet, you will be after you try these.
Le Menu
Bacon-Wrapped Garlic Bratwurst
Filet Mignon Two Ways: Cayenne Seared and Blue Cheese Crusted
Julia Child's Potatoes Dauphinois
Creamed Spinach
Megan's Roasted Glazed Beets
How did we fare with the Rombauer Cabernet Sauvignon pairings?
If you've got a really good Napa Cabernet, you can pair it with Tuesday. And all of the Rombauers are really good Napa Cabernets. They fought a little with the heat in the cayenne seared filets, but with everything else? Music.
I was surprised (shocked, really) by how well the Cabernet Sauvignon fared with creamed spinach and glazed beets.
Glazed beets and Cabernet?!? I know. Sometimes wine surprises me.
There was a problem with the image upload and icloud storage, etc. so, I have no photos to share with you. Boo.
Rombauer Wine Tasting
Rombauer Napa Valley Cabernet Sauvignon /88 points
87.5% Cabernet Sauvignon, 7% Petit Verdot, 3.5% Cabernet Franc, and 2% Merlot. The fruit is sourced from vineyards throughout Napa Valley, which reads (at least to me) like a recipe: 3 cups Stags Leap, 2 cups Atlas Peak, 2 cups Mount Veeder, 1 cup St. Helena, 1 cup Calistoga, a pinch of Rutherford and Howell Mountain to taste.
Malolactic fermentation; aged in French oak barrels.
Flavors of sour cherry and blueberry, mingling with cedar shavings and fresh tobacco (I used to live in North Carolina, and I miss the sweet smell of fresh tobacco).
Hint of coconut on the finish. Less complex when compared side-by-side to the other Cabernets, but at $30 — you're getting a huge Napa Cabernet bang for your buck. 14.5% ABV.
Rombauer Diamond Selection Cabernet Sauvignon /92 points
Grapes were sourced from vineyards in Stags Leap, Calistoga, Atlas Peak, St. Helena and Howell Mountain AVAs. 85% Cabernet Sauvignon, 9% Merlot, and 6% Petite Verdot.
Malolactic fermentation; aged in French oak barrels. A noticeable step up in complexity. Flavors of red currants, black cherries, and chocolate.
A softer, more elegant mouthfeel. It's hard to believe adding just a pinch of Merlot (9%) can make that much of a difference, but it does. And that Petite Verdot adds just a sprinkle of spice to the finish.
As far as impressions go, the Diamond Selection made a memorable one. 14.8% ABV.
Moving on to the single-vineyard Cabernets . . . if you're at all curious about the vineyard sites, the Rombauer website has some outstanding maps of their vineyard properties.
Rombauer Stice Lane Vineyard Cabernet Sauvignon /90 points
100% Cabernet Sauvignon. Malolactic fermentation; aged in French oak barrels. Deep purple with magenta edges. Really interesting nutmeg note on the nose — reminded me of that first whiff of holiday eggnog.
Flavors of red currants, black licorice and cinnamon. Zippier and brighter than the Diamond Mountain.
The finish surprised me by introducing some pencil shavings into the mix. 14.8% ABV.
Rombauer Atlas Peak Vineyard Cabernet Sauvignon /91 points
100% Cabernet Sauvignon. From the Atlas Peak Vineyard at 1,600 feet elevation, volcanic soil and rocky topography.
Malolactic fermentation; aged in French oak barrels. A subtle cedar note on the nose (think grandma's cedar chest). Beautifully layered, and quite earthy, with a healthy dose of herbs, and some quiet blueberries.
Lovely spice notes on the back-end, persistent finish. Nicely balanced, I would love to taste this in another decade. 14.8% ABV.
All of the Rombauer Cabernets were lovely. The entry-level Cab is a Napa bargain. The Stice Lane and the Atlas Peak both have a precise varietal focus.
But, the unanimous favorite of the group was the Diamond Mountain — for its approachability and elegance.
Rombauer Sauvignon Blanc 2015 /90
I tasted the Rombauer Sauvignon Blanc separately, and with a radically different pairing.
This is Rombauer's first national release of Saugivnon Blanc, and only the second white wine produced by Rombauer Vineyards in their 35 year history.
100% Sauvignon Blanc. Sourced from cool-climate vineyards in Oak Knoll and Pope Valley. Fermented in stainless steel tanks (90%) and neutral French oak (10%).
Pale greenish-yellow hue. The nose is (of all things) iceberg lettuce and key lime pie. Flavors of grapefruit, kiwi, and tarragon.
Whoo! The acidity. Clean, clean, clean. Really interesting vanilla notes on the finish. Delightful.
I paired this with Chicken Tzatziki Tacos and fresh Feta Cheese = Home Run!!
Rombauer Wine Tasting FAQ
How much is a tasting at Rombauer?
Enjoy a Rombauer wine tasting featuring their best-known wines, for $25. Reservations are required for tastings.
What is Rombauer winery known for?
Although Rombauer Chardonnay is famous, the very first wine they produced (back in 1980) was a Rombauer Cabernet Sauvignon.  Still family owned and operated, the winery is known for its high-quality wines and consistency.
Is Rombauer in Napa or Sonoma?
You can visit Rombauer in Napa Valley.
Why is Rombauer chardonnay so good?
Rombauer Chardonnay is so good because it's made with love. Just kidding. Sort of. Because they've only have 3 winemakers since 1980 and the same winemaker has been at the helm sonce 2008, they're able to offer consistency.