Introducing 19 Crimes – Cali Red (Snoop Dogg's Wine – A Review)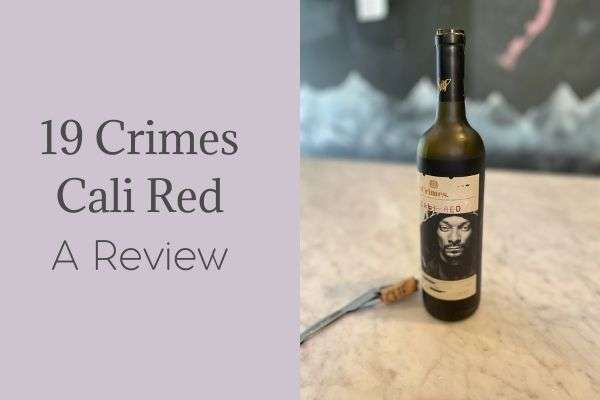 If you're looking for a wine that celebrates America's criminal justice system (not that this should be the first thing on your list. But if it is, no judgment pun intended), look no further than 19 Crimes Wine. This winery produces wines that tell the story of different convicted felons, each represented by the artwork on the bottle.
19 Crimes is the brainchild of Australian entrepreneur Chris Fetten, who was inspired to create the company after visiting a winery in California. He was struck by the idea of telling the stories of America's convicted felons through wine, and 19 Crimes was born. Some of the criminals featured on the wine bottles include Al Capone, Bonnie and Clyde, Pablo Escobar and Snoop Dogg.
Why were these particular criminals chosen to be featured on a bottle of 19 Crimes Wine? Well, each of them played a significant role in American history, for better or for worse. They are all fascinating figures with dramatic stories, and their crimes have helped shape America into what it is today.
Is Snoop Dogg's Wine Sweet?
Let's talk about how this makes a great gas station wine. Let me preface this section by saying that, if you're a pretentious wine drinker then this post (or this entire site, really) isn't for you. Don't read on.
But if you like to experiment with your taste buds, try new wine and try previously tasted wine again this just might be up your alley… or in this case, your prison cell? Don't get me wrong, I love a good Gamay, old world style. But every once in a while I want to see what the stab-N-grab down the street has to offer.
Naturally, with a nickname like that, you know what they have. 19 Crimes. In fact, I always ask the attendant if this "wine is good?". This time he said, "yeah, it's good." Is it? "Well… we sell a lot of it." Ah, yes. That's more like it.
Generally speaking, gas station wine is an affordable, convenient option for those who want to enjoy a glass of wine without spending a lot of money. You can buy a bottle of gas station wine for as little as $5, which is a fraction of the cost of wine from a vineyard or liquor store.
However, in the case of Snoop Dogg's bottle of wine, it is not a "cheap" wine. This bottle at the local bodega was $17.99. IMO, not cheap. For $3 more you can pick up a bottle of Meiomi at the grocery store.
Gas station wine is also a great option for those who don't have time to go to a liquor store or vineyard. Bingo. The downside of gas station wine is that it's not high-quality, and you're likely to get a headache if you drink too much of it.
I'm the kind of gal that tries real hard to finish a bottle in one sitting (TMI?). And that was an impossibility with Snoop's Cali Red. Way too much residual sugar for me. Definitely jammy. If I were sharing this with several friends it wouldn't have been that bad (and I wouldn't have had a hangover).
Now for my tasting notes. The color was very dark red like a Zinfandel. The aroma, to me, was very fruity and sweet. It tasted very sweet like a black cherry with a tannin finish- dry. All that said, I give it a solid 3. (Download our tasting guide for your next girls night in!)
Snoop Dogg's Wine Specifications
Vintage: 2020
Country: United States
Region: Lodi, CA
Alcohol: %14
Producer: 19 Crimes
Varietal: 65% Petite Sirah, 30% Zinfandel, 5% Merlot
pH3.7
Acidity: 5.88 g/L
In the next edition of #gasstationwine we're tasting Martha's Chard. You guessed it, 19 Crimes again! How can we not go there?
Cali Red Snoop Dogg Wine Review FAQ
Who makes Snoop Dogg's wine?
Treasury Wine Estates is the producer behind the iconic US rapper Snoop Dogg's Cali Red wine. The duo are bringing their "disruptive" Cali by Snoop wine brand to the UK market, fresh from their collaborative success on the 19 Crimes portfolio.
Is Snoop Dogg rose wine good?
19 Crimes Snoop Dogg Cali Rosé Wine is a crisp California wine, with ripe strawberry notes. Fruit-forward notes of fresh raspberry, strawberry, and red cherry offer a pleasant mouthfeel with balanced acidity and touch of sweetness.
What kind of wine is Snoop wine?
Snoop's Cali Red is the latest release from 19 Crimes Wine, a line of wines inspired by the America's criminal justice system. Snoop's wine is a blend of Petite Syrah, Zinfandel, and Merlot.
What is Snoop Dogg's wine made of?
This is the first California wine from 19 Crimes, and uses a blend of Lodi-sourced Petite Syrah 65%, Zinfandel 30%, Merlot 5% aged in American oak barrels.






 
[elementor-template id="4163″]