Best South African Wines available to Buy Now
I recently wrote a case study for my WSET Diploma on South African Wines. I tasted aaaa lotttt of South African wines which means, I am now keenly aware of the best South African wines on the market (and specifically why South Africa has struggled to create a high-quality image on the international market).
After weeks (and weeks) of research, here's my #1 (and very eloquent) takeaway: South African wines are really freaking good. And they are woefully under appreciated here in the United States.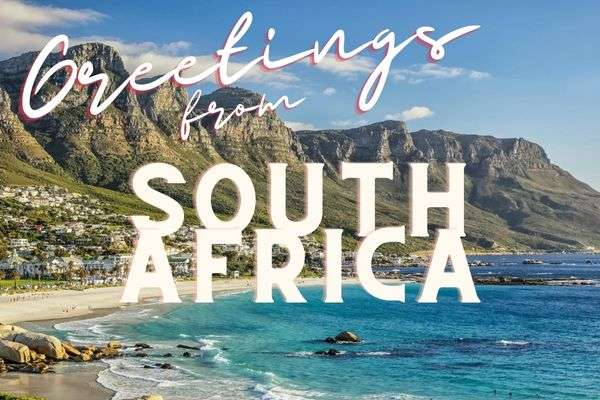 South African Wines Have An Image Problem
Why the image problem? First, some statistics:
South Africa is the 7th largest producer of wines globally, and produces 3.9% of the world's wine.
South Africa exported 5 million liters in 2016, an increase of 9.8%, driven by sales of higher end wines.
South Africa's biggest export market is the UK, Germany and the Netherlands. This makes sense when you remember that all of these countries have a historical connection to South Africa. The UK and the Netherlands occupied and/or colonized South Africa, and Germany once occupied South Africa's neighbor to the northwest, Namibia.
Here in the United States, South African wines account for a paltry 2% of imports.
The South African wine industry employs 300,000 people, and contributes R36.1 billion in GDP to the local economy.
History Of South African Wine
South Africa is considered a New World wine region, but it has a winemaking tradition stretching back 300 years.  
It has only been since the dismantling of apartheid in the early 1990s that South Africa has been making high quality wines with any degree of consistency.
Winemaking in South Africa began in 1652 when the Dutch East India Company set up a refreshment station at the cape of good hope.
By 1788, the sweet wines of Constantina enjoyed an unparalleled reputation among the European nobility. British occupation of the Cape and favorable tariffs in the 19thcentury brought prosperity to the region.
However, after the French and British signed a peace treaty in 1861, those protective tariffs ended, and South Africa could no longer compete with French wine, in either quality or price.
The arrival of phylloxera in 1888 dealt a further blow to the South African wine industry, decimating vineyards. 
Vineyards were replanted with highly productive varieties like Cinsault, resulting in overproduction of low quality wines that plagued the industry for decades.
In an effort to deal with overproduction, the government created the Koöperatieve Wijnbouwers Vereniging van Suid–Afrika, or KWV, in 1918. (Btw, the KWV is the reason acronyms exist in the world.)
It was essentially a government price fix arrangement, based on a quota system. It favored quantity over quality (South African wines became synonymous with mass produced plonk), and stifled innovation in the industry.
The wine industry survived on the backs of cheap black labor and the domestic market, as well as exports of cheap, low quality wine to Europe.
Apartheid's Role In South African Wine
Further suppressing the South African wine industry was the establishment of apartheid (or separateness) in 1948.
International boycotts and isolation followed. It's difficult to sell your wine when the rest of the world considers you an international pariah.
The legacy of apartheid had far reaching implications for the South African wine industry, leaving behind antiquated production and trade structures, a reputation for low quality wines, abysmal working conditions, low wages, and child labor.
Since the dismantling of apartheid in 1994, the South African wine industry has made enormous progress in the improvement of wine quality, viticulture and winemaking techniques, as well as in working conditions for the over 300,000 workers that support the industry.
After apartheid, investment and innovation flowed, new wineries sprang up, a new generation of winemakers traveled the world learning modern viticultural and winemaking techniques, and new attention was given to grape varieties tailored to specific terroir.
Progress.
I should have just ordered online.
Here in my corner of Virginia, South African wines can be a real bear to find. I can always find the high volume guys like Jam Jar, Spier, Mulderbosch, etc. But that's not what I'm looking for.
Recently, I tasted a Pinot Noir from Hamilton Russell Vineyards in the Hemel-en-Aarde area of Walker Bay. It was incredible. And I wanted more.
I ordered that bottle online (I order a lot of wines online, because honestly it ends up being faster and cheaper than hunting around at physical stores).
South African Wines Have An Availability Issue
South African wines are mostly invisible on wine store shelves. Either the South African "section" consists of half a dozen bottles crammed into a corner or worse, it doesn't exist at all.
Last week, I ran into my local Total Wine intending to browse for South African wines.
I couldn't find them anywhere, so I asked. As it turns out, the South African wines are mixed in with all the other New World wines. This is pretty typical for larger wine stores (Old World by region and New World by variety), but it drives me crazy.
So, if you want to browse for South African wines specifically, you can't.
You have to know South Africa is considered a New World wine and head in that direction.
From there, you need to know the key grape varieties of South Africa, and head toward that section.
And then, you need to know the names of specific South African producers, because they are filed alphabetically within the grape variety section(s).
It's exhausting.
And, it does a real disservice to South African wines. Most Americans are unfamiliar with South African wine regions to begin with, and are often quick to overlook wines with labels they can't pronounce (just try to say Boekenhoutskloof or Ouwingerdreeks).
Burying South African wines in a sea of other New World wines is like putting Baby in the corner.
The salesperson at Total Wine did tell me South Africa would be getting its own section "soon". Hallelujah. I suggested they try to bring in some Hamilton Russell Pinot for the happy occasion.
He looked at me as though I had lobsters crawling out of my ears.
South African Wines Are Now Making A Comeback
The good news is that exports of South African wine to the United States are on an upswing. Sales of South African wine in the US were up 13% last year, compared to the same period in 2021.
South Africa makes a wide variety of wines in an even wider variety of styles.
There's something for everyone. Chenin Blanc and Pilotage probably have the most potential to take off as "signature grapes".
However, cool climate darlings like Sauvignon Blanc and Pinot Noir are making some real international waves.
Best South African Wines
If you'd like to try some South African wines, here are a few of my favorites (with links so you can actually find them). Some people like winesearcher.com, some like Vivino, my favorite is wine.com.
Best South African Wines FAQ
What is the most popular wine in South Africa?
The most popular South African red wines are shiraz (syrah), cabernet sauvignon, along with cinsault (or cinsaut), pinot noir and the homegrown Cape favourite, pinotage. Chenin blanc remains the best South African white wine of choice although there are plenty of splendid examples of Chardonnay too.
What's the best South African wine?
Is South African wine any good?
South African wines offer impressively good value, and feature styles and tastes that are food friendly. Winemaking in South Africa began in 1652 when the Dutch East India Company set up a refreshment station at the cape of good hope.
What is the best wine region in South Africa?
If you're looking to experience a good range of South African wine, the Cape Winelands region in the Western Cape is your best bet. The municipality comprises Stellenbosch, Paarl, Worcester and Franschhoek.
What wine is Cape Town known for?
The Cape grows a number of international grape varieties: Cabernet Sauvignon, Shiraz, Sauvignon Blanc, but Chenin Blanc, Cinsalult and Pinotage are the main grapes.