Old World vs New World Wine: Tasting Notes & Pairing
We're diving into old world vs new world wine of the red variety and we're so freaking pumped! If you've wondered what the difference is (taste and winemaking process), we've got you. We're covering tasting notes, pairings and a buyers guide.
pssst… if your theme for your next wine tasting at home is old world vs new world, this is definitely the article for you. Carpe Vinum!
Vino Caveat:  We don't put a lot of stock in wine reviews.  We're big believers that a wine is good if you like it.  It all depends on your palate.  
Our zippy acidity might be your Kryptonite. Your jammy fruit-bomb might be our migraine in a bottle.
So with that grain of salt, we wrote some wine reviews. I'll explain.
Old World vs. New World Wine: Pinot Noir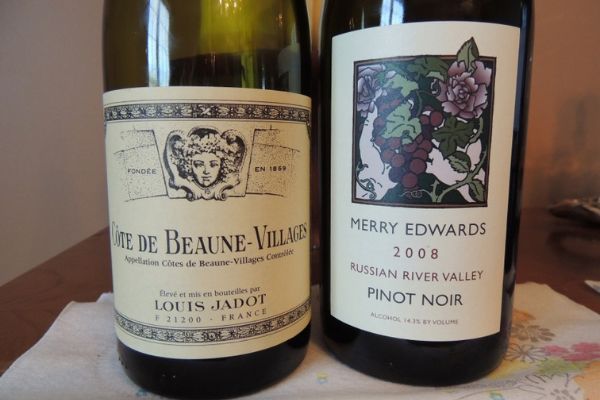 Drink any wine, any time, without ever pulling the cork. Whether you want a sip, a glass, or more, your last glass will taste just as amazing as your first.
Old World Pinot Noir:  Louis Jadot Cote de Beaune – Villages 2007
Old World Wine Notes:  Hello funk!  Pretty garnet color with loads of earth and tobacco on the nose.  A bit thin and astringent, wish there was a cherry in here somewhere.    
Old World Food Notes:  Turkey Sandwich with Red Pepper-Pine Nut Pesto and Caramelized Onions.  Wow, yum!  The sweetness of caramelized onions was balance genius to the red pepper pesto and arugula.  Gone in sixty seconds.
Old World Pairing Notes:  This pairing didn't really work.  The flavors in the sandwich killed the wine.  The wine took on this weird metallic, rusty nail flavor.  I want to blame the red pepper pesto.
Note: Planning to revisit this sandwich with a glass of dry Rosé. The red pepper pesto should kill with this pairing.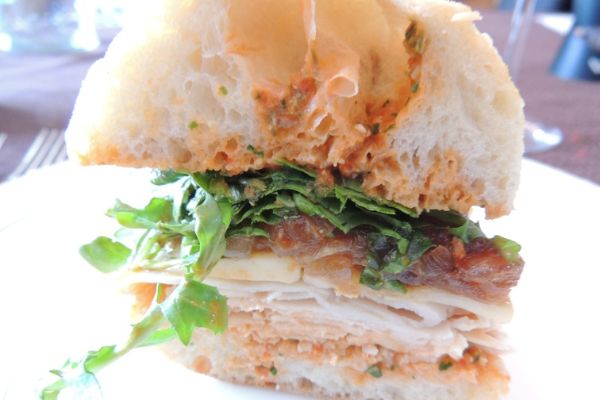 New World Pinot Noir:  Merry Edwards Pinot Noir Russian River Valley 2008
New World Wine Notes:  Merry Edwards makes some gooooood Pinot.  She hits a home run year in and out.  This bottle is smooth and elegant.  Loaded with cherry and strawberry flavors.  
Well balanced.  This bottle could be drunk solo with regrets the following day but it could be done.
New World Food Notes:  Duck is one of the pairings for Pinot Noir.  
On the menu, Duck with Blackberry Sauce.  The sauce is fantastic — it could have been soup!  A thicker sauce would have been better, though.  
If you've never tried duck, it has a texture more like steak than bird.  Nice flavor, not too gamey, which is a plus for sure.  
New World Pairing Notes:  So there's a reason duck and Pinot are one of the it pairings. It works!  The only minus for us was that the wine seemed to highlight the game notes in the duck.  If you love gamey, you'll love duck and Pinot.
Cooking note: Duck fat is hazardous in a hot skillet — it splatters everywhere.  stay covered, otherwise you'll be wearing duck fat when you have finished cooking this dish.  
Old World vs. New World Wine: Merlot
Old World Merlot: L'Ancien Grand Vin de Bordeaux Lalande de Pomerol 2005
Old World Wine Notes:  Everything you'd expect from the Old World — elegant, tannic and funky.  Smells like old leather in grandma's basement.  This was a hit!
New World Merlot: Cougar Crest Merlot 2007
Food Notes:  Frisee Aux Lardons with Chicken Liver Vinaigrette.  (One food pairing for both Merlots).  This is an Anthony Bourdain recipe (RIP, good Sir), so you know you're about to eat something brazen and adventurous.  
Lardons (French for bacon-bits) are salty goodness.  And this is hands-down the most adventurous salad dressing I've ever eaten.  Chicken livers?  They were a hit.  Roquefort Cheese is a member of the Moldy Cheese Family, it was amazing with the Merlot.
Pairing Notes:  The lardons and the chicken livers are salty . . . pushing the salt envelope all the way to the edge of too salty, without going over.  I was worried what that would do with the Merlot, but it worked.  The undercurrent of meat kept it all in balance with the Merlot.
Old World vs. New World Wine: Cabernet Sauvignon
Old World Cabernet: La Chapelle de Calon Saint Estephe 2005
Old World Wine Notes:  Pretty ruby color.  A little stingy with any kind of aromatics.  Maybe a whiff of black currant.  
A reserved wine with higher tannins.  This could really benefit from a few more years of time-out in the basement.  Really interesting vegetal and herbal notes on the finish.
Old World Food Notes:  Lamb Chops with Frizzled Herbs  This wine works with the lamb dish,  Especially, with the frizzled herbs (what a great word, frizzled) that put it over the top.  The flavor balance was superb.
Pairing Notes:  The wine seemed to accentuate the gaminess of the lamb.  It really worked nicely with the frizzled herbs — a nifty complement to the same flavor notes in the wine.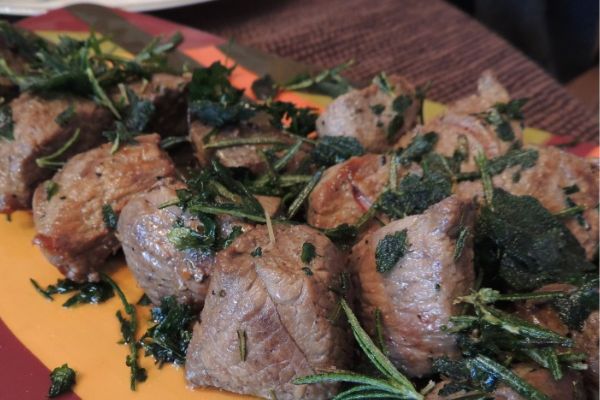 New World Cabernet: Starmont Cabernet Sauvignon Napa Valley 2009
New World Wine Notes:  Really liked this wine.  Black currant up front, cedar and licorice on the finish.  Typical New World flavors with enough restraint to avoid going down the Smuckers fruit-bomb path.
New World Food Notes:  Muffin Tin Onion Gruyere Potato Stacks.  You know when you hear humming at the table, food is good.  Lots of humming going on for the potato stacks — as tasty as they are pretty.  Delicious mix of flavors — how could anything with Gruyere and heavy cream not taste good?
Pairing Notes:  We really liked the wine, and I really liked the potatoes.  And while this pairing wasn't bad by any means we preferred both the wine and the potatoes solo.  
Although, the Cab is playing nicely with the thyme.  I suspect the cream may be a little delicate for the Cabernet.  
I had a swallow of Merry Edwards Pinot left in my glass (OK, I poured myself a swallow) and tried it with that.  The lighter bodied Pinot worked better with the cream for me.
Bonus Cabernet Tasting:  Santa Julia Organica Cabernet Sauvignon, Mendoza 2011.  This was a curiosity/impulse buy from a friend.  It's bound to happen — you linger too long in the wine store and you come out with all sorts of things you didn't go in there for!  Anyway, this is an organic wine from Argentina. Completely aged in stainless steel.  A great big glass of fruit.  Lacking in complexity, but for under $15?  Why not?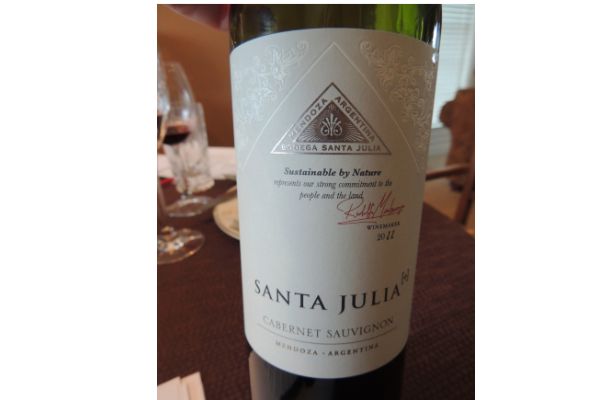 Old World vs. New World Wine: Red Velvet Cupcakes
Red Velvet Cupcakes for dessert . . . an abomination with red wine, but they hit the spot after our mostly meat parade.
Old World vs. New World Wine FAQ
Taste Wine Like A True Armchair Sommelier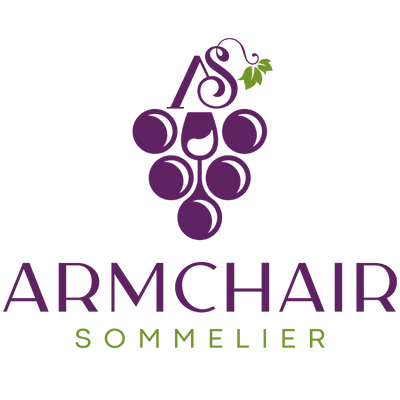 Spice up your next party with our FREE wine tasting guide! Learn what to look, smell, and taste for while appreciating your favorite bottle. We've also included a printable tasting notes template and a tasting wheel.