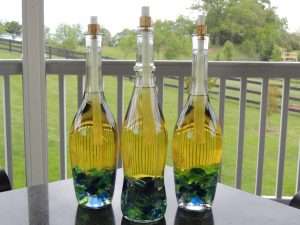 I'm not a crafter.  I don't have the patience for it.  And I usually end up gluing my fingers together or inhaling glitter.  But every once in a while, I find inspiration . . . and (shocker), wine is involved. Lookie what I made . . . Wine Bottle Tiki Torches!
A couple of weeks ago, I saw a picture of wine bottle Tiki torches fly across my Pinterest page.  I re-pinned it, and vowed I'd get around to making it a week after never.  But after our Carpe Vinum Rosé study last Friday (wine and food pairings coming soon), I had a few really pretty, clear wine bottles leftover, and I remembered the torches.
The only thing about the Pinterest Tiki torches is that there were no directions.  No directions for me almost always spells imminent crafting doom.  But I was determined. How hard could it be?
Not hard.  I did it.
What You Need To Make Wine Bottle Tiki Torches
Not feeling like making trips to multiple stores to source the parts for this project? Some enterprising folks have put together a
Wine Bottle Tiki Torch Kit
and made it available on
Amazon
. The kit includes everything you need to make 12 torches (minus fuel
How To Make Wine Bottle Tiki Torches
Fill your wine bottle about 1/3 full with crafting pebbles
Insert the Tiki refill wick into the coupling doohickey
Fill the bottle with Tiki fuel
Insert the wick
Voila!  Wine Bottle Tiki Torches!!
A note about the crafting pebbles:  some pebbles are bigger than others — they won't all fit into the wine bottle opening.  Where is the quality control in made-for-crafting pebbles? Urgh. You can always take the rejects and bedazzle a lamp shade.  Or follow my lead . . . and throw them straight into the recycling bin.
Shazaaam . . . they work!
Where To Find Empty Wine Bottles
If you're looking for empty wine bottles to use in your crafty pursuits your first and best option is to drink some wine!
If you need more empty bottles than you can drink, you should check out your local wine bars. It never hurts to ask right! Just go in, buy a glass, and ask the bartender if they would set a few bottles aside for you. 
If you don't have a local wine bar check out local bars that serve wine, or even a restaurant that serves a lot of wine. Think Italian & French restaurants. You can also check out Craigslist or even post in a local neighborhood Facebook page asking for empties.
If you want to make a whole collection of torches and can't your hands on used bottles you can always buy new bottles online for a pretty reasonable rate.
Choosing Fuel For Your DIY Wine Bottle Torches
You should be able to find a nice bottle of tiki torch fuel at your local hardware store for under $10. If you live in a particularly buggy local you should give serious thought to picking up some citronella tiki torch fuel. Keep the mozzies away!