I've visited a ton of Virginia wineries over the years.  I'm gradually revisiting favorites, not so favorites, and new wineries so I can share the experience.   According to Virginiawine.org, there are over 300 wineries in Virginia.  Visiting all of them is starting to sound like Mission Impossible.  But I'll do my best. 

A couple of weeks ago, I received an invitation from Stinson Vineyards (no affiliation with the legen-waitforit-dary Barney Stinson) to come out and do a tasting with winemaker Rachel Stinson.  Stinson is a small, family-owned, boutique winery just west of Charlottesville, modeled after the garagistes of Bordeaux.  Garagiste is the French word for mechanic.  It'll come as a relief to most of you to know garagistes aren't mechanics who make wine. Garagistes are a group of winemakers who make small batches of some pretty killer wine in (waitforit) a garage.  The movement started in Bordeaux, and planted roots in the USA with the garagistes of Paso Robles — think Rhone Rangers.
The Stinson's are accidental winemakers.  Scott and Martha Stinson purchased the property in 2009 as a retirement venture.  The property came with a old, historic house and a few acres of neglected vines.  Fortunately for Virginia wine lovers, the Stinson's had the vision to resurrect those vines.  They lured their daughter, Rachel, to Virginia (from Manhattan, where she was working as a photo editor), to serve as winemaker.  Today, Rachel and Scott are making small batches of wine in a beautiful, temperature-controlled garage.  After all, you can't call yourself a garagiste if you don't have a garage.
Stinson is a gorgeous property with panoramic views of the Blue Ridge Mountains.  The house on the property dates to 1796.  It's rumored that General Stonewall Jackson stayed at the house during his Valley Campaign in 1862.  Many Virginia wineries have a Civil War (or a colonial) connection — one of my favorite collateral perks about Virginia wine.  And if it's been a while since you dusted off your Civil War history, the Valley Campaign was when Jackson marched 17,000 men up, down, and back up the Shenandoah Valley (more than 670 miles) in 48 days.  The campaign was a success at a time when the South desperately needed a boost in morale, and cemented Jackson as a legendary Confederate General.  And he slept . . . right here at Stinson Vineyards.
 Gabrielle Rause (often called the Father of Virginia Wine) was the first to plant vines on the Stinson property, back in 1976.  Over the years, and through the grasp of several different owners, the vines slipped into neglect, and succumbed to a nasty leaf-roll virus.  The only way to truly get rid of leaf-roll virus is to rip out the vines.  Disheartening news.  And then you have to plant a cover crop (like clover or winter rye) before you can replant your vines.  The Stinson's ripped out their vines in 2009, and replanted in 2010, with 5 acres of Sauvignon Blanc, Chardonnay, Petit Manseng, Cabernet Franc, Petit Verdot, Merlot, Cabernet Sauvignon, and Tannat.  Gradually, Stinson is able to use more and more of their own grapes, but continues to source from local as well as Shenandoah Valley wineries.
As the vines were ripped out, the Stinson's started to find archaeological relics on the property. They have collected and displayed those fantastic little treasures inside this great old hotel-key style display case in the tasting room.
Rachel's winemaking style is heavily influenced by French winemaking, especially Bordeaux and the Loire Valley.  Rachel consults with Matthieu Finot, winemaker at King Family Vineyards (practically Stinson's neighbor).  Stinson uses whole berry fermentation for their reds, and ages their wines in French oak.  Stinson makes only 10 wines, and only about 100-200 cases of each. I love the small batch concept at Stinson — find your niche and embrace it.

The tasting room is small (I have no doubt they will need to expand as they get discovered) but light and attractive.  Rachel had the chalkboard frames made on Etsy, and a carpenter designed and constructed the tasting bars with recycled barn wood:

Here's the Stinson tasting lineup:
Sauvignon Blanc 2013 
/85
1/3 of the grapes for this wine are sourced from the Stinson property, and the remainder are from the Shenandoah Valley.  Fermented in stainless steel and concrete.  Reminds me a lot of a New Zealand Sauvignon Blanc in style.  Plenty of acid and grass. Grapefruit dancing around on the mid-palate.  
Rosé 2013 
/87
100% Mouvèdre.  You read that right — Mouvèdre in Virginia!  Made in a Provence style, this Rosé is deliciously dry.  I love that more and more American Rosés are resisting the urge to be White Zinfandel.  Gorgeous, creamy mouthfeel with flavors of  strawberry and grapefruit. 
Chardonnay 2012 
/88
The Chardonnay isn't offered as part of the tasting during the summer months, but will return in the fall.  Rachel brought out a bottle for me to taste, though.  50% malolactic fermentation.  Aged 20% in new French oak, and the remainder in neutral French oak.  Complex, layered flavors of pear and butter, with just enough oak grip without going overboard.  Really nicely done.  
Sugar Hollow White 2012 
/84
This is Stinson's entry into the P3 category of wines — patio, picnic and porch, and it's Stinson's best selling wine.  100% Vidal Blanc.  Slightly sweet, with 0.9% residual sugar.  Light and easy. I'm not a fan of sweet wines in general (except for late harvest and fortified wines, and even then in small doses), but if sweeter wines are your thing, I have no doubt you'll love this wine! 
Meritage 2011 
/87
Virginia reds are really starting to gain some traction with Meritage.  This one is 35% Merlot, 25% Petit Verdot, 20% Cabernet Sauvignon, 20% Cabernet Franc.  Aged 14 months in French oak.  Restrained and soft with an elegant mouthfeel.  Cinnamon on the nose.  Flavors of red currant and plum.  Great vanilla finish.  
La Tour d'Afton 2009 
/86
This wine is made by Turk Mountain Vineyards in Afton — a garagiste, boutique winery also mentored by Matthieu Finotbut.  Turk Mountain doesn't have a tasting room and isn't open to the public, so Rachel showcases and sells this wine at Stinson.  Turk Mountain uses native fermentation (no commercial yeast) in their wines. 40% Petit Verdot, 20% Cabernet Franc, 20% Merlot and 20% Malbec.  The nose seems slightly astringent, but the structure is lovely. Putting the small in small batch — only about 1,000 bottles were made.  
Tannat 2011 
/86
Tannat is another rising red star in Virginia wine.  Aged 50% in new French oak and 50% in neutral French oak.  Dense with heavy tannins.  Loaded with blueberry jam flavors and a backbone of white pepper.  
Petit Manseng 2012 
/86
This is a late harvest wine with 9.6% residual sugar.  Great balance of acidity and sweetness, it's not cloying at all.  Tangerine notes.  Would be killer with baklava. 
Imperialis 2012 
/87
(Also not on the regular tasting menu).  100% Tannat.  A port style wine made in open top puncheons.  Open fermentation stopped with the addition of brandy.  Nicely balanced, with flavors of fig and smoke.  Kinda makes you crave a cigar.  Winner of a Made in the South award from Garden & Gun Magazine.  16% ABV. 
My immediate and concluding thought after finishing the Stinson tasting was how consistent (and consistently good) the wines are.  A remarkable accomplishment for an accidental winemaker who's only been at this for a handful of years.  Brava!
If you're planning a day in Charlottesville, make sure you detour to Stinson Vineyards!
Salud!
Taste Wine Like A True Armchair Sommelier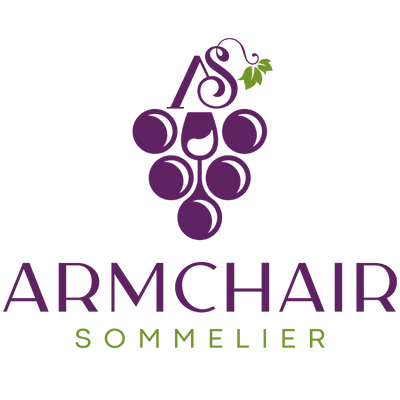 Spice up your next party with our FREE wine tasting guide! Learn what to look, smell, and taste for while appreciating your favorite bottle. We've also included a printable tasting notes template and a tasting wheel.