GSM Wine: the Ultimate Style Guide
GSM Wine is a mélange a trois, meaning melody of three. Not ménage. Which I guess can also translate to melody.
Way back when, when I first was learning about wine and GSM wine I was presented with a GSM (Grenache-Syrah-Mouvèdre) blend from Rosemount Estate in Australia.  
I was convinced this was the Holy Grail of all wine blends.  I bought every bottle I could get my hands on, several vintages in a row.  I was in love . . . and I considered monograming all of my towels I Love GSM Wine.
What's great about GSM wine is that there are choices. A globe full of choices.
We're saving this bad boy for a special occasion. I tasted Hamilton Family Wines GSM on our last trip to their winery and bought… a few bottles.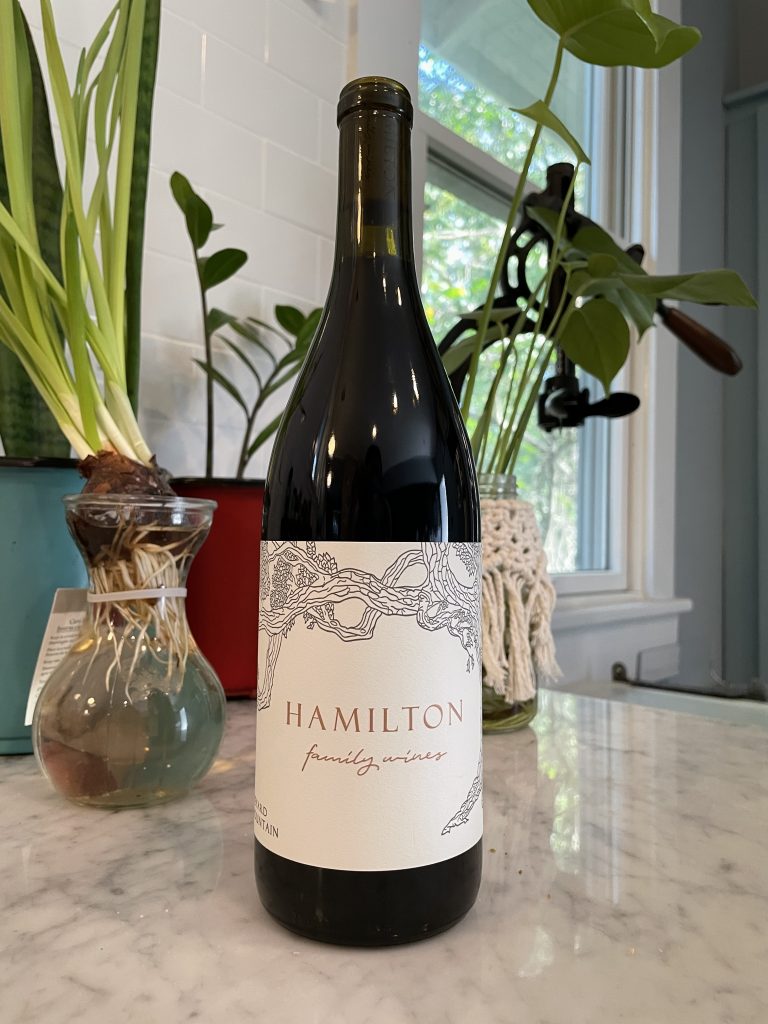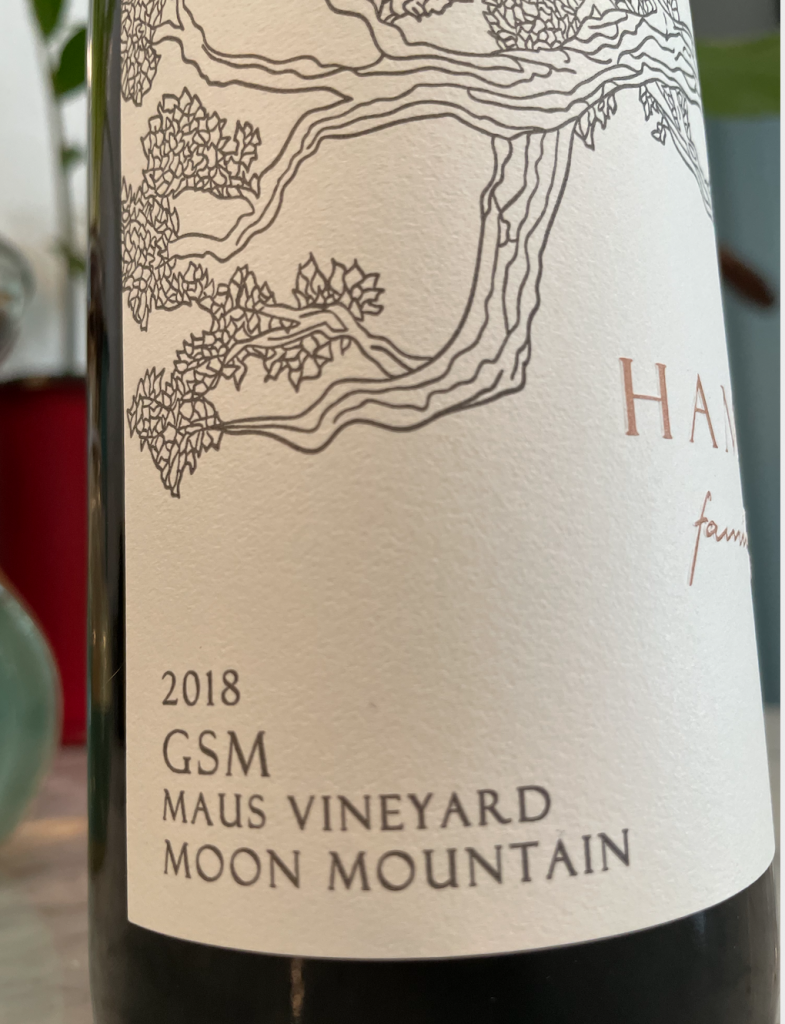 One of my favorite things about wine is that every bottle is an opportunity to learn something. A few weeks ago, I participated in a live tasting on Twitter with Château Paul Mas in Languedoc, France.  
Along with an assortment of knowledgeable and curious wine bloggers, the tasting featured Château Paul Mas winemaker, Guillaume Borrot, and Washington Wine Academy Wine & Spirits Educator, Tom Finigan.  
We tasted our way through three Château Paul Mas GSM blends — it was a terrific hands-on learning experience.
The traditional home of GSM wine blends is the Côtes du Rhône region of southern France.  But the Rhône doesn't have a monopoly on GSM wine. 
GSM wine blends can be found in South Australia, the Priorat region of Spain, Washington State and Central California, as well.
But hold the vine — now we get to add another Rhône flag to the map — Château Paul Mas is located in the Languedoc region of France (Rhône's neighbor to the southwest).  
The Mas Family has been making wine in France for over 100 years.  
Historical perspective:  During both World Wars, "the ration of French wine given daily to French soldiers usually came from [Languedoc]."  -Karen MacNeil, The Wine Bible 
Perhaps French soldiers drank a little Château Paul Mas with their field rations?  During the war, Languedoc was part of Vichy (unoccupied) France.
When the Nazis decided to occupy Vichy France, Languedoc became a pocket of fierce French resistance.  The genealogist in me would love to know more about Château Paul Mas during that time.
The GSM blend is nature and nurture in a bottle.  If you break-down a GSM blend to it's basic elements, you have Grenache, Syrah and Mouvèdre.  
Where it gets interesting is the almost infinite stylistic options available to the winemaker.  A winemaker can bend a GSM blend in almost any direction.  Add to that the different expressions of terroir and you've got a glass of wine that never gets old.
Basic Characteristics Of GSM Wine
Here are some basic characteristics for each grape (these vary depending on who you ask) and what they can potentially bring to the GSM blending table:
Grenache (aka Garnacha):  Cinnamon, raspberry, strawberry, licorice.  Adds fruit and acidity. Higher in alcohol.
Syrah (aka Shiraz):  Blueberry, blackberry, plum, black olive.  Adds color, spice, minerals, and tannin.
Mouvedre (aka Monastrell):  Blackberry, pomegranate, pepper, violets, clove, smoke.  Adds tannins and structure.
We tasted three different Château Paul Mas GSM wines.  
The heron on the Château Paul Mas wine label represents Vinus the Heron. This is a local celebrity in Languedoc.  According to local lore, Vinus took up residence on the Hérault River banks in Languedoc because he preferred to eat grapes rather than fish.  He might be the world's only vegan heron.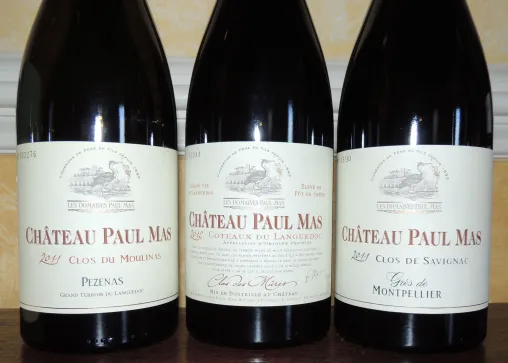 Château Paul Mas Clos Des Mûres 2012  /88 points
83% Syrah, 12% Grenache and 5% Mouvèdre.  Some definite funk on the nose.  But I like a funky nose.  A lighter mouthfeel than the Moulinas, flavors are blackberries and blueberries. Definitely some violet notes, too.  
The flavors lose their grip a bit on the finish, but I found some cinnamon lingering in my glass.  14.5% ABV.
Château Paul Max Clos de Savignac 2011 /90 points
50% Mouvedre, 30% Syrah and 20% Grenache.  Garnet, bordering on eggplant in color. Funkytown nose!  Oh wow, the earthy goodness in this bottle of wine!  Loaded with flavors of coffee, leather and tobacco.  Beautifully balanced with grippy tannins.  Impressive finish. 14.5% ABV.
Château Paul Mas Clos du Moulinas Pezenas 2011 /89 points
55% Syrah and 45% Grenache (I guess technically, this is a mélange a deux).  Deep ruby color. The nose is . . . OMG . . . dittos!  Surely, you remember dittos (paper).  
A bit jammy up front, with massive flavors of blackberry and plum.  Lovely balance.  Dawdling finish, with a transition to tobacco and chocolate on the back end.  14.5% ABV.
All three Château Paul Mas wines were excellent, finely crafted wines.  But the true wow factor with these wines is this:  They're all under $25USD.
That's a rare and slightly shocking price point for wines of this quality.  There's no trick to finding a $50 GSM that'll knock your socks off. But finding one (or three) for half that price?  Magic.
Gramercy Cellars The Third Man GSM 2019
Rhone Red Blends
from Walla Walla Valley, Columbia Valley, Washington
Winemaker Notes
Light strawberry and raspberry, white pepper, red and purple flowers.
Fresh but ripe primary fruit showing first.
Cherry liquor, orange peel clove, crazy expensive designer candle. Richer on the palate. Leesy, maybe a touch of vanilla from the oak. Balanced with high acid and moderate tannin.
Classically Washington with a nod to the Old World.
Blend: 75% Grenache, 15% Mourvèdre, 10% Syrah
Taste Wine Like A True Armchair Sommelier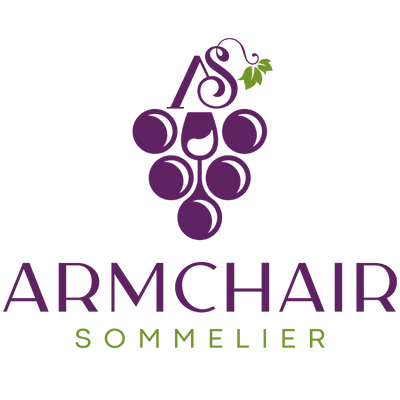 Spice up your next party with our FREE wine tasting guide! Learn what to look, smell, and taste for while appreciating your favorite bottle. We've also included a printable tasting notes template and a tasting wheel.