Rhône Wine Region:Wine-Travel, food & wine Pairings
We're celebrating the Rhône wine region this week, in honor of our trip to the Rhône Valley and you do not want to miss which wines we chose to pair with our French feast.
We're part of a fantastic little social wine club called Carpe Vinum — Seize the Wine.
Get in on the best recipe swap around.
In our down and dirty guide to the Rhône Valley wine region we break down the discussion for you.
We also talk about how to travel to the region. Where to stay, tours to take and how to get around.
What Is The Rhône Wine Region?
The Rhône wine region is one of the most famous of the French wine regions. It is a long and narrow valley. 
The two sub-regions of the Rhône valley are split by the Rhône River. These two sub-regions of the Rhône Valley are called Northern Rhône and Southern Rhône.
They produce exquisite red, white and rosé wines. There are some grape varieties span the entire length of the Rhône valley, however there are significant differences between the two zones in climate and geography. These differences will produce wines of completely different style and quantity.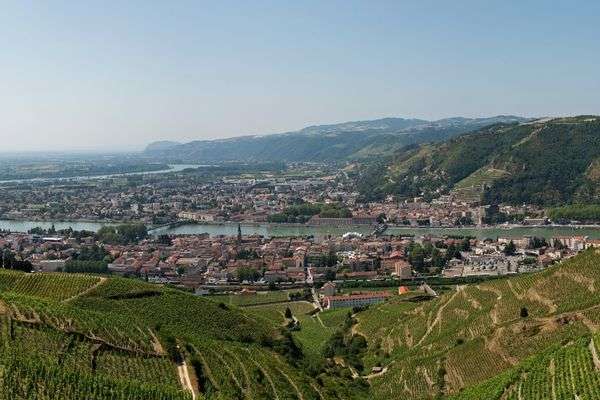 The Northern Rhône Sub-Region
The Northern Rhône's climate is continental and hillside steep. The Northern Rhône region is responsible for less than 5% the total region's production.
In the Northern Rhône, the only permitted red variety is Syrah, which is in the appellations of St.-Joseph, Crozes-Hermitage, Hermitage, Cornas and Côte-Rôtie.
Syrah will give you smooth black-fruit, is savory and peppery with telltale notes of olive, game and smoke.
White wines are made from Viognier in Condrieu and Château-Grillet, while elsewhere only Marsanne and Roussanne are used.
Viognier provides body and texture.
The Southern Rhône Sub-Region
The climate of Southern Rhône is more Mediterranean with aggressive, chilly Mistral wind.
The wines of the Southern Rhône are mostly blends, with the reds often based on Grenache and balanced by Syrah, Mourvèdre, and some of other varieties.
The best known AOCs of the Southern Rhône are the reliable, wallet-friendly Côtes du Rhône and the esteemed Châteauneuf-du-Pape.
Others include Gigondas, Vacqueyras and the rosé-only appellation Tavel.
TIP: What Is AOC? Appellation d'Origine Contrôlée. Appellation is the word for the legally defined geographical area that identifies the origin of a wine
Food Pairing #1 For Southern Rhône Wine
For this month's Wine Pairing Weekend (Spring Meal Pairings for Rhône Wines), I decided to try my hand at a couple of recipes I saw pop up in my feed via The Inn at Little Washington: Chicken with Morels and Wild Rice Pecan Pilaf.
If you've never eaten a meal at The Inn at Little Washington, you are missing out on one of life's greatest food pleasures.
Other than the high crime of mushroom substitution (no morels available), I followed the recipe pretty closely.
Although, I wasn't in the mood to cut up a whole chicken, so I used bone-in chicken thighs.
I don't usually cook with bone-in chicken (I'm a creature of convenience where chicken is concerned, and bones are inconvenient).
The chicken was excellent, but I'm not convinced it would be any less excellent sans bones (the magic is in the sauce).
The presentation might not be as cheffy, but I'm willing to suffer that consequence.
Chicken Without Morels, Wild Rice Pecan Pilaf & Roasted Asparagus Spears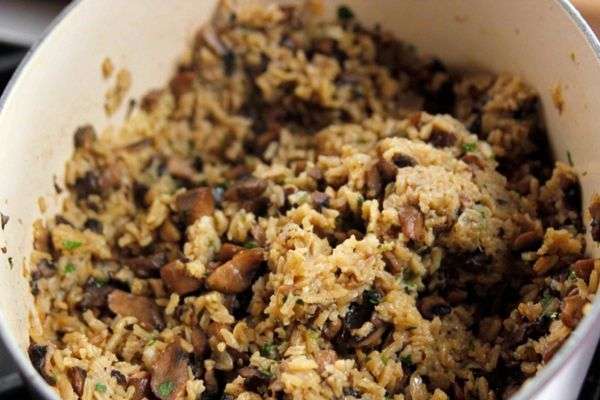 And what Southern Rhône wine to pair with my pilaf without morels?
In thinking about a wine for this dish, I realized I drink a lot of Rhône-style wines (mostly out of Santa Barbara County and Paso Robles in California) . . . but not a lot of actual Rhône wines.
I wanted a Southern Rhône wine I was sure I hadn't tasted before . . . Beaumes de Venise.
Shouthern Rhône Wine: Beaumes de Venise
Beaumes de Venise (the aqua-colored AOC on the Southern Rhône map below) is most well-known for its sweet white wine, Muscat Beaumes de Venise.
But, there is a small Beaumes de Venise AOC specifically for red wines (and be sure to notice BdV's A-list Southern Rhône neighbors — Gigondas, Vacqueyras, and the famed Châteauneuf-du-Pape— all highly regarded for their robust reds).
Grenache is king in the Southern Rhône. And under the Beaumes de Venise appellation rules, Grenache must account for at least 50% of the blend.
Syrah can make up 25-50% of the blend. Other Rhône varieties are permitted (including white grapes), provided they don't account for more than 25% of the blend.
Domaine la Ligière Beaumes de Venise
Established in 2008 by Philippe Bernard and his wife Elisabeth Serra, Domaine La Ligière is a biodynamic vineyard, consisting of 50 hectares (I think that's equal to half a square kilometer – math people, please check my conversion) of vines, planted to Grenache, Syrah and Mourvedre (GSM).
A blend of 60% Grenache and 40% Syrah. Not as fruit driven as I expected for a Grenache dominant wine.
After a few minutes in the glass, I was able to coax out some blackberry aromas.
Medium bodied, and slightly rustic (something that bothers me not at all).
A dense, smoky, leather note pulled my focus a bit, but not enough to make me put my glass down. 15% ABV. Retail = $25ish.
Once upon a wine-time, pairing a red wine with chicken would have been a crime worse than petty mushroom substitution.
But happily, people have figured out that the old rule (pair red with red meat, and white with white meat) isn't absolute.
There's some wiggle room in there. Because that same smoky leather note that pulled my focus in the wine was a surprisingly happy partner for the wild rice, pecans, and my altogether wrong mushrooms.
Rhône Wine Pairings From My Friends
Wine: Domaine de la Janasse Principaute d'Orange Viognier 2021
Critical Acclaim
JD90Jeb Dunnuck
The 2021 Viognier comes from vines just outside of Châteauneuf, and it tastes like a mini-Condrieu with its ripe peach, honeyed grapefruit, and floral aromas and flavors.
Medium-bodied and nicely textured, it's well worth seeking out and, I suspect, will be a great value.
Pairing: Julia Child's Casserole Roasted Chicken with Tarragon
Wine: M. Chapoutier Cotes du Rhone Belleruche Blanc 2021
Pairing: Thai Ginger Chicken, Massaman Curry
Wine: Terres d'Avignon Cuvee Kermit Lynch Cotes du Rhone 2020
Winemaker Notes
This label retains the title of their best value in red. They offer it in the spirit of the great "bistro wines" you would drink by the carafe in Europe with simple yet satisfying food, and be swept away by the joy of it all.
Blend: Grenache, Syrah, Cinsault
Pairing: Beef Medallions With Arugula Tomato Salad
Wine: Domaine du Pere Caboche Cotes du Rhone Reserve 2020
pairing: Braised Boar Shanks With Bitter Herb Salad
Wine: Maison Brotte Chateauneuf-du-Pape Domaine Barville 2019
pairing: Kale Pesto Tilapia
Wine: Chateau Trinquevedel Tavel Rose 2021
Pairing: Smoked Chicken and Potato Salad
Wine: Domaine Saint-Damien Gigondas Clovis Saurel 2020
Pairing: Grilled Rack of Lamb
Wine: Domaine de la Solitude Cotes du Rhone Rose 2021
Pairing: Escalivada (Spanish Roasted Vegetables)
Best Time Of Year to visit the rhône valley
Young Côtes du Rhône wines a very fruity and those are sipped during spring or summer months. We're talking notes of strawberries, raspberries or very ripe blackberries.
Most agree that the best time to visit Rhône Valley is from late spring to mid-autumn. You're guaranteed to spend the most time outside during these months. Outdoor activities like vineyard tours and festivals are at their peak.
However, the year-end is also an amazing time to go because of the numerous Christmas festivals and holiday markets.
map of the rhône wine region
Best rhône Wineries
Château Fortia
At the Château Fortia the wine tastings are so affordable you won't believe it. We couldn't. Nor could we believe how easy it is to book a tasting. Unless you're with a tour it can be challenging to stop in to a winery in France.
Château Fortia is one of the oldest wineries in Châteauneuf-du-Pape. It's a "must-visit" if you're in the Southern Rhône wine region.
The tastings at Château Fortia are 6€ ($6.5US). I know! They're 30 minutes in duration so you can easily pair a tasting with a cellar tour 12€ ($13US) for one hour. Come on, that's a no brainer.
Musée Du Vin – Maison Brotte
A visit to Musée Du Vin – Maison Brotte is for you if you want to learn more about the terroir and winemaking.
You'll be able to visit to the Brotte Wine Museum with an audioguide available in 6 languages (45min). You'll get an education in specificities of the Rhone Valley as well as the elaboration of wines from A to Z.
A tasting of 5 wines of the Rhone Valley, selected by our sommeliers. (30min) 12€. It's a pretty cool experience if you're into more than just the tasting.
Regis Descotes House
Regis Descotes House is located close to Lyon which makes an easy drive if you've decided to rent a car for your wine tasting adventures. Very tasty Lyonnais white.
Wine tastings Regis Descotes House are offered by walk-in Friday: 1 p.m. – 6 p.m, Saturday: 10 a.m. – 1 p.m. and by appointment.

Places To Explore In The Rhône Valley
We highly recommend you book your wine tasting through a tour company. It's so much easier and you'll have a better experience at your tastings. It can be really intimidating walking into a winery if you don't speak French and you don't know much about the wine.
A tour guide not only knows the area but they are 100% going to book the best wine tastings because they want you to have the best experience.
If you're wine adventures bring you to the Northern Rhône wine region, you'll enjoy this small group tour because you'll not only get to taste 12 different wines of the Côte-Rôtie and Hermitage (yum) but you'll get to meet a winemaker.
Lunch is in the town of Hermitage at your own expense but not to worry, you'll get some great recommendations.
pro tip: drink water and espresso during lunch. You're welcome.

If you're wine travels bring you to the Southern Rhône wine region, please say they do, you'll likely be visiting Châteauneuf-du-Pape from Avignon.
Not only will you be skipping through the vineyards, you'll end your tour by exploring the ruins of the Pope's formal summer residence. Show of hands of those who are totally down with this. (MEEEE!) Plus, this is a small group (8 max).
You will be visiting Maison Brotte on this tour (unless it has changed since this article was written).
It's a short tour so you won't need to stop for lunch. I personally consider that a bonus. And, the price is right for the amount of time you're out.

Where To Stay
where to stay In Lyon
When we're looking for accommodations in cities (Lyon, Paris, Florence, Rome, etc) we're looking for parking or close proximity to transportation. That's number one for us. These hotels have both. And they offer breakfast, decent wi-fi and tea/coffee in room. These are the amenities things we look for before we even get into the reviews.
Hôtel Charlemagne is in central Lyon has a beautiful garden, loads of parks, restaurants and grocery near by. It's a 20 min walk to Place Bellecour and the walk is a fun experience. Plan 30 minutes to ooo and aww. Hôtel Charlemagne is also noted as being a very clean hotel in a great location. Bonus!
Hôtel Le Roosevelt is within about 1.6 mi from both Place Bellecour and Saint-Jean-Baptiste Cathedral. Again, walking will give you a completely different experience from Uber or the train. However, if walking isn't necessarily your jam, you can probably make a 400′ walk to the metro.
where to stay In Southern Rhône
If you want to really Bouj it up you could book a stay at Airelles Gordes, La Bastide which is of course, the hotel where Gabriel took Emily to lunch in Emily In Paris. You will not be dissappointed.
but, if you're travel partner is trying to bring you back down to earth, the rest of us earthlings are looking to book in Avignon.
What we love most about Au Coeur Des Lices is that is a 3 bedroom apartment right in Avignon city center. It's air conditioned and has great wi-fi, as you would expect if you are renting an apartment. It also has a washing machine and parking.
One of the many things I love about an apartment is that you know you're in a neighborhood. There are groceries, cafés, restaurants and parks near by.
Renting a car in the rhône valley or in lyon
Discover Cars makes it super easy to book in France. Try to book as compact of a car as you can if you'll be running around in Lyon, Avignon, Marseille or maybe a jaunt to Saint-Tropez.
want to bring the rhône valley home with you?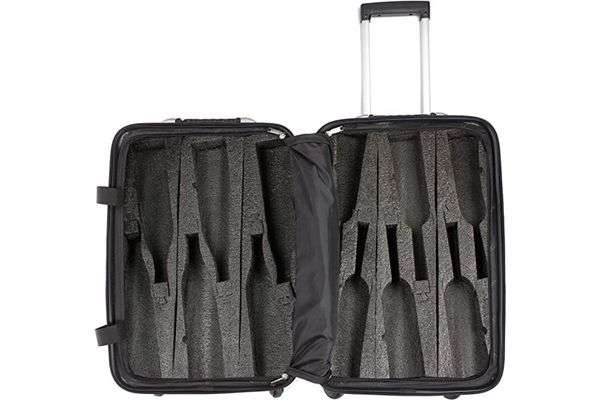 We recommend the VinGardeValise 12 bottle wine suitcase. There are a couple ways you can use this suitcase. One is, when you come home you only pack half the suitcase with wine and the other side clothes; or, what we do is bring a duffle bag to carry our clothes home. You can still check a duffle bag home btw, you don't have to schlep it around for all four connections.
Pro tip: you can also use the duffle bag to drop off your clothes to be laundered if you're doing an extended trip. Multiple uses for one duffle bag.
Rhône Wine FAQ
What kind of wine is Rhône?
The Rhône wine two-sub wine regions: Northern Rhône and Southern Rhône. They produce exquisite red, white and rosé wines. There are some grape varieties span the entire length of the Rhône valley, however there are significant differences between the two zones in climate and geography. These differences will produce wines of completely different style and quantity.
Is Rhone wine sweet or dry?
The AOCs producing sweet wine in Rhône Valley are Beaumes de Venise (producing the famous Muscat de Beaumes de Venise) and Rasteau (producing fortified wine that is Grenache-based).
Is Rhône a Bordeaux wine?
Bordeaux and Rhône are two styles that were developed in two separate wine-growing regions in France, The Bordeaux and Rhone Valley. Bordeaux is located in Western France while the Rhône Valley is located in the Southeast. They are not the same wine.
What is Rhone wine similar to?
Rhône varieties are grenache, syrah and mourvèdre (GSM). These styles produce quality that rivals and often surpasses the big three, cabernet sauvignon, merlot and pinot noir.