All About Lambrusco Wine: Including Our Top 5 All Time Favorites
Lambrusco wine from the Emilia-Romagna Region. Find out what all the fuss is about and get in on the top 5 Lambrusco staff picks.
Either you love Lambrusco, or you can't stand it. When you hear the word "Lambrusco", you may immediately think of large 2-liter bottles or even canisters of wine, an extremely sweet taste, and the terrible headache the next day.
Back in the 80s, this was the reaction to Lambrusco. But that was then, this is now.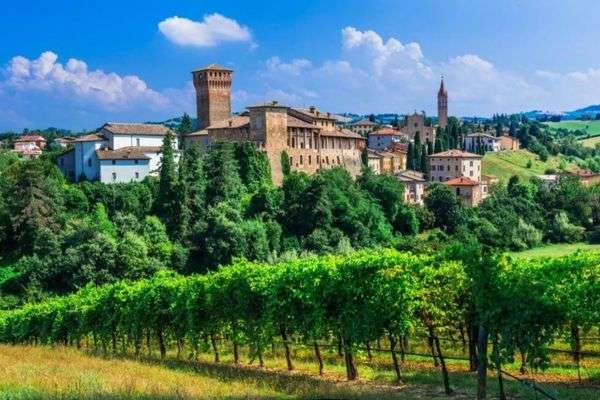 How Lambrusco Wine From the Emilia Region Is Made
The typical Lambrusco is a fine sparkling wine that forms foam in the glass – a significant difference from a classic red wine. This foam formation varies depending on the variant Frizzante (light and semi-sparkling) or Spumante (foaming). The foam is a product of vigorous fermentation where the sugar in the must (juice) is converted into alcohol and carbon dioxide.
After this first fermentation, the wine is stored in the cellar, the second fermentation takes place later. In contrast to Champagne and some other sparkling wines, however, the second fermentation process of Lambrusco takes place in the bottle in rare cases.
Once Upon A Time & The Renaissance Of Lambrusco Wine
The history of Lambrusco does not begin in the 1960s or 1970s, when supermarket shelves were filled to the brim with this wine. The history goes back much further and can be traced back to ancient times.
A wild vine of this name was already making the rounds (Vitis labrusca). Over the centuries, numerous vines have been selected and further bred from this Lambrusco wild vine, so that today there is a wide range of Lambrusco varieties.
Lambrusco wine is therefore not a single grape variety, but a family of grape varieties, like Malvasia or Muscat.
In the first half of the 20th century, Lambrusco wine was mostly built dry and usually more as a spumante, i.e., with more pressure than the frizzante.
With the progress in cellar technology the production volume of Lambrusco was souped-up starting around 1960.
This, of course, influenced the quality in a decidedly negative sense. The mass of wines was of inferior quality, but unbelievably cheap in price. Much of the Lambrusco produced in the era was exported to the USA and other countries.
In America and Northern Europe, the Lambrusco was drunk en masse. It was guzzled in such volume that many winemakers felt confirmed in their approach. Overall, however, they had harmed themselves with this approach and brought an entire type of wine into disrepute.
With time, Lambrusco wine gradually disappeared from the consciousness of an increasingly quality-conscious wine drinking public in the U.S. Only in Italy, in the homeland of Lambrusco, and by a few wine connoisseurs in other countries was Lambrusco wine still appreciated as a traditional, and historic style of wine.
Lambrusco From Emilia-Romagna
The main region for sparkling red wine is located between Modena and Parma in northern Italy called Emilia-Romagna. There are 19 DOC areas in Emilia-Romagna, 2 DOCG and 9 IGPs.
The main grape varieties in Emilia-Romagna are Malvasia, Lambrusco, Trebbiano, Barbera, Bonarda and Sangiovese.
As a rule, it is permissible in each DOC to produce Lambrusco as frizzante, or spumante and the degrees of sweetness may range from sweet to semi-dry to dry. In addition, it is allowed to create a red as well as a rose variant so Rosso and Rosato.
The most notable wines produced within Emilia-Romagna are of the five Lambrusco DOCs: Lambrusco di Sorbara, Lambrusco Grasparossa di Castelvetra, Lambrusco Salamino di Santa Croce, Modena and Reggiano.
Lambrusco di Sorbara DOC
Lambrusco di Sorbara is a DOC for rosé and red sparkling wines in the Emilia-Romagna region. It is situated north of Modena near the village of Sorbara.
The wines come in frizzante and spumante forms, and range in sweetness. They feature a clone of Lambrusco named after the village.
The grape variety Lambrusco di Sorbara is dominant. In Lambrusco di Sorbara regulations require that at least 60% of the wine be made up of the primary grape Lambrusco di Sorbara.
Because only 40% of wines from this DOC can come from Lambrusco Salamino the wines from this area are often dry and acidic and are highly floral on the nose. Beautifully light. Talk about a breakfast wine.
Lambrusco Grasparossa di Castelvetro
Lambrusco Grasparossa di Castelvetro is the growing area around Modena where the Lambrusco Grasparossa grape variety dominates. The wines pressed here usually have a very pleasant residual sweetness and have a high tannin content.
Wine titled Lambrusco Grasparossa di Castelvetro must be made up from at least 85% Lambrusco Grasparossa grapes. The remaining to 15% can be made up of other Lambrusco varieties.
Lambrusco Salamino di Santa Croce
Lambrusco Salamino di Santa Croce is the area with the highest annual production. Here, the grape variety Lambrusco Salamino dominates and most of the wines are both semi-sweet and dry frizzante versions are developed.
The DOC law requires that this wine must be made from at least 85% of the Lambrusco Salamino grape clone. Any other local Lambrusco subvarieties can make up the remaining 15%.
Pairs perfectly with the local cuisine cotechino (a slow-cooked sausage) and of course Parmigiano Reggiano cheese.
Modena
Modena – famous for its vinegar. The vineyards lie at the heart of Emilia-Romagna's "Lambrusco zone" and in 2009 the local wine producers received their own DOC.
Modena Lambrusco wines are all almost frizzante and spumante.
The town is a hub for exceptional food and wine. In 2000 the city's traditional balsamic vinegar gained the Aceto Balsamico Tradizionale di Modena DOC.
This is made from Lambrusco, Ancellotta Trebbiano and and Occhio di Gatta (meaning cat's eye).
Reggiano
Reggiano (formerly Lambrusco Reggiano) is a DOC area for red, white, and rosé wines in Emilia-Romagna. In addition to Lambrusco, other wines are also pressed.
For the Lambrusco there are the permissible variants Reggiano Lambrusco and Reggiano Lambrusco Salamino. For the latter, there are stronger restrictions, it may only be produced in 11 selected municipalities of the region and must be pressed to at least 85% from the Lambrusco Salamino vine.
Reggiano is particularly known for its sweetness and is generally made frizzante.
Our Top 5 Lambrusco Wines From Emilia-Romagna
Cantine Cavicchioli Vigna del Cristo Lambrusco 2018
Winemaker Notes
A monovarietal Lambrusco di Sorbara born in 1987 to mark Cavicchioli's 60th anniversary and made from grapes grown in the five-hectare vineyard of the same name in Cristo, in the Sorbara production zone. The vivid pale pink hue is accompanied by a mousse with purplish highlights; a concentrated nose of fruity and floral notes; and a full, mouth filling palate with a pleasant acidulous note. Vigna del Cristo is a wine that testifies to the quality of the Sorbara grape, which is modern and unique while remaining true to tradition.
Critical Acclaim
WE92 Wine Enthusiast
The shy nose slowly reveals Mediterranean scrub, citrus and a whiff of Spanish broom. The aromas give way to the linear palate offering sour cherry, citrus and a fennel note alongside fresh acidity.

Buy 2021 On Vivino


Buy On Wine.com

Rinaldini, Vecchio Moro, Lambrusco Grasparossa di Castelvetro NV
From the Rinaldini family's estate near Parma. This serious wine is dry, dark, almost purple in color, rich, unctuous, and frothy, and delivers intense flavors of black cherries and autumnal dried fruits, with just a hint of sweet spice. It pairs well with smoked or cured meats and hard cheeses – ideally an aged parmesan, since the land was once used to breed cows for milk for the same cheese – and provides intense flavors of black cherries and early autumn dried fruits, with just a slight touch of sweet spice.
Fattoria Moretto Lambrusco Grasparossa di Castelvetro Secco
Winemaker Notes
This bubbly red is energetic, full of life, and wholly welcoming. With its seemingly weightless texture and concentrated flavors of wild fruit and dusty herbs, this gem could accompany any meal imaginable. Critical Acclaim W&S 90 Wine & SpiritsSubtle scents of herbs and spices signal this wine is about more than just fruit. Notes of smoked meat add savor to the blackberry and plum flavors, while tangy acidity intertwines with the fine bubbles, knitting the flavors together. Its lively acidity would cut the richness of duck liver mousse. Best Buy.

Buy On Vivino


Buy On Wine.com

Cleto Chiarli Lambrusco di Castelvetro Vigneto Cialdini 2020
Winemaker Notes
Deep color which foreshadows intense, but never excessive scents. It combines roundness and austerity.This artisanal Lambrusco from the Chiarli family in Emilia-Romagna, the oldest producer of Lambrusco in Italy. Made from single-vineyard Grasparossa grapes, this Lambrusco has bright blackberry and raspberry fruit. This sparkling red will dance on your tongue before finishing dry.
Critical Acclaim
WS 89 Wine Spectator
Lightly chalky, dry and well-knit, this brambly version showcases ripe blackberry, pomegranate puree and licorice, with a fragrant overtone of sweet smoke and grilled herb. Drink now.
Cantina Paltrinieri L'Eclisse Lambrusco di Sorbara 2018
Winemaker Notes
Soft pink with a very fine and persistent perlage. Aromas of strawberry scent, aromas and flavor of raspberry and vanilla. The palate is fresh, persistent and delicate with a fruity note.
Pairs well with an aperitif or with a platter of cold cuts, savory first courses, with boiled meat, with fried fish.
Critical Acclaim
WE95 Wine EnthusiastCrisp and delicious, this vibrant wine has aromas of strawberry, orange zest and violet. On the savory palate, tangy acidity accompanies crushed red cherry, pomegranate, white pepper and star anise set against a polished mousse. A hint of bread crust lingers on the close.
Editors' Choice

Buy On Vivino


Buy On Wine.com

Lambrusco Wine Emilia-Romagna FAQ
Is Lambrusco a quality wine?
The Italians take their Lambrusco seriously. Similarly to Prosecco. If you've not preferred Lambrusco wine from Emilia-Romagna DOC in the past, we're here to tell you that Lambrusco is definitely worth another try. Lambrusco is a red sparkling wine made Frizzante (light and semi-sparkling) or Spumante (foaming). 
What type of alcohol is Lambrusco?
Lambrusco is a delicious sparkling Italian wine made from grapes that share its name, and is from the Emilia-Romagna region in Northern Italy.
What's the best Lambrusco?
See Armchair Sommelier's top 5 staff picks and where to buy them:
1. Cantine Cavicchioli Vigna del Cristo Lambrusco 2018 92 points
2. Rinaldini, Vecchio Moro, Lambrusco Grasparossa di Castelvetro NV
3. Fattoria Moretto Lambrusco Grasparossa di Castelvetro Secco 90 points
4. Cleto Chiarli Lambrusco di Castelvetro Vigneto Cialdini 2020 89 points
5. Cantina Paltrinieri L'Eclisse Lambrusco di Sorbara 2018 95 points
Is Lambrusco Emilia wine sweet?
The Lambrusco Emilia wine hails from the Emilia-Romagna region of Northern Italy. This slightly fizzy red (Frizzante:light and semi-sparkling) or Spumante: foaming) ranges from dry to sweet, and is meant to be enjoyed young.