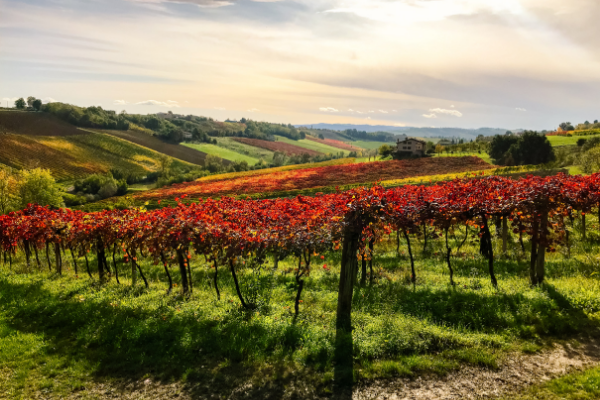 All About Lambrusco Wine: Including Our 5 Favorites
Either you love Lambrusco, or you can't stand it, right?! When you hear the word "Lambrusco", you may immediately think of large 2-liter bottles or even canisters of wine, an extremely sweet taste, and the terrible headache the next day. 
If you drank your last Lambrusco about 30 years ago, these memories are inevitably linked to the experience. However, if you have only recently reached for a Lambrusco, then this memory looks quite different.
The typical Lambrusco is a fine sparkling wine that forms foam in the glass – a significant difference from a classic red wine. This foam formation varies depending on the variant (Frizzante or Spumante). The foam is a product of vigorous fermentation where the sugar in the must (juice) is converted into alcohol and carbon dioxide. 
After this first fermentation, the wine is stored in the cellar, the second fermentation takes place later. In contrast to Champagne and some other sparkling wines, however, the second fermentation process of Lambrusco only takes place in the bottle in rare cases.
Once Upon A Time & The Renaissance Of Lambrusco
The history of Lambrusco does not begin in the 1960s or 1970s, when supermarket shelves were filled to the brim with this wine! The history goes back much further and can be traced back to ancient times! At that time, a wild vine of this name was already making the rounds (Vitis labrusca). Over the centuries, numerous vines have been selected and further bred from this Lambrusco wild vine, so that today there is a wide range of Lambrusco varieties. Lambrusco is therefore not a single grape variety, but a family of grape varieties, like Malvasia or Muscat.
In the first half of the 20th century, Lambrusco was mostly built dry and usually more as a spumante, i.e., with more pressure than the frizzante. With the progress in cellar technology the production volume of Lambrusco was drastically increased starting 1960. 
This, of course, influenced the quality in a decidedly negative sense. The mass of wines was of inferior quality, but unbelievably cheap in price. Much of the Lambrusco produced in the era was exported to the USA and other countries. 
In America and Northern Europe, the Lambrusco was drunk en masse. It was guzzled in such volume that many winemakers felt confirmed in their approach. Overall, however, they had harmed themselves with this approach and brought an entire type of wine into disrepute. 
With time, Lambrusco gradually disappeared from the consciousness of an increasingly quality-conscious wine drinking public in the U.S. Only in Italy, in the homeland of Lambrusco, and by a few wine connoisseurs in other countries was Lambrusco wine still appreciated as a traditional, and historic style of wine.
Sparkling Red Wine From Emilia-Romagna
The main region for sparkling red wine is located between Modena and Parma in northern Italy. There are four DOC areas in Emilia-Romagna where the Lambrusco is produced. In addition, there is another DOC area in Lombardy, where the sparkling wine is also pressed.
As a rule, it is permissible in each DOC to produce Lambrusco as frizzante, or spumante and the degrees of sweetness may range from sweet to semi-dry to dry. In addition, it is allowed to create a red as well as a rose variant so Rosso and Rosato.
Lambrusco di Sorbara DOC
Lambrusco di Sorbara is a smaller Lambrusco producing DOC in Emilia-Romagna. Here the grape variety Lambrusco di Sorbara is dominant (yea, it's confusing, the grape and the region share a name). In Lambrusco di Sorbara regulations require that at least 60% of the wine be made up of the primary grape Lambrusco di Sorbara. Because only 40% of wines from this DOC can come from Lambrusco Salamino the wines from this area are often dry and have a high acidity.
Lambrusco Grasparossa di Castelvetro DOC
Lambrusco Grasparossa di Castelvetro is the growing area around Modena where the Lambrusco Grasparossa grape variety dominates. The wines pressed here usually have a very pleasant residual sweetness and have a high tannin content.
Lambrusco Salamino di Santa Croce
Lambrusco Salamino di Santa Croce is the area with the highest annual production. Here, the grape variety Lambrusco Salamino dominates and most of the wines are sweetly developed. Their quality is usually less convincing. Whereas the few dry wines from this DOC are considered particularly good.
Reggiano DOC
Reggiano (formerly Lambrusco Reggiano) is a DOC area for red, white, and rosé wines in Emilia-Romagna. In addition to Lambrusco, other wines are also pressed. For the Lambrusco there are the permissible variants Reggiano Lambrusco and Reggiano Lambrusco Salamino. For the latter, there are stronger restrictions, it may only be produced in 11 selected municipalities of the region and must be pressed to at least 85% from the Lambrusco Salamino vine.
Lambrusco Montovano DOC
Lambrusco Montovano is the only DOC area in Lombardy where wines of this type can be produced. Here, too, there are rose-colored and red variants, which may be pressed as Spumante or Frizzante in the flavors dry to sweet. The approved grape varieties are also quite diverse.
Our Top Picks For Lambrusco Wines:
Vigna del Cristo, Lambrusco di Sorbara DOC, Cavicchioli & Figli
For more than 100 years, the Cavicchioli family has been planting vines in the San Prospero region of Modena (Sorbara DOC), producing both Lambrusco and prosecco. Made from Sorbara, which is widely regarded as the best Lambrusco variety, this must be thought of as a darker-hued, sparkling rose rather than a red wine, and you will not be disappointed. And this beats out the prosecco rose, which was released with much fanfare at the end of last year. This is a wonderful holiday aperitif, dry, full, and intense, with lip-smacking bright red fruit flavors of strawberries with hints of red currants and very dry. It's fantastic on its own or with nuts and fishy canapes, or just some grilled vegetables.
Rinaldini, Vecchio Moro, Lambrusco Grasparossa di Castelvetro NV
From the Rinaldini family's estate near Parma. This serious wine is dry, dark, almost purple in color, rich, unctuous, and frothy, and delivers intense flavors of black cherries and autumnal dried fruits, with just a hint of sweet spice. It pairs well with smoked or cured meats and hard cheeses – ideally an aged parmesan, since the land was once used to breed cows for milk for the same cheese – and provides intense flavors of black cherries and early autumn dried fruits, with just a slight touch of sweet spice.
Villa Cialdini, Lambrusco Grasparossa di Castelvetro
Since 1860, the Chiarli family, one of the largest Lambrusco producers in the world, has owned the Azienda Agricola Castelvetro, which is found southeast of Modena. This wine is the consequence of a plan in the early 2000s to build an ultramodern winery to produce top-tier Lambrusco using grapes from ancient vineyards planted on alluvial soils. This fusion of ancient and modern yields enticing cherry and forest fruit aromas and flavors that pair well with a wide range of foods, but especially pizza and pasta dishes, as well as simple vegetable antipasti like artichoke hearts in olive oil.
Paltrinieri Lambrusco di Sorbara DOC Leclisse
Paltrinieri is one of the eldest and extremely fascinating producers of artisanal Lambrusco, found in the middle of the Sorbara DOC zone. This is a pale russet pink that is very dry. Summer fruit flavors, bright and appealing acidity, and a clean finish. This is the kind of elegantly labeled and designed bottle that shows that this wine is a long way from the sweet and inexpensive Lambrusco of the past.
Paltrinieri Lambrusco di Sorbara Doc La Riserva
While red Lambrusco pairs well with a variety of savory and meat-based dishes, the Sorbara rose versions, like all pink sparkling wines, shine with seafood, and this other Paltrinieri gem, also elegantly labeled and sophisticated in its approach, is full of refreshingly light, summer fruit flavors tinged with hints of grapefruit and tangerine. So, pair it with grilled fish and seafood, fish soups, and, most importantly, crab, shrimp, or lobster.
Taste Wine Like A True Armchair Sommelier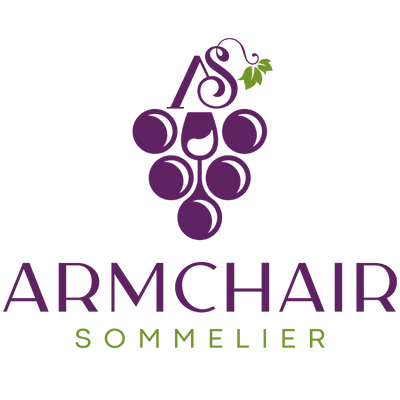 Spice up your next party with our FREE wine tasting guide! Learn what to look, smell, and taste for while appreciating your favorite bottle. We've also included a printable tasting notes template and a tasting wheel.