Chateau Montelena Winery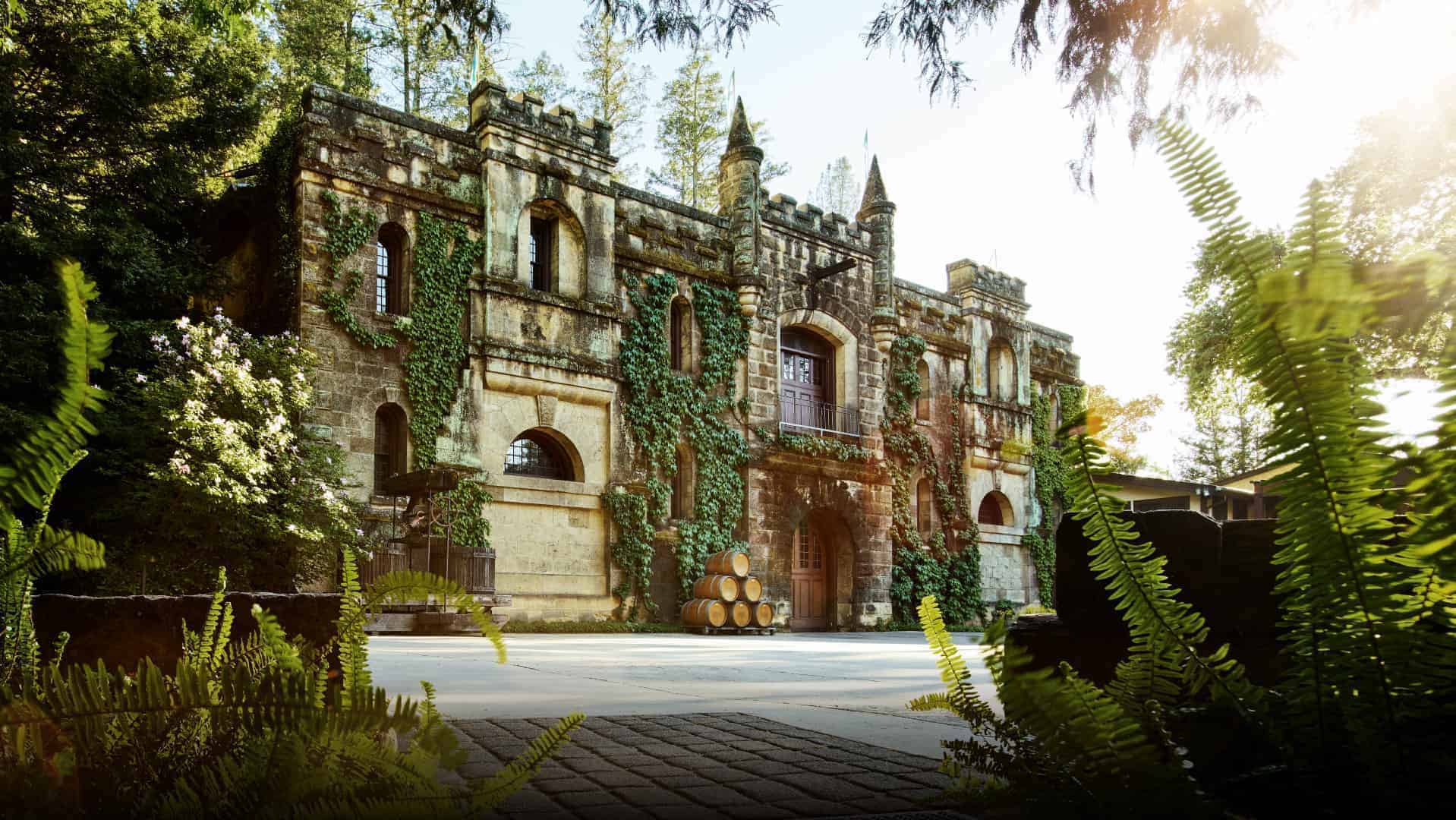 Visit Website

(707) 942-5105

1429 Tubbs Lane Calistoga, CA 94515

Hours
Monday: 9:30-4
Tuesday: Closed
Wednesday: Closed
Thursday: 9:30-4
Friday: 9:30-4
Saturday: 9:30-4
Sunday: 9:30-4
Chateau Montelena Vineyard Information
This winery has a fantastic story. One of my favorites in Napa Valley.
The Chateau Montelena estate was established in 1882 when Alfred Tubbs bought 254 acres of land at the base of Mount. Saint Helena. He planted vines and the vineyard grew to be the seventh largest in Napa Valley by 1896. The property truly resembles a chateau in Paris.
In the Prohibition era, Tubbs sold the property to Yort Wing Frank, a Chinese electrical engineer. He created a garden and excavated Jade Lake. If you're a member of the Chateau wine club you can picnic at Jade Lake.
In 1968 the property changed hands again. The Paschich family purchased the Chateau and brought in James Barrett and Ernest Hahn as partners. Barrett replanted the vines and in 1972 the vineyard began producing wine again.
You may have seen Bottle Shock (if not what the heck are you waiting for!?). Spoiler: In the 1976 Judgment of Paris, Chateau Montelena took the prize for its 1973 Chardonnay. A bottle of that vintage is currently in the Smithsonian.
Mike Grgich was the winemaker for the chardonnay that took the prize against white Burgundies. Another winery in the valley you may have heard of, Stag's Leap, won for their Cabernet Sauvignon.
Chateau Montelena is currently and will be staying in the Barrett name for the foreseeable future. Following Jim Barrett's passing in 2013, the Barrett family issued a statement. "He, along with the entire family, has prepared a succession plan for Chateau Montelena which will ensure the winery stays in our family for as many decades going forward as we have enjoyed during his life," said son Bo Barrett, CEO.
Today, Bo is still the master winemaker.
---
Planning a trip to Napa but don't know where to start, or worse yet, you're 10 hours deep and frustrated? You won't want to miss our Napa Trip Planner!
---
Where To Stay In Calistoga
Chateau Montelena Tasting Information
Chateau Montelena offers 3 experiences that should not be missed. If you're wondering if they are worth the hype, they are. You must experience the Chateau for yourself. A prepaid reservation is required. Reservations can be made by self booking.
Seated Tastings
The Chateau Montelena Estate Collection
This semi-private seated tasting will showcase the exceptional character, quality and ageability of the Estate Cabernet Sauvignon, the flagship wine. Ageability is important to Chateau Montelena. Others in the valley tout that their wine is ready to drink on release and doesn't need cellaring. To which Bo replies, "…someone has to make wine that will age". Sick burn.
During the tasting, you will be offered the library chardonnay followed by a tasting of four Estate Cabernet Sauvignon vintages.
The Montelena Estate Collection experience is approximately 90 minutes.
This experience allows up to 8-10 participants. Reservations may be made based on availability Monday & Thursday $105 per person; Friday-Sunday $120 per person.
The Chateau Montelena Library Tasting
In this tasting experience, you will sample exclusive wines that are not on the market. Chateau Montelena wine is known for its ageability as is evidenced by the popularity of The Library Tasting. Taste these very special wines alongside library vintages of Montelena classics.
The Library Tasting experience is approximately 75 minutes.
This semi-private experience allows up to 8-10 participants. Reservations may be made based on availability Monday & Thursday $70 per person; Friday-Sunday $80 per person.
A Taste Of Chateau Montelena
Enjoy this tasting at a stand-up bar at our historical Chateau. You will be offered a tasting of current release wines and enjoy the unique qualities that make each bottle.
A taste of Montelena experience is approximately 75 minutes.
This semi-private experience allows up to 8-10 participants. Reservations may be made based on availability Monday & Thursday $45 per person; Friday-Sunday $55 per person.
Each experience allows up to 8 to 10 prepaid adults. Tastings begin promptly at the scheduled time. Arriving early is encouraged and they are unable to accommodate late arrivals.
For an exclusive private experience offering ultra-luxury, coordinate with the Chateau's concierge to customize your experience. Curated experiences begin at $300 per person. Start the conversation by contacting them by phone: 1.800.222.7288.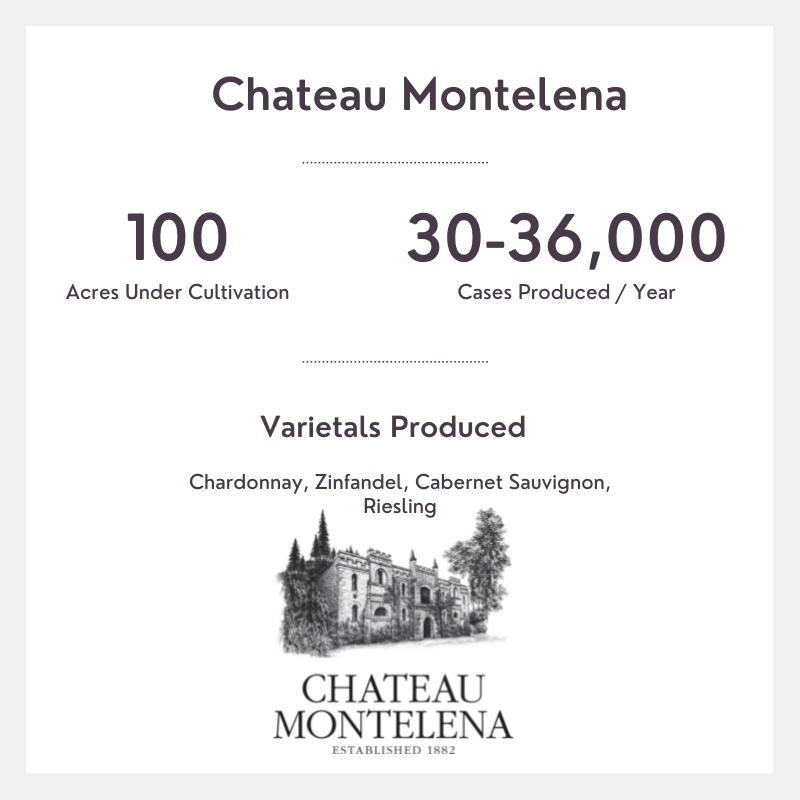 Chateau Montelena FAQ's
What if my preferred date or experience is fully booked?
While there is not a waitlist, the booking tool is updated in real-time. You are encouraged to check back.
Will my experience be private?
Each experience may include combined parties ranging up from 8 to 10 participants. In order to preserve this intimate atmosphere, experiences are reserved exclusively for prepaid adults.  
Does Chateau Montelena allow children?
While there is not a written rule, they kindly ask that adults not participating in the tasting, minors, children or infants not attend.
Does Chateau Montelena require prepaid reservations?
Yes, all guests must prepay to reserve their tasting experience.
If I need to cancel will I receive a refund?
Any reservation modification or cancellation request must be received at least 48 hours prior to the tasting to avoid forfeiture of the participation fee. 
Can I bring my pet to Chateau Montelena?
As the winery serves food, they only allow trained and certified service dogs. You can review their pet policy here.