Los Angeles To Napa Valley – A Wine Lovers Roadtrip
A Wine Lover's Guide To Roadtrippin' On The California Coastline. Where to eat, sleep, and wine taste from Los Angeles To Napa Valley.
When Dorothy had that Oprah 'aha moment' and declared "There's no place like home," pretty sure she was talking about her other Auntie's farm — you know Auntie O who lived on an acre off the central coast of California and harvested her own Zinfandel grapes to produce one of the premier wines in the state.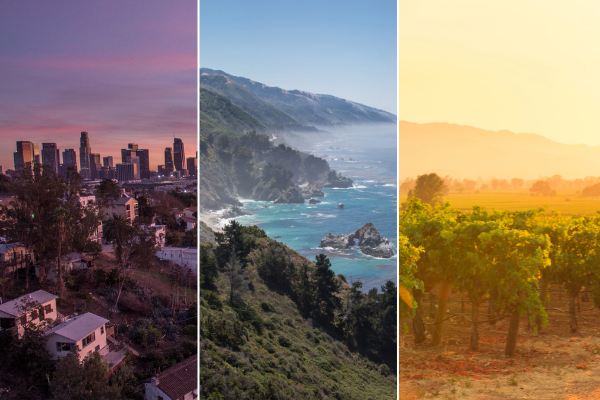 Whatever your feelings about California (yes, the gas and housing prices are insane), you can't argue the fact that the state has one of the most beautiful topographies in the nation.
From coast to coast there is so much beauty from towering redwoods, to sapphire blue oceans, to snowcap mountains to barren deserts, California is a feast for the traveler and all accessible by car.
Book A Rental Car
One of America's most popular road trips is to travel from Los Angeles to Northern California — for wine sake's purposes let's make it Napa.
It's a drive that requires no stops, but if you want to make a very long 1-day or 2-day trip, the sights to see are definitely worth a more thoughtful itinerary.
Before we get to the Los Angeles to Napa road trip goodies, we'll let you know that most everyone flies into and out of SFO because there are the most flight options at SFO. However, the closest airport to Napa Valley is the Napa County airport, also called the Napa Valley airport. Flights are few and far between.
The distance between Los Angeles and Napa Valley is 400-500 miles depending on which route you take. We're here to help you decide.
---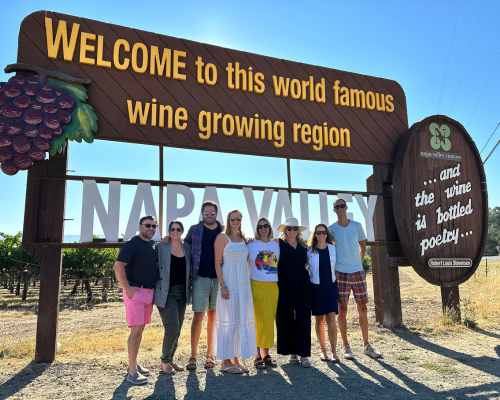 Planning a trip to Napa but don't know where to start, or worse yet, you're 10 hours deep and frustrated? You won't want to miss our Napa Trip Planner!
---
How To Travel From Los Angeles To Napa Valley
Think of traveling up the California coast as you would any road trip. Make sure you have a full tank of gas, plenty of water, ample snacks and your favorite playlist to keep the car karaoke going when those local radio stations start to fade out. Do a weather check and make sure driving conditions are clear around the Grapevine (yes, it snows) and Big Sur (it can flood during heavy rains).
Taking Highway 1 To Napa Valley From Los Angeles
There is so much beauty traveling through Highway 1 also famously known as Pacific Coast Hwy. There are rugged coastlines of sandy beaches, picturesque cypress trees, and plenty of unique wine tasting stops along the way.
You definitely won't want to nap and miss any of the natural wonders you'll see along this stretch of road. Plan for a 10-hour trip without stops.
Taking Highway 5 From Los Angeles To Napa Valley
You might have heard of the other way to get from Los Angeles to Napa Valley. This is what people call the "fast route to Napa Valley" or the "boring way". You'll see plenty of sleepy farmland and smell plenty of cattle on this route with only a handful of places to stop along the way.
This is the way to go if you want to get to wine country in a hurry and/or on the way back when you've already taken the long and winding roads through Highway 1. Plan for a 7-hour trip (without stops).
Los Angeles To Napa Valley: The Perfect Day Trip Itinerary
If you're looking for the quickest way to enjoy Highway 1 and still get to Napa Valley in the same day, you'll want to make limited stops on this 10-hour drive while soaking in the highlights of the coast. Don't forget to leave in the early morning to avoid as much traffic as possible.
Road Snack On Your Day Trip From LA To Napa
There's nothing like eating a hearty snack on the road. If you want to keep the momentum of driving without breaking for an hour to eat, Anderson's Pea Soup is the touristy highlight of any drive up the coast. This (let's just call it an institution) is one of the most iconic places to eat on your way to Northern California and just close to three hours north of LA. You can get a split pea soup to-go with all the fixins (think of all the toppings you'd put on a baked potato + crackers) and don't forget to stop in their massive gift shop to pick up a personalized magnet unless your name is Stormy (sorry, Kylie Jenner).
Wine Tasting On Your Day Trip From LA To Napa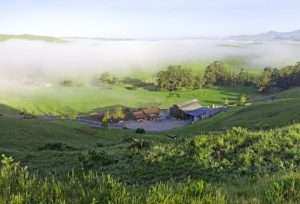 Just five miles south of Cambria (and 22 miles north of Paso Robles) on the central coast, Harmony is a small artisan town with a population of 18 that features small shops and Harmony Cellars, a wine tasting room where you can treat yourself to a flight of five wines (red, white, or mixed flight) at this family-owned vineyard. The Grandpa Barlogio Zinfandel is a great bottle to take home as a souvenir.
Lunch On Your Day Trip From LA To Napa
Main Street Grill in Cambria is the place for BBQ when driving up the coast. It's the perfect break midway into your road trip. Cambria is 5-6 hours north of Los Angeles when you take Pacific Coast Highway all the way up. You can find veggie options on the menu, but the entree they are most known for is 'The Pig' — slow-cooked shredded pork, coleslaw, and their house-made BBQ sauce on a French roll.
Sights On Your Day Trip From LA To Napa
There are two quick stops along Highway 1 that are fairly close to each other where you can breathe in the California coastline. Point Piedras Blancas aka Elephant Seals Beach is 12 miles above Cambria and is a great place to stop and admire the beach while listening to the enchanting calls of wild seals that playfully entertain the onlookers. Ragged Point is just 25 miles outside Cambria on Highway 1. Stop at the restaurant at the inn and have something to drink (the house wine is divine) while taking in the ocean air or walk along the trail to see the dense forest trees and the waves down below crashing against the rocks. Both of these sights are free and open to the public.
From Ragged Point, you'll have a remaining 4 1/2 hours of stunning landscapes driving through Big Sur, Carmel, and Monterey until you hit San Francisco and then next stop: Napa Valley.
Los Angeles to Napa Valley: The Perfect Two Day Road Trip Itinerary​
Slightly modify the 1-day itinerary and do a sleepover in Cambria where you can enjoy the beautiful beaches and the coastal wines just a little longer. After lunch at Main Street Grill, tour the charming little town of Cambria in all its gift and antique shops, and pop in one of the many wine stores to have a glass of wine while chatting it up with the owners.
For dinner, head to Moonstone Beach Bar & Grill and hopefully get a table outside where you can enjoy the generous pasta and seafood dishes with views of the ocean, relaxing to the sounds of crashing waves.
Where To Stay On Your Two Day Trip From LA To Napa
Cambria Shores Inn is the quintessential California beach inn. This dog-friendly boutique hotel is located on Moonstone Beach in Cambria and features a complimentary glass of wine at their wine bar with your stay and Adirondack chairs overlooking the ocean where you can view the sunset.
You'll also get free breakfast courtesy of French Corner Bakery consisting of freshly made pastries and muffins.
Sights Along Your Two Day Trip From LA To Napa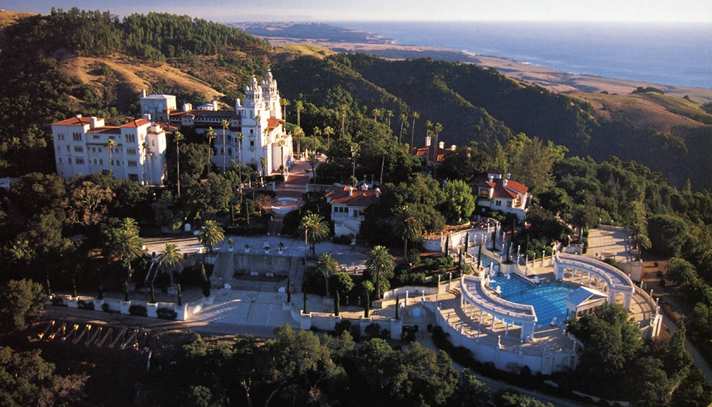 Before stopping at Elephant Seals Beach and Ragged Point, stop in San Simeon just nine miles north of Cambria and visit the legendary Hearst Castle (reservations recommended) and behold this majestic castle that is rich in Hollywood history.
Both the indoor and outdoor pool will have your camera phone on paparazzi mode, snapping as many photos as you can. A tour lasts about an hour and note there is 2/3 mile of walking and 140 steps up and down.
Wine Tasting & Lunch On Your Two Day Trip From LA To Napa
You won't have to go far for wine tasting and lunch after your tour of Hearst Castle. Hearst Ranch Winery is just across the way and features a cafe and wine tasting room where you can taste a collection of wines harvested from their vines in Paso Robles while gazing out at the beautiful beach.
The Hearst Ranch is also a cattle ranch so you can also order prime beef to eat there or ship home to prepare yourself.
want to bring your wine from your road trip home with you?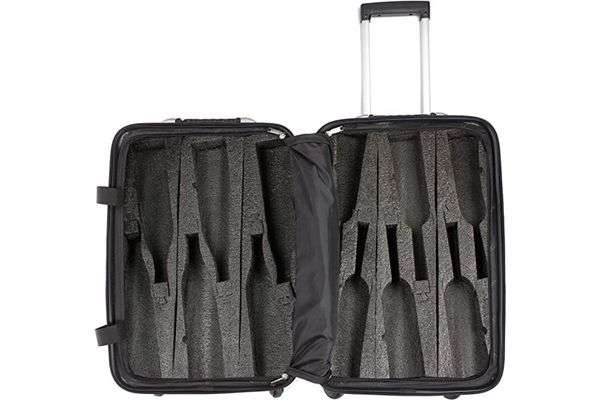 We recommend the VinGardeValise 12 bottle wine suitcase. There are a couple ways you can use this suitcase. One is, when you come home you only pack half the suitcase with wine and the other side clothes; or, what we do is bring a duffle bag to carry our clothes home. You can still check a duffle bag home btw, you don't have to schlep it around for all four connections.
Pro tip: you can also use the duffle bag to drop off your clothes to be laundered if you're doing an extended trip. Multiple uses for one duffle bag.
Three Day Road Trip From Los Angeles To Napa Valley
Keep the two-day itinerary and add an extra night in Carmel. Resting just below Monterey and two hours north of San Simeon, this village-by-the-sea is a delightful place to stay to enjoy that small-town feel with an endless amount of wine tasting rooms and good food.
Before checking in for the night, grab an early dinner at Mission Ranch (formerly owned by actor/director Clint Eastwood) and take in the breathtaking sunset disappearing behind the flock of sheep that roam the ranch.
Don't call it a night yet, have drinks (and maybe show off a few dance moves) at Barmel. Remember that this quiet, seaside town is also close to California State University-Monterey so there are plenty of bars and taverns along the main drag.
Where To Stay On Your Three Day Trip From LA To Napa
Hofsas House Hotel looks straight out of a Bavarian village in Germany. This pet-friendly hotel is one of the first you'll see upon entering Carmel's main street and is within walking distance to all shops and restaurants.
The family-owned hotel features free wifi, free parking, and a swimming pool with peek-a-boo views of the oceans and stunning sunsets every night. Guests are treated to a complimentary breakfast with fresh pastries delivered from a local bakery, French roast coffee, tea, yogurt, and juice.
Wine Tasting On Your Three Day Trip From LA To Napa
There's no reason to leave Carmel for wine tasting because there is a whole little town's worth full of them. Some of the more notable ones to try within walking distance of each other are Wrath Wines, Scheid Vineyards, Albatross Ridge, Galante Vineyards, and Windy Oaks Estates. Budget Tip: Ask your hotel and the nearby visitor's center for tasting room discounts.
Sights Along Your Three Day Trip From LA To Napa
Before you leave Carmel, take a quick seven-minute drive to the world-famous Pebble Beach and take the 17-mile scenic drive. The 17-mile drive is behind guarded gates and costs $11.25 per vehicle to enter. From there, you'll drive a stretch of coastline that will take you on a breathtaking journey with views of the white sand beaches and legendary golf course. You can get out at any point of your drive and take a deep breath of the Pacific Ocean air and snap a few nature shots of the Instagram-friendly Cypress trees and brown pelicans perched on Bird Rock Vista Point.
Lunch On Your Three Day Trip From LA To Napa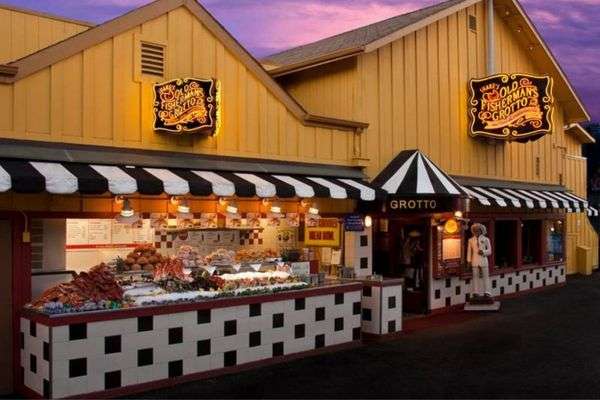 When heading out of Carmel and driving along Highway 1, don't miss stopping for lunch in Monterey at Fisherman's Wharf. This is an authentic fisherman's wharf where you'll find many nautical-themed shops and fresh seafood restaurants including some of the best clam chowder on the west coast. Old Fisherman's Grotto has been serving the freshest catch since 1950. Order the Calamari Steak Sandwich for lunch or the Crab Ravioli and don't forget the Monterey Style Clam Chowder in a garlic butter toasted bread bowl.
From Carmel, it is just shy of a three-hour drive to Napa Valley with the best of California's coast behind you and the best of California wine awaiting you.
Los Angeles To Napa Valley FAQ
How Far is Napa Valley from Los Angeles?
As the crow flies Napa Valley is 380 miles from downtown Los Angeles. The driving distance from Los Angeles to Napa Valley, taking the 5 up the central valley, is 412 miles. If you drive up the coast on Highway 1 (the Pacific Coast Highway) your the distance is 500 miles.
How long is the drive from LA to Napa Valley?
Driving non-stop from Los Angeles to Napa Valley on the 5 will take you about six and a half hours. If you take the coastal route up the Pacific Coast Highway the drive will be close to 10 hours with no stops.
How is the drive from LA to Napa Valley?
The trip from Los Angeles to Napa Valley can either be a fairly boring drive up California's Central Valley on Highway 5, or you can take the longer but stunning drive up the rugged coastline on Highway 1, also know as the PCH (Pacific Coast Highway)
How long is the train ride from LA to Napa Valley?
The fastest Amtrak train can make the trip in 9 hours. But traveling by train from Los Angeles to Napa usually takes around 12 hours. There are 7 daily trains from Los Angeles to Napa.
Can you fly from LA to Napa?
Yes, there are daily flights from Los Angeles to Napa But, in my opinion, a road trip is the best way to experience the coast and the landscape.
Is a day trip to Napa worth it?
While you could easily fit in a half-day visit to Napa, we suggest making it a full-day trip. There is so much beauty traveling through Highway 1 also famously known as Pacific Coast Hwy.There are rugged coastlines of sandy beaches, picturesque cypress trees, and plenty of unique wine tasting stops along the way. You definitely won't want to nap and miss any of the natural wonders you'll see along this stretch of road. Plan for a 10-hour trip without stops. 

Author: Tiffany Carter
Tiffany is a contributing writer to Armchair Sommelier. When she isn't writing about wine, the California native is touring local wineries (Hello Napa and Paso!) and filling her glass across the globe (Ciao, Tuscany!). She loves a full-bodied cab, but she plays favorites when it comes to a spicy Zinfandel or juicy Malbec. Her fridge is stocked with a bottle of sparkling rosé for emergencies. Hint: there's always an emergency. You can follow Tiffany @winetastetravel.