silverado vineyards: Disneyland for adults
If you're wondering if Silverado Vineyards in Napa Valley was owned by Disney, the answer is yes. But who owns it now?
California history is just incredible. And the history of Silverado Vineyards? Well, it goes back. Way back.
My first experience with Silverado Vineyards (call it 20-ish years ago) was part happenstance, part emergency.
I was trapped in an auto-clog on Route 29 in Napa Valley. Traffic hadn't moved in h-o-u-r-s. OK, it was minutes, but I really, really had to go to the bathroom, so it felt like hours.
A sense of panic (mine) settled in, and we abandoned Route 29, and cut across the valley onto the Silverado Trail (which, years ago, wasn't nearly as crowded as Route 29).
We made a beeline for the first establishment that looked like it might have indoor plumbing — Silverado Vineyards.
My comfort level restored, we stayed for a tasting (and the spectacular views), and we've been fans ever since!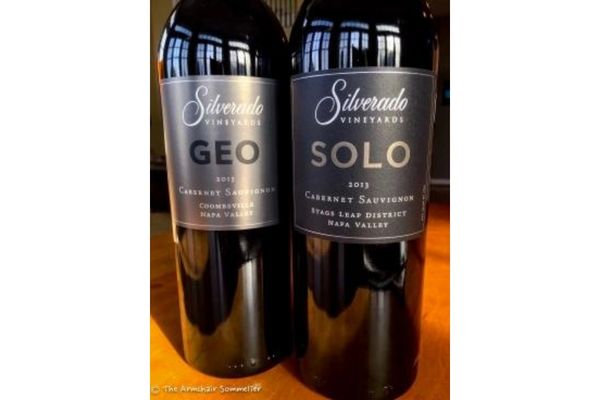 The History Silverado Vineyards
I recently hosted a wine tasting dedicated to one varietal, Cabernet Sauvignon. So the opportunity to taste two of Silverado's flagship Cabernets, SOLO and GEO, had presented itself.
But first . . . a little history (you knew it was coming).
In the 1850s, the Silverado Trail was just that — a wagon trail, linking cinnabar (mercury) mines in Mount St Helena to the San Francisco Bay.
---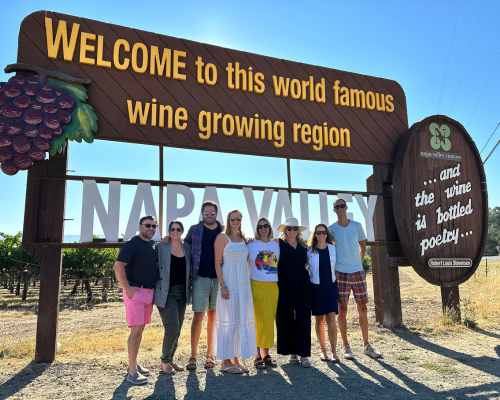 Planning a trip to Napa but don't know where to start, or worse yet, you're 10 hours deep and frustrated? You won't want to miss our Napa Trip Planner!
---
In the 1880s, the trail became the first permanent road from Napa to Calistoga, as well as the base of operations for infamous stagecoach robber, Black Bart.
Black Bart was notorious for robbing stagecoaches (as told by Ralphie) — without ever loading his gun.
He was eventually caught (stagecoach robbing isn't the best career choice for longevity), and sent to San Quentin, in 1883.
But Black Bart wasn't alone on the Silverado Trail.
Scottish novelist, Robert Louis Stevenson (aka, the guy who wrote Treasure Island) and his wife, Fanny, honeymooned along the Silverado Trail for two months in 1880.
I wonder if Stevenson and Black Bart ever crossed paths in a Silverado Trail saloon.
While on his honeymoon, Stevenson penned the very familiar wine words Wine is Bottled Poetry.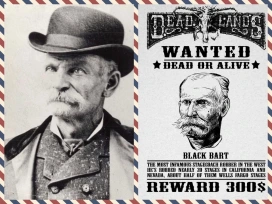 The words appear in his 1883 travel memoir, Silverado Squatters, which narrates Stevenson's two-month honeymoon in Napa Valley.
And while a two-month honeymoon in Napa Valley may seem like a dream trip, Stevenson wasn't staying at the Auberge du Soleil.
Stevenson couldn't afford $10/week for a hotel, so he and his bride squatted in a bunkhouse on an abandoned mining camp called Silverado.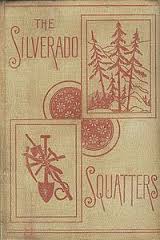 During their two months in Napa Valley, Stevenson met several fledgling winemakers, and found himself impressed with their pioneer spirit and drive to produce outstanding wines.
Stevenson looked forward, with great hope, to this new wine growing region — Napa Valley.
But, Stevenson was actually talking about French wine with his famous words.
Fast forward almost one hundred years . . .
In 1978, Walt Disney President and CEO, Ron Miller, and his wife, Diane (daughter of Walt Disney) purchased the Silverado vineyard (from Harry See of See's Candies), and established Silverado Vineyards in 1981.
The name Silverado is a nod to the abandoned mining town where Stevenson and his wife honeymooned.
The Miller Family proudly pointed out they are still prospecting for wine, staying true to the idea of coaxing something precious from the soils [they] are privileged to care for.
Wine writers have nearly exhausted the accolades for the 2013 vintage in Napa Valley.
It's been described as golden, epic, historic, ideal, superlative, dreamy, even flirting with perfection . . . the list goes on.
2013 was a Goldilocks growing season — not too hot and not too cold.
No heat waves, no damaging rains. The grapes were able to ripen fully, and damn near perfectly.
Where To Stay Near Silverado Vineyards
First of all, there are at least a dozen really outstanding hotels, Inns and B&Bs in Yountville. But our favorite, and one that comes highly recommended in our Napa Travel Planning fb group is Bardessono. Bardessono is super swanky and has amazing reviews.
If you want to see the lot of them, check out all accommodations in Yountville.
Silverado Vineyards Today
In 2022 Bill and Carol Foley of Foley Wine Estates purchased Silverado Vineyards from Ron Miller and Diane (Disney) Miller. They are committed to honoring the Miller's legacy and vision.
Silverado Vineyards is in its fourth decade of producing estate wines that are grown, produced, and bottled at Silverado Winery.
One of the first four in Stags Leap District to plant Cabernet in the 1960s, Silverado Vineyard and winery owns three other vineyards in Napa Valley's top AVAs.
Totaling over 300 acres, those vineyards are Miller Ranch in Yountville, Mt. George in Coombsville, and Soda Creek/Borreo Ranch.
Silverado Vineyards Wine Tasting
Silverado Vineyards SOLO Cabernet Sauvignon 2013 /93 points
100% Cabernet Sauvignon from the Silverado Vineyards in the Stags Leap District. The grapes from this vineyard are 100% UCD FPS 30, the Disney Silverado Heritage Clone.
The University of California at Davis (Mecca for the study of wine and vines) designated this particular Cabernet vine a heritage clone, and selected it to be part of their FPS (Foundation Plant Services) Classic Foundation Vineyard.
That collection represents and preserves Napa Valley vineyards with a reputation for [the finest] quality wine production.
Disney Silverado is one of only three Napa Cabernet Sauvignons to achieve this status — the other two heritage clones are Mondavi and Niebaum-Coppola.
Tasting Note: Aged for 18.5 months in 47% new oak; 96% French, and 4% Hungarian.
Clear, medium ruby color. Highly expressive nose of blackberry, black currant, black plum, eucalyptus, black pepper, vanilla, and cloves.
Wow, there's a lot going on in this glass. Dry and precisely balanced, with dense and powerful flavors of bramble, cranberry, vanilla, lavender, violets, and . . . there's that eucalyptus again.
The mouthfeel on this wine is insane, approaching viscous. And the finish that lasts into tomorrow. 14.2% ABV.
Silverado Vineyards GEO Cabernet Sauvignon 2013 /92 points
88% Cabernet Sauvignon and 12% Petit Verdot sourced from the Mt. George Vineyard in the cooler climate, Coombsville AVA (located at the southern end of Napa Valley, Coombsville achieved AVA status in 2011).
GEO is from the Greek word, γῆ or gé, meaning earth. It's also a nod to Mt. George, the volcanic mountain on which the vineyard is located.
Tasting Note: Aged for 17 months in 38% new oak; 75% French and 25% American.
Clear, deep ruby color. Some tears. The nose was a little shy at first, but a few swirls of the glass brought out notes of blackberry, blueberry, cola, black plum, herbs, coconut, and white pepper.
Dry and balanced, with with explosive flavors (that beguile the nose) of black plum, pomegranate, vanilla, baking spices, butterscotch, and a sprinkle of earth.
The tannins are completely approachable now, but there's an edginess to this wine that's irresistible. 14.9% ABV.
That smack of Californian earth lingers on.
want to bring silverado vineyards home with you?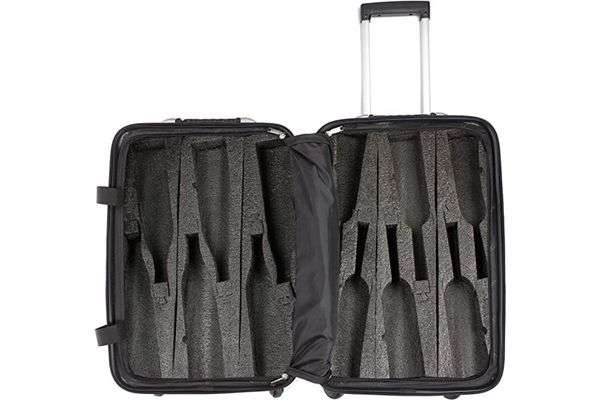 We recommend the VinGardeValise 12 bottle wine suitcase. There are a couple ways you can use this suitcase. One is, when you come home you only pack half the suitcase with wine and the other side clothes; or, what we do is bring a duffle bag to carry our clothes home. You can still check a duffle bag home btw, you don't have to schlep it around for all four connections.
Pro tip: you can also use the duffle bag to drop off your clothes to be laundered if you're doing an extended trip. Multiple uses for one duffle bag.