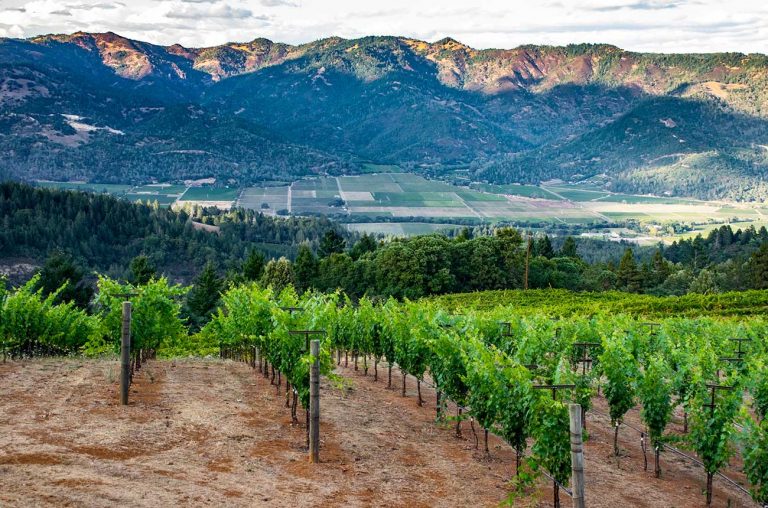 Best Wineries in St Helena, California
If you're looking for truly outstanding wines in the U.S. then chances are you're well aware of Napa Valley. But trying to plan a trip to Napa can be overwhelming. There are multiple unique AVAs (American Viticultural Areas) that make up the larger Napa Valley AVA. So let's go from macro to micro and talk about the visiting wineries in St. Helena, California.
St. Helena wineries are located across two distinct AVAs in the Napa Valley. The eponymous St Helena AVA, and the Spring Mountain District AVA.
The St. Helena AVA covers over 9,000 acres (3,642 ha) and lies at the northern end of Napa Valley situated between the Vaca and Mayacamas Mountains and has a rich history as home to some of Napa Valley's first wineries
This Napa Valley sub-region owes much of its long history to Charles Krug, who opened what is now the oldest wine estate in Napa way back in 1861. He obviously had a flair for trendsetting as the St. Helena AVA is now home to more than 80 wineries.
The climate in St. Helena is a warm summer, Mediterranean climate like the rest of Napa Valley. It does stand out from other AVAs in the valley due to its warmest in the region average temperatures.
The surrounding mountain ranges, the Vaca and Mayacamas provide a volcanic base to the soils in the region. There are over 21 different soil types in St. Helena and a single vineyard may contain several of these, leading to some unique tasting experiences.
Spring Mountain District AVA
The Spring Mountain District is a smaller AVA located just west of St Helena and Napa and east of Calistoga. It is home to about 30 wineries and nearly 5,000 acres (2,023 ha) of planted vines.
This area is unique in the Napa Valley for its elevation. The highest point in the district is 2,500 feet (762 meters) above sea level. This higher elevation and the corresponding cooler temperatures leads to a longer growing season and harvesting can happen later than in some of the other AVAs.
The soils in Spring Mountain District are a mix of clay, shale, gravel, and alluvial deposits. This mixture along with the cooler climate creates wines with more acidity and tannins. Wines from this area tend to be some of the most age-worthy in Napa Valley.
Notable St Helena Wineries & Tasting Rooms
Enough of the wine nerd talk, this website is all about the tasting experience so let's get down to it and look at some of the best St. Helena wineries.
Pride Mountain Vineyards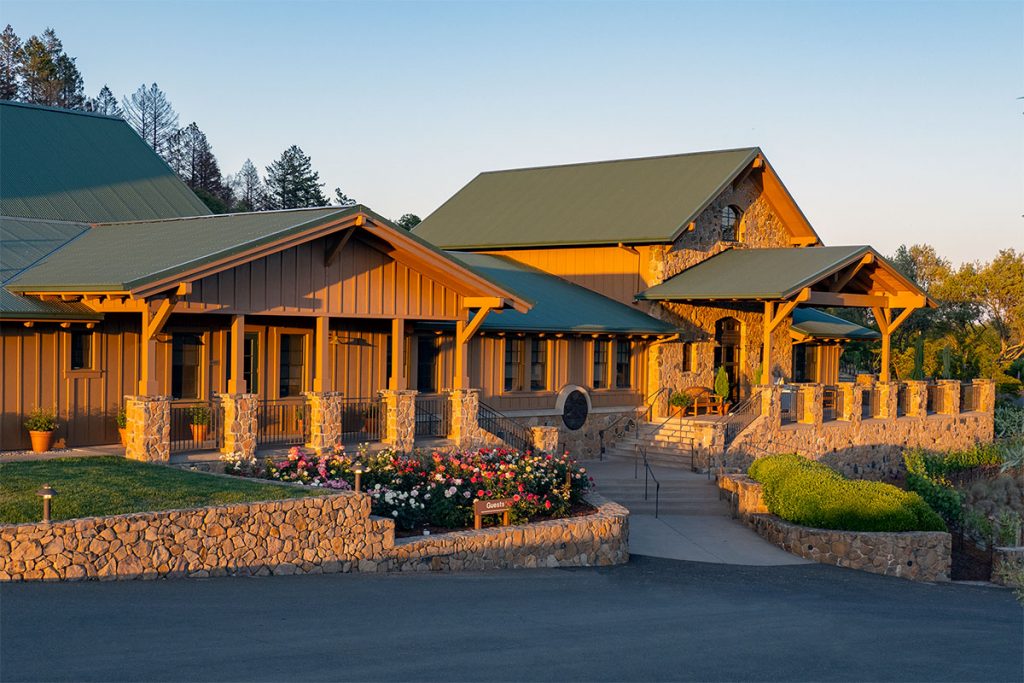 Pride Mountain Vineyards is one of the most revered wineries in Napa Valley. It's located in the St Helena AVA, and sits at an elevation of 1,350 feet (411 meters). The winery produces about 25,000 cases of wine per year.
The winery was founded in 1978 by Jerry and Barbara Pride. They planted their first vines in 1984 and released their first vintage in 1992. Pride Mountain Vineyards is known for its Bordeaux-style red wines and has been awarded more than 100 points by Robert Parker.
Pride Mountain has a number of tasting experiences available for guests including a 90 minute Estate Experience that costs $30 per person. If you're looking for a more intimate tasting the Reserve Experience adds a seated tasting of limited production wines including their Reserve Cabernet Sauvignon along with their current release wines. This tasting is 90 minutes and costs $60 per person.
For more information and to schedule an appointment to visit the tasting room visit them online at pridewines.com.
Newton Vineyard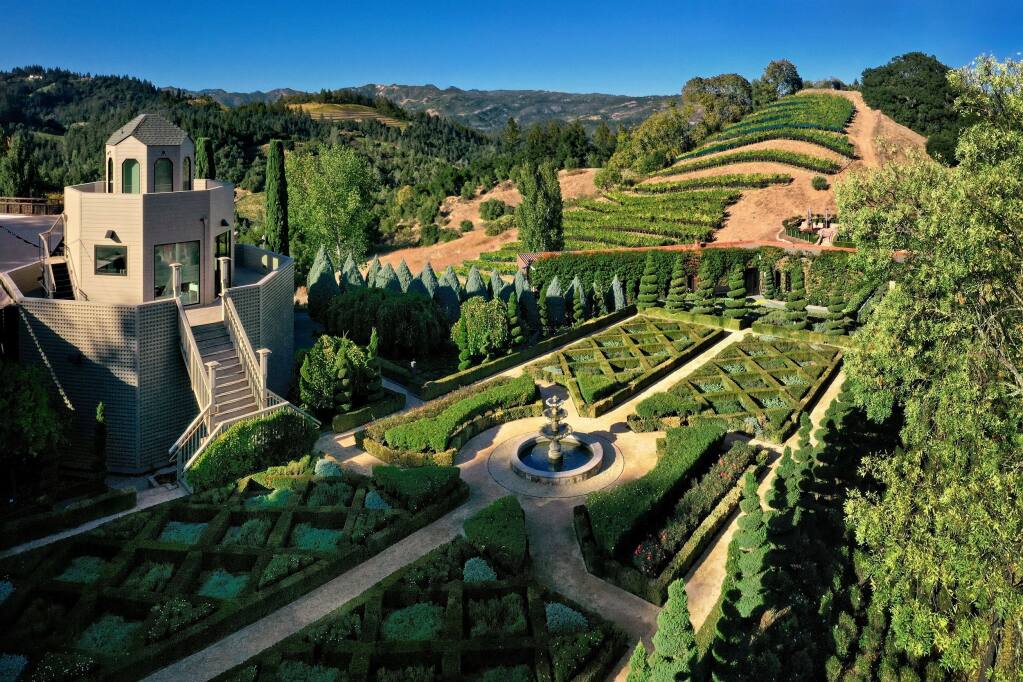 Newton Vineyard is located in the Spring Mountain District AVA of Napa Valley. The winery was founded in 1984 by Peter and Jennifer Newton. The Newtons started wine making in the Spring Mountain District in 1986 and released their first vintage in 1989.
Newton Vineyards plants each of their distinctive vineyard blocks with a specific Bordeaux variety and focuses on world class Cabernet Sauvignon.
Newton Vineyard currently offers two wine tasting experiences. Their tasting is hosted at Brasswood Village and lasts 60 minutes with tastings of their Unfiltered Chardonnay, Chardonnay, and Cabernet Sauvignon. This experience can be hosted on an outside patio or in a private tasting room.
Their second experience is hosted at the Brasswood Restaurant and includes a wine pairing curated by the restaurant's head chef / Newton Vineyard winemaker.
For more information and to schedule an appointment visit Newton Vineyard online at newtonvineyard.com.
Hall Winery
Hall Winery is located in the St Helena AVA of Napa Valley. The winery was founded in 1989 by Bill and Debbie Hall.
HALL St. Helena is a unique, 33-acre property in the charming hamlet of St. Helena, located at the foot of the Mayacama Mountains. Guests arrive with an official welcome and are immediately plunged into an unforgettable experience. With daily offerings including the signature HALLmark tour, guests have a choice of winery tours and tastings for the novice wine drinker to the expert cab collector. With over 35 pieces of contemporary art, this 150-year-old site has something for everyone. 
Hall Winery is known for its five certified organic estate vineyards that produce highly rated Bordeaux varietals along with world class wine experiences.
For more information and to schedule an appointment visit Hall Winery online at hallwines.com.
Spring Mountain Vineyard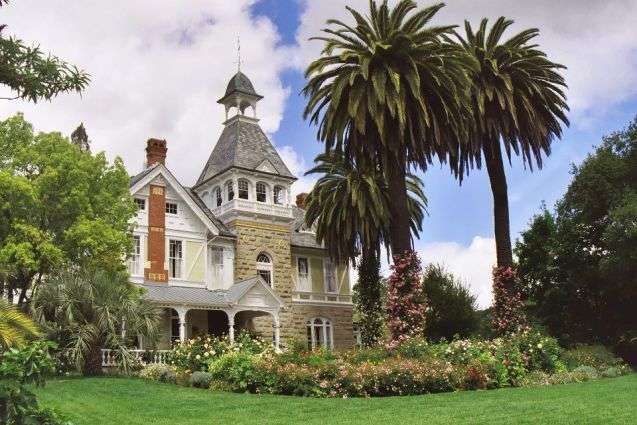 Spring Mountain Vineyard is located in the Spring Mountain District AVA of Napa Valley. The winery was founded in 1972 by David and Diana Wheeler. They have a beautiful property with stunning views of the Napa Valley, and they make some of the best wine I've ever tasted.
The staff at Spring Mountain Vineyard are always happy to answer any questions you have about their wine, and they'll give you a tour of the property if you ask. They also have a great tasting room where you can sample their latest releases. If you're looking for a relaxing afternoon out in the California sun, I highly recommend spending time at Spring Mountain Vineyard.
Spring Mountain focused primarily on producing traditional Bordeaux style wines. They are currently offering a Cabernet Sauvignon blend called Elivette, Sauvignon Blanc, and occasionally some wine club exclusives.
Tasting tours include a 45 minute cottage tasting featuring four wines at a cost of $50 per guest (cost waived if you purchase more than $125 or sign up for their wine club). They also offer a Library Vertical Tasting with six wines for $150 per guest and an Explore Elivette Tasting for $200 per guest.
For more information and to schedule an appointment visit Hall Winery online at springmountainvineyard.com/index.html.
Barnett Vineyards
Barnett Vineyards is one of the best wineries in St. Helena, California wine country. The vineyard is known for its award-winning wines, and its wine tastings are a must-do for any wine enthusiast visiting the area. The vineyard has something for everyone, and its wine tastings provide the perfect opportunity to explore all of the different flavors that Barnett Vineyards has to offer.
In addition to its award-winning wines, Barnett Vineyards is also known for its beautiful setting. The vineyard is located in the heart of the St Helena wine country, and its vineyards offer stunning views of the surrounding hills and valleys. visitors will also enjoy exploring the property's gardens and walking through its rows of grapevines.
Barnett Vineyards offers an estate tasting that includes a flight of 5 current release wines, curated by one of their hospitality team members. While learning the history and winemaking techniques of the vineyard, sit back and enjoy the panoramic views of Napa Valley. This seated tasting experience is $100 per person, with fees waived for their Wine Society members (up to four tastings).
For more information and to schedule an appointment visit Hall Winery online at barnettvineyards.com.
Stony Hill Vineyard
Stony Hill Vineyard is another popular winery in St Helena, California wine country. The vineyard is known for its Chardonnay wines, and its wine tastings are a must-do for any Chardonnay enthusiast visiting the area. Stony Hill Vineyard offers a variety of Chardonnay wines, as well as other white wines, red wines, and sparkling wines. Visitors can expect to find a wide selection of wines to taste at the vineyard, as well as a variety of food options to pair with their wine. The vineyard also offers a number of events and activities throughout the year.
Smith-Madrone Vineyards and Winery
Brothers Stu and Charles Smith have been crafting wine in the Spring Mountain District of Napa Valley for 45 years. You don't make wine anywhere (let alone in the mountains of Napa Valley) for 45 years without being really good at it. 
The vineyards at Smith-Madrone are planted at 1,400 to 1,900 feet with 35% slope grades. They are über-estate wines, all of the grapes are grown within a half-mile of the winery. The vines are dry farmed (no irrigation) in red Aiken soil, which is made out of sedimentary rock and weathered volcanic materials.
As a special treat, we've included some tasting notes from a trip to Smith-Madrone a few years ago.
Smith-Madrone Napa Valley Chardonnay Spring Mountain District 2012 / 92
100% Chardonnay. Fermented in new French oak for 9 months. Pale lemon-green color with a just a hint of legs (note the 14.1% ABV). The nose is wickedly clean — like a walk in the mountains after a rain. Medium body, with flavors of green apple, pear and melon. An impressive finish, with vanilla and hazelnut notes as the finale. Strong, yet graceful . . . think Olympic gymnast. 14.1% ABV. $32.
Smith-Madrone Napa Valley Cabernet Sauvignon Spring Mountain District 2012 / 92
82% Cabernet Sauvignon, 10% Merlot and 8% Cabernet Franc. Aged for 18 months in French oak barrels. Ruby to brick color, with some lightening at the edges. The nose is cranberry, currant and grandma's cedar chest (which happens to be one of the best smells on the planet, btw). There's a black-fruit freshness up front, followed by flavors of mint, cigar, and pine. Great structure and balance (absolutely nothing pulling my focus). Balance can be a slightly esoteric concept in wine evaluation. It's one of those you-know-it-when-you-taste-it kind of things, and I'm tasting it. A bit softer than the 2011, but this is exactly that uniqueness and diversity of vintage Stu was talking about. 14.2% ABV. Retail = $48.
Taste Wine Like A True Armchair Sommelier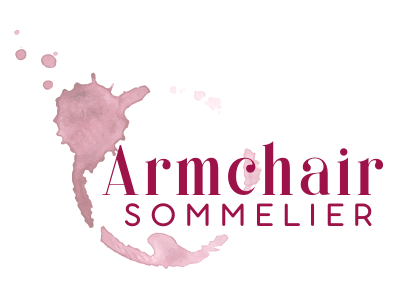 Spice up your next party with our FREE wine tasting guide! Learn what to look, smell, and taste for while appreciating your favorite bottle. We've also included a printable tasting notes template and a tasting wheel.
The Rest
There are plenty more St Helena Tasting room and winery options you may want to check into including:
If you're a regular visitor to Napa Valley you've probably asked yourself a hundred times, how am I going to get from the San Francisco (SFO) airport to Napa? The short answer has always been, and will probably always be, to rent a car. There just aren't many other options and even if there were. Once you got to your destination, you'd need a way to get from one winery tour to another.
If you're looking to drive to Napa Valley, the best option is to take Highway 101 north. You'll want to take the exit for Highway 29, and then continue driving north until you reach Napa Valley. Once you're in the valley, you'll want to stay on Highway 29 until you reach St Helena. There are plenty of signs that will guide you the rest of the way.
If you are 100% dead set against renting a car there is a Napa Airport shuttle that will take you from the city into wine country. Once you arrive you could book winery tours that include transportation.
However you choose to get to Napa Valley, we know you're going to love your visit To St. Helena. From the family owned winery to the historic Charles Krug Winery, this little slice of Napa Valley produces some amazing wines and an even better wine tasting experience.