Top 8 Stanthorpe Winery Accommodations You Should Check Out
Looking for Stanthorpe winery accommodations where you can actually sleep in the vineyard? These Stanthorpe wineries have got you covered. Literally!
Has it always been your dream to sleep in a vineyard? Yeah, us too. Honestly, there's not much else better than waking up to the sun peeking over the hill with rays touching the dewy grapevines. Can you picture it?
Experiencing Stanthorpe blows the mind between the lodgings, the scenery, the surrounding wine and beer opportunities, and seeing the national parks.
If you're looking for a luxurious stay in Stanthorpe, your search is over.
Spend some time learning about what these top Stanthorpe winery accommodations can offer.
Where Is Stanthorpe?
Stanthorpe is in the southern Queensland wine region in Australia, sitting on the Granite Belt, and is on the Strange Bird Wine Trail.
The Granite Belt is situated on the northern edge of the great New England Tableland, and on the border between Queensland and New South Wales.
Map of Accommodation in stanthorpe, queensland
What Stanthorpe Winery Accommodation should i Choose?
Ridgemill Estate Accommodation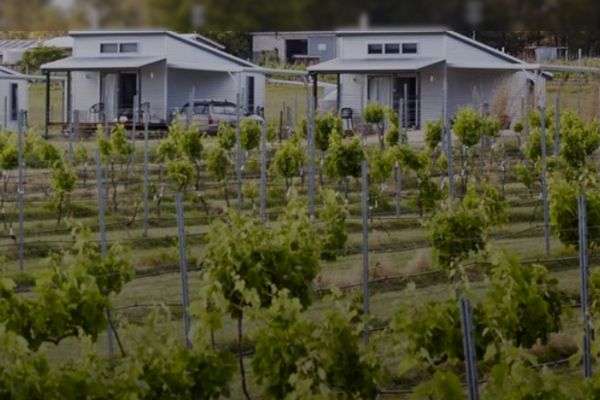 Location: 218 Donges Rd, Broadwater QLD 4380, Australia
Ridgemill Estate was created as a result of Martin and his friend, the late international designer David Winter, overindulging in G&Ts while they were in Singapore. With 11 cabins available, this Granite Belt winery lodging is ideal for groups of friends or wine-loving couples that prefer some space.
Planning activities in the top end of the Granite Belt is convenient to Stanthorpe (five minutes by car).
This is one wine tour where you won't have to worry about a designated driver because there are studio cabins and a three-bedroom houses for groups, all with vineyard views across the 40-acre property.
It has much to offer to individuals looking for a luxurious stay in Granite Belt since it combines an award-winning boutique winery with an award-winning inn.
The self-contained cabins overlook the vineyard and a covered common area with chairs and a BBQ. A king-size bed and a wood-burning heater are available inside, where you can light a fire. Except for the bird sounds, everything is calm. Enjoy your breakfast on the verandah!
In addition to having a lot of space, the winery has excellent amenities! Indulge in a romantic lunch on one of the wooden picnic tables or relax in the outdoor lounge.
The two shared BBQ areas are covered and have a pizza oven that runs on gas. For touring the grounds or going further afield, they provide free bicycles. You can borrow DVDs and games from the cellar door and play them in your cabin to pass the time.
The guest laundry room also has a washer and dryer. Perfect for getting that red wine spill out of your favorite jeans.
To get a behind-the-scenes look at winemaking and a chance to taste certain vintages that still are to be released, book a tasting experience with the winemaker.
Heritage Estate Winery Accommodation
Location: 747 Granite Belt Dr, Cottonvale QLD 4375, Australia
This adorable Winery Cottage, constructed in 1864 and lined entirely with cedar, will make history buffs go crazy. You can just smell the environment as it would have smelled in the nineteenth century.
Sit on the leather couch in front of the fire and relax. You can access a kitchenette, a contemporary bathroom, and a bedroom with views of the grounds. The place also has free Wi-Fi.
The Heritage Estate Winery is ideal for relaxing and enjoying a delicious lunch with family, friends, or coworkers. Every effort is made to employ locally obtained ingredients in meals of the greatest caliber.
In 2020, Heritage once again received exceptional ratings for all nine wines they've submitted, with nine of them earning scores above 89, and the three Heritage wines—two Shiraz and a Fiano—scoring 95 points and being included in The Australian Newspaper Weekend Magazine's Best of the Best of Australia list on Easter Saturday 2019.
Summit Estate Wines Accommodation
Location: 291 Granite Belt Dr, Thulimbah QLD 4376, Australia
Stay on the property of Summit Estate in a shared three bedroom B&B called Taits' Place.
Taits' Place Vineyard B&B is set in the middle of Summit Estate Vineyard.
You'll find ample free parking and wi-fi. Each bedroom has an ensuite bath.
Enjoy breakfast or a coffee on your terrace or balcony.
Whiskey Gully Wines Accommodation
Location: 25 Turner Rd, Severnlea QLD 4380, Australia
Whiskey Gully Wines has two adorable and cozy cottages on the property. The cottages are air conditioned for the hot summers and heated for the chilly winter nights.
Not only can you sip wine close by but there's also a restaurant on the property. The chef's European cuisine pairs beautifully with their wines.
You'll find the Whiskey Gully red wines are elegant and fruit-driven and their white wines are lean and well balanced. Their selection includes Shiraz, Malbec, Cabernet Sauvignon, Colombard, Chardonnay and Black Muscat varieties.
In 1997 the first vines that were planted were Shiraz, Cabernet Sauvignon and Chardonnay. And in 1999 more Cabernet Sauvignon was added along with Colombard.
In 2012, they were grafted with Black Muscat and also grafted half an acre to Malbec that year.
Granite Belt Brewery Accommodation
Location: 146 Glenlyon Dr, Stanthorpe QLD 4380, Australia
Since 2012, Granite Belt Brewery has been producing delectable and refreshing craft beers and ciders. It is the top brewery in Stanthorpe. The rural estate, located on 30 acres of natural bushland five minutes from Stanthorpe, has 20 cedar cabins, fireplaces, a 1000-liter microbrewery, a bar, a restaurant, and a function center.
The 1000-liter microbrewery produces all the beers and cider on-site by hand and in bottles, so you can always get the freshest beer. During the seasonal period, the brewery has previously released barrel-aged sours, chocolate porters, spicy pumpkin ales, and wheat beers.
Granite Belt Brewery only utilizes the purest water from Stanthorpe, the best malts, hops, and yeast, and the finest ingredients to make flavorful, dynamic brews. They always have a variety of seasonal brews available for tasting in addition to the core lineup of Pale Ale, Lager, IPA, Session Ale, Applethorpe Cider, and Irish Red Ale.
Beer tastings and sales are available every day of the week at Granite Belt Brewery. You are guaranteed to discover one or two favorites with more than 10 beers and ciders. Accommodation packages are available, which involve beer tasting, daily breakfast, and food platters.
Granite Belt Brewery has everything you need, whether seeking a romantic weekend escape, a function and wedding site for your special day, or just a cold beer.
Accommodations include 20 cedar cabins and 1 house (that sleeps 10) set on 30 acres of the most beautiful land.
What are other Stanthorpe Accommodations?
If there's not a Stanthorpe winery accommodation available you have alternative options. These highly rated Inns and glamping options are so close to the winery action you'll feel like you never left the vineyard.
Alure Stanthorpe Accommodation
Location: 280 Mount Tully Rd, Stanthorpe QLD 4380, Australia
Alure provides first-rate luxury accommodations in Stanthorpe through opulent, self-catering boutique villas and a Queensland glamping experience in a luxury safari-style tent. They also offer "pet-friendly accommodations" in the villas; however, only one dog may be reserved at a time.
For special events, Alure provides an amazing experience for all types of special romantic occasions. It is the ideal place to stay for a romantic trip with your partner and the making of priceless memories, whether it's for a proposal, honeymoon, anniversary, birthday, or just to get away from the hustle and bustle of everyday life.
Each villa is self-contained, distinct, and remote, situated on a hilltop surrounded by native bushland. The facilities are vast, and the decor is elegant.
This is a truly special place; the luxury will make you feel perfectly at home. There is lots of space for moving around and thoughtful extras like massage oil, plush robes, and even a GHD hair straightener.
You'll find rolling fields, granite boulders, wide-open skies, and friendly hospitality at Alure Stanthorpe, which is only five minutes drive from Stanthorpe. It is located in the Granite Belt, which is home to some of the best cellar doors in Australia.
Drive around the area or arrange a tour. The region is bursting at the seams with farm-to-table food. The Granite Belt restaurants are open to patrons, or they can choose to eat in the solitude of their villa and indulge in one of Alure's fine dining alternatives.
Barrel View Luxury Cabins Accommodation
Location: 137 Days Rd, Ballandean QLD 4382, Australia
Although it has a barrel-like exterior and interior, the Barrel View Luxury Cabins on the Granite Belt is everything from rustic. Instead, it focuses on high comfort levels, technology, and extras that make the trip memorable.
There are three barrels, each with a king-sized bed for two people. The room includes a breakfast or sunset tray for two and a bottle of the appropriate Granite Belt Odd Bird wine, either Barbera, Tempranillo, or Saparavi. You will be treated to an extraordinary experience from arrival, with expansive 180-degree views of Girraween and Sunset National Parks from your enormous, opulently furnished wine barrel.
You can go between the trio even if the interior design is the same in all three because of variances between them. The ultimate honeymoon getaway, Sapavari, at the end of the row, will soon have a private outdoor spa under development. Since you have wifi, you can preload or stream to your devices.
For people who enjoy the finest things in life, there is Barrel View. It is a 48-square-meter luxurious residence with a serene view. Ideal for couples who desire some alone time and convenient access to the Granite Belt's southernmost point.
31 The Rocks Accommodation
Location: 31 Brunckhorst Ave, Stanthorpe QLD 4380, Australia
31 The Rocks is a peaceful, convenient location outside Stanthorpe on the southern side, providing quick access to Granite Belt attractions.
The location of the villas is one of its outstanding qualities. You can hire out the entire villa complex by making a group reservation and inviting your closest friends to participate in the splendor. Relax and unwind during your vacations, or go all out and spend every minute the sun is up exploring nature.
Five villas are available, ranging from a cozy weekend home for two to one that can accommodate up to six people. All the accommodations have wood-burning heaters, fully functional kitchenettes, and expansive views of the Broadwater Valley. They are surrounded by natural bushland and granite rock outcrops. Birds, grey kangaroos, wallabies, and occasionally koalas can all be found there. The guest lounge is the perfect area for a group gathering, and it has complimentary Wi-Fi.
You can also ask for various platters & meals arranged with prior notice. Packages and specials are available, like the Strangebirds of Summer, which involves a light continental breakfast, a gifted bottle of a selected Strangebird wine, and a cheese & fruit platter for two persons.
There are no finer places to see the neighboring valley, the magnificent sunsets, or the lovely flora and fauna. You can walk the line between isolation and civilization by renting one of the villas and using the up-to-date amenities. You can have the romantic holiday you've been yearning for with breathtaking sights to create lasting memories, whether they reignite sparks or maintain the flame.
Two walking paths can be found on the grounds. Track 1 meanders through the forest before ascending to the granite escarpment's summit, where you'll be rewarded with breathtaking vistas – a great location from which to view the mesmerizing sunsets. Track 2 is a quick 10-minute bushwalk that passes stunning granite rock formations.
You can learn about the natural bush's wonders, including grass trees, native lavender, and wildflowers, on these quick treks.
Conclusion
There are many reasons to visit Stanthorpe and the Granite Belt, including the breathtaking scenery, delectable cuisine, and friendly residents.
Get away from the daily grind and get back in touch with yourself, the people you love, and the environment.
Visit local farmers, sample delicious food, and spend your days exploring Stanthorpe winery accommodations. You may also cozy up in a vineyard hut and temporarily disconnect from the outside world.
A journey to Stanthorpe and the Granite Belt is an experience no matter how you spend it.
Want to bring stanthorpe wine home with you?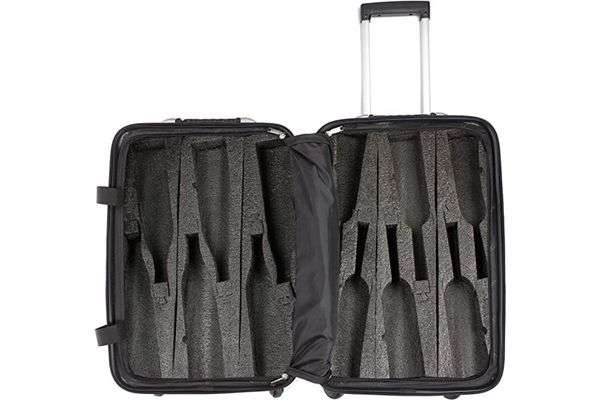 We recommend the VinGardeValise 12 bottle wine suitcase. There are a couple ways you can use this suitcase. One is, when you come home you only pack half the suitcase with wine and the other side clothes; or, what we do is bring a duffle bag to carry our clothes home. You can still check a duffle bag home btw, you don't have to schlep it around for all four connections.
Pro tip: you can also use the duffle bag to drop off your clothes to be laundered if you're doing an extended trip. Multiple uses for one duffle bag.
Stanthorpe Winery Accommodations FAQs
How many wineries are in Stanthorpe?
Stanthorpe has over 50 vineyards on its hillsides and is quickly gaining a reputation for being the place to try wines that aren't well known. The main varietals grown in the region are Syrah (Shiraz), Chardonnay, Cabernet Sauvignon, and Merlot. 
How many wineries are in the Granite Belt?
If you're looking for Cellar Doors to visit, The Granite Belt, Australia's highest wine region has over 50 cellar doors. The cool climate, granitic terroir and high altitude produce premium wines that are getting noticed all over the world.
What is the largest winery in the Southern Hemisphere?
Berri Estates, in South Australia, is the largest winery in the Southern Hemisphere. They crush around 220,000 tons of grapes every year which is about 1/3 of South Australia's entire crush.