Turkish Wines: Tasting Notes, style guide for wines to buy now
I've accumulated a lot of books about wine over the years, as one does I suppose.  As I started to research this post, I gathered a stack of some of my more generalized wine books, and started to look through them for information about Turkish wine.  
It took me about 23 seconds to figure out that Turkey and Turkish wine is largely absent from most wine books.
You might find a couple of sentences here and there, and (if you hit the motherlode) maybe even a paragraph.  Turkish wines are overlooked and overshadowed.
Turkey is the Jan Brady of the wine world.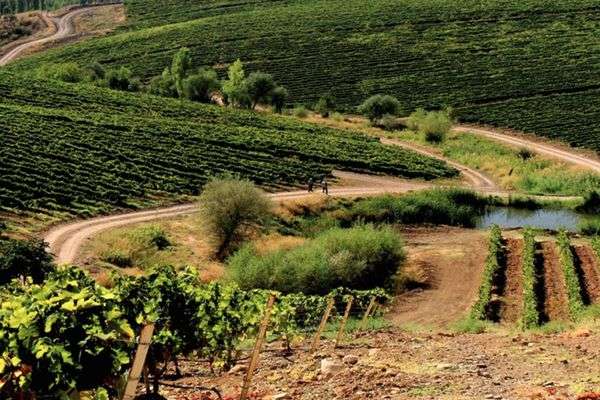 But it wasn't always that way.  Transcaucasia (Georgia, Armenia, Azerbaijan, and southeastern Turkey) was almost certainly Ground Zero for Vitis vinifera.  
Archeobotanists (yep, that's a real thing) have found evidence of grape-growing and wine making in Anatolia (central Turkey) dating back 7,000 years (think Neolithic Stone Age).  
Fast forward about 5,000 years, and there's evidence that wine played a prominent role in the ancient Hittite civilization of Anatolia.
The Hittites were were polytheistic, worshipping a multitude of mostly nature gods (Gozer not among them), and wine was used in both ritual and celebration.
But the Hittites weren't using wine just for religious purposes — they were ancient oenophiles.  Archaeologists have found cuneiform tablets indicating the Hittites had specific words for different types of wine.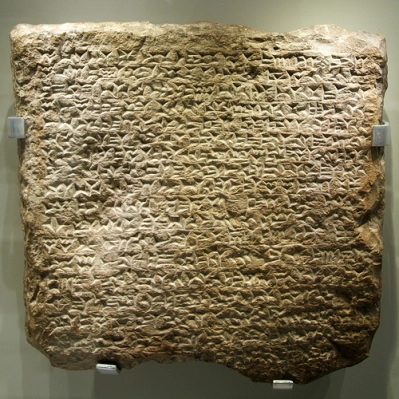 Turkey ranks 4th in the world for acres under vine, yet only 5% of those grapes are made into wine (most are eaten as table grapes or raisins).  
During the loooong Ottoman Empire (624 years is loooong), alcohol was more or less banned.  The Ottomans eased restrictions in the second half of the 19th century, and wine production increased dramatically.  
Up until World War I, Turkish wines were well known and regarded throughout Europe. But after World War I, and the subsequent conflicts between the Turks and the Greeks (they don't so much love each other), the Turkish wine industry nearly imploded.  
The Turkish government seized control of alcohol production in the mid-1920s, with the notable exception of wine.  
However, with few regulations on quality, wines tended to be mass-produced plonk.
It wasn't until the 1980s that Turkey began to fully modernize its winemaking techniques, turning an eye toward quality and craft.
Because Turkey is a predominantly Muslim country (98%), alcohol consumption is low (most of the figures I read indicate only around 15% of Turkish people drink alcohol).  
As such, the most popular drink in Turkey is tea.  But among those who do drink alcohol, the most popular drink is Raki, a clear anise flavored spirit similar to Greek ouzo. 
Beer is second in popularity, followed by wine.  And while it's not technically illegal to drink or make alcohol in Turkey, the government doesn't make it easy.  There's a whole array of restrictions:
Retail alcohol sales are banned from 10pm to 6am.
No alcohol advertising (this includes websites for wineries and other producers).
No consumer wine/alcohol tastings. Wineries and other producers must host private tastings to get the word out about their product.
Alcohol is taxed, and heavily.  There's an import tax as well as a Special Consumption Tax, based on the amount of alcohol in a particular drink (for wine, it's somewhere around $1.70 per liter).  All of this means that wine is expensive in Turkey.
Every bottle of wine sold in Turkey must include a warning label with the words, alkol dostunuz degildir,  which translates to alcohol is not your friend.  I am not making this up. (I'm also trying to picture those words on the back of a bottle of Bud Light.)
2022 Update: In recent years Turkey has developed a really interesting wine bar scene. Check out some of the can't miss wine bars in Istanbul.
In light of these restrictions, many wineries in Turkey have turned their focus to wine tourism (vineyard routes that focus on agriculture) and international markets.
Which brings me to how I ended up with two bottles of indigenous Turkish wine.
Drink any wine, any time, without ever pulling the cork. Whether you want a sip, a glass, or more, your last glass will taste just as amazing as your first.
Turkish Wine Of The Anatolia Region
I received two samples from the US marketing rep for Vinkara Winery, (vis-a-vis those website prohibitions, note the web address is usa.vinkarawines.com) located in Kalecik in north-central Turkey, within the ancient region of Anatolia.  
The climate in Anatolia is continental — cold winters and hot, dry summers.
Vinkara has 135 acres under vine, planted at 700 meters (for the metrically declined, that's about 2,000 feet) above sea level.
The Kalecik area is surrounded by mountains, which provide for large diurnal temperature changes (the difference between the day's highest temperature and the night's lowest temperature).  This is important because the high temperatures allow grapes to ripen fully, while the low temperatures preserve a grape's acidity.
Vinkara specializes in the production of indigenous Anatolian grape varieties:
It is my absolute pleasure to introduce these outstanding grape varieties to the world.  The wines that we are making have incredible, strong personalities and sing songs of our rich history. – Ardıç Gürsel, Founder, Vinkara
Before I get to these indigenous wines, we need a map (well, I need a map, anyway):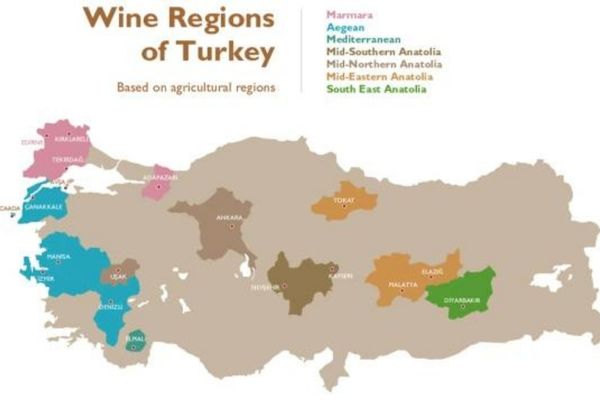 I'm afraid I wasn't brave enough to try my hand at making Turkish food, so ended up enjoying these two Turkish wines with Corned Beef & Cabbage . . . and you know what?  They were a pretty good match.
Turkish Wine Narince 2013  /86 points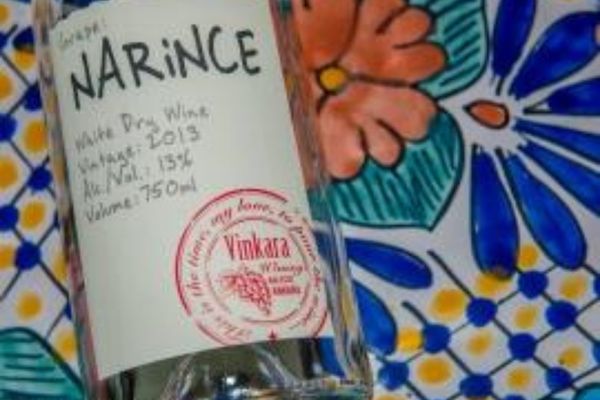 From the Black Sea region (in northern Turkey), Narince (pronounced Nah-rin-djeh), is indigenous to the northeastern region of Tokat.
Narince is grown more for its grape leaves (for use in dolma, a popular stuffed grape leaf dish) than for its use in wine.
Narnice translates to delicately, an appropriate descriptor for this wine.  
A lovely butter-straw color in the glass. Had I tasted this wine blind, I might have guessed it was a Viognier — the aromatics were so floral and perfume-like.  
Tropical flavors of pear, peach and pineapple.  Medium body, with a spirited acidity. 
Turkish Wine Kalecik Karasi Reserve 2012  /86 points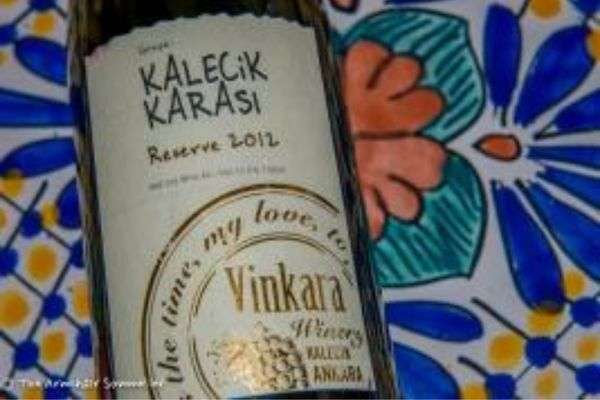 From Central Anatolia.  This wine is 100% Kalecik Karasi, (pronounced:  Kah-le-djic-car-ah-ser).  Kalecik Karasi is sometimes abbreviated simply KK, which is probably for the best (at least for those of us who have no Turkish language skills).
Kalecik Karasi is mostly grown in the north-central region of Turkey, near the town of Kalecik, and is often compared to Pinot Noir.  
Aged for 14 months in French oak.  Ruby red, tinged with purple.  I found it to be very soft and approachable right out of the bottle.  
Medium body, with loads of red fruit flavors.  As it sat in the glass, a distinctive and familiar funk evolved.  The finish was a bit abbreviated, but overall, a really fun, unique glass of wine.  
Turkish Wine Final Tasting Notes
I don't envy the task facing Turkish wine-makers.  It's not easy to market indigenous wine grapes outside of Turkey — few people have ever heard of them, fewer still can pronounce them.  
But kudos to the Vinkara team for their efforts and their wine labels — attractive, simple, and informative, with the grape name and some basic info front and center.
It was a pleasure to taste both of these wines.  I opened them with a mix of curiosity and reservation, and I was pleasantly surprised.  
Quite honestly, I expected them to taste a little rough around the edges.  They were anything but.  
Instead, I found two wines that were expressive and rich — in both character and history.  If an overlooked and overshadowed Turkish wine happens to cross your path please give it a second glance.
Jan was always my favorite Brady sister, anyway.
The Essential Guide to Turkish Wine: An exploration of one of the oldest and most unexpected wine countries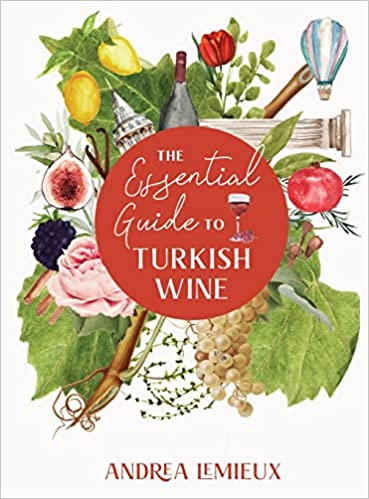 Taste Wine Like A True Armchair Sommelier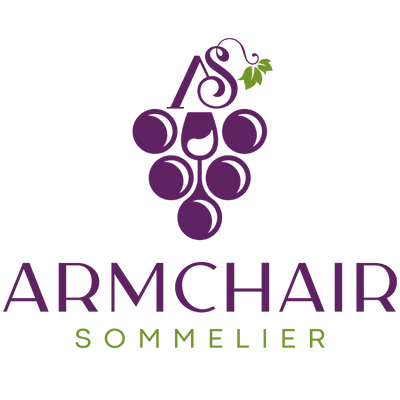 Spice up your next party with our FREE wine tasting guide! Learn what to look, smell, and taste for while appreciating your favorite bottle. We've also included a printable tasting notes template and a tasting wheel.