Viognier Wine: style Guide, wine pairing & buyer's guide
Viognier wine "Vee-own-yay", from the southern France, is similar to Chardonnay. Medium+ body. Low to medium acidity. You'll be surprised to see the food pairing we chose.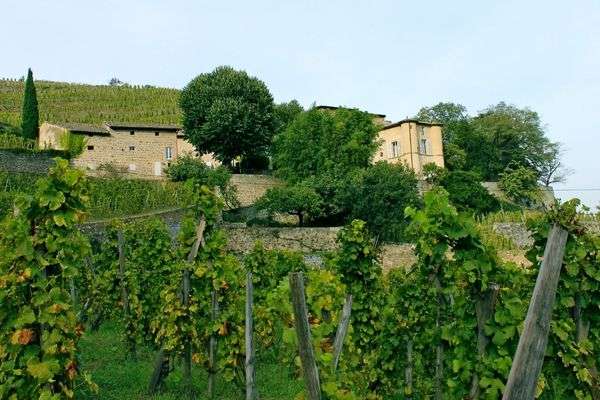 Is Viognier Wine Worth Buying?
If you've never tried Viognier and you like Chardonnay, you should definitely give Viognier a try. It's a touch fruitier than Chardonnay but with the same weight. It is not as acidic as Sauvignon Blanc so if you're not a fan of acidic wine, Viognier is the right choice for you. When you think of a food pairing for Viognier wine, oysters, chicken and pork are your best bet. Next time, I'll be pairing my Viognier with pork tenderloin. Stay tuned.
What Is Viognier Wine?
Viognier has its origins in France, and is pronounced "Vee-own-yay", which is French for let's throw in a silent G just for kicks.
In the 1960s, Viognier almost went the way of the dinosaurs, but has enjoyed a remarkable renaissance in the last decade or two.
Most of the world's Viognier is grown in France.  It's the darling (and only grape permitted) in the Northern Rhône appellations of Condrieu and Château Grillet.  Outside of France, you can find significant Viognier plantings in the United States (the Central Coast of California and Virginia, particularly) and Australia.
Viognier is temperamental and difficult to grow (kind of like a teenager).  It ripens early and is notorious for low yields.  It's naturally low in acid, and needs a warm, sunny climate to ripen fully.  But woe is the winemaker if it's too warm and Viognier gets too ripe — you end up with a wine that's higher in sugar and alcohol, and could potentially be flabby.  Oh, and Viognier is also prone to the fungal disease, powdery mildew.
Viognier has a genetic link (kissing cousins?) to both Nebbiolo and Syrah.
Viognier wine is sometimes blended with Syrah, especially in the Côte-Rôtie region of the Northern Rhône Valley, but also in Australia and California.  According to Jancis Robinson, "the original recipe for the North Rhône red wine Côte Rôtie was Syrah with a seasoning of Viognier; a small proportion, around 5% say, helps stabilise the wine's colour and deepen its texture."
Viognier can be wildly different stylistically. It can be light & lean or rich & bold. It all depends on where its grown and the winemaker's touch (oak aging vs. no oak/neutral oak).
Pay attention to the ABV on a bottle of Viognier. 12-14% ABV = leaner. 15%+ ABV = bigger, lusher, hotter.
Viognier Wine Pairing
Before I landed on Viognier, I agonized about the wine pairing for this dish.  It was easier to make the dish than pair it. Light red or medium white?  Light red or medium white??  
I almost went with a Pinot Noir because of the pancetta and sage.
But something felt right about white with this dish.
Winter Squash Carbonara with Pancetta and Sage.
A "real" carbonara is made with eggs and cheese, so the Italians were in full revolt mode in the comments section.  I was surprised by the texture of this dish. There's such a creaminess to it . . . but it's squash!  
The sage and pancetta are gorgeous contrasts.  And, since my grocery store  sells pre-cubed butternut squash, and pre-diced pancetta, this was an über-easy recipe to pull off.   I didn't make any changes to the recipe (except for forgetting the shaved Pecorino cheese).
Viognier also makes a great wine pairing with oysters.
What Does Viognier Taste Like?
The Viognier wine that I chose was one from central Virginia because I loved this Viognier when I was there last (also this was the Viognier that was available to me). The pairing was a thumbs-up for me.  
The weight of the Viognier and its lower acidity worked well with the faux-creaminess of the squash sauce.   And the sage contrasted well with the tropical flavors in the wine. Viognier tastes fruity and some relate that with "sweet" which worked well with the sage.  And it didn't totally fight with the pancetta, so I'm calling it a win.
King Family Vineyards Viognier
From the Monticello AVA in Virginia.
King Family Vineyards Viognier is consistently good as a middle-ground between the lean, quiet styles of Viognier and the louder, more tropical styles. This one is medium bodied, with flavors of peach, mango and honeysuckle.
Last time I checked, winemaker Matthew Finot ages his Viognier in neutral French oak.  13% ABV. It's been a while since I've been down to central Virginia. It remains to be seen whether Viognier will really grab a foothold in Virginia.
Despite its official grape status, Viognier remains only the 5th most planted grape in Virginia (after Chardonnay, Cabernet Franc, Merlot, and Cabernet Sauvignon). Nonetheless, Viognier loves Virginia — it tolerates the summer heat and humidity well, and its thick skin and loose clusters allow for any moisture to dry before it turns to rot or powdery mildew.
Where To Buy Viognier
Full Bodied Viognier Wine
99 points
Winemaker Notes
The Shiraz Viognier is Clonakilla's flagship, a careful selection of the best of the Shiraz Viognier parcels we craft each year from our Murrumbateman vineyard. Deeply aromatic, opulent and powerfully ripe. Plush tannins and layers of dark fruit deliver a robust palate and serious cellaring potential.
Enjoy Clonakilla Shiraz Viognier with roasted chicken and sauteed mushrooms.
Medium Bodied Viognier Wine
91 points
Winemaker Notes
The Y Series Viognier is on the fresher, lighter end of the Viognier spectrum. It shows all the unique characteristics of this exotic variety, without being too rich on the palate.
Bright straw in color with green hues. Aromas of orange blossom with fresh ginger, hints of honeysuckle and white flowers. Fresh apricot, white tea, dried figs and fennel lead to a creamy mid-palate with a silky, textural finish.
Best paired with harissa chicken or crispy rice pancakes with potato and chickpeas.
Light Bodied Viognier Wine
92 points
Winemaker Notes
Crisp, bright, and vivacious, Chenin Blanc + Viognier 2021 is an aromatic white blend boasting a bouquet of honeysuckle, orange blossoms, nectarine, white peach, and ginger spice. The entry is both bright and mouth-filling exhibiting refreshing acidity and roundness, opening to flavors of tangerine, lime, and lemon curd, lemongrass, ginger, white peach, and green apple. This delicious wine finishes clean and long with a lingering hint of lime.
Chenin Blanc + Viognier is a versatile wine that pairs well with a number of dishes, from light salads to seafood, and most notably with foods with a hint of spiciness—its subtle sweetness provides balance alongside a touch of heat. It's the perfect pour for the start of an evening with appetizers such as goat cheese, radishes, and olives. Also try with a flavorful Thai curry, a frittata with sweet onions and ricotta, or a shrimp and avocado tostada.
Blend: 80% Chenin Blanc, 20% Viognier
Related Articles
Viognier Wine FAQ
Is Viognier the same as Sauvignon Blanc?
Viognier and Sauvignon Blanc are both dry white wines, but that's about where the similarities end. Sauvignon Blanc is much more acidic than Viognier, and produces a sharper, racier flavor. Viognier is a rich, oily white wine.
Why is Viognier so popular?
Viognier wines are so popular due to their versatility based on the climate where they are grown, which is noted in our style guide. They are well known for their floral aromas which are also found in Muscat and Riesling wines.
How is Viognier pronounced?
Viognier is pronounced Vee-own-yay.
Is Viognier considered a dry white wine?
Viognier is classified as a dry white or semi-sweet wine. Even though Viognier is fruity, it isn't very sweet.  Viognier wine has low acidity, while the ABV is usually 13%.
How does Viognier compare to Chardonnay?
Viognier generally has less acidity than Chardonnay but does exhibit the same weight. Viognier is more perfumed than Chardonnay also. Both are dry/off-dry and have peachy flavors.