Biltmore Winery & Estate: It's an experience
We visited the Biltmore Winery and Estate in North Carolina. The Biltmore Estate is sometimes compared to Downton Abbey (they're both castles owned by über-rich people).
Oh, Carson? Be sure to set both white and red wine glasses at the dinner table tonight.
When I grow up, I want to be the Dowager Countess of Grantham. Oh, how I've missed her. And in superb form. My favorite quote : "There's nothing simpler than avoiding people you don't like. Avoiding one's friends, that's the real test."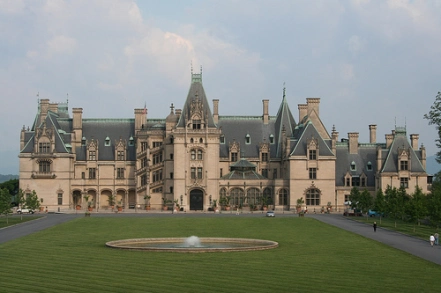 The History Of Biltmore Winery And Estate
Built during the height of the Gilded Age (between 1885 and 1889), the Biltmore Estate in Asheville, North Carolina was home to George and Edith Vanderbilt, and remains owned by Vanderbilt descendants today.
George Vanderbilt hired Richard Morris Hunt to design and build the home and Frederick Law Olmsted to design the gardens and grounds.
If Olmstead sounds familiar, he is best known for designing the grounds of New York City's Central Park and the U.S. Capitol in Washington, D.C.
Nothing but the best for the Vanderbilts.
The house was designed in the French Châteauesque Style (meaning, if you can't get lost inside, it's not big enough).
The estate has 250 rooms (33 bedrooms, 45 bathrooms and 65 fireplaces). You need a heck of a downstairs crew (and a lot of firewood) to manage that.
In 1942 the Music Room in Biltmore House stored priceless works from the National Gallery of Art during World War II. 62 paintings and 17 sculptures from the National Gallery of Art were placed in the Music Room.
In 1971 George's son, William Cecil, plants the first grape vines just below Biltmore House.
In 1983 the Biltmore Wine Company is established and opens to the public in 1985.
By comparison, Highclere Castle, the real Downton Abbey, was built in 1839 on the foundation of a castle dating back to the 8th century (that would have been right around the time Vikings were plundering most of Europe).
Highclere Castle is the home of the Earl and Countess of Carnarvon, and touts 60+ bedrooms, an unknown number of bathrooms (seriously, this seems to be some kind of British state secret) and 25 fireplaces.
Fiona, the eighth Countess of Carnarvon, was once quoted as saying, "I suppose if you know how many rooms you've got, you haven't got a very big house."
Alrighty then. It appears I haven't got a very big house.
Biltmore Winery
Sharon Fenchak is the current winemaker at Biltmore Winery and has been as of 2018.
The Biltmore Winery's philosophy of keeping each wine true to varietal character and consistent from vintage to vintage.
That means that winemaker at Biltmore Winery plays a big the role in the profile of the wines.
The Biltmore Winery sources fruit from multiple grape-growing regions around the nation and produce the wines at Biltmore Winery.
Wine at the Biltmore Estate was the vision of George Vanderbilt's grandson, William Cecil.
The first vines were planted in the early 1970s. Admittedly, North Carolina isn't known for its great vineyards, and there has been a lot of wine grape trial-and-error at Biltmore.
But today, there are six grape varieties that "have proven to be particularly well-suited for western North Carolina terroir and the microclimate of the estate" — Riesling, Chardonnay, Viognier, Cabernet Sauvignon, Cabernet Franc, and Merlot.
The tasting I participated in was from Biltmore's "American Series".
Only one of the wines, the Cabernet Sauvignon, has any grapes sourced from North Carolina. So, I'm not really tasting the terroir of North Carolina as much as I'm tasting Terroir d'Merica, made at the Biltmore Estate.
As near as I can tell, these are Biltmore Estate's entry-level wines.
Biltmore Estate Pinot Grigio /84 (Good)
Pinot Grigio "with touches of Sauvignon Blanc and Chardonnay".  
Sourced from California (90%) and Washington (10%). Pale, almost clear in the glass. Nose is young and clean — aromas of green apple and lemon.
Dry to off-dry, light-bodied, slightly-acidic, with tart grapefruit and pear flavors.
Not terribly complex on the back end, but a fresh and pleasant wine. 13.6% ABV.
Biltmore Estate Pinot Noir /83 (Good)
Pinot Noir "with a touch of Syrah". Sourced from California.
A clear, pale ruby color in the glass. Nose is young and slightly candied — strawberry jam comes to mind.
Just a touch of faint Pinot funk on the nose. Light-bodied, somewhat diluted flavors of strawberry, white pepper and smoke.
The finish is a little underwhelming, but the vanilla that lingers is nice. 14.2% ABV.
Biltmore Estate Cabernet Sauvignon /84 (Good)
A blend of Cabernet Sauvignon, Syrah, Merlot, Cabernet Franc, Grenache, Malbec and Pinot Noir.
Sourced from California (46%), North Carolina (45%) and Washington (9%). A medium ruby color in the glass.
Nose is young — I'm getting plum, tar and cedar. A little unruly upfront, with flavors of currant and cranberry. Finish doesn't stick around for long, but I do get a passing and intriguing cocoa note. 13.6% ABV.
Overall, these three Biltmore wines have pole-vaulted over the last NC wines I tasted in terms of quality (sorry Duplin).
A solid foundation of good wines. The Dowager Countess would approve.
But, please don't only visit the winery. The Biltmore House and Estate is stunning.
Plan to spend the day. Tour the house, make a reservation for lunch on the property, then cap off the day with ice cream and wine. Not necessarily in that order.
Biltmore Winery FAQ
Can you just visit the Winery at Biltmore?
To access the winery, you'll need to have a daytime ticket, a Biltmore Annual Pass, or a stay at one of the estate's overnight properties.
How long is Winery tour at Biltmore?
The winery tour is short. If you want to take some walks around the gardens and visit the winery and Antler Village, plan on at least six hours. The house tour can take 90 minutes to two hours, depending on crowds.
Does the Biltmore have a vineyard?
The vineyard is nestled in a valley near the French Broad River on the west side of the estate. Varieties grown include Chardonnay, Riesling, Viognier, Cabernet Franc, Cabernet Sauvignon, and Merlot.
Who owns Biltmore Winery?
The Biltmore Company is an American firm that owns and operates Biltmore Estate in Asheville, North Carolina. The company is owned by the family of William Amherst Vanderbilt Cecil, the younger grandson of George Washington Vanderbilt II.