Early mountain vineyards
Early Mountain Vineyards
6109 Wolftown-Hood Rd
Madison, VA 22727
Silicon Valley moves to Madison, Virginia. 
Early Mountain Vineyards is owned by Jean & Steve Case (of AOL fame & fortune).
A couple of weeks ago, I visited Early Mountain Vineyards in Madison, Virginia.
And it's a stunning venue — it might be the prettiest winery I've ever visited. Absolutely no expense was spared to create an exceptional aesthetic experience.
But how does the wine taste?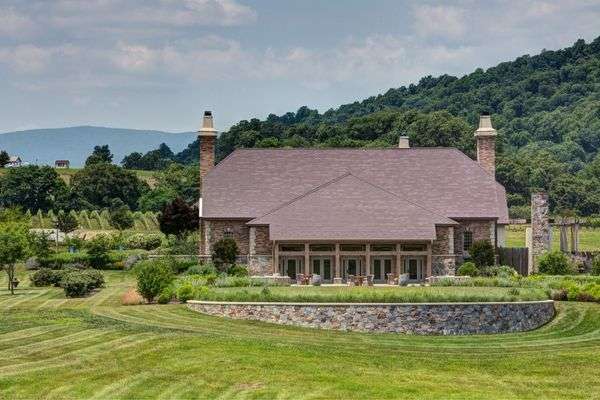 Early Mountain Vineyards History
In 2005, the Sweely's planted the first vineyards on the property.
Jean and Steve purchased the property in 2010 and re-opened it under the Early Mountain Vineyards in 2012.
In 2015, Early Mountain Vineyards expanded to include Quaker Run Vineyard, which is north of the Early Mountain.
In doing so, the production of classic Bordeaux styles, such as Cabernet Franc and Merlot, increased.
Malvasia Bianca, Sauvignon Blanc, and Tannat have also been added.
In 2016, Early Mountain Vineyards was voted the number one tasting room in the nation by USA Today in its 10 Best Readers Choice contest.
I felt more like I was at a restaurant than a winery. Maybe because we were greeted with a sign on the door that advised us "no outside food or drinks allowed".
I would have like to see that on their website, as we walked in with a picnic basket.
Early Mountain Vineyards has a really interesting business model. It's called Best of Virginia.
They host cooperating wineries from all over the state (the selection of which rotates) whose wines are available for tasting as part of a "wine flight".
I love the concept of showcasing the best Virginia wines in one place. When we lived in Monterey, California, we used to visit a super-fun collaborative tasting room called A Taste of Monterey.
I've long wished we had a similar venue here in Virginia. Early Mountain Vineyards is as close as I've seen to that idea.
Early Mountain Vineyards Lunch

We ordered a Mini Charcuterie plate with local meats and cheeses along with our other selections of French Onion Soup and Ham & Brie Panini. Lunch was quite good.
Early Mountain Vineyards Wine Tasting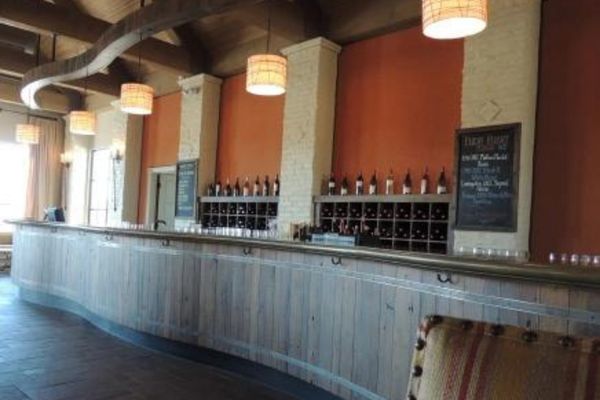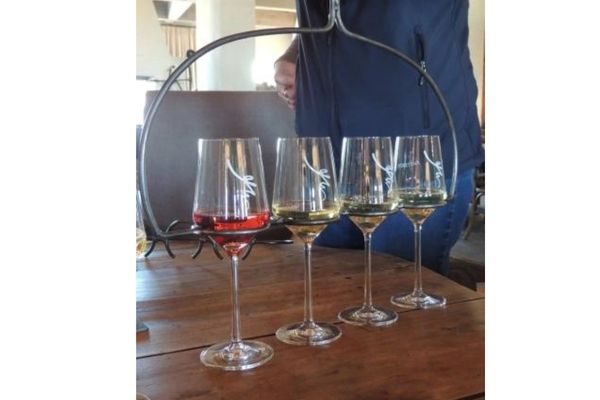 Self-guided flights of wine are served at the tasting bar or patio and range from $24-26 for four wines.
Early Mountain Vineyards Malbec Merlot Rosé
Not a bad little Rosé.
Delicate and dry with bright cherry flavors and a buttery finish.
Early Mountain Vineyards Block 11 White Blend
Very Viognier-like. Virginia is quickly becoming the Viognier capital of the US. 
65% Petit Manseng, 35% Moscat.
Petrol nose with tropical flavors of pineapple and gardenia blossom.
Lovingston Seyval Blanc 2012
Bone dry. Mouth-puckering, itchy-tongue dry. There's a bitter pineapple flavor.
I don't dislike it, but it needs the right food pairing I think.
Will I visit Early Mountain again? Probably. Maya Hood White is Early Mountain Vineyard's winemaker and I'd like to check out her style of Cabernet Franc.
I'll have a different set of expectations. I was planning on more of a wine tasting this time instead of dining at the restaurant.
You aren't so much wine tasting at Early Mountain Vineyards as you are sitting down to experience a snapshot of Virginia wine and food.
If you go in knowing that . . . you'll have a great visit.
My biggest disappointment? I left not knowing any more about the wines than I did before we got there.
I wanted to taste and learn more of Virginia. I'd love to see an option for a more traditional tasting upfront (and tasting sheets with some information about the wines) with the option to purchase a flight of my favorites to take to a cozy table afterwards.
But on the plus side, I spent a couple of hours with a good friend, sitting in front of a warm fireplace, eating good food, and drinking some pretty decent wines.
Not a bad way to spend an afternoon.
Early Mountain Vineyards FAQ
Who owns Early Mountain Vineyards?
Early Mountain Vineyards is owned by Jean & Steve Case (of AOL fame & fortune).  
Is food allowed in Early Mountain Vineyards tasting room?
Outside food is not allowed inside the tasting room.