King Family Vineyards: Review & Tasting Notes
King Family Vineyards
6550 Roseland Farm
Crozet, VA 22932
At King Family Vineyards you can have a beautiful wedding, watch a Polo match and tour the vineyards. But how does the wine taste? Let's find out.
Once upon a time, I visited Virginia wineries on the weekend, but not anymore.  
Virginia wineries have been discovered (especially as a bachelorette party destination), and they are über-crowded on the weekends.
Disneyland crowded. Crowds give me the vapors. Also, Hummer limos full of drunk bridesmaids get on my nerves.
So what's a crowd-loathing wine girl to do? Visit wineries on a Tuesday morning! It's one of the perks of being a stay-at-home mom with kids in school.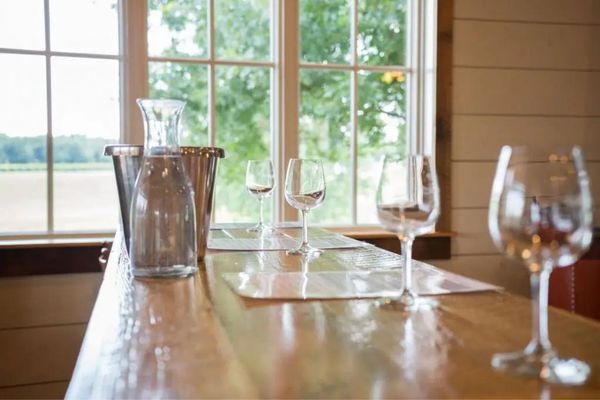 King Family Vineyards is one of my favorite Virginia wineries.  I'm even a member of their wine club — the only Virginia club in my cellar.  
I have a somewhat antagonistic relationship with Virginia red wines, and King Family makes two of the few I enjoy.
King Family Vineyards: The Property
Owned and operated by the King Family, King Family Vineyards is located in Crozet, Virginia, just west of Charlottesville.
It's nestled in a valley at the foothills of the Blue Ridge Mountains, and it's a little slice of gorgeous.
There's a full size polo field on the property, and polo matches are held there every Sunday.
If you've never seen a polo match before, put it on your bucket list. Pack a picnic and tailgate on the lawn.
But be prepared — polo people are kinda fancy. It's a seersucker and sundress crowd.
King Family Vineyards: The Wine Tasting
The tastings begin at $15 or free for wine club members and a guest.
We tasted 5 wines on our recent visit. I think that's a reasonable number to taste at a single sitting.
More than 7 or 8 and my palate gets a little fuzzy (and so does my brain). So many wineries have tasting lists that stretch into the teens . . . too many.
King Family Vineyards Viognier
A home-run for Virginia Viognier.  Well balanced acidity. Tropical notes of mango and peach with a slightly spicy finish.  
I've said it once, I'll say it again: Virginia is for Viognier. We need t-shirts.
I'm dying to pair this with Chicken Tagine with Apricots.
King Family Vineyards Roseland
74% Chardonnay, 26% Viognier. Partial malolactic fermentation. The Viognier lends some floral and spice notes to balance out the toasty oak of the Chardonnay. A little green apple sneaks in. A very enjoyable wine. The food pairing potential is off the charts!
King Family Vineyards Crosé
LOVE this. Bone dry Rosé. It's a Merlot base, made using the skin-contact method. Contact for 48 hours and then direct press.
On the lees for 5 months. Grapefruit and currant. Lime finish. Fresh and easy. summer in a bottle. YUM.
King Family Vineyards Merlot
I was told this was a difficult vintage because they had a lot of rain right before they harvested the grapes. 80% Merlot, 10% Malbec, 8% Petit Verdot and 2% Cabernet Franc.
16 months in French oak.
Lots of chocolate on the finish.
King Family Vineyards Meritage
43% Merlot, 27% Petit Verdot, 22% Cabernet Franc, 8% Malbec. Each variety was aged for 6 months in French oak individually before blending. After blending, it spent 18 months in French oak. Loaded with cherry and blueberry. Well integrated tannins. Huge vanilla finish. Unusually full and rich for a Virginia red.
King Family Vineyards Seven
Named for the 7th Chukker in polo. (Think 19th hole of golf). We didn't get to taste this on our most recent visit, because it was sold out. We tasted it back in November, and I was instantly hooked. A port style wine aged in Kentucky bourbon barrels for 2 years, it's a knockout! And could potentially get you into a lot of trouble.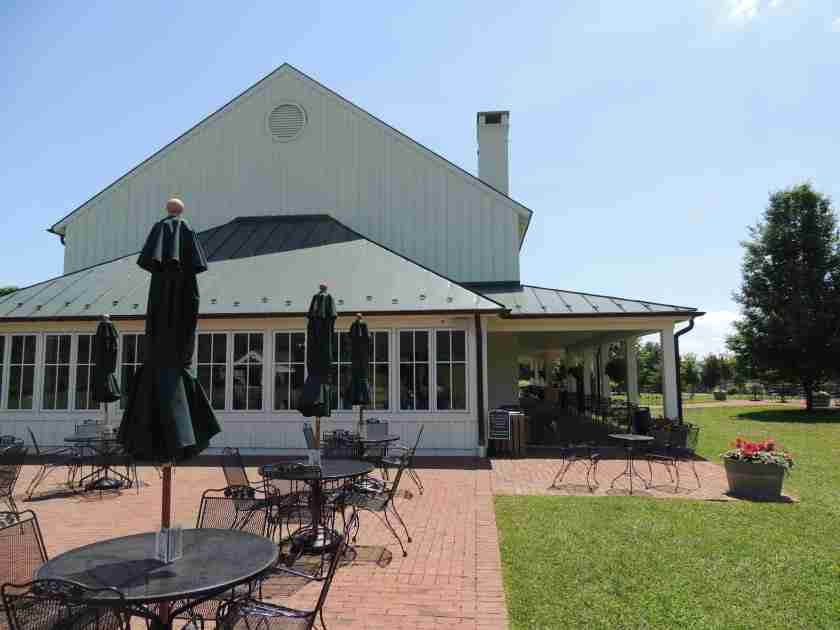 After we tasted our wines, we headed to the patio with a bottle of Viognier and our picnic.
The patio and grounds are beautifully landscaped. Very peaceful and inviting. I'm not sure it would be so peaceful on the weekend, but for today it's peaceful.
There's plenty of room on the property for bored kids to throw around a frisbee or football.
But if you have to be inside the tasting room with kids, that might get a little stressful. There's not a lot of room to spread out, and there are lots of shiny baubles at eye-level to attract the tiny humans. Just something to keep in mind.
There's even a winery dog. He hung out with us for over an hour. I'd like to think it was my sunny personality that had him glued to our table, but more likely it was the ham scraps.
King Family Vineyards FAQ
Who owns King Family Vineyards?
David and Ellen King started the vineyard and winery in 1996. David put in all of the original vines and left as his legacy an ongoing mission to grow and improve the vineyard.
How many acres is King Family Vineyards?
King Family Vineyards has a total vineyard acreage of nearly 30 acres, with an additional 20 acres under vine on a neighboring farm.