Everything You Need To Know About Mui Ne Wine Castle In Vietnam
I had never heard of Mui Ne until a recent trip to Vietnam. Furthermore, I had never once thought about Vietnam whenever I heard the word 'castle.' So, I'm fairly confident when I say 'there is a Wine Castle in Mui Ne Vietnam' you'll want to know more. I'm here to tell you that it's true.
Not only is there a Wine Castle in Vietnam, but it's well worth a visit if you find yourself near the South-Central coast of Viet Nam with a few hours and a love for quality wine.
fun fact: The name of Vietnam was once spelled as two words (Viet Nam, coming from the Vietnamese for "southern Viet people"), but is now generally spelled as a single word.
Mui Ne, Binh Thuan Province, Vietnam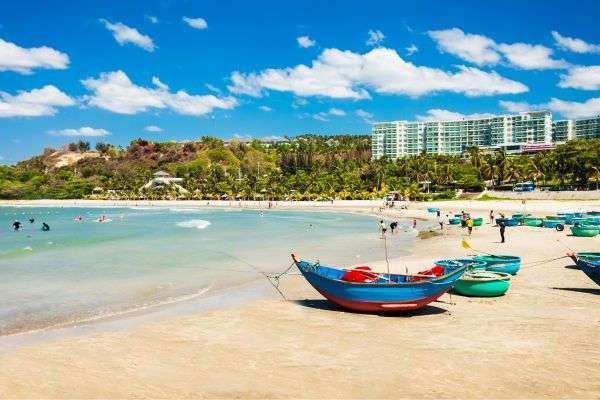 Tucked away as one of the many fishing villages chaining along the East coast of Viet Nam, Mui Ne is part of the Binh Thuan Province. Mui Ne specifically, and some of the surrounding area beaches, were serendipitously popularized around the mid-nineties as they were a prime viewing spot for the solar eclipse of 1995. From then on, it seems that savvy tourists have been talking about Mui Ne ever since.
It's worth noting that while other coastal cities have many expansive sandy beaches and sprawling shorelines where travelers can spend the day lounging, Mui Ne offers more of a variety of things in lieu of a typical lazy beach day. Besides the normal hot weather, delicious restaurants, cool bars, and small shops, Mui Ne has both red and white sand dunes, a small stream for strolling along, and enough seafood to satisfy even the hungriest Westerners without pinching your budget.
However, for many, the main attraction is the RD Wine Castle of Mui Ne. Located in the massive Sea Links City resort, the RD Wine Castle has established itself as a bridge between the Medieval and Modern Ages, a link between a small village in Viet Nam and America's prestigious Napa Valley wine region. 
The RD Wine Castle of Mui Ne
A first of its kind in the entire nation, RD Wine Castle in Mui Ne contains over 20,000 bottles of wine imported by Rang Dong (RD) Group directly from the RD Winery in Napa Valley, California. With over 18 million dollars in investment in California, RD Group is producing an array of award-winning wines and storing them all in RD Wine Castle in Mui Ne for you to tour and enjoy.
I traveled to Mui Ne to see the RD Wine Castle with my wife a few months ago after hearing whispers of a 'wine castle' while in a neighboring coastal city. To set expectations, we are in our thirties, love wine, and don't get pretentious about it, but can tell the difference between table wine and a nicer bottle…however, both bottles are welcome in our house. My wife is Vietnamese, and I am American, so of course, we thought this would be a perfect chance to see how a union of America and Viet Nam could produce a Castle in Southeast Asia full of wine.
As we approached RD Wine Castle, the sheer size of the complex was amazing. You truly feel that you are approaching a Medieval fortress. Surrounding RD Wine Castle are the grounds, spotted with sculptures, waterfalls, small ponds, and paths which all make for excellent photo ops.
Tour Experience At RD Wine Castle
We were ushered in from the sun quickly and asked to stand in front of a fan while our body temperatures dropped. Not because the employees wanted to put us on the tour as soon as possible but because the wine cellar is carefully regulated and the degrees at RD Wine Castle must stay within a specific range. Don't worry, there is plenty of time to tour the grounds afterward.
The tour begins in the cellar hallways as the damp air and dark atmosphere are a wonderful break from the Viet Nam sun. Along the way, you see real-life representations of the materials, processes, and tools used to produce RD Wine in Napa Valley.
To drive home the Medieval feel of the Castle, there are photo ops along the way. There is a large table set for a King and Queen's feast. Racks of swords and shields, fireplaces and mantels. A stone well and numerous barrels adorned with cheeses and cured meats. There is even a room with a miniaturized mural of the ancient wine-making process, starting with a statue of a busty maiden stomping grapes by foot. In our experience, no one ushered us on quickly. We were given time to linger and take photos while being lost in Renaissance role-playing for a few minutes.
After winding through the storeroom and cellar, you return upstairs into what I would call a gallery and sampling room. Decorated in a lavishly rich style, with pillars, marble floors, and chandeliers, tour-goers sat at a table of about 6 people for a very formal wine tasting. The glasses, the table clothes, and the waiters in black tie all make the experience feel like you are a true wine aficionado… which we are not. It was greatly appreciated. By the end of the tasting, we had tried four different RD Wines from Napa Valley, California.
Some of the wines we enjoyed were the RD Napa Valley 66 Cabernet Sauvignon. This ruby-red wine had some deep flavors of currant and chocolate with a lovely full-fruit smell. The RD Napa Valley 99 Syrah had almost a smoky aroma but was fruit-forward with a lingering finish. All of the wines we tried at RD Wine Castle, and the three bottles we took home, were much better than the wine we are used to drinking and all received raised eyebrows and wide eyes when we shared them at dinner with others. Very nice to see someone in Viet Nam sharing a quality product with a nation relatively nascent in their love of Western and European wines. 
The bottles we purchased were between 40 USD to around 100 USD, but the sky's the limit, as they say. RD Wine Castle has many very tempting bottles for much more than we could spend that day. For example, the RD Napa Valley Hundred Knot Cabernet Sauvignon was much pricier but the tasting notes and recommended pairings alone – drink with grilled portobellos or sesame ginger tofu – made us consider how many bottles we could actually bring back with us.
One thing worth noting is that the bottles were sold in protective boxes, so just add some clothes to ensure they will travel safely. We liked this final touch and attention to detail.
After exiting the tasting room, there was still more to see. There was a cafe, a small play area for kids, a high-end shop that appeared to have jewelry, and of course the rest of the property to explore. With purple teeth and rosy cheeks, we smiled wide and enjoyed the landscaping and nature surrounding RD Wine Castle.
Reflections On Touring The RD Wine Castle
As we were exiting, with bottles in hand, we saw two tour buses pulling into the parking lot. This made us think that coming in the morning was the best choice since we tend to like smaller groups and quieter experiences. The ticket prices were fine, with an adult ticket costing around 10 dollars USD at the time of writing. The hours, from 7:00 to 7:00, leave a lot of time to arrive, and you can even come earlier to avoid both crowds and midday heat. We are not afraid of a wine tasting at 8:00 and you shouldn't be either.
I think that this tour is for anyone who wants to round out a few days in Mui Ne. The tour, photos, sampling, and shopping all took us around 2 hours, but I could see how people might linger longer. It would be a good idea to come to RD Wine Castle in Mui Ne just to break up a trip down the coast of Viet Nam. However, I think that the tour of RD Wine Castle complimented everything else we packed into two days nicely, so I would recommend it as a part of a day's worth of activities.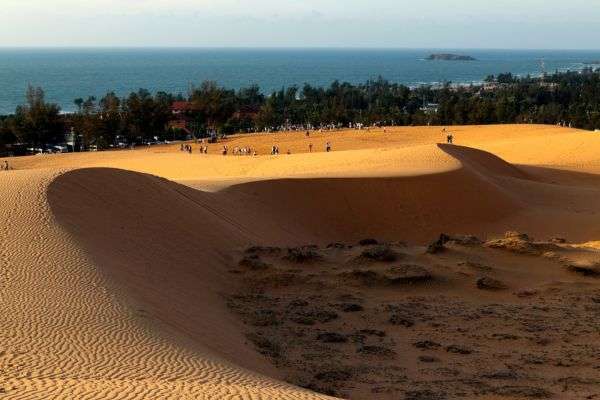 I have heard the creator of RD Wine Castle and RD Winery in Napa Valley was born and raised in Nui Ne. While I am not sure, I know that spending some time on the internet might yield the story behind those comments. For me, it's not necessary to search out.
It is clear to me that someone who cares about this town very much, and about wine very much, has fallen in love with Napa Valley in America and worked hard to share their passion with Mui Ne in Viet Nam. Along with the awards given for their wine, I hope recognition is also given for whoever it is who decided not to stay in America with their fortune but share it with this coastal village as well. A very noble choice indeed!
Where To Stay In Mui Ne
When I first set foot in the enchanting coastal town of Mui Ne, Vietnam, I was overwhelmed by its sheer beauty and tranquility. Nestled along the stunning shores of the South China Sea, Mui Ne is a hidden gem that offers a unique blend of natural wonders and vibrant culture.
So, here's a guide where you can find the perfect haven to soak in all the delights Mui Ne has to offer. Mui Ne has something special for everyone, and your choice of accommodation can make it all the more magical. 
Lotus Resort and Spa
For example, while in Mui Ne we climbed the red sand dunes and watched the sunset. We stayed at a lovely resort called Lotus Resort, where we had a stylish, clean room and buffet breakfast each morning. We walked up Fairy River, twisting and turning through the Vietnamese landscape. And, of course, we ate at different seafood restaurants each night, where we struggled to spend more than 25 dollars for seafood for two. RD Wine Castle in Mui Ne really is an intoxicating and relevant experience that pairs well with the rest of the town.
Mui Ne Hills Budget Hotel
The Mui Ne Hills Budget Hotel, which overlooks Mui Ne Bay from a 300-meter-high sand dune hill, is only ten minutes from the closest beach.
This hotel is super cute with air-conditioned private rooms and en-suite bathrooms with rain showers are available. A pool, free WiFi, and a handy 24-hour check-in service are available.
You can purchase tickets for local tours and buses at the tour desk. Transfers to and from the airport are available for an extra fee. On-site options include luggage storage and motorcycle rental.
The Mui Ne Hills Budget Hotel is near Phan Thiet's downtown, Mui Ne's fishing village, the Fairy Stream, and the Red Sand Dunes.
Xin Chao Hotel
The modest family-run Xin Chao Hotel in Mui Ne features a restaurant, an outdoor pool, and contemporary rooms with free WiFi. The hotel's on-site restaurant serves Vietnamese and international cuisine. Each room has a minibar, flat-screen TV, and air conditioning. A hairdryer and a hot shower are included in the private bathroom.
The hotel includes sun loungers by the pool and a lounge. Services like ticketing and dry cleaning are extra. Billiards and a currency exchange are among the additional amenities and services.
We love this place for it's location. Walkable to a number of dining and shopping establishments.
Song Huong Hotel Mui Ne
The Song Huong Hotel Mui Ne is just a short stroll from the Mui Ne beach's pristine sands. It's also near the White Sand Dunes and Phan Tiet City.
We love this place for it's super friendly owners. They helped us book a tour. You can take a day tour or rent bikes to experience Mui Ne's natural splendor. The spa offers whirlpool baths and soothing massages. The restaurant serves a variety of regional meals all day long and has a bar and an outside eating space.
Gia An Hung Guest House
The Gia An Hung Guest House has a garden, an outdoor pool, and mountain views. This resort offers family rooms as well as a picnic space for visitors. A sun patio, free WiFi, and private parking are available.
At Gia An Hung Guest House, breakfast menus include American and Asian selections. The inn provides visitors with air-conditioned rooms with a flat-screen TV, a safety deposit box, a refrigerator, a kettle, and a private bathroom with a bidet.
Fairy Spring, Rang Market, and Rang Church are popular attractions closeby. Gia An Hung Guest House is also near Ham Tien Beach, with Lien Khuong Airport as the closest airport.
BONNIE HOMESTAY Mui Ne
The BONNIE HOMESTAY Mui Ne offers free WiFi and private parking in the Binh Thuan neighborhood of Mui Ne, close to Ham Tien Beach and the Long Beach Pearl Museum.
There is a picnic area at the bed and breakfast. You'll get access to the garden and the common room. Some of the units also have kitchens that are furnished with cooking utensils.
BONNIE HOMESTAY Mui Ne is just near Sea Link Golf Course, Fairy Spring, and Lien Khuong Airport, located 133 kilometers from the lodging, is the closest airport.
Visit And Experience The Mui Ne Wine Castle
You can be a link between the two cultures, too, wherever you're from! The tours at RD Wine Castle are conducted by 'wine guides' who are knowledgeable and – in our experience – speak very good English. Outside of the preconceived tour, they were also able to answer some impromptu questions which I asked. I only speak one language and know enough to uncork a bottle of wine, so a bilingual and informed wine guide is impressive to me.
I did notice that Mui Ne matched a lot of what we see in Southeast Asia. Of course, there are pockets of resorts and hip little coffee shops, but there is also space where the under-developed needs more time to grow. I would go before it becomes too overdeveloped, though, and with a sense of adventure, since renting motorbikes and finding buses is not always a clear-cut task. But rest assured, if you have a big back pocket and are looking for 5-star resorts and golf, Mui Ne has that too…right around RD Wine Castle.