paradise springs winery: Review & Tasting Notes
Paradise Springs Winery
13219 Yates Ford Rd
Clifton, VA 20124
Earlier this week, my girlfriend and I drove out to Paradise Springs Winery in Clifton, Virginia. Neither of us had been there before . . . uncharted territory.
Before you plan your trip, check out our review.
I've visited a ton of Virginia wineries over the years.  I'm gradually revisiting favorites, not so favorites, and new wineries so I can share the experience.  
According to Virginiawine.org, there are over 300 wineries in Virginia. Visiting all of them is starting to sound like Mission Impossible. But I'll do my best.
My favorite time to visit Virginia wineries is smack dab in the middle of the week. Why? Because there are no crowds!
I used to visit Virginia wineries all the time on the weekends. Not anymore. Virginia wineries have been discovered. And they can be very crowded on the weekends (great for the wineries, not great if you don't like crowds).
I realize not everyone can slip away to visit a winery during the middle of the week, but I consider it one of the perks of continuing education.
Even on a cold and rainy Tuesday, the sign says, "Come in, taste our wines, and sit a spell!"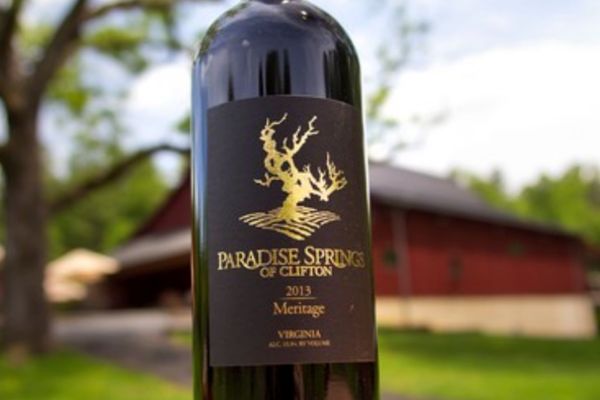 I love the stone work and warm, wood-paneled walls behind the bar. And I love the wine barrel tables with pub stools!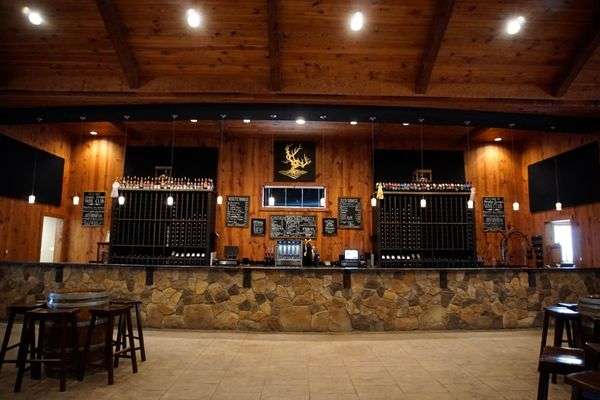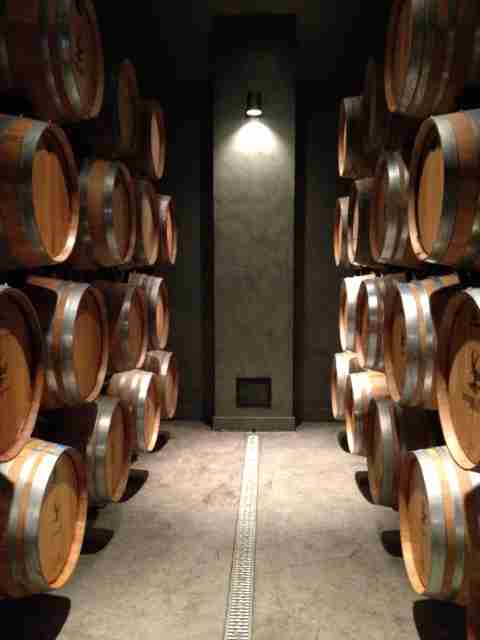 There's a beautiful, glass-enclosed barrel room that serves as the centerpiece of the tasting room.
I've never seen pink bands on a barrel before . . . points for pizazz!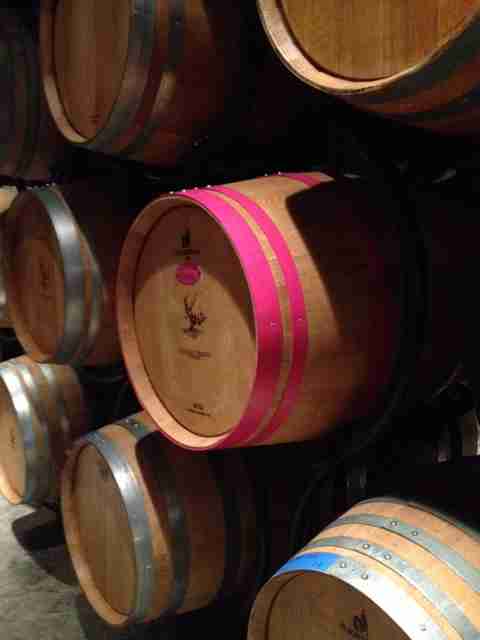 Paradise Springs Winery, VA Wine Tasting
On to the wines!
Guided, seated tastings are $20 for non-members and only $5 for our wine club members.
Tasting flights range from $15-$30 for non-members and $5-$15 for wine club members.
Tastings are available Monday- Friday.
On the weekends they offer bottle purchases as flights in lieu of standard tastings.
The flights are a pre-set tasting of 6 of their award-winning wines. Flights range from $15-$30 per flight, and $5-$15 per flight for wine club members.
And it's not refunded with purchase.
Paradise Springs Chardonnay
Barrel aged "sur-lie" (with a portion of the dead/spent yeast remaining in contact with the wine) in lightly toasted French Oak for 8 months.
A leaner, more Burgundian style Chardonnay, as opposed to so many of the plush, oak-marinated New World examples.
I definitely get a burst of green apple flavor. Lemon citrus on the back end. A good, not great wine.
Paradise Springs Viognier
Viognier is what Virginia does best.  I'm petitioning the Virginia Board of State Slogans to change Virginia's slogan from Virginia is for Lovers to Virginia is for Viognier.  
The Paradise Springs Viognier is simultaneously floral and fruity. Like a vase of apricots.
It's lacking some of the depth and softness I expect in Viognier, though. Not the best Virginia Viognier I've ever had, but still a lovely expression of Virginia terroir.
Paradise Springs Petit Manseng
This wine was the star of the visit for me.
Our "wine educator" told us that Petit Manseng works particularly well in Virginia terroir because it grows in loose clusters and tolerates our Virginia humidity.
Refreshingly dry in style . . . I loved it. Pear, pear, pear. I took a bottle home with me. Very good, approaching excellent.
2011 Sommet Blanc
A blend of 43% Petit Manseng, 31% Traminette, and 26% Riesling.
Ever so slightly sweet, but with enough acidity to keep it from being cloying (and annoying).
I see visions of this on my patio this summer. Bought a bottle of this, too. Very Good.
Paradise Springs Nana's Rosé
A dry Rosé . . . in Virgnia. Color me surprised. And delighted. Bottled in a tall magnum format.
Loaded with grapefruit flavors. A citrus rind bitterness on the back end was pulling my focus a little, but overall a good, solid Rosé.
Vino Caveat: My relationship with Virginia red wines is a strained one. I really struggle with Virginia red wines. I don't want to, but I do. I've found a handful of VA red wines that I enjoy, but it's a tiny handful.
Mostly, I find VA red wines to be green and aggressive. Like a banana that you're really looking forward to eating, and it's still a little too green, but you eat it anyway and then . . . disappointment.
Paradise Springs Tannat
Tastes way too young to be out of the barrel, let alone out of the bottle. Very aggressive, even angry, up front.
Reminds me of a stewed raspberry on asphalt. Would love to revisit this wine after it's had a few years to relax, and then see what it's up to.
But for now, it's unapproachable for me.
Paradise Springs Meritage
31% Cabernet Franc, 29% Petit Verdot, 29% Cabernet Sauvignon, 14% Malbec.
Again, green and aggressive up front. Smells like a horse barn on a summer day.
That's not always a bad thing, but without the fruit to soften that blow, it's distracting.
Completely OK, but I wouldn't spend $35 to take it home with me.
Paradise Springs Norton
Ah, Norton. Virginia's native grape. And my personal I'm-just-not-that-into-you grape.
The nose reminds me of a cigar store, which I like.
But it tastes like a smoky grape jelly. I keep trying to find a Norton I like. I'll keep looking.
On the way out, we spotted a circa 1810 log cabin on the property.
The cabin served as the original tasting room until the larger more modern facility was complete.
It makes me want to know more about the history of this wedge of land that's now home to a winery.
After all, we're in Virginia, and you can hardly go an acre in any direction without running into some kind of Civil War ghost!
Overall, a great winery visit. A beautiful and peaceful setting, tucked into the hive of activity that is Fairfax County.
An equally beautiful tasting room, with friendly and knowledgeable tasting room staff.
The property has lots of room for picnics inside and out. And some impressive wines, too!
Paradise Springs Santa Barbara
During a trip to California in 2014, the founder and friends were in Santa Barbara wine country exploring the region.
CEO and Founder Kirk Wiles fell in love with the Pinot Noirs of the region.
He decided that Paradise Springs would start a second winery on the west coast.
Paradise Springs was the first "bi – coastal" winery brand in the United States, standing for the highest quality of wine while achieving varietal correctness in a region.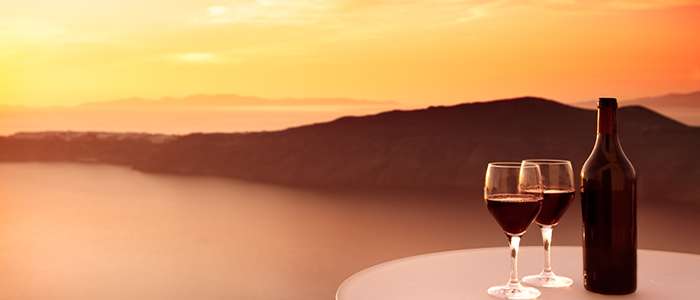 The inaugural wines were produced that vintage year in 2014, a Sauvignon Blanc from Happy Canyon of Santa Barbara AVA and a Pinot Noir from Sta. Rita Hills AVA. their first wines were bottled July 20th, 2015
Paradise Springs Winery FAQ
Are dogs allowed at Paradise Springs?
Dogs are allowed on the lawn area but are allowed inside any building including the back deck or the red barn.
What are the hours?
Paradise Springs Winery is open everyday of the week from 11am-7pm with extended hours until 9pm on all Fridays. Tastings or flights are offered everyday we are open up until 45 minutes before closing time. Last call begins 45 minutes before closing.