Prince michel winery – A Sensory Experience
The beautifully designed metal wine glass sculptures in front of the Prince Michel Vineyard & Winery belong in the museum of contemporary art.
It really felt welcoming to see something so visually appealing. The sensory experience doesn't stop there.
I've visited a ton of Virginia wineries over the years. With over 300 wineries in Virginia, visiting all of them is starting to sound like Mission Impossible.  But I'm doing my best.   I'm gradually revisiting favorites, not so favorites, and new wineries so I can share the experience.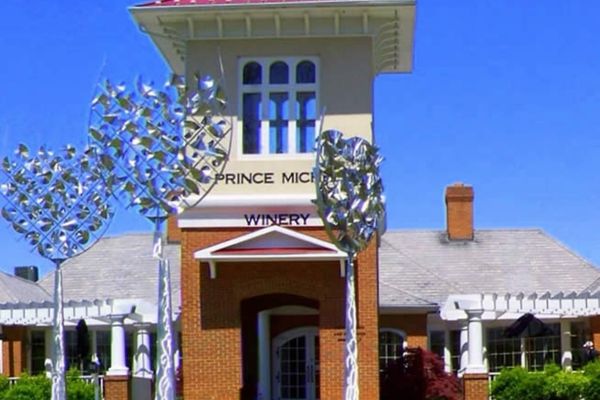 The wine tasting room at Prince Michel is circular and insanely busy.  But I'm not talking about people, I'm talking about tchotchkes — they're everywhere.  And clutter makes me a little twitchy.  
My girlfriend and I felt a little like we were tasting wine at a Cracker Barrel. And similar to Cracker Barrel, you want to pick up each token to examine it in more detail as if to just understand what it is you're looking at.
The tasting bar is welcoming, and the hostess was friendly and approachable, but I was on sensory overload before we tasted a single wine.
Prince Michel Winery Tour
There is most certainly a self-guided winery and vineyards tour. You can just pop in and look (and touch) around. The end of the tour is complemented with a tasting in their panoramic tasting room suspended above the barrel cave and tank rooms. Which is nice.
The are now offering a new Mad Wine Tour. This is a private tour including three wineries where you will sample 12 different Virginia wines, 4 at each location. Your experience begins at Prince Michel Winery. Then, the next stop is Revalation Vineyards, and the final stop is Blue Quartz Winery.
Tours take place on Thursdays from 11am until 5pm and begin at $59.00 per person, bus cost not included. Reservations required.
Prince Michel Winery Tasting
I like to play along sometimes and when I do, I use my own wine scoring system.
Prince Michel Pinot Grigio ⭐⭐/82 points
We were told these are the only grapes grown on-site at Prince Michel. The remaining grapes are sourced from other vineyards in Virginia. I get an unexpected bleach note on the nose — really hoping it's just the glass. Almond and herb flavors with a steely finish. There's some lime in here, but overall, not much going on.
Mt. Juliet Petit Manseng ⭐⭐/84
My favorite of the "white flight". Banana and clove note on the nose. Reminds me of a sugar cookie with a pear finish.
Prince Michel Viognier ⭐⭐/81
A decent backbone of acidity with a creamy texture, yet the balance still seems off. Loaded with tropical notes of mango and coconut.
Prince Michel Chardonnay ⭐⭐/80
Aged in 85% stainless and 15% French oak. There's some peach notes in the glass, but overall, nothing special.
Prince Michel Barrel Select Chardonnay ⭐⭐/83
Aged 2 years in French oak. A lovely petrol note on the nose. The oak is very present on the finish — vanilla and buttered toast.
Prince Michel Cabernet Franc ⭐/75
Ooof. Sour and aggressively tannic. Not a fan.
Mountain View Cabernet Franc ⭐⭐/83
Aged in French oak. I really like the mint note that runs throughout — a departure from the vegetal component I usually find lurking around a Cab Franc. A little tannic right now, I'd love to taste this one again in a few years.
Prince Michel Merlot ⭐/79
3% Shiraz. The edges on this wine are just harsh. Where's the fruit? Reminds me of pepper crackers.
Prince Michel Merlot-Cab Reserve ⭐⭐/80
Pepper obscure fruit notes. There's some smoke on the finish, too, but again, it drowns out the fruit.
Prince Michel Cabernet Sauvignon ⭐⭐/80
Thin and astringent, with violet candy notes on the nose.
Crown Orchard Cabernet Sauvignon ⭐⭐/80
Sour, smells like WD40. Maybe some currant . . . really hard to discern.
Prince Michel Symbius ⭐⭐/84
42% Merlot, 32 % Cabernet Sauvignon and 26% Cabernet Franc. The blend is paying off here — definitely softer and more complex.
Prince Michel Winery Final Thoughts
Prince Michel also has a "sweet flight" of wines from their second label, Rapidian River.  I'm not a fan of sweet wines, so I passed.  The flight consists of a couple of sweet Rieslings and a whole array of fruit wines (raspberry, blackberry, peach, etc.).  
There's also a chocolate wine. Shudder. That said, I know plenty of folks who only drink sweet wines, so if that's your jam you might want to give it a try.
The Bottomline:
For me, the wines at Prince Michel are mostly meh. The stars of the party are the Mt. Juliet Petit Manseng and the Prince Michel Symbius. I encourage you to visit and form your own opinions — my palate is my palate, not yours.
Prince Michel has a great location, and I'm sure you can find a cozy corner to sift away an afternoon .
Prince Michel Winery FAQ
Who owns Prince Michel Winery?
Kristin Holzman has been the owner of Prince Michel Winery since 2005 and has grown the winery to become one of the largest and most recognized wineries in VA and along the east coast.
When did Prince Michel Winery open?
Prince Michel Winery was established in 1982 by French Entrepreneurs and Philanthropists Jean and Sylviane LeDucq. The winery was started during the infancy of Virginia's now thriving wine industry.