Riesling Wine- The Ultimate Guide To Tasting Riesling Around The World
If you've ever wondered if Riesling wine is sweet or dry, or where Riesling grown, or the types of Riesling, or where to buy it, you'll want to read this.
You walk into your favorite local wine shop and ask, "Can you recommend a good Riesling?"
The owner may cringe a little inside because they love Riesling but, people are generally looking for the mass produced sweet Riesling.
Riesling is quite possibly the best white grape on the planet. It's one of the few grapes capable of producing the full range of styles, from bone dry to medium-sweet, sweet, or luscious (cavity) sweet.
It has no competition as a partner for food. But perhaps most endearing of all, good Riesling tells of its place like no other wine.
Riesling wine tells of its place like no other wine.
A Total Wine representative will have all sorts of Riesling recommendations in their head, but any recommendation they make is limited by what they carry in the store.
And this is where we have to remind ourselves that fill-in-the-blank big box stores are grocery stores that sells wine, not wine stores.
And there's a difference.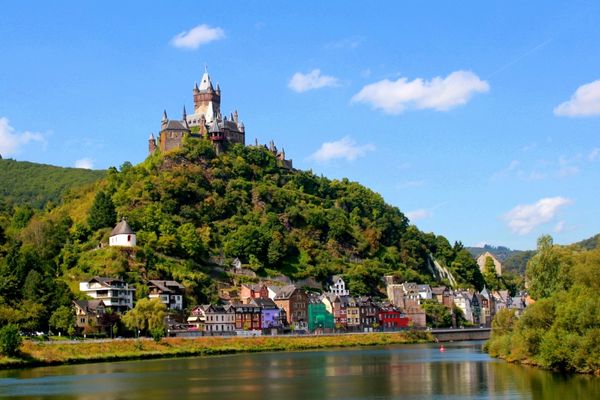 The Problem With Buying Riesling Wine
One of the biggest problems with selling Riesling wine in the United States is that it suffers from an image problem.
People associate Riesling with the cheap, insipidly sweet wines that come in a blue bottle (thanks, Blue Nun).
Blue bottle fans don't actually ask for Riesling recommendations, because they are wed to their blue-bottle, and nothing you say will convince them to try something different (even suggesting a different blue bottle is a risk).
With very few exceptions, my rule regarding wine in a blue bottle is simple: Put it back.
Another problem with Riesling in the US (directly related to the first problem) is that the availability of high quality Riesling outside of specialty wine stores is slim pickings.
Most of what's available in mass-market retail outlets (grocery stores and big box wine stores) are high-volume Rieslings that sell — cheap, cheerful, and blue.
I get it, it's business. But it's frustrating.
Where In The World To Find The Best Riesling Wine
German Riesling Wine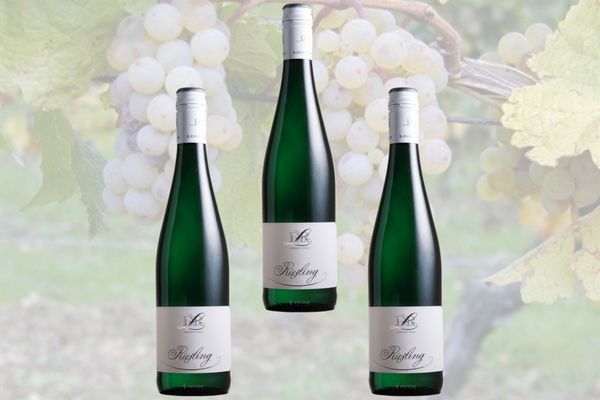 I love German Rieslings, but most of what's widely available in the US (outside of specialty wine stores) is on the simple & sweet side.
My favorite German Rieslings are the Grosses Gewächs (a term used to identify some of the highest quality German Rieslings, and specifically for dry wines). Many big box wine stores do not have Grosses Gewächs Riesling wine.
And most folks are so intimidated by German wine labels, they avoid the the German section altogether.
That said, German labels are actually very clear and informative, but if you don't know what all those words mean, you run away.
One of my favorite customers walked up to me one day with a bottle of German Riesling in hand and said, "What in the Sam Hill does all this mess mean, anyway?"
Dr. Loosen's entry level Riesling has a made-for-America wine label that's approachable and easy to read.
It's a medium-sweet Riesling, perfect for those who are interested in German Rieslings, but don't know where to start.
A starting price tag of under $15, too. Higher quality Loosen wines get more complicated labels (and much higher price tags). Worth the extra dough, though.
Dr. Loosen Graacher Himmelreich Alte Reben Grosses Gewachs 2020
Riesling from Mosel, Germany
Austrian Riesling Wine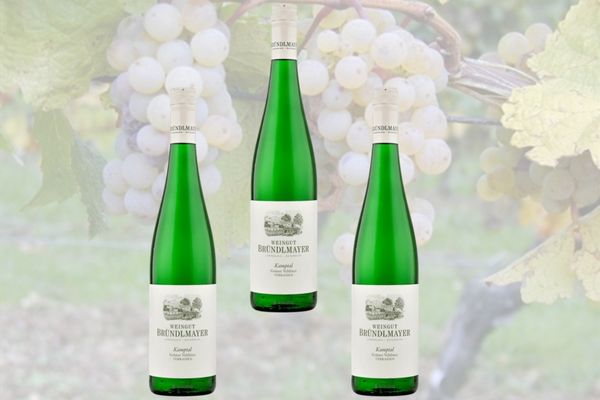 Austria doesn't grow nearly as much Riesling as it does its superstar grape, Grüner Veltliner (Riesling wine is only something like 15% of acreage in Austria).
But the Riesling that is made, is of excellent quality. Austrian Rieslings are almost always dry and filled with precision and energy.
Austria is slightly warmer than Germany, so the wines tend to be fuller bodied, with higher alcohol.
We recommend Steininger Riesling Kamptal. A solid wine at a great price (under $20). But it's rarely available. We recommend Brundlmayer Kamptal Terrassen Gruner Veltliner at $36.
Australian Riesling Wine
Great Australian Riesling wine can be a life-altering experience.
Riesling thrives in the high altitude vineyards of Clare and Eden Valleys in South Australia. Diurnal temperature swings (warm days and cool nights) help the grapes preserve their acidity. This Riesling pairs beautifully with bbq'd oysters.
Australian Rieslings are steely and dry, with razor-sharp precision, a slightly oily texture, tell-tale lime flavors, and a searing acidity.
We recommend Pewsey Vale Eden Valley Dry Riesling. Riesling from Eden Valley, Barossa, South Australia.
United States Riesling Wine
Most of the discussion about high quality Riesling wine production in the United States centers around the Finger Lakes region of New York, and the Pacific Northwest, Washington state in particular.
Wegmans is a New York company, so are well represented by Finger Lakes Rieslings. Dr. Konstantin Frank is an excellent bottle to try.
Riesling is the perfect gateway for folks who are just getting into wine, who, very typically, gravitate toward sweet wine.
And I usually steer these folks toward Washington State. Chateau Ste. Michelle has an entry range of very solidly made Rieslings, in a variety of styles (from dry to sweet), and they're highly affordable.
Eroica Riesling 2021 Riesling from Columbia Valley, Washington is a step-up in quality, and really lovely stuff (incidentally, a collaboration between Dr. Loosen and Chateau Ste. Michelle).
Notice who got left out of this discussion on US Rieslings? California. But California Riesling requires its own space.
Overall, the Rieslings available at mass-market retail outlets are just entry point.
Riesling Wine FAQ
Is Riesling considered dry or sweet?
Riesling wine in the US is mostly know for being sweet. But Riesling wine ranges from bone dry to dessert sweet. California Rieslings are somewhere between off-dry to sweet.
What are the 3 types of Riesling?
The 5 types of Riesling wine are:
– Kabinett (bone dry to off-dry)
– Spätlese (sweet)
– Auslese (sweeter)
– Beerenauslese (very sweet)
– Trockenbeerenauslese (sweetest)
What kind of wine is Riesling?
Riesling is a wine produced from the grape variety of the same name. Riesling wine is a white wines, mostly are still. Depending on where and how it's produced, Riesling can be very dry to very sweet or somewhere in between.
Is Riesling wine considered a dry wine?
Riesling wines that contain more than 30 grams of sugar/liter are considered sweet. Anything in between is said to be off-dry wines. You can find Riesling that ranges from very dry to very sweet and somewhere in between.