RdV Winery – A Rising Virginia Winery​
Make room for Virginia and RdV Winery at the big kids table.
I've long been a supporter of Virginia wines. Over the years, I've tasted wine at loads of Virginia wineries. And I've always thought of Virginia wine quality as a bell curve — some wines are terrible, the majority fall into the average/good range, and some are outstanding. A predictable and reliable bell curve.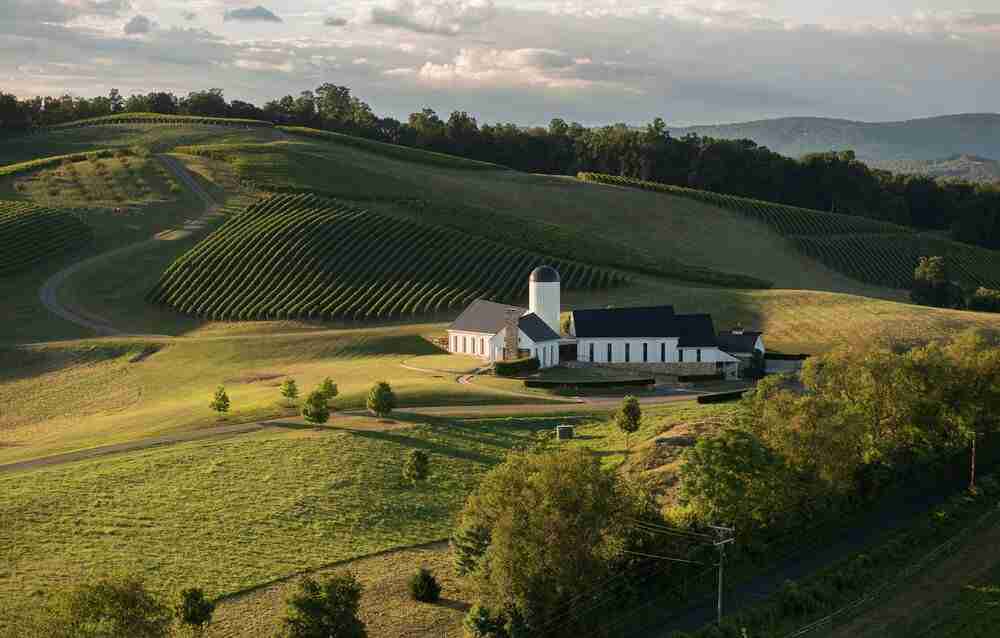 Then, along came RdV Vineyards. RdV Vineyards completely wrecked my bell curve — RdV wine is off the charts!
Tastings At RdV Winery
I've been wanting to do a tour and tasting at RdV Vineyards since they opened to the public in 2011. But I'd put it off because of the intimidating price tag (a postponement that now tastes like regret).
Tastings at RdV Vineyards are by appointment only, and $50 per person. No, that's not a typo. And RdV is the most expensive bottle of wine in Virginia. RdV only makes two wines (both Bordeaux style blends), and they are $75 and $95 each. Yes, for Virginia wine.
Bristle all you want about the price tag (I sifted through plenty of complaints on Yelp from the quantity over quality crowd — folks upset they paid $50 and only got to taste two wines, and not 22).
But an RdV Vineyards tasting isn't a wine tasting, it's a wine experience. You aren't standing three deep at a crowded tasting bar rushing your way through 22 different wines.
There is no tasting bar, and not a single wine tchotchke for sale anywhere. It's paradise. I ended up loving the RdV wine tasting experience so much, I've been twice in four weeks. I brought my family. I joined their wine club (I needed another wine club like I need another pair of shoes, but I have this feeling it won't be long before RdV is a closed club).
RdV winery only makes around 2,000 cases of wine per year, and wines are only available through their wine club, direct sales at the winery, and at a handful of high-end restaurants in the DC area.
The word is out — RdV winery has become the darling of the professional wine press. RdV has collected an impressive pile of accolades from all the heavies — the Wine Spectator, David Schildknecht (Wine Advocate), Dave McIntyre (the Washington Post), Food & Wine Magazine, Garden and Gun Magazine, Jancis Robinson, José Andrés. The list goes on. And on. Me? I'm a small potatoes wine blogger — a consumer with a keyboard.
But I suspect it's folks like me who are the next RdV Vineyards target: wine-loving amateurs. Whip up the right frenzy of consumer enthusiasm, and you could have the ingredients for (I won't say it out loud) a Virginia c-u-l-t wine.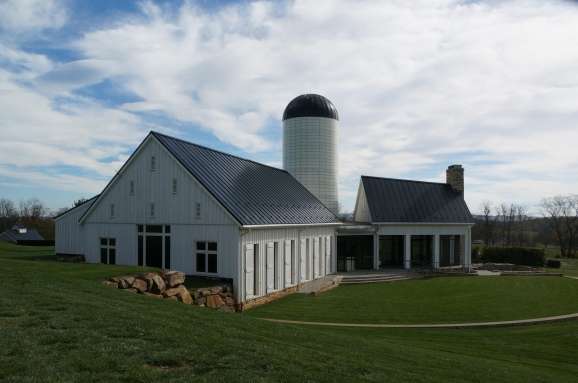 Is RdV Vineyards Worth The Hype?
So, are the wines hype or the real deal? Come along with me, and I'll walk you through the RdV wine tasting experience:
We walked through the door and were greeted by our very gracious hostess, Connie: "Welcome to RdV. You must be Kirsten." Yep, greeted by name. What a nice change from the usual, Captain Obvious winery greeting, "Are you here to do a tasting?" Nope. Came all the way out here to buy that one-of-a-kind rattlesnake wine bottle holder you have for sale over there on your tchotchke shelf. Erf.
Connie led us into the RdV living room, where there was a tasting table set and ready for us. Just for us. Connie told us to make ourselves at home, and she'd be right back with our Welcome Champagne.
Wait. Did she just say Welcome Champagne??
OMG. She did. She brought us each a glass (not a taste) of Pol Roger Champagne! Wunderbar!! Why don't I get Welcome Champagne when I go to Costco?
Making ourselves right at home, sipping our Welcome Champagne.
RdV Winery History
A little background: RdV Winery is owned by Rutger de Vink, a Marine with an MBA from Northwestern, who worked briefly in IT before deciding what he really wanted to do was work outside.
Sidebar: Almost every article I read describes de Vink as a former Marine. There is no such thing as a former Marine. Once a Marine, always a Marine. The Mr. Armchair Sommelier is also a Marine. Before we tasted a single wine, we were predisposed to love this place.
After we finished our Welcome Champagne, we followed Connie outside for an up-close look at RdV's 16 acres (11 different vineyard blocks) of vines, all planted on south-facing hillsides. 40% are planted to Cabernet Sauvignon, 40% to Merlot, 12% to Cabernet Franc, and 8% to Petit Verdot. At the base of each closely-spaced vine is a pile of granite rocks (all from the property) that help moderate temperatures. If you're a map lover like me, be sure to check out RdV's vineyard map.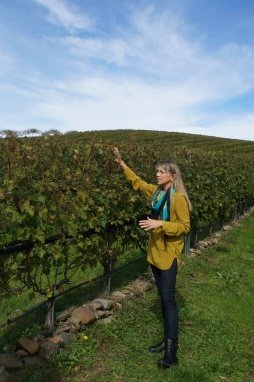 Virginia wineries love to point out that Virginia has similar climate to Bordeaux. Mostly. But, Virginia gets almost twice as much rain as Bordeaux, and that can spell disaster for grapes.
Wine grapes need the right soil and slope. De Vink searched for months before he found soil that was "bad enough" to grow wine grapes.
That soil is 18 inches of sandy loam on top of a granite hillside that doesn't retain water (solving that potential rainfall problem). De Vink bought the RdV property from a local Angus farmer, who laughed and said de Vink would never grow anything on "that heap of rocks." But it's that heap of rocks that's responsible for these gorgeous wines — stressed out vines make great wine.
One of the most interesting points along the RdV tour is the continuous core granite sample that's on display outside of the tank room, and the exposed granite wall inside the barrel room. The granite wall also functions as a barometer — if the wall is wet, there's been a lot of rain. In my next life, I'm going to have my own wine cave with an exposed granite wall.
After our vineyard walk, we strolled through the tank room and the barrel room. My first RdV visit was during harvest, and my second was when the wines were going from tank to barrel. Both are really interesting times to be an observer at any winery, but especially at RdV.
I think the proper response here is, "Oooh-Rah!"
The RdV Wine Label
Now . . . grab your tissues, so I can tell you the story of the RdV wine label. De Vink's family is from The Netherlands, and de Vink is Dutch for finch. Grandpa de Vink sheltered downed Allied pilots during World War II.
He was subsequently sent to a concentration camp, from which he later escaped (I'd love to hear the rest of that story). De Vink found an old notebook belonging to his grandfather, and stamped on the outside of it were three finches. As a nod to his grandfather, the RdV wine labels include the three finches — two looking to the future and one looking back, to honor the past.
RdV makes two (and only two) wines. Both are Bordeaux style blends, and straddle a style between the Old World and the New. One wine is modeled after Bordeaux's Right Bank, and one after the Left Bank.
RdV's consulting winemaker/blender extraordinnaire is Eric Boissenot, who consults for almost every first-growth Chateau in Bordeaux (including Lafite and Margaux). You know you're doing something right when Eric Boissenot is blending your wine.
The RdV tasting experience includes a generous taste of each wine, plus a Charcuterie plate of local meats and cheeses. Connie told us about each wine and provided us with tasting notes. And then she left us to enjoy our wines and gnoshes. And enjoy, we did!
RdV Vineyards Tasting Notes
Even before I tasted these wines, I knew they were going to be special. Because the nose knows. I stuck my nose into the Rendezvous glass and inhaled. Holy Mother of Bacchus. This is crazy! And then I tasted. This is Virginia?? It's not green or vegetal enough to be Virginia. It's too soft to be Virginia. It's too dense to be Virginia.
And then I summed up with this very eloquent reaction: Wow. Wow. Wow.
Lost Mountain 2010 ⭐⭐⭐⭐/92
A left-bank (Cabernet Sauvignon driven) Bordeaux blend — 64% Cabernet Sauvignon, 36% Merlot. So powerful and dense. A real brooder. Black fruits — blackberry and plum. Pencil shavings. Leather and vanilla on the finish. Beautiful balance. Great tannins. Easily blows the roof off any other Bordeaux style blend I've tasted from Virginia. The longer it sat out, the better it got. Needs time to fully express itself. Can't wait to revisit this one after a few years in my cellar . . . if I can wait that long!
Rendezvous 2010 ⭐⭐⭐⭐/93
A right-bank (Merlot driven) Bordeaux blend — 44% Merlot, 24% Cabernet Sauvignon, 20% Petit Verdot, 12% Cabernet Franc. This was my favorite of the two wines, for its immediate ease and approachability. Elegant, soft and round. Flavors of black cherry and chocolate. Beautifully balanced and structured. I could get used to this wine.
Connie came back as we were finishing our tasting and asked us which wine we liked best. Our group was divided. And then she poured us each another generous taste of our favorite! I might just stay here all afternoon . . .
After we finished our tasting, we took a little hike to the top of the vineyards, where we hung out with RdV's resident winery dogs, Sage and (eeeek, I can't remember his name, but isn't he cute?). A winery owned by a Marine who makes world-class wines, and has big dogs on the property? We were sold.
My recommendation: Make peace with the price tag and head out to RdV Vineyards. Taste the future of Virginia wine. Because here's the thing — RdV isn't just trying to be one of the best wineries in Virginia (honestly, that box is already checked), RdV is trying to be one of the best wineries in the world. Somewhere, Thomas Jefferson is doing a happy dance.
Want To Tour The Wide World Of Wine?
Ready to take your relationship with wine to the next level? Book a wine tasting trip! Viator (a Tripadvisor company) is the world's largest online marketplace for tours, activities, and attractions.
Viator has been a partner of Armchair Sommelier since our inception. We love partnering with them because our readers and Viator's trip operators have told us Viator is a great booking company to work with.
Still not convinced, let the reviews speak for themselves. We know you're a review junkie. So are we! We don't want to recommend a product that is going to offer you a bad experience. That said, there are no 100% guarantees in life.
Let me talk to you about my own experience with Viator. I have traveled all around the world. I've booked trips for myself, for my family, friends and even corporate travel (I will never do that one again so please don't ask me). I have used Viator every.single.time. And that's why I'm so excited to be a partner of theirs.
RdV Vineyards FAQ
Who owns RdV Vineyards?
RdV is owned by Rutger de Vink, a Marine with an MBA from Northwestern, who worked briefly in IT before deciding what he really wanted to do was work outside.
Is RdV a Grand Cru?
Some consider RdV to be an American Grand Cru. "Remarkable Cabernet blend-complex, velvety and world class. A revelation." — Robert Parker Jr.
What is the difference between a winery and a vineyard?
There is a significant difference between a winery and a vineyard. A vineyard is where grapes are grown, and a winery is where wine is produced.